I was born on Monday, November 27, 1989 at 11:30 AM in Greensboro, North Carolina. As of 2006, I've lived 16 years on this earth. Between 1989 and 2006, the two favorite years of my life would definitely be 1994 and 1995. I know what you're thinking. I was only 4-5 years old and that's too young to consider being retro. But let me tell you something. Your whole past is retro. And yes, I was pretty young, but I was able to soak up enough information that would be valuable today.
First of all, there was nothing like a nice trip to my local mall Carolina Circle Mall. The picture above was taken either Easter 1994 or 1995. I may be smiling in that picture, but I was always smiling all the time at that mall. Why? Well, the mall had a beautiful carousel with a great color scheme. The mall opened in 1976 and I think my first trip to the mall was in 1990. My last trip was in 2002 when it closed. Like all great things, it came to an end. You know, I have this strange feeling that even though a new Wal-Mart is set to open at the former Carolina Circle this August, I feel that the mall is still somewhat open as well as other '90s malls that you might have been attached to. Think about it.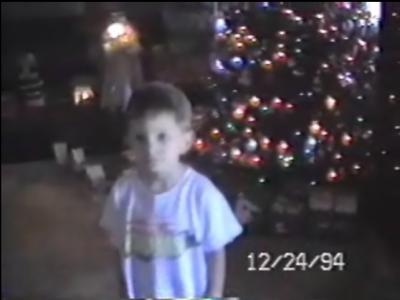 How could I forget Christmas 1994. That would be one of my favorite Christmases (However you spell it). As you can see in the first video snapshot, I was very excited about the next day. Also notice that I'm sporting a Nickelodeon GUTS shirt. In the second picture taken the next day, I got a Motocyke for Christmas that year. For months, I had been eyeballing that bicycle that looked like a motorcycle at the Montgomery Ward at Carolina Circle Mall. That day, I had finally gotten it. It even had device on the handlebar that would make a motorcycle sound. It was awesome. As traditional, we had our annual day after Christmas party the next day. I'd post pictures of it, but I'm sure most of my family wishes to not be seen on the Internet.
The summer of 1995 was a very interesting summer for me. It was the last few months of freedom before I started Kindergarten. Remember, I never went to a pre-school. If I remember correctly, I believe it was the first summer where we had an inflatable pool. I'm not sure if it was that summer or not, but one of the inflatable pools was actually blown across the road into the woods during a thunderstorm. Crazy, huh? Anyway, that video snapshot above was taken June 11, 1995.
Let's take a break from particular events and take a look at my television life in the 1994-1995 period. In this period of my life, I was an avid Nickelodeon lover. All of the shows I used to watch on there like Rugrats, Doug, Family Double Dare, GUTS, Nick Arcade, Legends of the Hidden Temple, and many more. One of my favorite memories of the 1994-1995 period is getting up early on Sunday mornings and watching Family Double Dare and Nick Arcade with my mom. That was such a great channel.
Speaking of Nickelodeon GUTS, I was a big fan of the show back then in that period. Sometime in 1994, GUTS and Nick Arcade came to my local Greensboro Coliseum. Sorry, no pictures. That was where I got that shirt I was wearing up there. I got to see Mike O'Malley and Phil Moore in person. Sorry, didn't meet them.
I didn't listen to current hits back then. No, I listened to different music. Sure, I remember pieces of grunge and other stuff, but I was a fan of Peter, Paul & Mary. I never got tired of listening to Puff (The Magic Dragon) in the car's tape deck. Hey, I didn't start listening to CD's until I was about 6.
I'm going to extend this article in the near future so hang in there. I hope you enjoyed a look into my past. Remember, your past is a very cherished thing. Even your young past.