And Arnold Schwarzenegger and his wife Maria Shriver became parents this week for the first time. They had a beautiful baby daughter who was born in a Los Angeles hospital. The attending physician said there's no mistaking it's Arnold's kid. The baby immediately began doing pull-ups on the umbilical cord.
[Doctored photo of boxing promoter Don King with tinsel and Christmas ornaments in his towering head of hair] And Don King had his annual hair trimming party yesterday.
[Image of Tom Cruise in "Born on the 4th of July"]Born on the Fourth of July…[transition to picture of Tom Cruise with first wife Mimi Rogers]…Divorced on the seventeenth of January.
And, you just know that Miller would be having a field day now with all the controversies and insert-foot-in-mouth moments Cruise has had over the last year.
You know, I just wanted to tell you, because Quincy's [Jones] here this week, and I did a little research. I looked in to see what my rap name is, and…uh…oddly enough, my rap name is also Dennis Miller.
And a warrant is out today for Eddie Antar, the founder of the Crazy Eddie chain, for illegally taking $52 million of the company's money Naturally, Eddie's lawyers say they'll plead insanity.
Yesterday - yesterday was Friday the thirteenth. Since our Gregorian calendar began in 1582, there have been nine hundred and thirty-five "Friday the thirteenths." Which is only fourteen less than the number of Friday the 13th movie sequels.
[Photo of real estate mogul Donald Trump posing next to an oversized genie's lamp] Donald Trump posed this week for publicity photos as he opened his Trump Taj Mahal hotel and casino in Atlantic City. On his love life front, it was reported that he's no longer seeing Marla Maples. He is now dating someone named "Jeannie."
And it was revealed this week that Ivana Trump plans to market a line of her own underwear for women. A spokesman, asked if Mrs. Trump was qualified, said, "If she's not, she will be -- because she's gonna be seeing a lot of briefs in the upcoming months." [mild reaction from crowd] Well. That brought Update to a screeching halt. [Sound effects of squealing tires and car crash. From beneath the Update desk, an airbag deploys and inflates to protect a startled Dennis who is pushed back to the wall behind him. [Laughter, cheers and applause. Dennis recovers, straightens his papers.] Gotta see somebody about that bladder. [to the prop man under the desk] You wanna leave? Wanna leave? Go 'head. [the prop man emerges from beneath the Update desk and exits - Dennis calls after him] Now, you blew that up all by yourself, didn't ya? [pause, then quickly] You might want to leave a phone number. You know, uh...[applause]
And Zsa Zsa Gabor is bragging about her once-upon-a-time dates with John Kennedy. According to Gabor, "I went out with Mr. Kennedy, the President of the United States, and I was his favorite date but he never once asked me to sleep with him." You know, my respect for Jack Kennedy grows more and more every day.
And the new movie Ernest Goes to Jail grossed fifteen million dollars in its first two weeks. Fifteen million dollars. [An old song by the Doors plays with Jim Morrison singing: "This is the end, beautiful friend..." as the lighting turns dark red and Dennis grows grim and peers into the camera shaking his head sadly:] The horror ... the horror ... ["This is the end..." Song ends, lights come up and Dennis returns to normal]
[Photo of broadcast journalist Diane Sawyer and Donald Trump's mistress Marla Maples - the two blonde women are near look-alikes so Dennis sings a parody of "The Patty Duke Show" theme song:]
Where Diane adores the minuet
The Ballet Russe and crêpes suzette
Hey, Marla loves the rock and roll
Billionaire makes her lose control
What a crazy pair
You know, after witnessing him singing--I mean,
butchering
Cat Stevens, you think that he wouldn't be allowed to sing anymore...
You know, you might think the Ninja Turtles would be the hottest toy item on the market right now but not so! It's gotta be this new one -- the New Kids on the Chopping Block doll set. [Dennis pulls out a New Kids on the Block doll with its head in a guillotine - cheers and applause] Let's see how it works. I'm not sure which one this is. I - I think it's Michelangelo. But here's how it works. [guillotine blade refuses to fall] Okay...[Dennis puts the doll away and laughs] Replacement heads are sold separately.
You know, the French government has declared war on tobacco, approving a law banning all cigarette advertising and announcing a fifteen percent increase in the price of tobacco products beginning next year in France. You know, I was in Paris last year and the nicest thing anybody did to me was blow smoke in my face.
Images of the Season
Donald and Ivana Trump duke it out prior to their divorce - who gets what? Phil Hartman's Donald Trump is very close to Darrell Hammond's Donald Trump. Jan Hooks is his Ivana, and in another picture further down, his Marla Maples.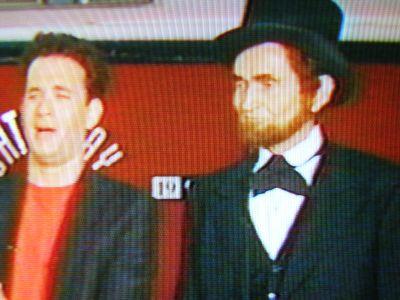 Tom Hanks doing his monologue in 1990 - he "dies" from incredible knee pain. The guy in the salmon shirt is Conan O'Brien.
Ludmilla (Jan Hooks) who works for McDonalds in Red Square (Russia). You can get these great prizes in a Happy Meal!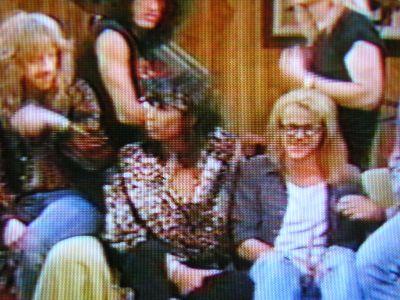 "Wayne's World" - this is the famous Aerosmith visit. It was ranked #1 on the countdown of the "101 Most Unforgettable Saturday Night Live Moments." I really don't get it - some of this countdown was bizarre, but for me, "I need more cowbell" is the one more people will remember. But, this is a classic, and Wayne's World was getting better each time.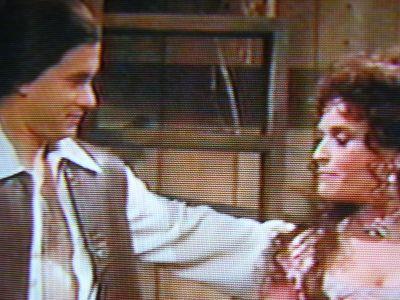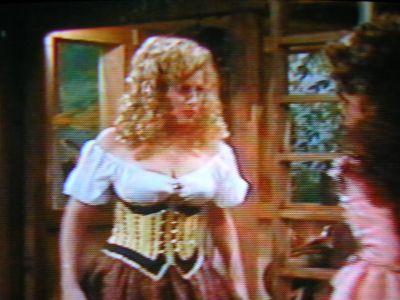 "Tales of Ribaldry" - this is the story of "the travelling bootblack." Sir Eevelyn Quince introduces this tale - and interrupts it to interject a few giggles. "Oh, what you must think of me!" Of course, like the Woodsman tale from last season, it ends with a resolution - sex. Tales of Ribaldry is about sexual tension - the characters aren't supposed to engage in activities. Sir Eevelyn Quince is dissapointed. "No! I don't like that!"
These screencaps are from the February 17, 1990 "Weekend Update." Dennis is displaying his singing abilities (rather questionable at best) while hollering "Dude Looks Like a Lady." Look, Denny, there is a reason you do the "news thing." You can't sing, you're acting is, well...rather interesting, and quite frankly, your facial expressions are laughable. Stick to the wisecracks - you're good at it.
The Girl Watchers take a romantic sea cruise aboard a ship full of single, elderly women. I particularly like the one that picks up her walker and scurries away. I like her spunk. "Welcome aboard...and bon voyage!"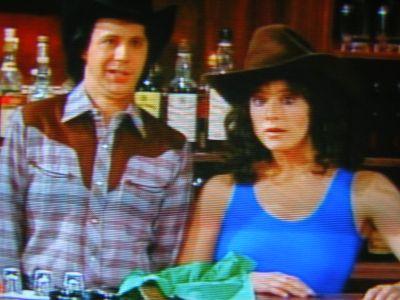 "Urban Cowboy" - actually its a "Toonces the Cat Who Could Drive a Car" sketch - called "Urban Toonces." The host is Debra Winger.
Frank Zappa
Grumpy Old Man. "That's the way it was, and we LIKED IT!! WE LOVED IT! Hallelujah!" I gotta do an article on this - this guy has all his infinite wisdom. You ever hear some of his stuff?
He gasped in horror at this skull.
"Depp! Greico! Greico! Depp! Depp and Greico! Greico and Depp!"
"You know, I'm the furthest thing from gay, but those guys are HOT!!!"
"The Nude house of Wacky People." Mike Myers plays a Japanese producer who develops a new television show about wacky American families - it involves Dana Carvey fighting a bear, many hamburgers, and a family fighting a bear.
The hand of the Continential's obsession. This is actually a man's hand.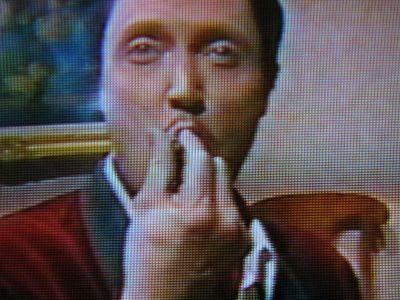 The Continential - one of Christopher Walken's finest moments. Champan-ya, chloro-form - anything Christopher Walken said could sound funny.
Hey, isn't that the face he made when he said "Gerald Ford died today..."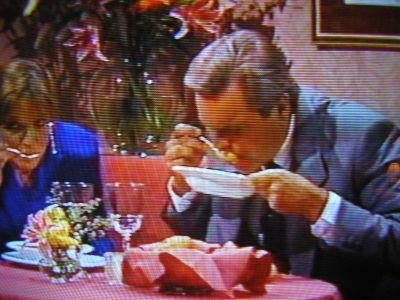 Robert Wagner plays Jan Hooks' date, but his table manners leave something to be desired...
Alec Baldwin tries to win the audience over with his many greetings.
"Hi." "How are you?" "So we meet again." "Howdy." "Guess who?"
Marla Maples, better known as Jan Hooks.
President Bush addresses the nation from the fall of the Berlin Wall.
[Singing]
"I feel like a million dollars
I feel simply out of sight.
Come on down, come on down
I'm throwing a ball tonight

Fill up the ol' paprika
Load it with dynamite
Come on down, come on down
I'm throwing a ball tonight.

A certain person just brought the news
Wow, it was great!
I'm rehearsing in my dancing shoes
'Cause now I can celebrate!

I feel like a million dollars
I feel simply out of sight.
Come on down, come on down
I'm throwing a ball tonight.

I invited Michael Jackson
I invited Princess Di
I asked the Queen to make a scene
With Cher, Trump, Bush, Prince, Sting, Liz, Madonna.

I Invited Joanie Collins
And, of course, I asked Jackie O
But, to my surprise, everyone of those guys
RSVP'd no.




I feel like a million dollars
I feel simply out of sight.
Come on down, come on down
I'm throwing a ball tonight."

[Dance sequence with cast members in tuxedos]
"I feel like a million dollars
I feel simply out of sight.
Come on down, come on down
Come on down, come on down
I'm throwing a ball tonight."
"Plug Away With Harvey Firestein." I love this sketch - I think Jon Lovitz does a slightly over-the-top impression of Harvey Firestein, in a way well-suited to Jon Lovitz. His guests are Kathleen Turner (that evening's guest host), John Travolta (Dana Carvey), and Lee Iacocca (Phil Hartman). "I just wanna be loved, is that so wrong?!"
Yes, that's Conan O'Brien naked in the enter (w/arrow above head).
Irish Drinking Songs (Conan has his back turned here).
Alec Baldwin plays a drifter who comes into a truck stop.
"The Night Hanukkah Harry Saved Christmas"
Colon Blow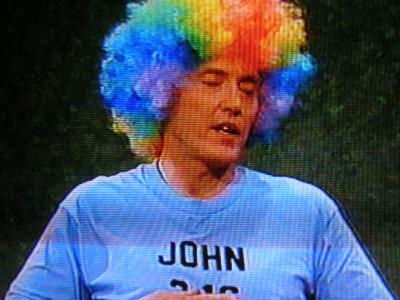 Christopher Walken plays that crazy guy you see at all the sporting events. You know who he is. He's up there with the "Dancing Rangers Fan" from the New York Rangers games (assuming you've been to a Rangers game).
This is the mystery sketch that aired when Bruce Willis hosted the season premiere - for the life of me, I can't begin to figure out why this aired, yet I don't recall seeing the Johnny O'Connor sketch. It honestly never aired. This was funny though. Bruce Willis plays an airline passenger whose plane is taken over by terrorists - every time he makes a passenger laugh, they are asassinated.
Author's Essential
"Saturday Night Live: the Best of 1989"
Approximate Running Time: 60 minutes
Copyright 1992
Starmaker Entertainment
Conclusion
Well, gang, there comes a time when all good things must come to an end. On that note, that brings us to the end of the four-part series on the revival of "Saturday Night Live" between 1986 and 1990. During this time, we've seen a new cast evolve and bring new life to a show that should have been cancelled many moons earlier. "Saturday Night Live" has proven to have more lives than a cat's nine.
As we bring this crazy train to an end, we can be reminded that there will be many years to come on "Saturday Night Live" (obviously, because it is still on). There will be plenty of high points (1996-1997 was a great season), and some low points (1994-1995, anyone). But, there will only be one cast that will be credited with saving "Saturday Night Live" in the 1980s, and these guys were it.
So, thank you, Dana Carvey, Nora Dunn, Phil Hartman, Jan Hooks, Victoria Jackson, Jon Lovitz, Dennis Miller, Kevin Nealon, and, eventually Mike Myers – you are the reason it became cool again to stay home on Saturday night! At least, you were in the 1980s.
I'd like to thank everyone for their positive reviews of the first three parts of this article, and the large amounts of patience you had as I put this sereis of articles up over the last month. This has been an interesting group of articles. I don't foresee another of these massive articles coming anytime soon, but I promise that what is to come is definitely going to be interesting.
And, I just wanted to mention that for the life of me, I couldn't decide what pictures to use. I took close to 200 pictures, which amounts to a beast of an article that is of finale proportions. I hope you liked them - it was a hard decision to choose pictures.
I'd also like to thank you, the retrojunk.com readers, for your continued support of my articles – you put much happiness in my heart, and inspire me to keep the articles coming! Without you, I don't think I would have kept these articles coming as long as I have, and I thank you from the bottom of my heart for all of your appreciation. Thank you![/color]
~Allison Venezio aka "Allison_SNLKid," your "Saturday Night Live" guru, with non-guru brother Brian in August 1990.