Jingle bells, Batman smells, retrojunkies! Once again, it is me, Allison Venezio, your very merry "Saturday Night Live" guru, back to entertain you with my totally amazing knowledge of "Saturday Night Live."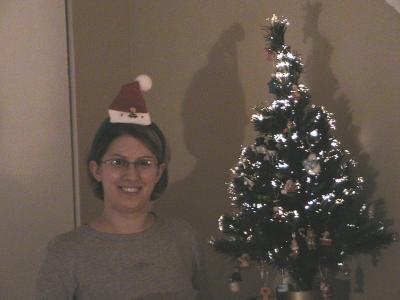 Merry Christmas, Happy Cha-nu-ka-hah (I know how it's spelled – I'm just messing with you), Happy Kwanzaa, or any holiday that it is you may celebrate this time of the year.



Happenings (Holiday and "The Like")



Sorry about the lack of articles as of recently – I have been busy with my Christmas shopping, and when I'm not shopping, I'm working. I work three days a week. I try and shop at least two or three days a week – sometimes three. If I feel like it, I'll go out after work and buy a few things.

On a happy note, my twin brother, a non-guru, graduated with his Bachelor of Science in Business – Hospitality track – this month. December 17, to be exact. He graduated from my alma mater, the Richard Stockton College of New Jersey (Pomona, New Jersey). It is also the same college his girlfriend – soon to be his fiancée – graduated in 2005, the same year – and semester – as me. And you can bet his proud sister, practically a member of the paparazzi, video taped the whole thing. I got every shot, including the one where he goes back to his seat after getting his diploma cover. Oh, and the one where he kept holding his tassle. Oh, and…never mind, there aren't too many highlights. Except that Steadman Graham, Mr. Oprah Winfrey, was the guest speaker. And I got this picture of him…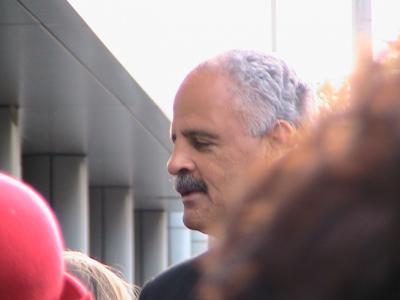 On another happy note, Atlantic City Country Club held its annual Holiday party (sticking to the P.C. way of thinking – honestly, the invitation said "holiday party") on December 14. Yes, I had two drinks. And, no, I didn't embarrass myself by getting drunk, taking off my sweater, and dancing on top of the bar. My job, let alone my reputation as the resident "innocent girl," would be forever shattered. We had a nice turn out. Several of us bought "dates" (one of our co-workers bought her sister, another bought a friend). I bought my boyfriend, and you would think he worked for us. He fit in great with the group, and chatted it up with my office mates. We were each given two tickets for alcohol, and our accounting person gave her second one to Steve (my boyfriend). He said he would "sell" it to her. I said, "Steve, she's the accounting person!" She thought it was funny. In all, we are like one big happy family – completely crazy, but without the family feuds. We had a blast.

On a sad note, Atlantic City Country Club lost a member of the family. One of our locker room attendants, William "Moon" McGlone, passed away unexpectedly on December 14, 2006. I found out the next day, as did the rest of our staff (the ones who weren't laid off for the season found out when they were coming in to work or by phone – the laid off employees were contacted). Mr. Moon, as we called him, was a delightful black man, with a Southern drawl, a fantastic laugh, and a singing voice you could hear resonate throughout the club. He was popular with co-workers and guests alike. He touched many, and his impact was far-reaching. My mother, who picked him up twice while taking me to work in the morning (Moon didn't drive, and I don't have a car), even felt the impact of his passing. In the two brief times she spoke to him, she said he was a delightful person.

Moon's legacy spans forty years, and many of his best moments are now legendary. I think one of the better stories, told by a recently retired co-worker, involves Moon putting names up in the locker room. When he came down from the Ladies' Locker Room, she asked Moon why he went up there in the first place – there were no ladies scheduled for the next day. He said that he had to put up "Alice Cooper's" name on a locker. That's right – Alice Cooper. The singer Alice Cooper. My co-worker (this was several years ago, before I started working here), informed him that "Alice Cooper" was a man. An exasperated Moon said, "Who names their son Alice?!" It also turned out that Mr. Cooper never came – it down poured fiercely the next day. This story is probably one of his finest moments, and is one of the many I will hold so dearly. We've been coping by telling our best stories. The way we see it, there will never be another Moon.

Moon, we love you, and miss you so much.



Introduction



The holiday season brings out the best in entertainment. You can't change the channel on some nights without running into at least one holiday-themed movie or cartoon. I personally have a plastic storage bin full of DVDs and videocassettes with various Christmas and Halloween (mostly Christmas) movies and cartoons. The older I get (I'm twenty-four) the better these specials get. It is noticeable that certain movies and cartoons ("Charlie Brown Christmas," "Christmas Story," and "How the Grinch Stole Christmas") hold up very well and get better with age, much like a fine wine, while some ("He-Man and She-Ra Christmas," "Smurfs Christmas") start looking incredibly old and weird after two decades.

"Saturday Night Live" pulls out all the stops when it delivers Christmas/holiday-themed sketches. In years past, "SNL" devoted the last Saturday before Christmas to a special they called "Saturday Night Live Christmas Past." Don Pardo voiced, under an opening montage of New York City-themed Christmas sights and the ever-bouncy 1986-1994 theme (with the 1986 "Joy to the World" break-in at the beginning), the names of all the talent featured during this special. In 1997, the first year I saw one of these specials, the sketches mostly looked back, sometimes way back, to 1975-1980. Several great moments surfaced from the middle years (I don't think there was much from 1980-1986 – mainly 1986-1995), and then a couple of sketches from up to the current season. Over the course of several years (up until 2002), the special was updated slightly, but the classic moments remained.

I was shopping several weeks ago, right after Thanksgiving, and while picking up the 40th Anniversary DVD of "How the Grinch Stole Christmas" for my friend's son, I spotted "Saturday Night Live" Christmas on DVD. I had passed by it several times, but it was at least $14.99, and generally I try and get "SNL" DVDs when they are less than ten dollars (nine times out of ten, that's the price). But, the price tag caught my eye – it was only $5.99! Faster than you can say "bargain bin," I was grabbing it off the shelf for my purchases. Consider it an ultra-cheap Christmas present for myself (I bought "Quantum Leap" for myself several years ago), but it was worth it. And, it was an even better bonus – it is the original Christmas compilation I first saw in 1997. Oh, my high school "SNL"-watching nights are coming back to me!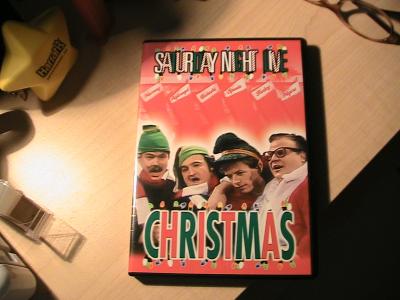 Because the DVD doesn't include several very important (and very funny) moments, I have delved into my archives to include these choice memories as well. I've gone to lengths you haven't seen since...well, my last article, to bring you some of the funniest holiday moments in "Saturday Night Live's" retro history. Rather than go into the more recent years (believe me, I wanted to pay homage to the "Saturday TV Funhouse" cartoon, "Christmastime for the Jews," but it aired in 2005, and some may find it offensive. I found it hilarious. In this article, I am going to look back on several moments I find particularly memorable from 1984-1990, several of which are from the DVD, and two from my own collection. It is a holiday treat you may not want to miss!

It is without further delay that I proudly present my holiday season 2006-themed article, "A Saturday Night Live Christmas!"

Mr. Robinson's Neighborhood
Original Air Date: December 15, 1984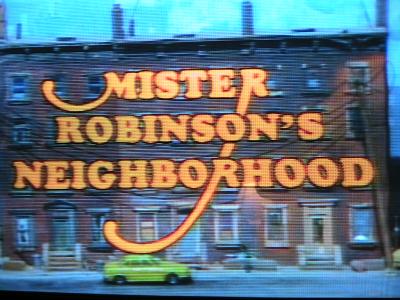 "It's a beautiful day in the neighborhood.
A beautiful day for a neighbor.
Would you be mine?
Could you be mine?
Won't you be my neighbor?"

This is going to please the few of you who wanted me to discuss the 1984-1985 season, but, this is one of the only moments in my archives that was included in that season. This is also one of my top favorites.

Mr. Robinson (guest host Eddie Murphy) comes into his ramshackle apartment and tells the "boys and girls" that Christmas is "a special time in Mr. Robinson's neighborhood." He reminds us that it is a time for giving, and then proceeds to show the viewers what Mr. Landlord gave him…it's an eviction notice! That explains the Santa suit Robinson has to wear to sneak in and out of the building – but, it is more than just a disguise. Why, with his little pail, and his little bell, it becomes a small business. Before you can say "Salvation Army," Mr. Robinson informs us that the holiday is a season for giving and taking, and with his little scheme (he calls it an "operation"), he can bring in three or four hundred dollars a day!
Mr. Robinson then explains the similarities between him and Santa Claus. They both like to sneak in houses late at night, but, while Santa likes to leave things, Mr. Robinson prefers to take things instead. Like say, for instance…a baby doll! It may not be worth much, but through the miracle of modern science, as well as a doll decapitation and a head of cabbage, it can become a "Cabbage Patch Doll!"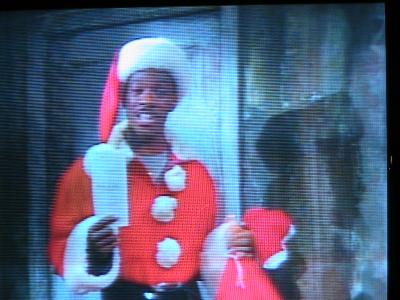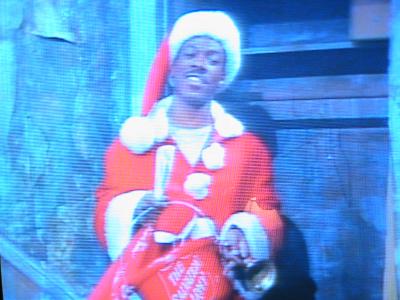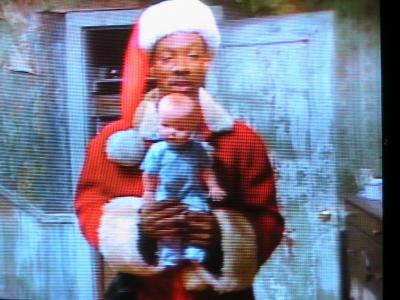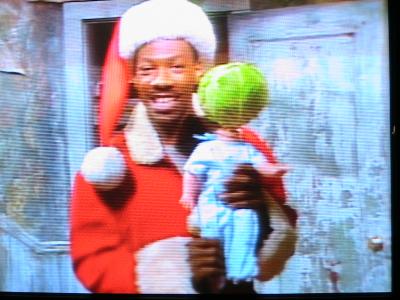 The sketch concludes with the "Word of the Day," which is "X-MAS." "Christ-mas." Robinson then makes his "x-cape" through a window when a disgruntled visitor confronts him about selling a head of lettuce wearing a dress to his kid.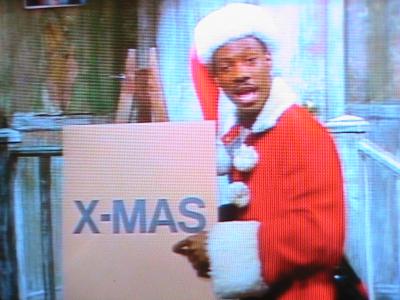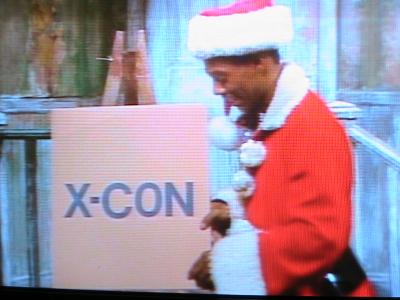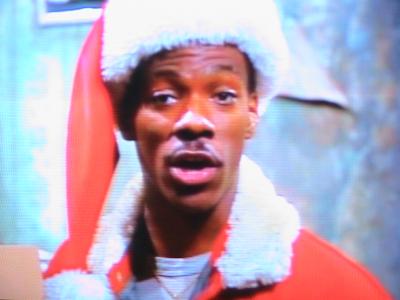 Church Chat
Original Air Date: December 5, 1987

In this edition of "Church Chat," the Church Lady (Dana Carvey) examines the word "Santa" (and switching a few letters around to spell "Satan"), welcomes his special guests, Jessica Hahn, who is appearing on "Church Chat" to clear her name, and Danny DeVito, who is appearing to promote his new movie "Throw Momma From the Train," and to sing a "Santa Claus is Coming to Town," while the Church Lady proves she "plays a mean set of drums."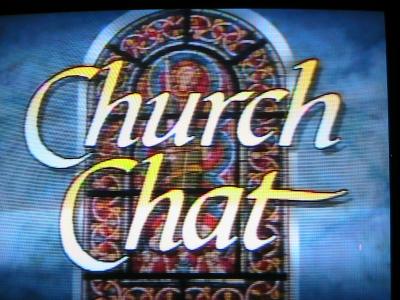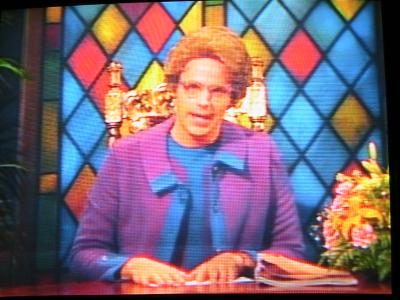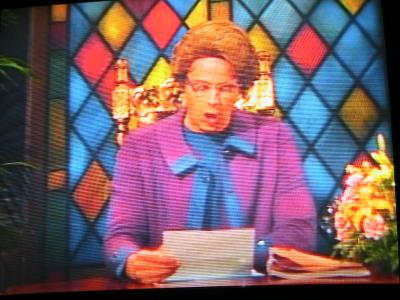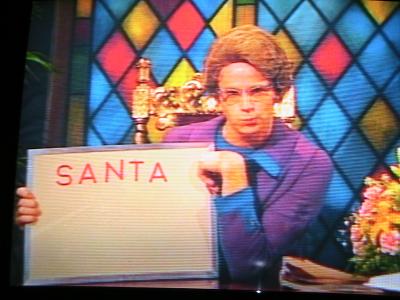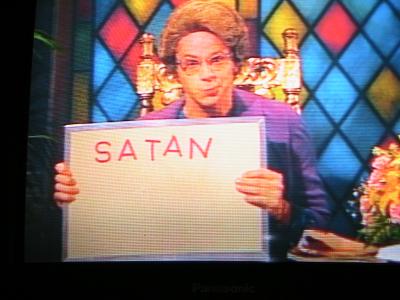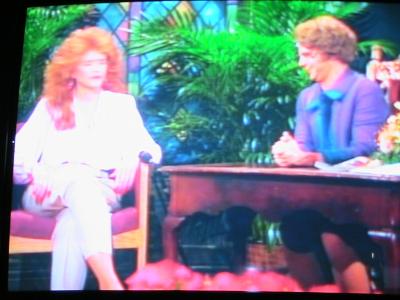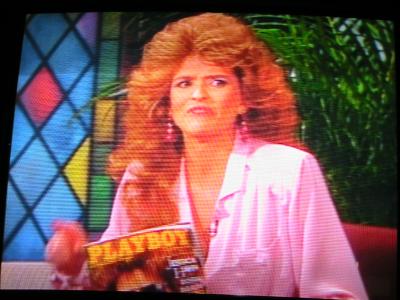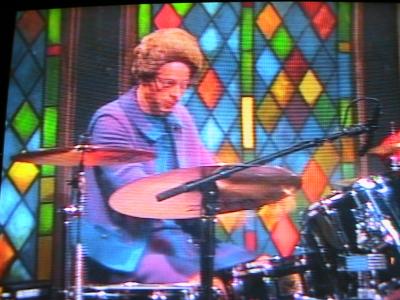 Danny DeVito: [singing]"Here comes Santa Claus/Here comes Santa Claus/Right down Santa Claus Lane/Vixen and Blitzen and all his reindeer are pulling on the reins/Bells are ringing, children singing/All is merry and bright/Hang your stockings and…"

Church Lady: "..say your prayers!"

Danny DeVito: "'Cause Santa Claus comes tonight." Take it, Church Lady, go babe!

[Church Lady works the drums]

Danny DeVito: She's hot! She's hot!

Church Lady: Well, isn't that special!

Danny DeVito: [ singing ]"So hang your stockings/And say your prayers/'Cause Santa Claus is coming tonight!" Look out, old Saint Nick is back!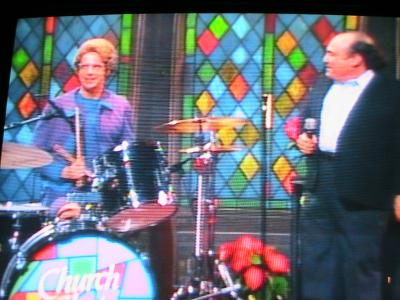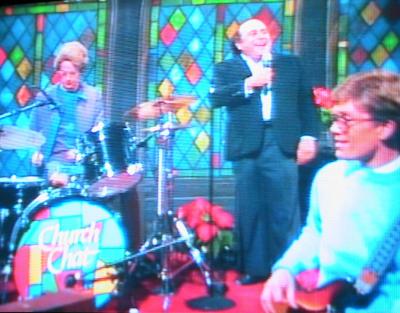 Just picture Garth Algar doing that great drum solo in "Wayne's World," and you'll understand why this was so exciting and funny!

Lost Ending of "It's A Wonderful Life"
Original Air Date: December 20, 1986

Guest host William Shatner sets up this sketch by explaining an important moment in history: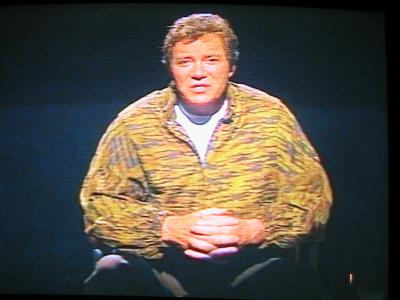 Ladies and Gentlemen, you are about to witness an important moment in the history of both television and cinema. After a search of nearly 40 years, the fabled "lost ending" to Frank Capra's 1947 film, "It's a Wonderful Life" has been found! Tonight, for the first time anywhere, "Saturday Night Live" is proud to present this priceless footage - the fully realized vision of an authentic American genius. So, without further ado, here is the "lost ending" to "It's a Wonderful Life!"

The sketch segues into stock footage of the "You Are Now Entering Bedford Falls" sign and beautifully lit streets from the film, then to a shot of people putting baskets full of money on a table. Standing next to the table is Mary Bailey (Jan Hooks) and George Bailey (Dana Carvey), flanked by several young extras playing the Bailey children.

Mary Bailey: They've been coming all evening. They didn't ask any questions - all they said was, "if George Bailey needs help, we're here to help him!"




George Bailey: (holding Zsu-Zsu in his arms) Wh-wh-why Mary--I never realized I had so many friends! A-a man wh-who has a friend is a rich man, that's what Clarence said, and by golly he was right!

Dave (guest Kevin Meaney) informs George that he wouldn't have a roof over his head if it wasn't for him, to which George is flattered. Then comes the entrance that we saw from a million miles away…probably because he was lingering in the crowd of extras, and that his hat gave him away. I'm talking about Dennis Miller, putting his best acting effort forth as George's brother, pilot Harry Bailey.

Harry Bailey: Excuse me! Pardon me! Hello George, how are you?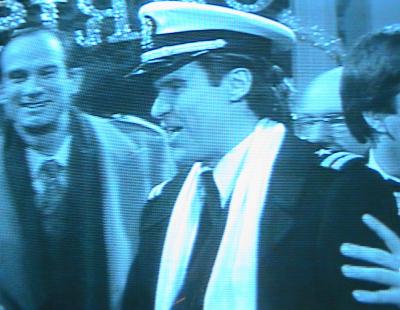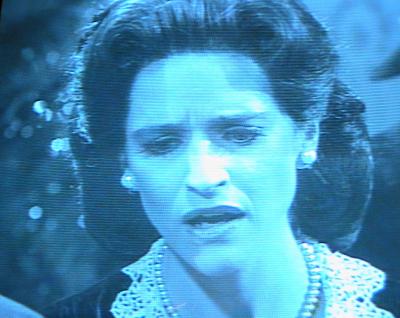 George Bailey: Harry! Welcome home, Harry!

Harry Bailey: Thanks! Merry Christmas, George! (Addresses the crowd) Now wait a minute, everybody! I got a telegram here I wanna read…from London! (Reads) "Dear George. Stop. Mr. Gower cables you need cash. Stop. My office instructed to advance you up to $8000. Stop. (Crowd reacts) Hee-haw and Merry Christmas! Sam Wainwright!"

As the crowd breaks out into a jovial rendition of "Hark the Herald Angels Sing," Uncle Billy (Phil Hartman) breaks through the celebration to exclaim that he remembered what he did with the money. It turns out that when he was at the bank, he had it in a newspaper, and gave it to someone. When everyone (particularly an overly-excited Dennis Miller) asks whom he gave it to, and Uncle Billy tells everyone that he called Clarence at the bank, and Clarence said that Old Man Potter deposited eight thousand dollars right after Uncle Billy left. Everyone then clears out the room to exact revenge on Old Man Potter (Jon Lovitz).

Old Man Potter says he will give George the money back, but George doesn't want money…he wants a piece of him. So, he knocks Potter out of his chair…and Potter stands up, much to the shock of the crowd! Leave it to "SNL" to change a key detail like Potter's wheelchair-ridden condition.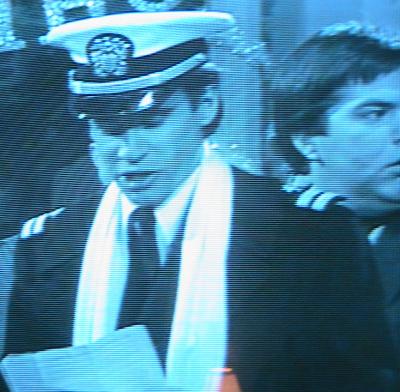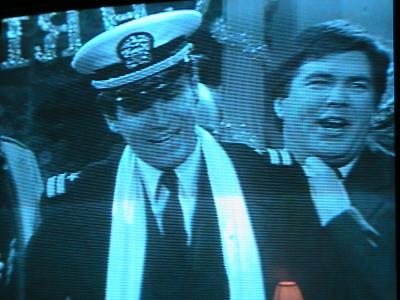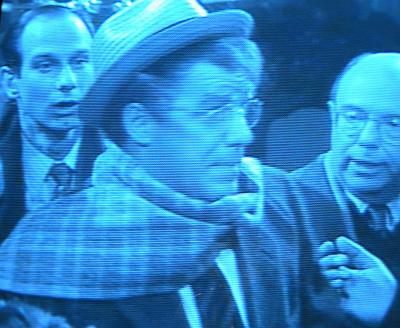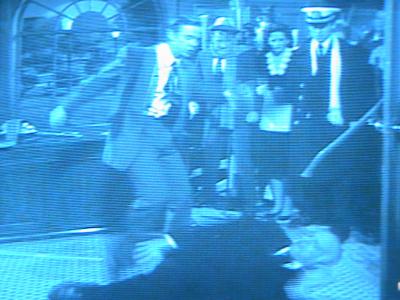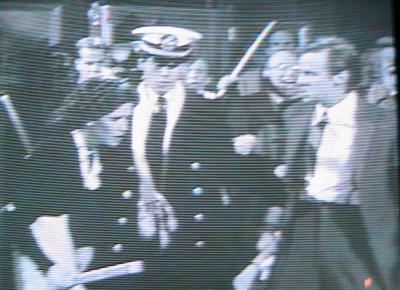 As Harry and Mary hold Potter, George beats him senselessly. Then, he proceeds to throw "Potter" behind the desk, and drag him back out. Now, it's a dummy, but still it's pretty funny watching Dana Carvey, Jan Hooks, and Dennis Miller looking like they are having way too much fun beating Potter senselessly. I particularly like how everyone begins to sing "Auld Lang Syne" as these three go to town. I wonder what the actors' motivation was for really going to town on the beating? The look of determination on their faces makes this moment many times funnier than it probably should have been, since in essence, "SNL" is parodying a classic holiday film. But, it is that magic that made this new cast something to watch.

Dysfunctional Family Christmas
Original Air Date: December 15, 1990
This sketch was a commercial parody that capitalized on the quirks that every family has. Just remember, no matter how bad you think your family is, there is likely ten more families worse than yours. Every family has its insecurities, but this family is crazy!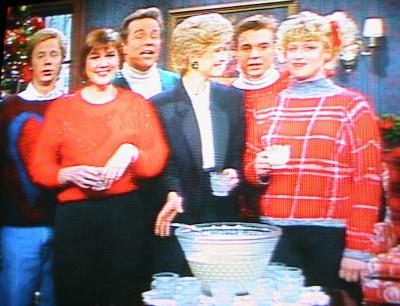 The family is played by Phil Hartman (Dad), Dana Carvey (Son #1), Mike Myers (Son #2), Jan Hooks (Mom), Victoria Jackson (Daughter #1), and Julia Sweeney (Daughter #2).

The sketch opens on an album cover of the famous painting "The Scream," wearing a Christmas Hat. The shot then fades onto a typical American family, but what they sing is anything but typical. Here's why:

Song: "Let's Pretend We Like Each Other (This Christmas), sung by Dad.
"Christmastime, you force a smile
Everyone is joining in the group denial
Folks behaving infantile
Family Christmastime."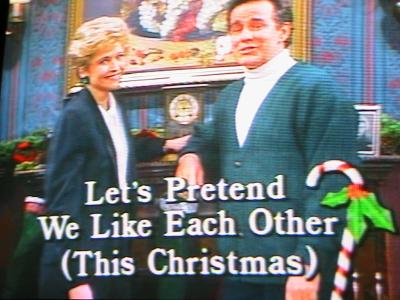 Song: "The Almost Perfect Christmas," sung by the entire group.
Female Chorus: Dinner is perfect, the presents are perfect. The tree and the parlors are perfect fun.
Male Chorus: Then your brother, yells at your mother.
All: Christmas is ruined for everyone!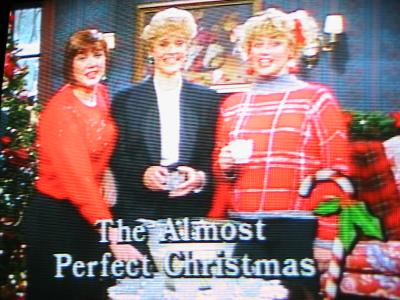 Song: "The Daughter Song," sung by Mom and both Daughters.
"Presents and wrapping paper
Ribbons and bows and all that stuff.
Why do we even bother?
Nothing we get you is good enough!"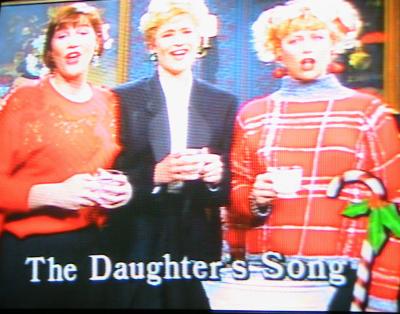 Song: "Ballad of the Co-Dependent," sung by Dad.
"Every Christmas when you got drunk
I told the children you were not drunk.
And I said, "Tommy, you're not being bad,
It's just Christmas makes your Mommy mad."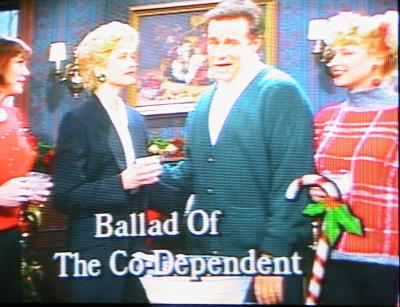 You know, this one sounds remarkably like Phil Hartman doing his Johnny Cash impression. And that wig that Jan Hooks is wearing looks like the one she wore for the "Betty Ford Straight Arrow Christmas Sketch" that aired in 1988. Coincidence? I think so.

Song: "Why Am I Here? (The 'Pretty' Song)," sung by Mom to Daughter #2
"Underneath the mistletoe
Is a 2x2 jingle bell world.
And underneath all those extra pounds
is a very pretty girl."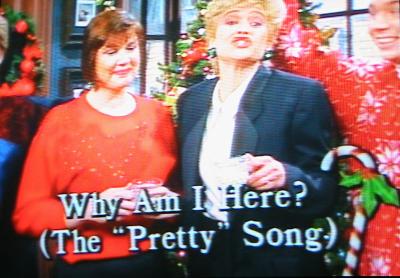 Song: "Runny Funny Daddy," sung by the kids.
"Daddy's nose is red and runny
Daddy's voice is rough and funny.
And the only words I can understand
are 'God' and 'Damn' and 'Christmas'."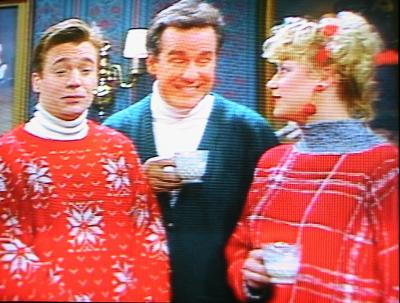 Song: "Carol of Intimacy," sung by a very high-strung Son #1 (in a style only Dana Carvey could perfect)
"Leave me alone! Please go away!
I'm doing fine! Just get away!
"Leave me alone! Please go away!
I'm doing fine! Just get away!
"Leave me alone! Please go away!
I'm doing fine! Just get away!"



Once you hear this one, you'll pray for the sweet release of death so you can forget you ever heard it.

Some of the other "hits after dysfunctional hits" include, "Someday I'll Get Christmas Right," "I've Got My Drinking Under Control For The Holidays," "Peace On Earth? Where?" "Cant' You Let It Drop, It's Christmas", "What I Want You Can't Buy Me", "Fruitcake And Shame", and "Why Am I The Only One Who Knows What Christmas Really Means?"

Now, go give your mom a hug – your family can't be a dysfunctional as this one is!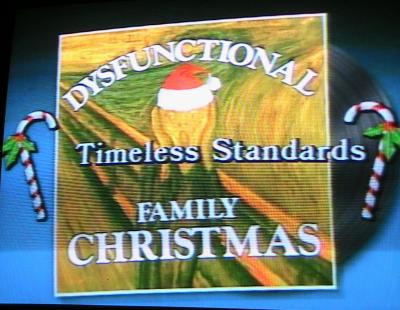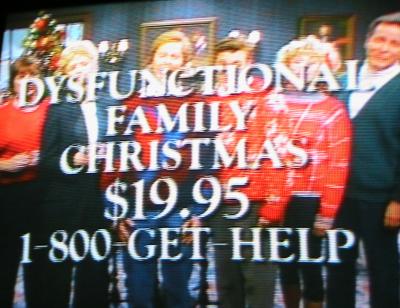 Master Thespian
Original Air Date: December 19, 1987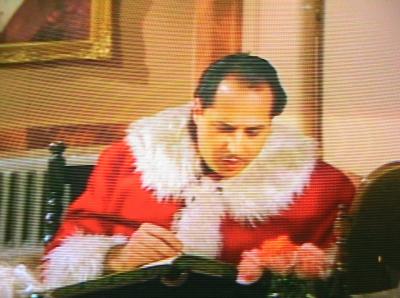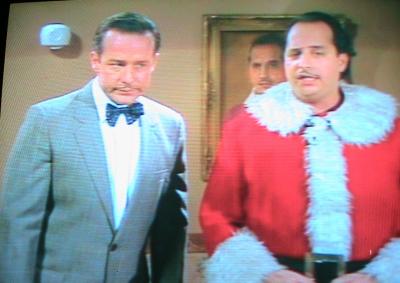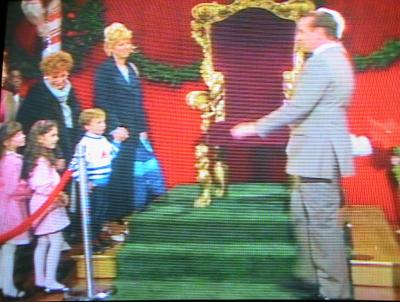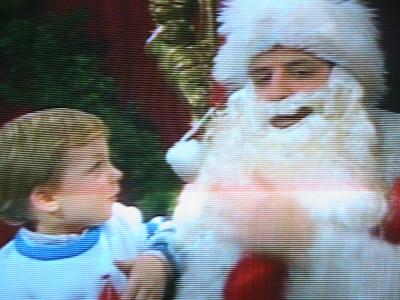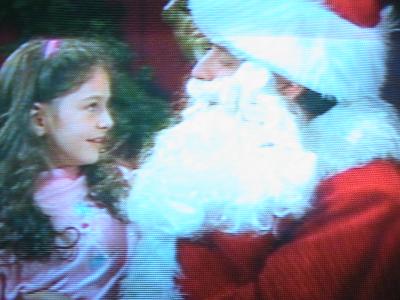 Master Thespian (Jon Lovitz) has been tapped for his hardest role yet…that of a department store Santa. Phil Hartman plays the store manager, while using that pompous voice that I'm sure elicited enough giggles from his cast mates whenever he used it. Anyone want to bet that he had his co-stars imitating him?

Master Thespian emphasizes his "ho ho ho," and speaks with disdain when a young boy asks for a bike ("how dare you teach this child to beg?!"). He tells a young girl "with the face of an angel" that she can have the doll she wants, and points her in the direction of the store's toy department, courtesy of Macy's and SANTA CLAUS!

Jingle Bells
Original Aired: December 8, 1990

This aired as a segment at the end of "Weekend Update with Dennis Miller." Miller wants to spread the holiday cheer a little early, so he volunteered the help of, well…himself. Dana Carvey plays the infamous alter ego, joined by Tom Hanks as the other alter ego, since this is, after all, a three-part harmony.

2nd Dennis Miller: Hey, keakoe...
Dennis Miller: You wanna try "Jingle Bells"?
2nd Dennis Miller: I think we need three-part harmony for that one, baba ganoush. ...
Dennis Miller: Baba ganoush?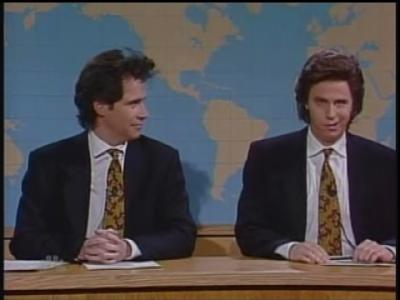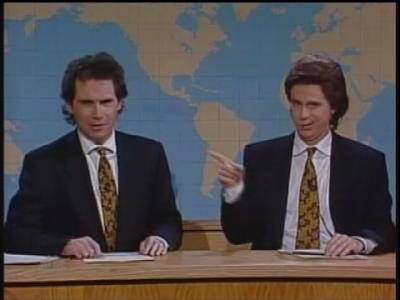 2nd Dennis Miller: Hey, lighten up, Captain Hairdo. You're the one who talks like this, okaaaaay?
Dennis Miller: All right, bring up the new guy.
2nd Dennis Miller: [calls off] Hey, waterpick!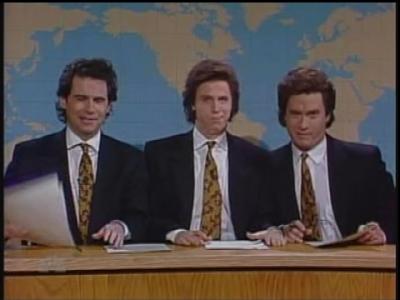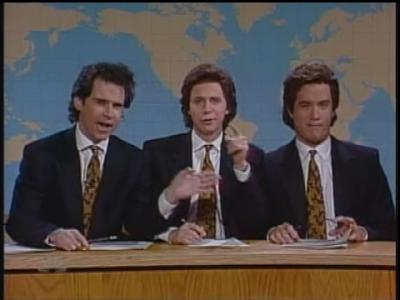 [A third Dennis Miller rolls into view, clucking and shaking his head, Dennis Miller-style. The two mock Dennises cluck and draw cheers and applause, much to the real Dennis' embarrassment.]
Dennis Miller: All right. Let's - let's - let's - let's - let's - let's just-- Let's just sing this song, okay?
2nd Dennis Miller: Hey, chill out, Mitch Miller! Okay, Quak-a-po-keek-ko-quawk.
Dennis Miller: All right, all right. Let me give you the tone here. [takes out a pitch pipe and blows a note]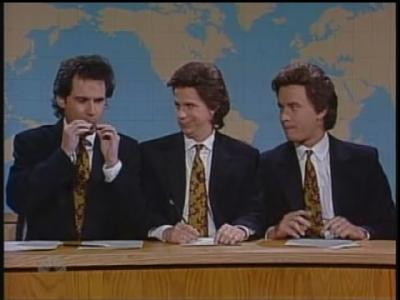 3rd Dennis Miller: Ho, ho, where'd you pick that up? Juilliard, babe?
Dennis Miller: [to the crowd] I've created an attitude monster. [to his fellow Millers] Let's just sing, all right?
2nd Dennis Miller: Okay.
Dennis Miller: One, two, three --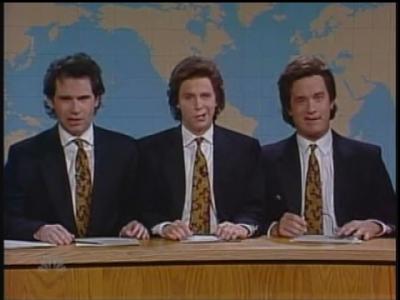 All:Jingle bells, jingle bells, jingle all the way
Oh, what fun it is to ride in a one horse open sleigh
BABE!
Jingle bells, jingle bells, jingle all the way
Oh, what fun it is to ride in a one horse open sleigh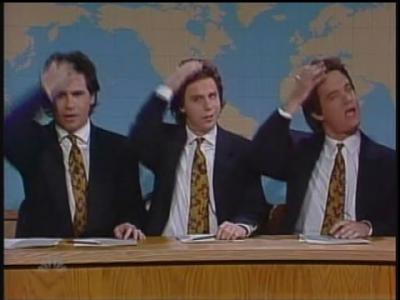 [simultaneously running their hands through their blow-dried hair]
Dashing through the snow
[snow begins to fall from above]
2nd Dennis Miller: In a one horse open sleigh
3rd Dennis Miller: O'er the fields we go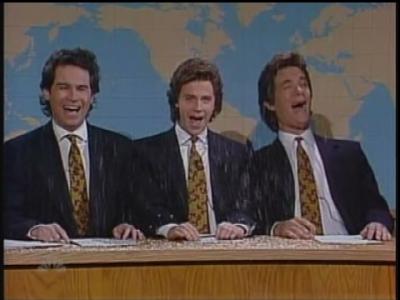 All: Laughing all the way [simultaneously doing Dennis' trademark high-pitched "ha haaa" laugh]
Dennis Miller: Bells on Bob-tail's ring…
2nd Dennis Miller: [spoken] Hey, what the hell's a "bob-tail," cha-cha?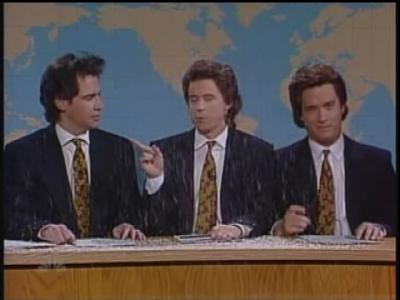 3rd Dennis Miller: Don't be a big pain in the ass, just sing the freakin' song. Ho!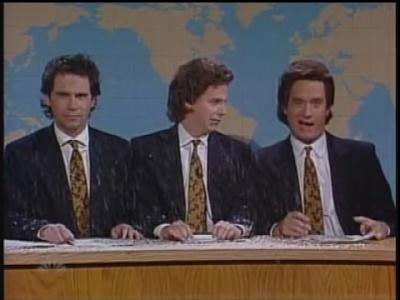 All Three Dennis Millers:
Jingle bells, jingle bells, jingle all the way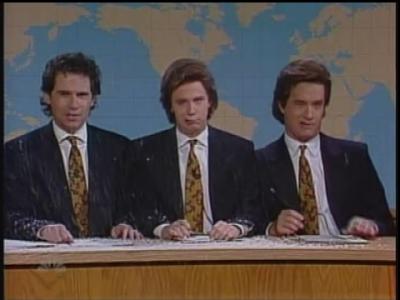 Babe!
Oh, what fun ...
[The mock Millers lapse into clucking, shaking their heads, running their hands through their hair. The real Dennis gets fed up.]
Dennis Miller: Enough! Enough! Enough!
All: [finishing the song]
Oh, what fun it is to ride in a one horse open sleigh!
[spoken]
Guess what, folks? That's the news and we are out of here!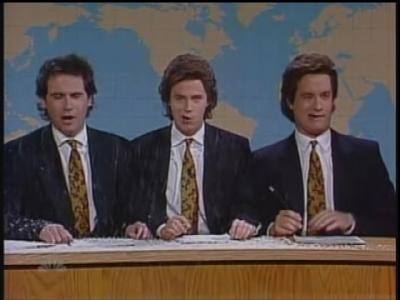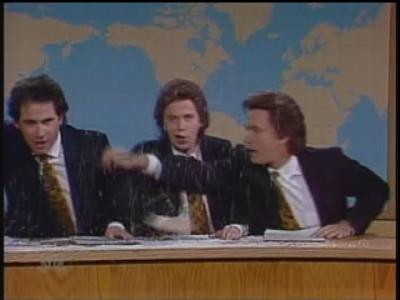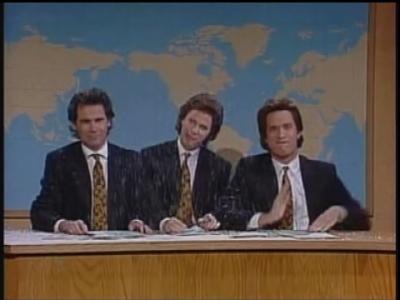 'Twas the Night Before Christmas
Original Air Date: December 17, 1988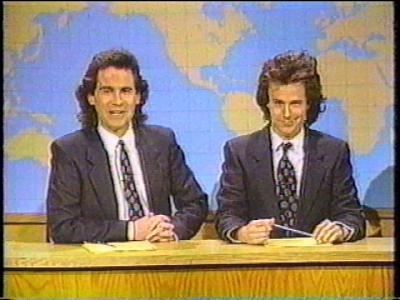 Another segment that aired to close "Weekend Update with Dennis Miller," Mr. Miller invited his alter ego to do a traditional reading of "'Twas the Night Before Christmas." Trust me, this edition is not even remotely traditional. The real Dennis Miller took over the traditional reading, while Dana Carvey, as Miller's alter ego, read the "Dennis Miller version."

'Twas the night before Christmas, and all through the house…
Nothin' was happenin', babe, not even a marsupial.
The stockings were hung by the chimney with care…
And I just applied a thick dose of styling mousse to my luxurious hair.
The children were nestled, all snug in their beds…
They knocked off early, because the film we had rented the Beatty thing, "Reds."
And mamma in her kerchief, and I in my cap…
Had just begun to take off said kerchief and cap, if you catch my mondo-Freudian drift. Haha!
When out on the lawn, I heard such a clatter.
I called 9-1-1.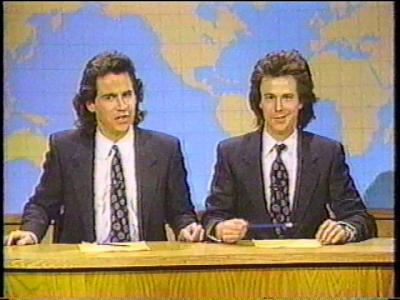 But what to my wondering eyes should appear?
But a miniature sleigh and eight airborne Yukon pack creatures.
But the little old drive, so lonely-lovely, and quick…
You ok babe? I knew it was either Kato, or the Saint Nick dude.
More rapid than eagles as course as they came, he whistled and shouted and called them by name…
Now Dasher, now Dancer, now Prancer, now Vixen…let's move it boys! I gotta life to lead cha-cha! Haha!
And in a twinkle I heard on the roof, the pawing of each little hoof.
Hey, Clausitola! Easy on the shingles, and I don't want to see any Rudolph dong in my new rain gutters. Ok, babe?
He had a broad face and a little round belly…
I said, "Babe! Some sit-ups, perhaps a little yogurt?"
He spoke not a word but went straight to his work, filling all stockings and turned with a jerk…
He lain a finger to the side of his nose, he split from my pad, and I freaked out.
He sprang to sleigh, to the team he gave a whistle…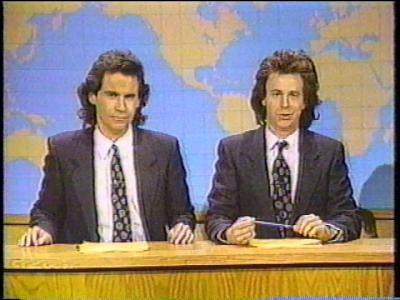 …(Hesitating, as if he has nothing sarcastic to say)And they all flew, like the down on a thistle.
Awww…(Both) But I heard him exclaim, as they drove into the clear…
(Both) Hey, Merry Christmas to all babe, and I AM OUTTA HERE!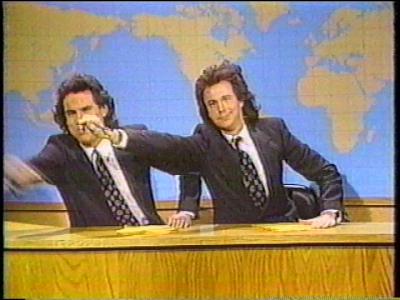 Yuletide DVD Listing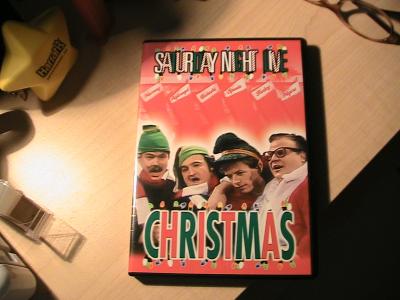 Here are some images of sketches from the "Saturday Night Live Christmas" DVD.

Christmas Eve at the White House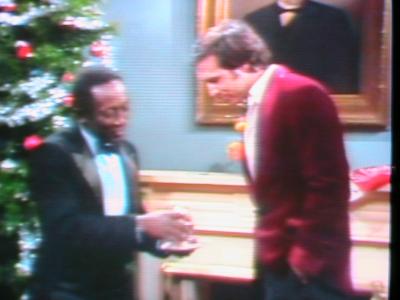 Opening Montage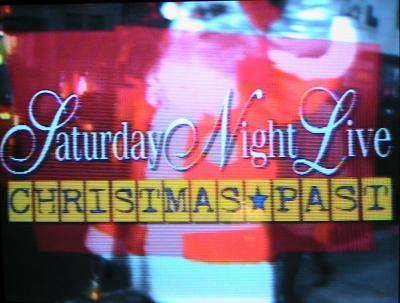 Bill Murray Monologue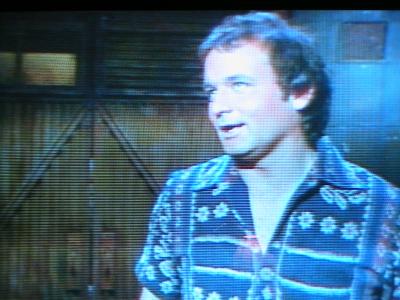 Mr. Robinson's Neighborhood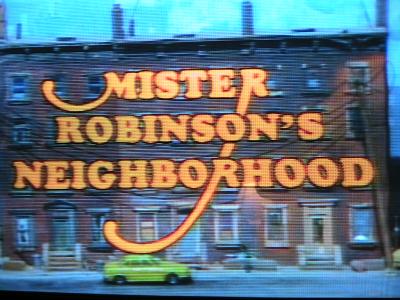 Delicious Dish (aka "The Schwetty Balls Sketch")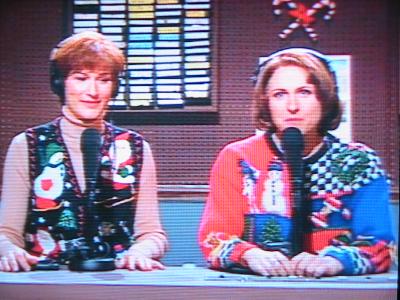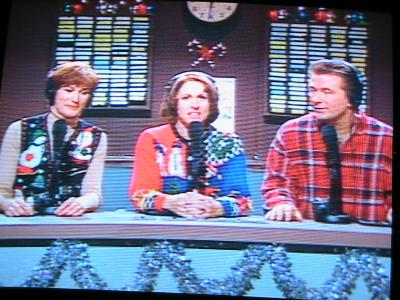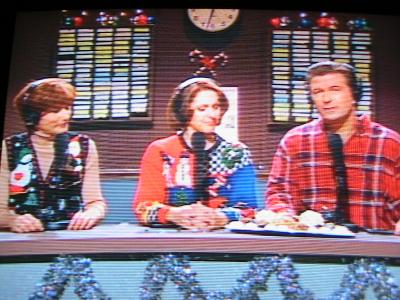 Church Chat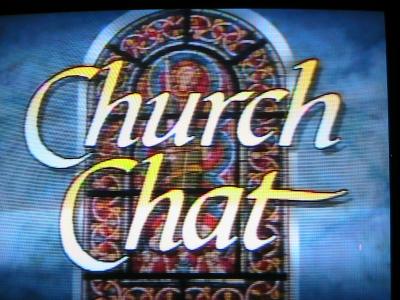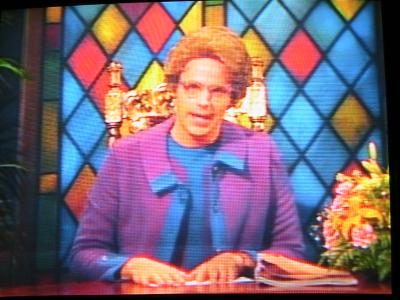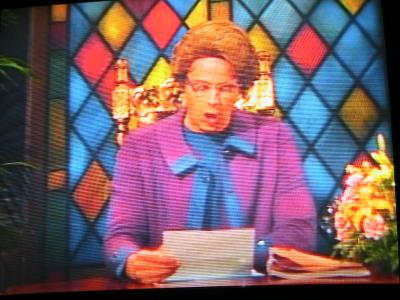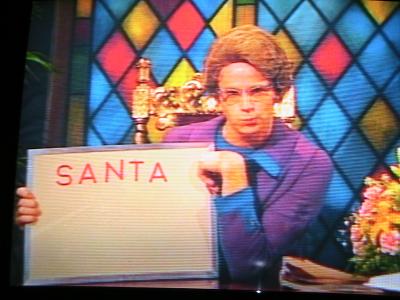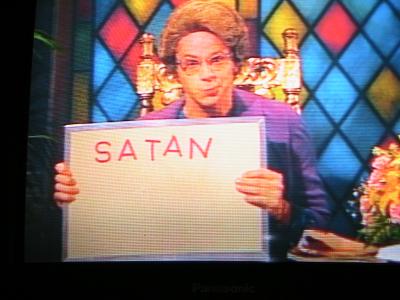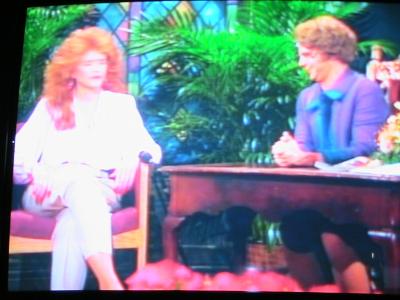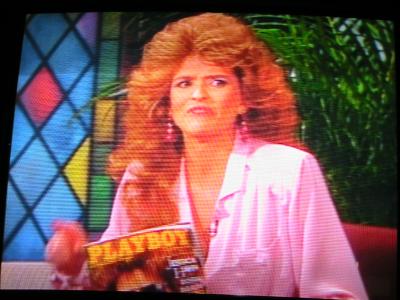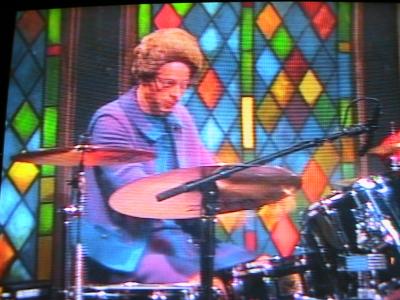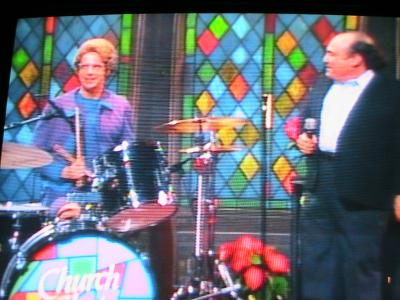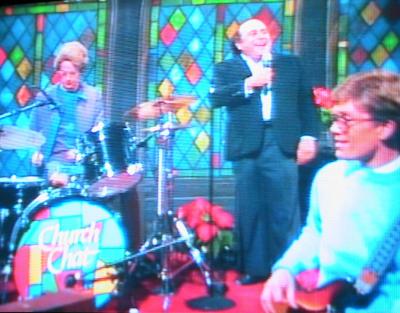 Martha Stewart Home For the Holidays: Topless Christmas Special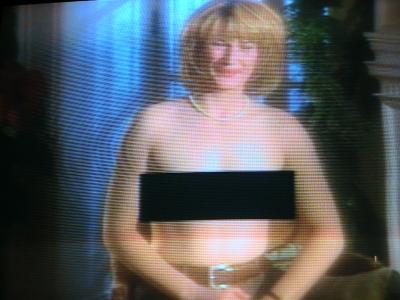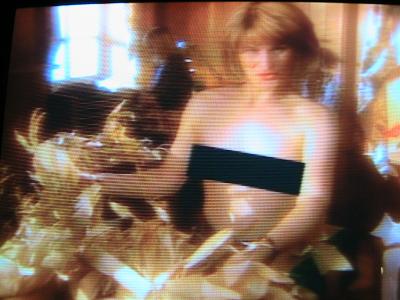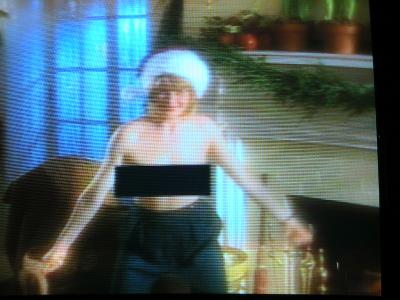 I used to imitate Ana Gasteyer's boob shake to "Jingle Bells" when I was back in 1996...when I was fourteen.

Hanukah Song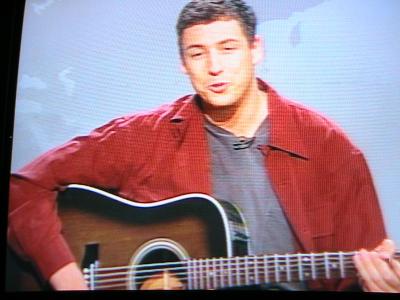 A Holiday Wish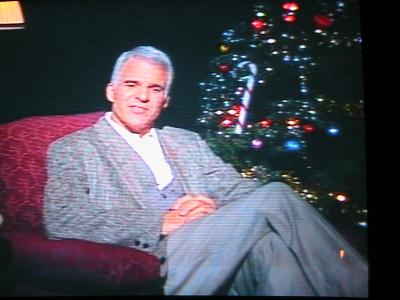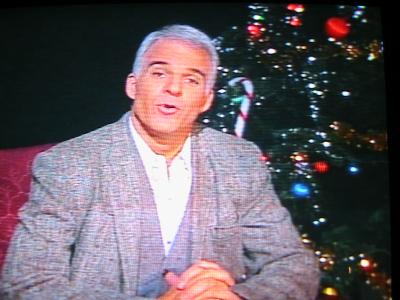 Matt Foley: Motivational Speaker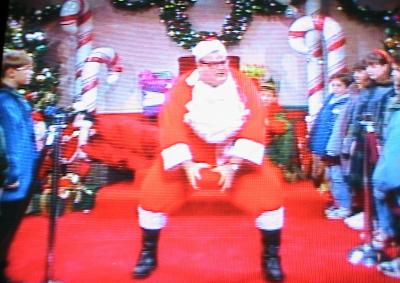 Consumer Probe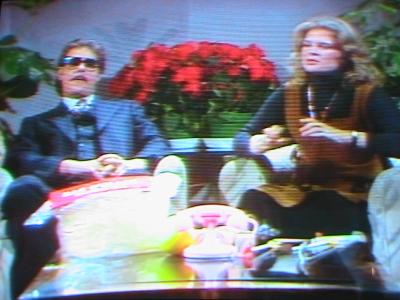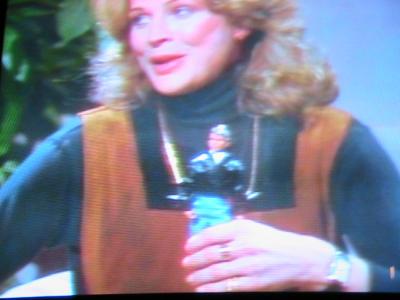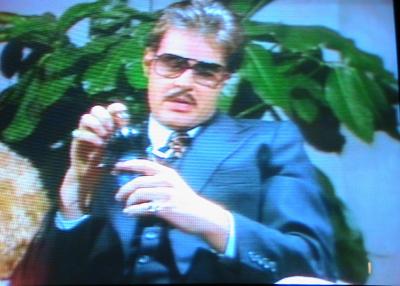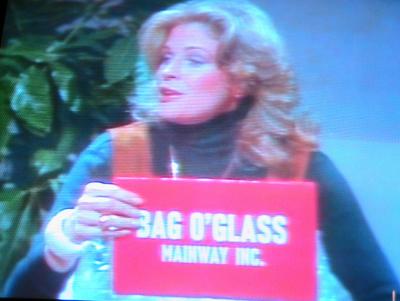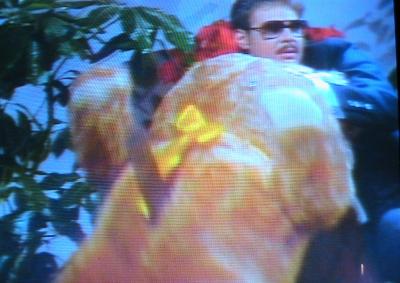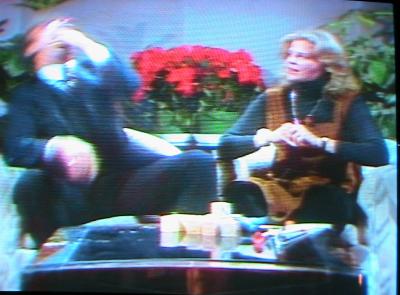 Lost Ending of "It's a Wonderful Life"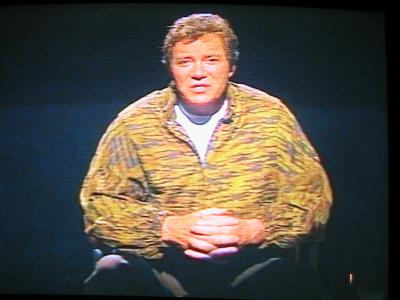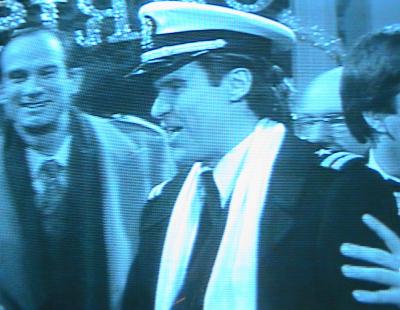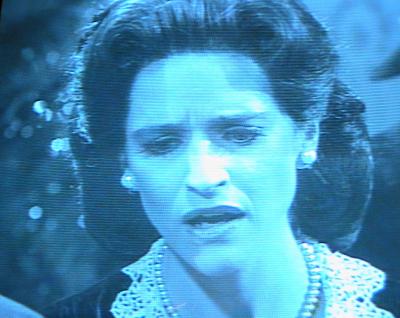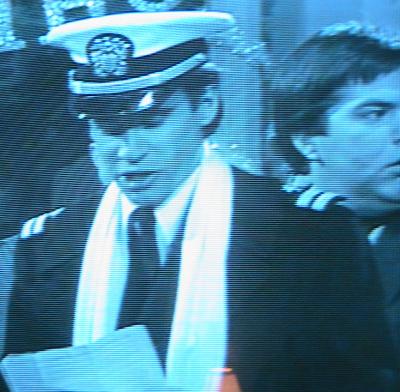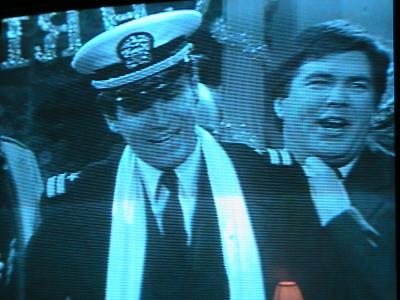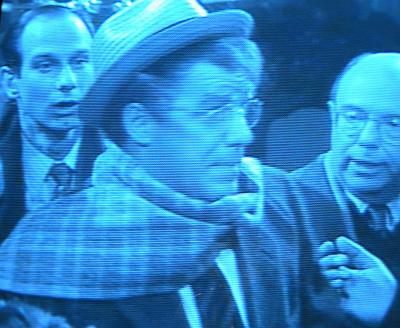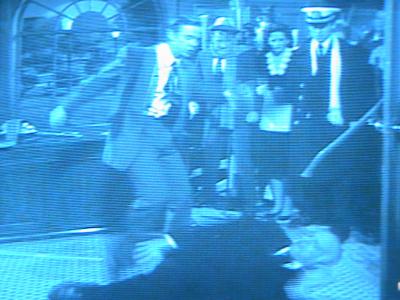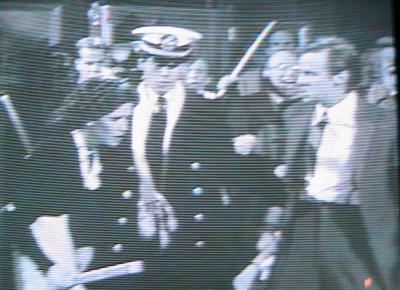 Santa Wrap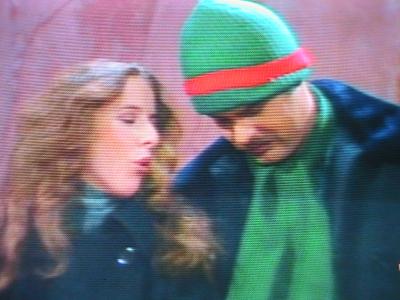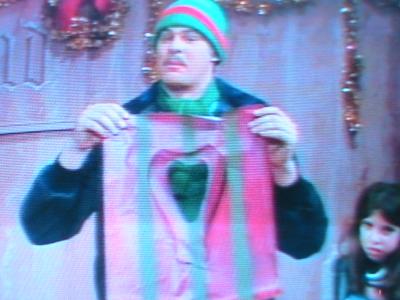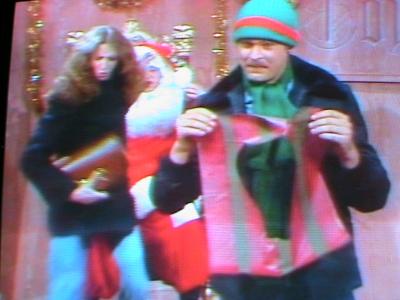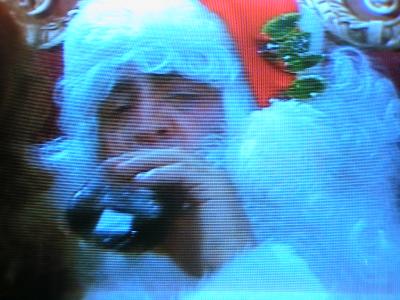 Hanukah Harry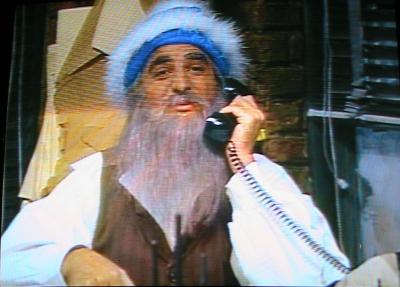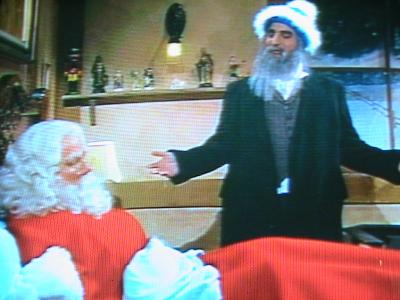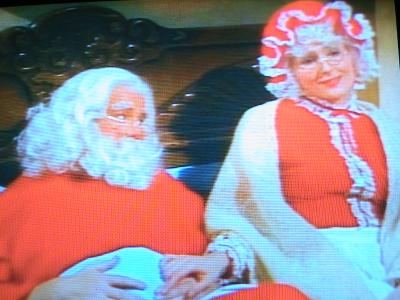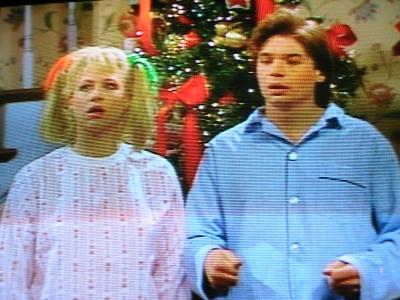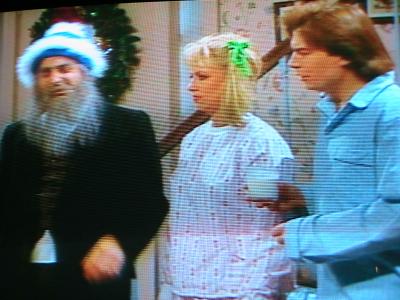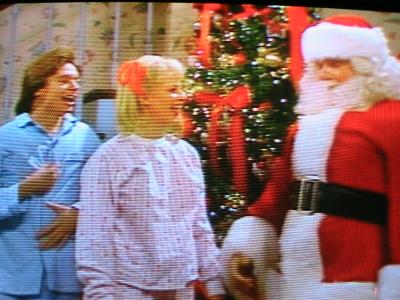 Deserted Island Christmas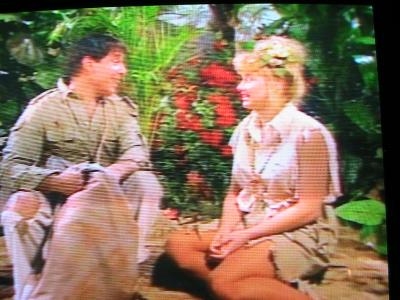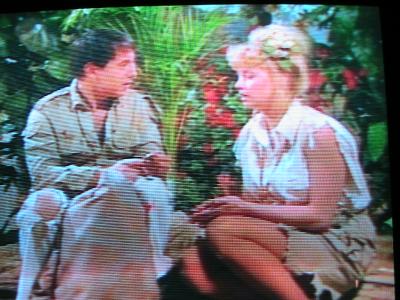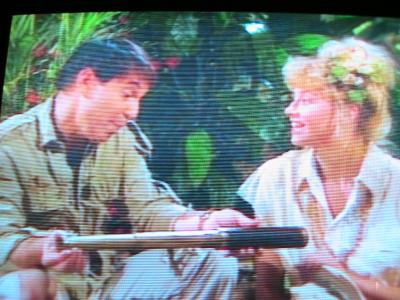 Winter Wonderland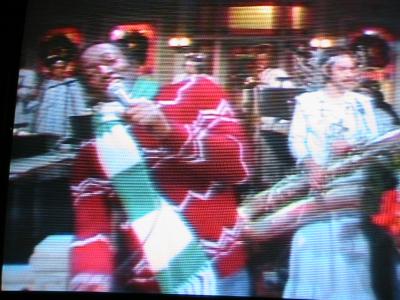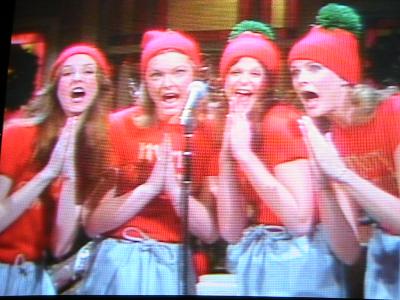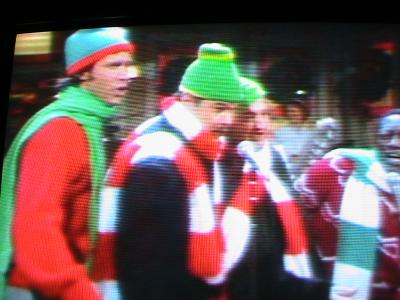 Dysfunctional Family Chrsitmas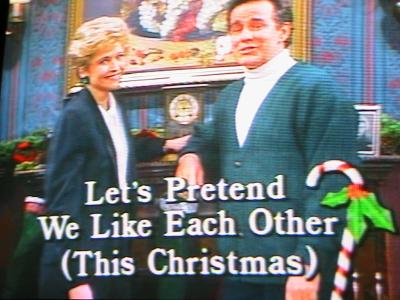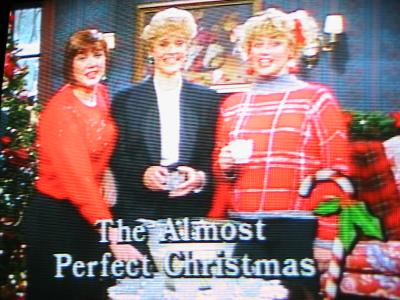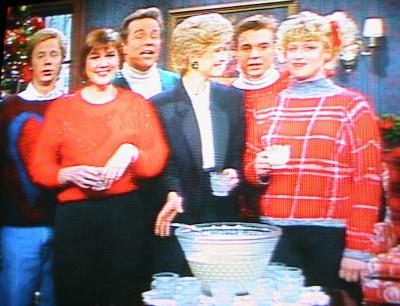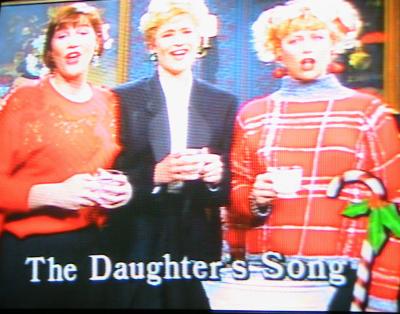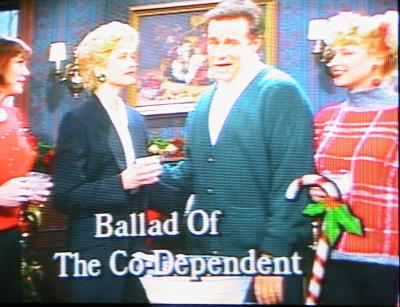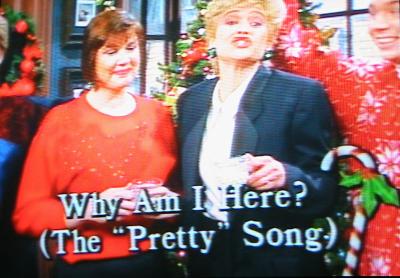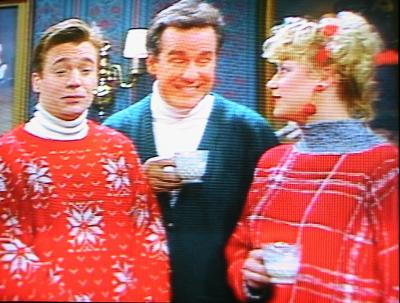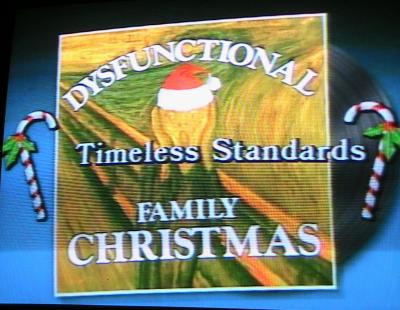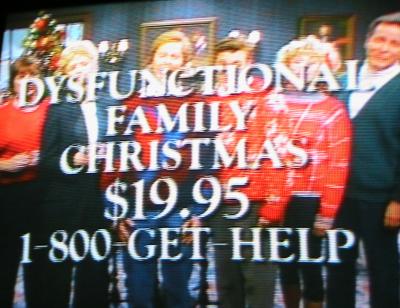 Rita From Brooklyn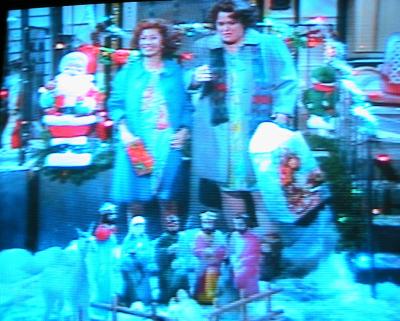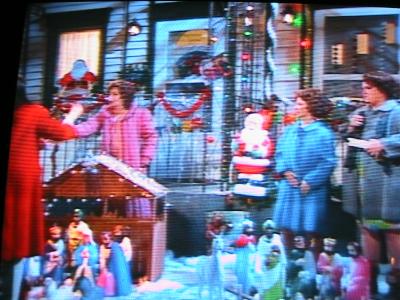 Master Thespian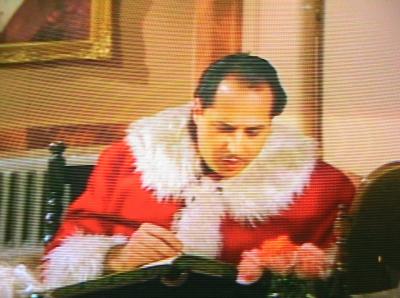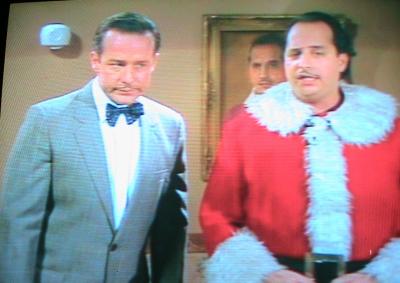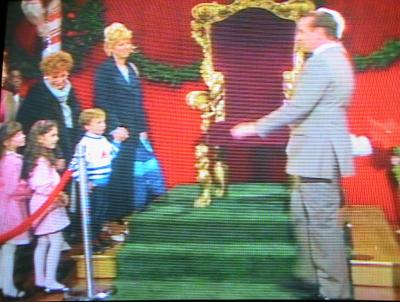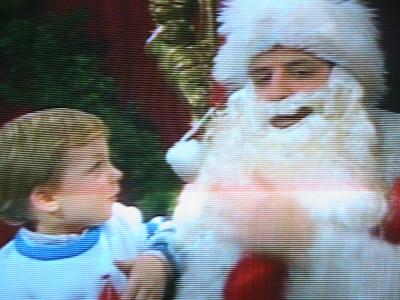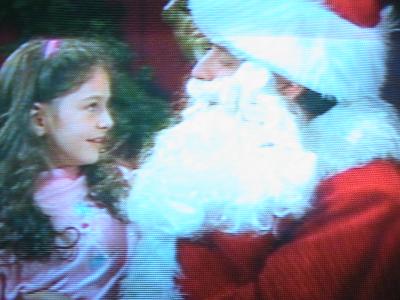 Conclusion



Well, that about wraps up this Yuletide edition of my "Saturday Night Live" article. From mi casa to su casa, from my heart to yours, I want to wish you all a Merry Christmas, a Happy New Year, a Happy Hanukah, a Happy Kwanzaa, a joyous Festivus…eh, whatever you celebrate, just make it merry for me. Ok, babe?

Once again, this has been Allison Venezio, aka "Allison_SNLKid," you "Saturday Night Live" guru, exclaiming, as I sign off this article, Merry Christmas to all babe, and guess what? I am outta here!
~Allison Venezio, aka "Allison_SNLKid," your "Saturday Night Live" Guru