Introduction



Welcome to part 3 of my exciting 4-part look at the four seasons that saved "Saturday Night Live." If you've read parts 1 and 2, welcome back! But, if you haven't, you have a little catching up to do.

With that out of the way, it has been an exciting couple of seasons, hasn't it? In the course of two seasons, we've seen a show reinvent itself in ways that even the most lenient critics probably never saw coming. We've seen a show come back from too many misses to lots of hits. And the crazy train just keeps on rolling – next stop: 1988-1989.

Despite a writer's strike during the late winter months of 1988, season fourteen started within a normal time range for "Saturday Night Live" – October. It is truth that while many shows begin their seasons during late September, "Saturday Night Live" rarely starts its run in September. After all, the show premiered in October 1975, and more often than not, every season thereafter has often started around the same day.

And now, without further ado, let's begin part 3 of "Saturday Night Lives"!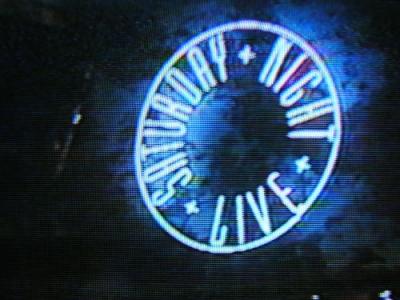 Part 3: Season 14 - 1988-1989




Their Best Season Yet



With...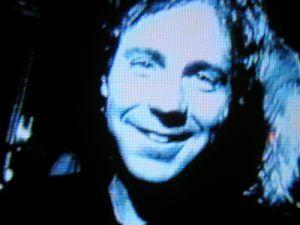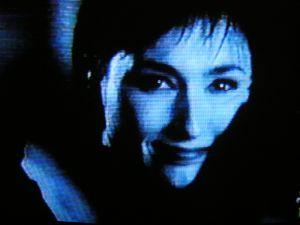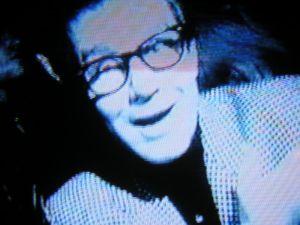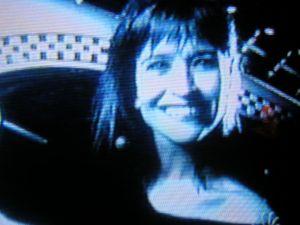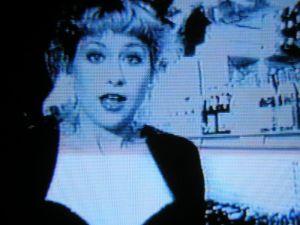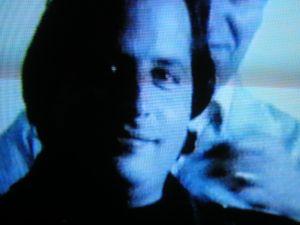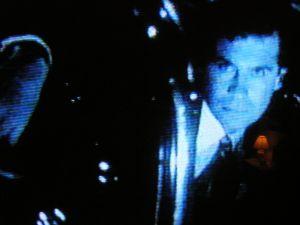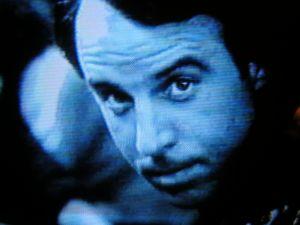 Dana Carvey! Nora Dunn! Phil Hartman! Jan Hooks! Victoria Jackson! Jon Lovitz! Dennis Miller! Kevin Nealon!

And Featuring...



Mike Myers!

Season fourteen kicked off on October 8, 1988, and a lot was going on in the world – Vice President George H.W. Bush was the Republican Party's nominee for the 1988 presidential elections, fighting the good fight against Democratic Massachusetts governor Michael Dukakis. On the marriage front, "Saturday Night Live's" "Weekend Update" anchor Dennis Miller married his fiancée, Ali Epsley (they are still married).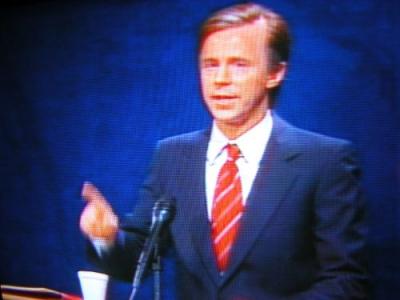 vs.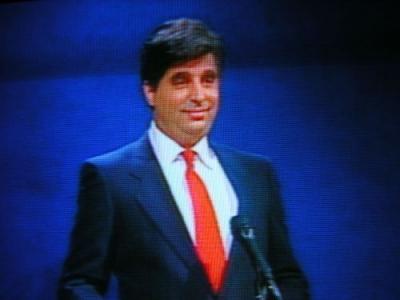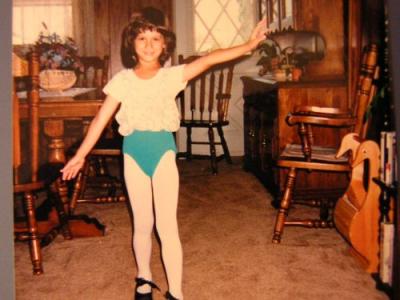 Also, I started Kindergarten (and my second year of dance school - that's me in my tap shoes - I was taking Ballet/Tap Combination class that year) in September 1988 – but it's not about me, it's about "Saturday Night Live." And damn me for thinking anything different.

The fourteenth season began with new opening credits - gone were the credits involving each cast member running away from something (including Dennis Miller doing his infamous girlie run while his mullet does a Jan Brady bounce – I felt the need to throw that in for Reaper, who has become very fond of my use of "girlie run" ever since the "Bordello of Blood" article – thanks, Reaper, for making repetitiveness sound so good!). Also in were the additions of two new cast members in featuring positions – Mike Myers, who debuted on January 21, 1989, and Ben Stiller, who debuted on March 25, 1989, but must have overstayed his welcome, because he was gone by the next season. I guess the world wasn't ready for Ben Stiller yet…but, they would be soon enough. Me, I personally can't get enough of him, or his Tom Cruise impression. And this was, of course, long before he was jumping off of couches for publicity.




The original eight (Carvey, Dunn, Hartman, Hooks, Jackson, Lovitz, Miller, and Nealon) all returned – this time, Carvey and Hooks had haircuts, and Miller…well, Miller still had rebel hair. I'll give him this—he would have been a shoo-in for the role of Nick Moore in that "Family Ties" parody the previous season. With a few new additions, this cast was probably in its top form over the previous two seasons.

The season was kicked off by host Tom Hanks, returning for his third time, with a movie under his belt ("Big" was released that summer). I'm also kicking myself in the biggest way because I had the uncut, ninety-minute episode on tape, but I stupidly said, "oh, I need to conserve this tape, so I'll just rewind it so I can tape 'Saturday Night Live in the '80s: Lost and Found.'" I did tape the special (which is great, and where I've gotten some of these great pictures), but I stupidly didn't grab another tape for it. I also conveniently trashed a tape that had the Matthew Broderick and Glenn Close episodes for this season on it. I swear, I trashed the best Weekend Update moment ever (or, at least from this season), the most controversial sketch of the late 1980s, and the only chance I'd ever get to see Dana Carvey, Jon Lovitz, and Dennis Miller (yes, Dennis Miller) playing three of the four Beatles. I honestly haven't seen two out of three of these moments in seven years. I'll tell you about these moments a little later.

Here's a run down of the season premiere, hosted by Tom Hanks, with musical guest Keith Richards (yes,

that

Keith Richards).

October 8, 1988 (Season Premiere)
Host Tom Hanks
Musical Guest Keith Richards

Cold Opening – Pumping Up with Hans and Franz
Dana Carvey – Hans
Kevin Nealon – Franz
Phil Hartman – Announcer (v/o)

Monologue
Tom Hanks
Keith Richards
Nora Dunn
Phil Hartman
Dennis Miller
Conan O'Brien – stagehand
Bob Odenkirk – NBC Page

Commercial – First Citywide Change Bank
Jim Downey – Paul McElroy, Representative
Jan Hooks – client
Kevin Nealon – client

Show - ABC Campaign 88
Tom Hanks - Peter Jennings
Dana Carvey - George Bush
Jon Lovitz - Michael Dukakis
Jan Hooks - Diane Sawyer
Kevin Nealon - Sam Donaldson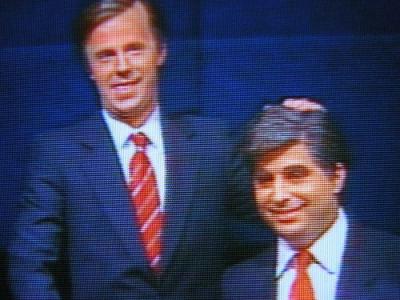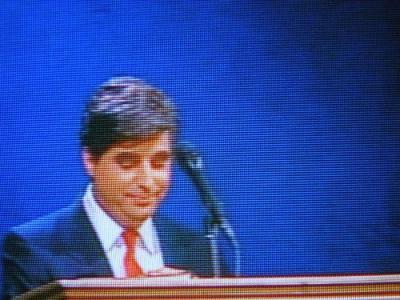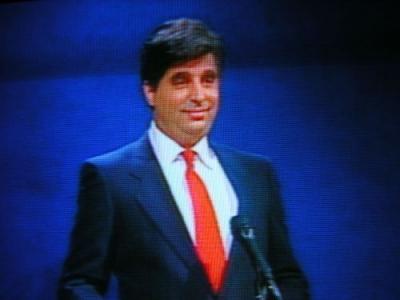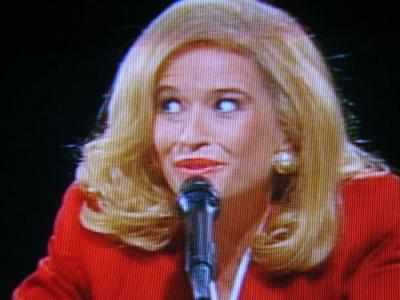 Do you guys remember the infamous "Dukakis lift"??? Michael Dukakis had a lift on his podium during the 1988 debates. "I am the son of Greek immigrants."

Musical Performance – "Take it So Hard"
Keith Richards

Sketch – Mr. Short Term Memory
Tom Hanks – Mr. Short Term Memory
Phil Hartman – waiter
Victoria Jackson – Caroline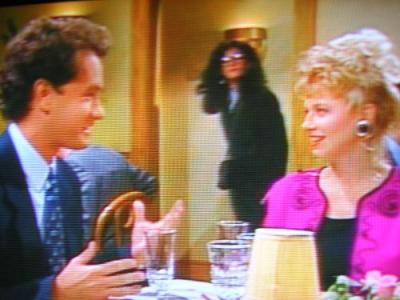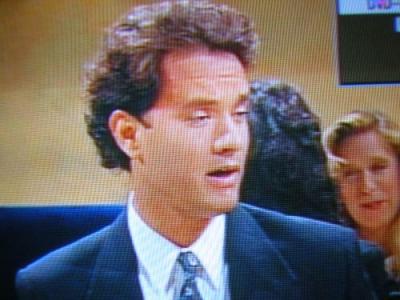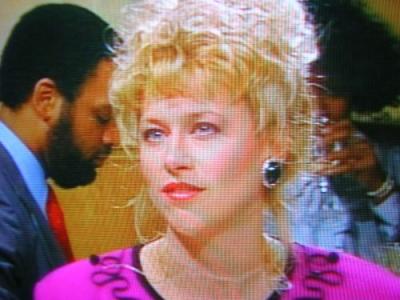 Commercial – First Citywide Change Bank
Jim Downey – Paul McElroy, Representative
Nora Dunn – client
Phil Hartman – Client

Weekend Update With Dennis Miller
Dennis Miller
Kevin Nealon – reporting from the All-Drug Olympics
Phil Hartman – Sergei Akmudov , weightlifter
A.Whitney Brown – coach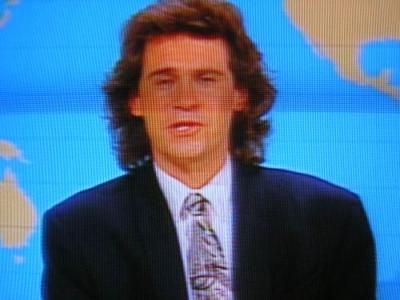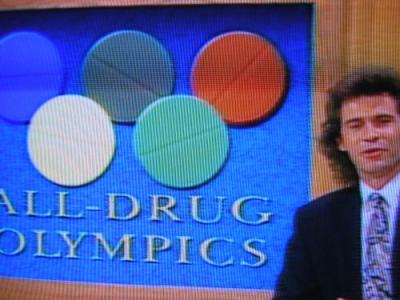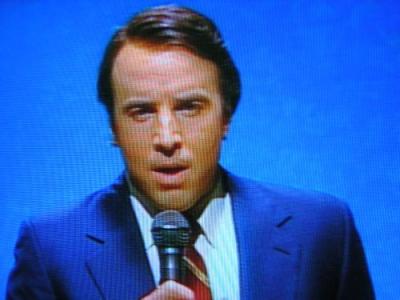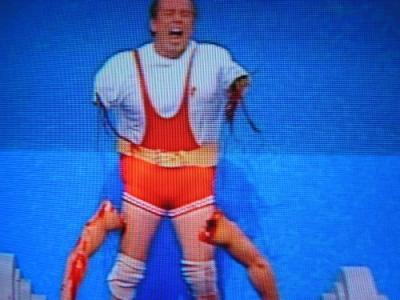 Sketch – Girl Watchers Class Reunion
Jon Lovitz – Girl Watcher
Tom Hanks – Girl Watcher
Kevin Nealon – Andy, friend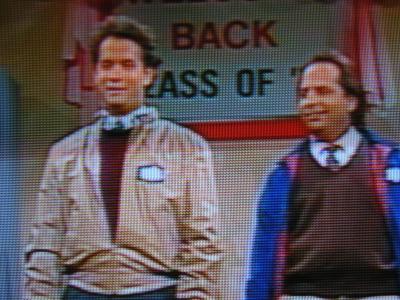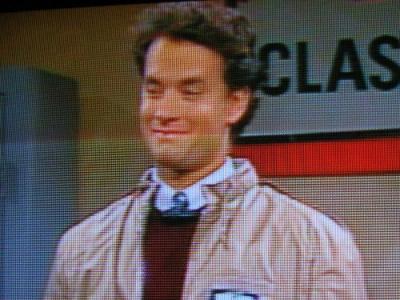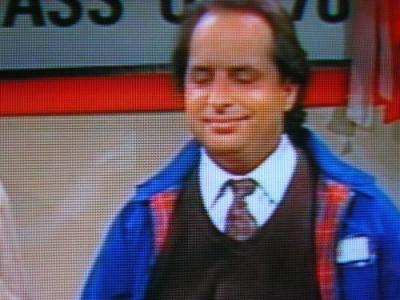 Game Show – Jew, Not a Jew
Tom Hanks – Bob Tompkins, host
Al Franken – "You Make the Call" announcer (v/o)
Phil Hartman – Ted Johnson, contestant
Jan Hooks – Mrs. Johnson, contestant
Victoria Jackson – Deborah Knutsen, contestant
Kevin Nealon – Greg Knutsen, contestant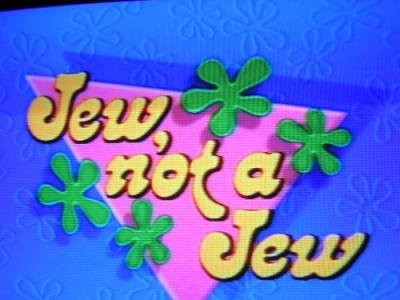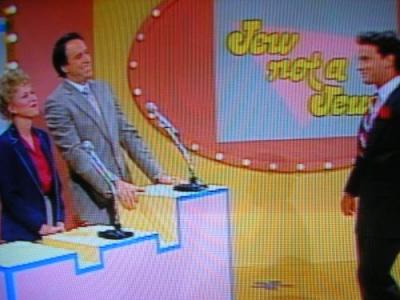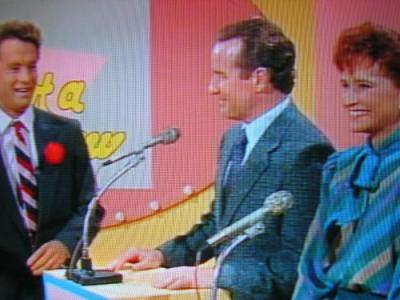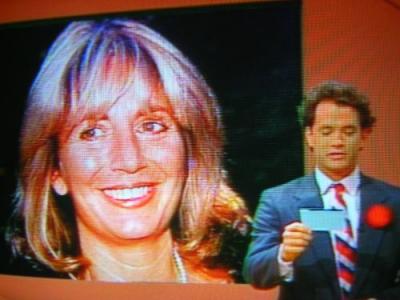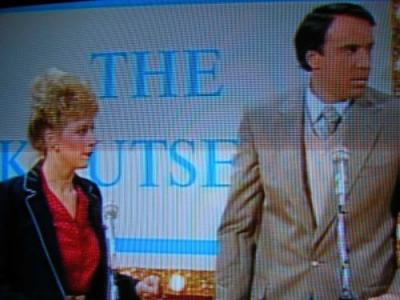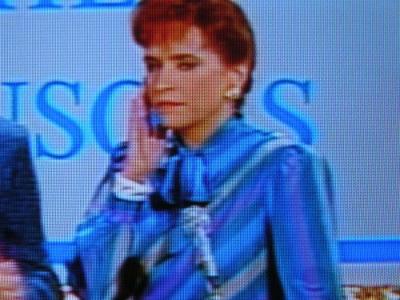 Sketch – "Big" Outtakes
Tom Hanks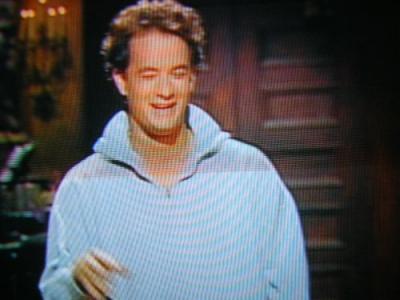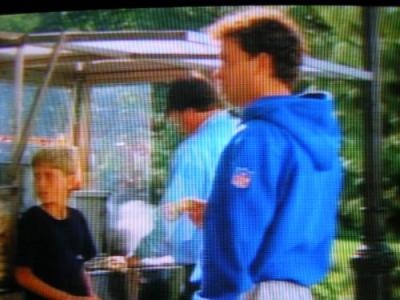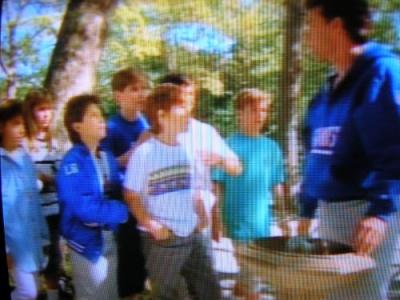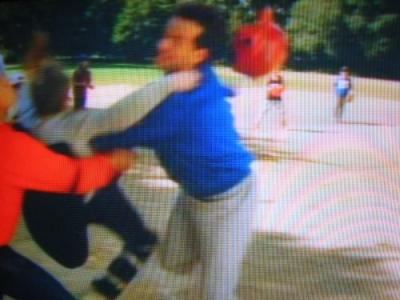 Tom Hanks pushing a thirteen-year old cracks me up, no matter how many times I see it!

Musical Performance – "Struggle"
Keith Richards

Sketch – The Pat Stevens Show
Nora Dunn – Pat Stevens
Phil Hartman – Barbara Bush
Jan Hooks – Kitty Dukakis
Mark McKinney – Announcer (v/o)

This episode was a good, solid start to what would be a great season. Host Tom Hanks, in his third try, proves he has what it takes to be a regular host, and his efforts will always be noticed – he'll host several more times during the nineties, and in 2006, he will come back to host again, proving himself to be a show favorite. And, I managed to find some of these moments on my Best of Tom Hanks DVD.



Season Recap




Hosts and Musical Guests – Season 14 1988-1989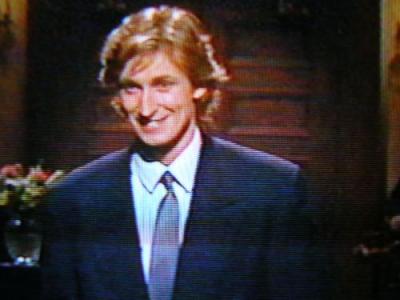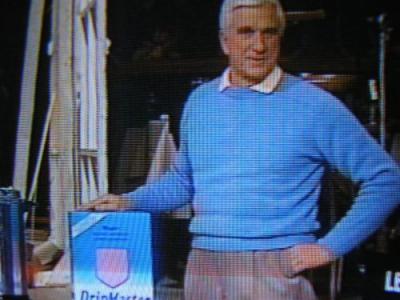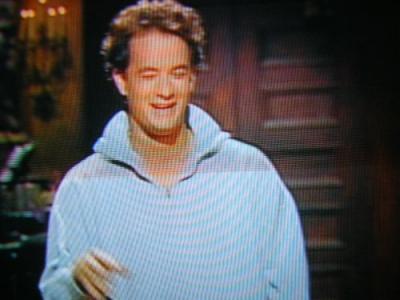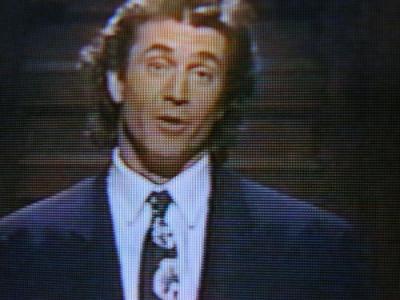 October 8, 1988 – (Season Premiere) Tom Hanks/Keith Richards
October 15, 1988 – Matthew Broderick/The Sugarcubes
October 22, 1988- John Larroquette/Randy Newman
November 5, 1988 – Matthew Modine/Edie Brickell and New Bohemians
November 12, 1988 – Demi Moore/Johnny Clegg and Savuka
November 19, 1988 – John Lithgow/Tracy Chapman
December 3, 1988 – Danny Devito/The Bangles
December 10, 1988 – Kevin Kline/Bobby McFerrin
December 17, 1988 – Melanie Griffith/Little Feat
January 21, 1989 – John Malkovich/Anita Baker
January 28, 1989 – Tony Danza/John Hiatt
February 11, 1989 – Ted Danson/Luther Vandross
February 18, 1989 – Leslie Nielsen/Cowboy Junkies
February 25, 1989 – Glenn Close/The Gipsy Kings
March 25, 1989 – Mary Tyler Moore/Elvis Costello
April 1, 1989 – Mel Gibson/Living Colour
April 15, 1989 – Dolly Parton
April 22, 1989 – Geena Davis/John Mellancamp
May 13, 1989 – Wayne Gretzky
May 20, 1989 – (Season Finale) Steve Martin/Tom Petty and the Heartbreakers



Accidental Happenings




The Blooper Reel



Once again, for your consideration, here are the bloopers and outtakes from the 1988-1989 season.

11/19/1988 – An overactive and unruly dog causes John Lithgow to break character during "St. Bernard's Church." He later ad-libs, "you're not to bark, you're in a sketch."

2/11/1989 – Dennis Miller interrupts a joke to ad-lib, "what the hell's going on over there?" in response to noise being made off-camera by hogs that were to be used in the next sketch.

4/1/1989 – In "As World Turn," Phil Hartman's (Frankenstein) wig is briefly displaced when Mel Gibson hits him in the head with a fake baseball bat.



Did You Know?




Facts of the 1988-1989 Season



3/25/1989 – During his performance of "Veronica," Elvis Costello breaks several guitar strings.

The ever-controversial "Nude Beach" sketch was actually a dress rehearsal sketch cut from the 10/8/1988 episode. It was re-cast and aired for the 10/15/1988 sketch, with Dennis Miller playing "Ted" (replacing Tom Hanks), and Matthew Broderick playing "Doug" (replacing Jon Lovitz, who moved to a minor role). Dana Carvey and Kevin Nealon kept their roles of Bob (Carvey) and Jack (Nealon). The sketch is one of the most controversial during its time, and cannot be removed from the archives. It is one of the 101 most unforgettable moments in "Saturday Night Live" history. See "Controversial Moment" below. Also, I won't elaborate too much on this sketch due to the fact that I have an article in the works for it. I will provide a brief synopsis on it, but consider that a teaser for an upcoming article.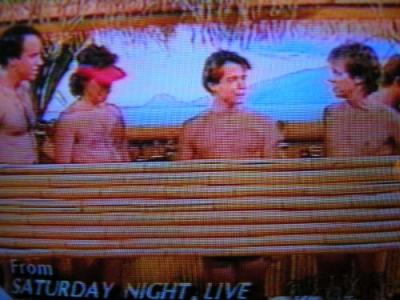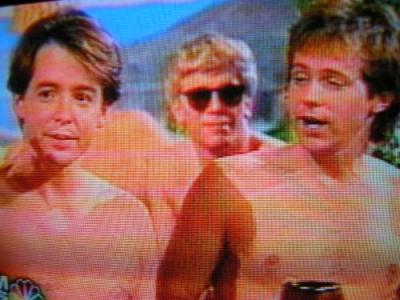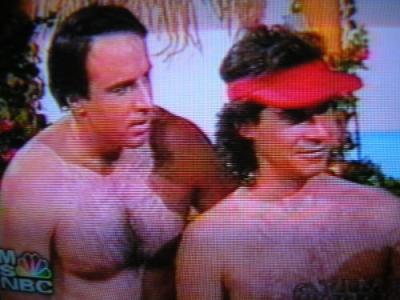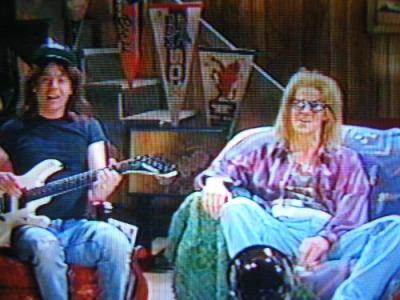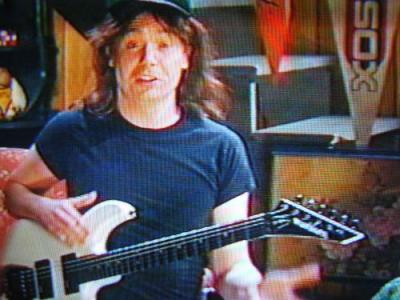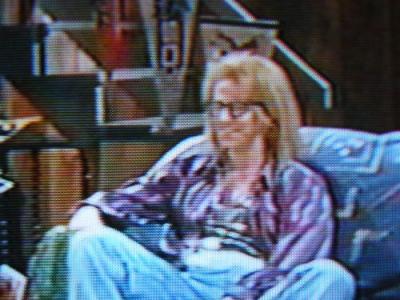 "Wayne's World" makes its debut this season, during the 2/18/1989 episode, hosted by Leslie Nielsen. The sketch was received poorly in its initial run, airing in the 12:50 spot (the time slot Dennis Miller says "is the sketch that makes everyone want to go to bed early"). You can tell this was a work-in-progress, as it wasn't really developed. And, the lighting wasn't exactly great – anyone else think it was a little dark? Also, Dana Carvey's "Garth" develops nicely by late 1989.

On a sad note, Gilda Radner died on May 20, 1989, due to ovarian cancer. She died in her sleep, and Lorne Michaels was ready to pull the show, but at host Steve Martin's insistence, the show went to air that night, in respect to Radner. There was closed dress rehearsal in respect to the grieving cast and crew. An encore presentation of "Dancing in the Dark" from 1978 is shown in place of a monologue. A teary Steve Martin jokes, "It's easy to see how wonderful she was, and how young I looked. Gilda, we miss you."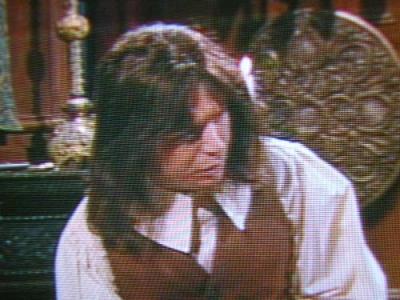 Mike Myers makes his debut as a featured player on January 21, 1989. This is him in his only role that night, as a groundskeeper who "mocks" Lord Edmund in the "Mocking Lord Edmund" sketch.


Ben Stiller makes his debut as a featured player on March 25, 1989.



Controversial Moment



"Nude Beach" aired on October 15, 1989, with host Matthew Broderick playing the insecure Doug, Dana Carvey playing his good friend, Bob, Kevin Nealon playing vacationer Jack, and Dennis Miller playing Ted. The controversy involves the use of the word "penis" more than forty times. Miller claims that he was never in sketches, but ends up in the most controversial sketch to air in the six years he was with the show. I plan on writing an article all about this sketch, and more stories behind it (I have a few very interesting stories).

I'm kicking myself because I got rid of the tape that had the complete sketch, but I have clips of it everywhere else. Thank goodness. I needed to have something to show you.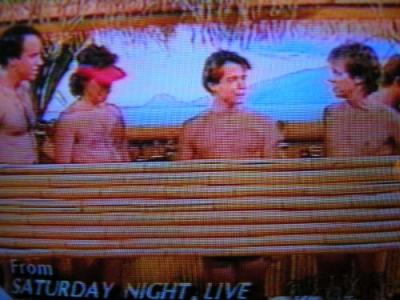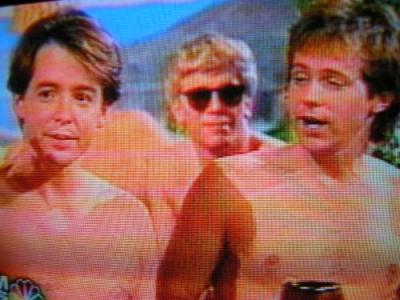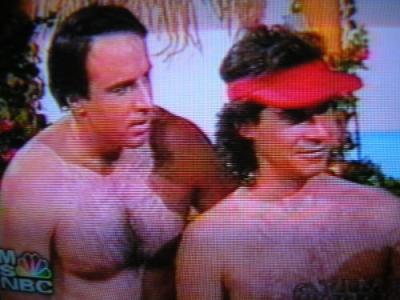 "Well, that's quite a small penis you have there, Doug."
"Yeah. You could pick a lock with that penis."



It Happened in 1988-1989




Newsworthy "Weekend Upate" Moments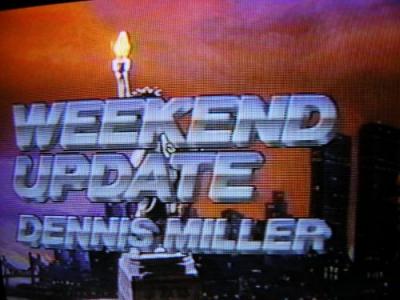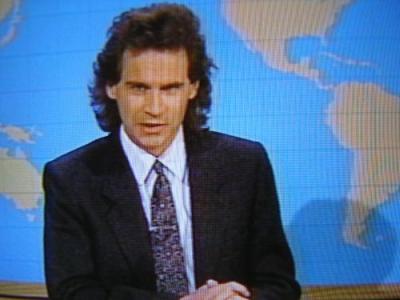 "According to an offical poll of "Weekend Update" viewers, concerning their reservations about Dan Quayle as Vice-President: 33% of our viewers said they feared his age and lack of experience, 46% said they are fearful of his lack of sincerity, and an overwhelming 94% said that they are incredibly frightened of his wife's hairdo. You know, the last time I saw this haircut, it was making supper for Rob Petrie and Richie."

Insiders are saying that Chilean dictator Gustav Pinochet is blaming his defeat in Wednesday's nationwide referendum, on his running mate Daniel Dequayer. Chilean voters worried that Dequayer would not be brutal enough in the event he had to assume power. Dequayer, who is called "El Pendexito" - or, literally, "Little Pubic Hair" - says he's at least as brutal as Franco was when he took power. A spokesman for the opposition said, "Hey, I know Franco; I was tortured by Franco; he's no Franco."

"The Supreme Court reconvened this week, and ruled that it is justifiable homicide to kill somebody who makes that quotes-sign thing with their fingers when they're talking to."

"After 67 shutout innings, Dodgers pitcher Orel Hershiser finally surrendered a run this week to the New York Mets. Hershiser was getting very close to the all-time record of not getting scored on, set by Brooke Shields from the age of 16 to…well, what time is it, huh?"

"The NBC 'Today Show' and Olympic host Bryant Gumbel's ego applied for statehood today. If granted, it would become our nation's fifty-first state, and ninth largest."

"And the fifth grossing film in America this week is "Young Guns", the new film where everybody in it is Martin Sheen's son, but nobody has the same last name. There's a tight nuclear family, huh?"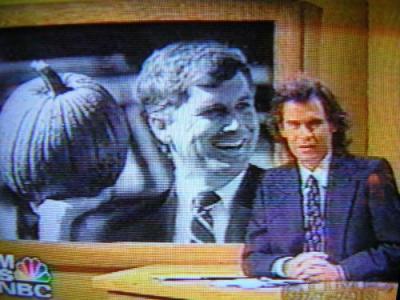 [Picture of Dan Quayle holding a pumpkin]"What's the difference between these two spherical objects? The answer is that eventually, the one on the left will have a light in it. Sorry, Dan-O, you make it too damn easy."

"The Pillsbury Doughboy donned boxing gloves in recent financialads to show his company's resistance to hostile corporate takeovers. The move brought fight promoter Don King to announce that Sugar Ray Leonard will meet the Doughboy for 15 rounds next month in Atlantic City. Leonard says his fight strategy is to go for the head, since every time you hit the guy in the stomach, he just giggles."

"Long-distance runner Joan Benoit suffered a bad fall on the last miles of the New York City Marathon on Sunday, when she collided with a young spectator. The child was okay, but Benoit had to be destroyed."

"Former KKK Imperial Wizard David Duke was sworn in as a member of the Louisiana state legislature this week. When asked to explain Duke's surprise victory, his campaign manager said: [Hums "Dueling Banjos" theme popularized in the 1972 film Deliverance - photo of banjo player from the film]."

[Photo of Asian man carrying buckets] "Bucket Man lives! Bucket Man lives! Run for your life!"

"And TV schlock show "Inside Edition" angered many viewers this week when it gave a forum and speaking time to convicted assassin Sirhan-Sirhan and convicted child killer Joel Steinberg. You know who's gotta feel the worst about this is former "Inside Edition" anchor David Frost who was let go last week because the producers didn't think he was likable enough."

"You know, the last vestige of the Ronald Reagan White House years was removed yesterday when workmen dismantled the secret pipeline that connected the Oval Office with the Grecian Formula 16 factory in Baltimore, Maryland."

"And Oliver North's trial will finally get underway next week after delays including the prolonged jury selection process to find twelve jurors who had no preconceptions about Oliver North. You know, this is what's wrong with the American legal system. The entire system of jurisprudence is based on the premise of "trial by jury" and the only way you can get on a jury is if you prove beyond a shadow of a doubt that you know nothing about the case you're about to try. Consequently, we have people's lives being determined by twelve people in a room whose main in goal in life is to wrap it up and get home in time to watch "Alice" reruns on the Superstation because they think Flo is a real hoot."



The Best of the Season



This was a solid season on every front – great commercials, hosts, sketches – everything that could have gone right in a season did go right this season. Rather than focus on some of the low-points of the season, like I have in the past two articles (not that there were many negatives), I would like to focus on why this season worked.

In this season, as the cast members were beginning to come into their own, the shows became more consistent. It was in this season that the writing and acting really began to gel, and impressions that had been one or two seasons in the making were becoming better and more developed. If any impressions weren't consistent this season, they were soon to become better. For instance, Dana Carvey's George H.W. Bush impression wasn't exactly a show-stopping performance in October 1987, but by October 1988, it was a large improvement (it stopped sounding like Dana Carvey whining, and more like the Vice President-turn-President). Dennis Miller was putting effort into anything he did – his "Weekend Update" jokes were funnier than ever – and he even took to singing, as he did on February 25, 1989, during a joke about folk singer Cat Stevens, he began singing some of his hits, except he was sticking Muslim references in. For example: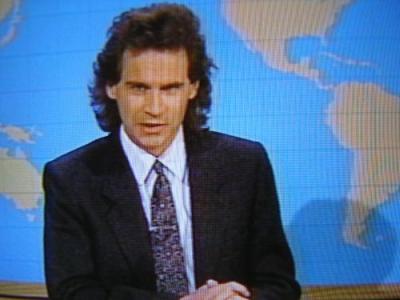 And former folk singer Cat Stevens, now known as Yusuf Islam, came out this week and said he advocated the assassination of Salman Rushdie. So much for that "Peace Train" crap, huh, Cat? ...yeah, I could see this comin' years ago on his old album, 'Tea for the Killerman' [Doctored photo of Cat Stevens' album 'Tea for the Tillerman']...you, uh, you remember the big hit:

[Sings a parody of Stevens' song "Moonshadow"]
I'm being followed by a big muslim
Big Muslim, big Muslim
[switches to falsetto voice]
Big Muslim, big Muslim
Big Muslim, big Muslim
[Cheers and applause. When the crowd subsides, Dennis suddenly starts singing his heart out with a slightly mangled but endearingly passionate version of Stevens' "Father and Son":]
How can I try to explain
When he do I turn away again
It's hard
But it's harder to ignore it
If they were right, I'd agree
But it's them they know, not me now
There's a way and I know that I have to go away
I know I have to go
[More cheers and applause. Dennis cracks up with laughter.]
Yeah.
[Cheers and applause dies down. Again, Dennis breaks into song, Stevens' "Wild World":]
Oh, baby, baby, it's a wild world!"
[Dennis mimes the keyboard part and hums along.]

You have to give this guy credit. He had me rolling on the "So much for that 'Peace Train' crap, huh, Cat?" And the passionate way he awkwardly sings these songs is enough for a few minutes worth of laughs (which is a lot, considering this was maybe about thirty seconds to one minute worth of material). I'm still kicking myself for ridding my collection of this tape.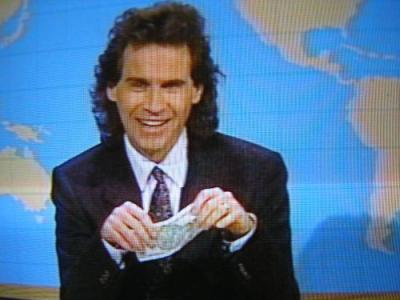 Discussing the deficit...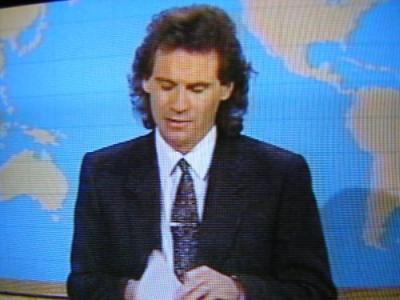 (Referring to George Michaels' booty shaking)"What an ass."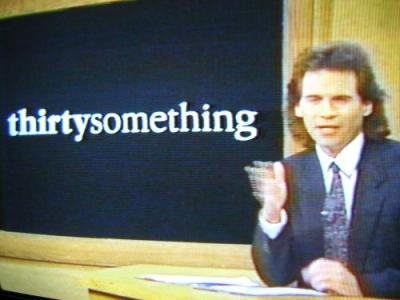 And nitpicking over the way "

thirty

something" is written.

If Jon Lovitz and Phil Hartman had already come into their own, their impressions and characters were just getting better. Lovitz's "Master Thespian" became funnier every season (especially when teamed with guest host John Lithgow, who plays "Beaudelaire," Master Thespian's inspiration). And, when he was paired with Glenn Close, he claimed he was "married," and her name was "ACTING!" She boldly tells him, "you have been divorced for a long time." Ooooh. Low blow. Phil Hartman, on the other hand...it goes without saying that the man is a genius, so versatile in anything he does. Personally, if you had to ask me about one of my favorite moments (aside from the Sinatra Group), it would be as The Anal Retentive Chef. Now, this type of show is enough to aggravate the worst of the anal retentive populations out there. If my mom--no, wait--my dad had a cooking show, this would be it. Except, in my kitchen, something manages to get prepared.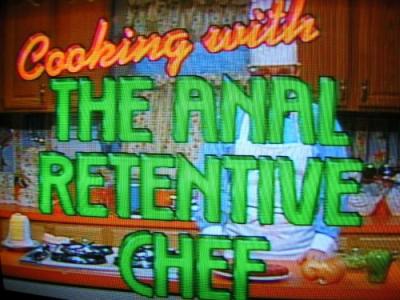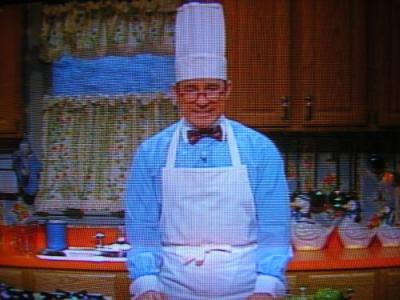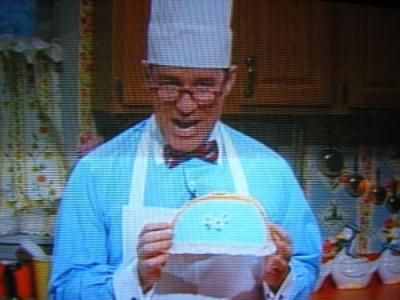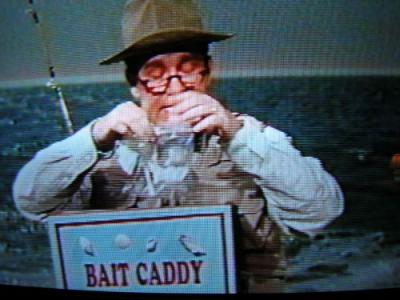 This is what happens when you fish with the "Anal Retentive Sportsman." Could you ever spend any tme on a boat in the middle of a vast ocean with this guy?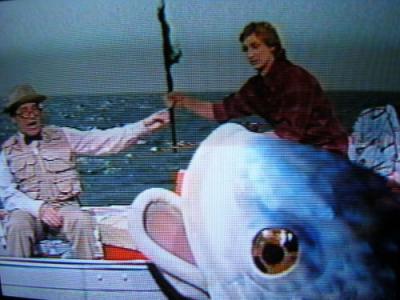 See what I mean? It's not good to be in the middle of the ocean with him. In the grand tradition of the "Great and Powerful Cos" head that presented itself in 1986, the crew broke out the big bucks and created this giant fish, which eventually takes Wayne Gretzky overboard. He was probably trying to escape Hartman's "Gene."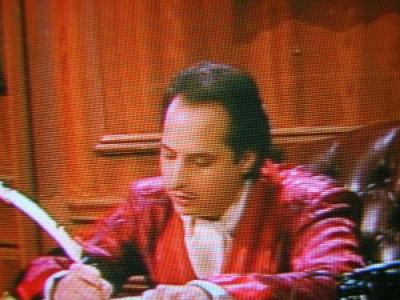 Jon Lovitz as "Master Thespian," the actor's actor. He is writing in his journal, as always. This is merely practice for the Subway commercials my friend Kristin loves so much. "Subway! Eat FRESH!" "ACTING!"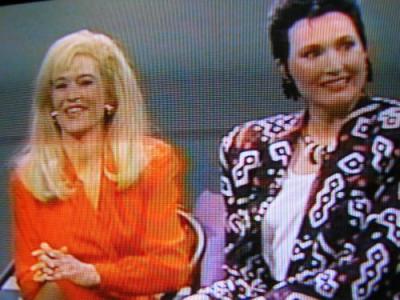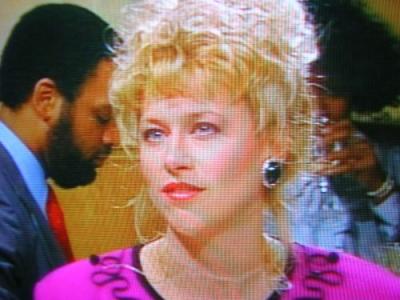 And, it was a season for the ladies – Jan Hooks, Victoria Jackson, and Nora Dunn were all impressive in the roles they played. Victoria Jackson began to come into her own this season, as she began to do routines and sketches that catered to her unique style of humor. Observe Hooks as "Lady Tewksbury" in "Mocking Lord Edmund" (January 21, 1989).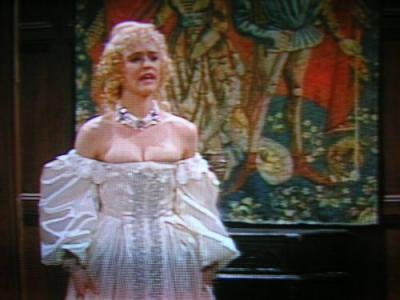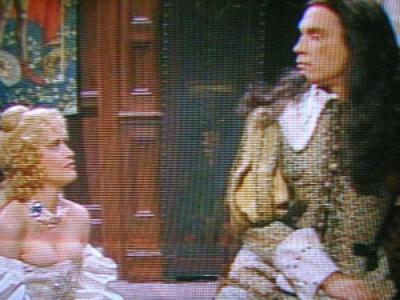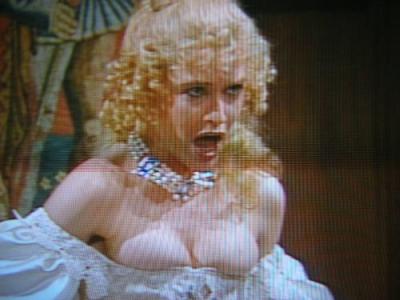 Her dress is beginning to take a slide south, but she manages to hold herself together (the audience is hysterical because it is obvious her dress isn't going to stay up much longer). As she exits the stage, you can see her holding that top up. She got some applause for that.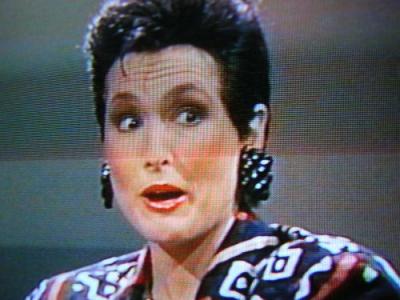 Nora Dunn, proving herself to be a woman of dry wit, shines in anything she does – particularly as my favorite character of hers, Pat Stevens. She also proves to play the part of "the b***h" to a "t." Her turn as powerful women like Imelda Marcos and Leona Helmsley are excellent, and her turn as Marcos crying while Dennis Miller asks her some tough questions about how she is going to prison, is quite funny.

And kudos to Kevin Nealon, who, in his second season as a full cast member, had proved his worth several times over, and all he had to do was play himself, merely using his dry wit to bring about laughter. His chemistry with Dana Carvey, as they continue to utilize their Hans and Franz sketches, is apparent.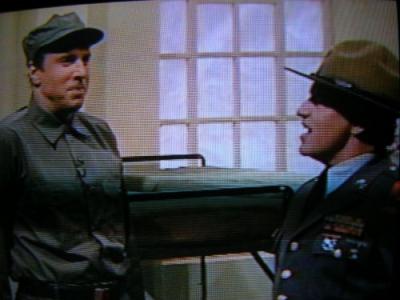 And, the hosts? Just look at the line up – John Lithgow, John Larroquette, John Malkovich, Tom Hanks, Matthew Broderick, Mary Tyler Moore, Dolly Parton, Leslie Nielsen, Matthew Modine, Steve Martin, Mel Gibson, Wayne Gretzky, Melanie Griffith, Danny DeVito, Demi Moore, Glenn Close, Ted Danson, Geena Davis, even Tony Danza (I'm still scratching my head over this one) were all represented here.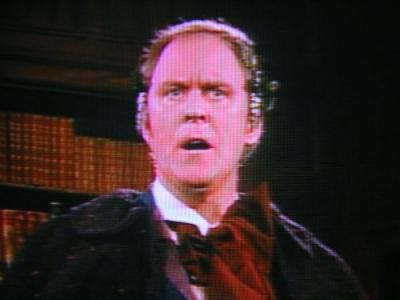 It's too hard to flat out say what was good or bad about this season. It was a winning season on all fronts for everyone involved, and everything just worked this year.



Commercial Parodies of the Season



First Citywide Change Bank Part 1
First Citywide Change Bank Part 2
McDonnell-Rand
Come Back to Carbon Paper
George H.W. Bush Anti-Dukakis Advertisements
The Republican Party
Neuberg's Bleu Cheese Cooler
Long White Beard
Big Red
First Guardian Personal Service
Maydenform
Sleepytime Rat Control
Exxon School of Supertanker Engineering
10 Beatles Classics You Kind of Know the Words To
Tammy Wynette Sings the Classics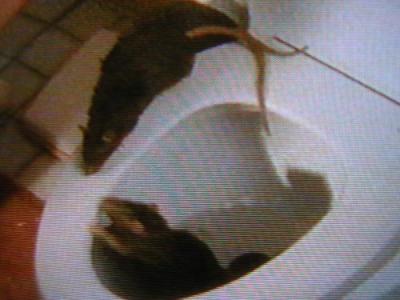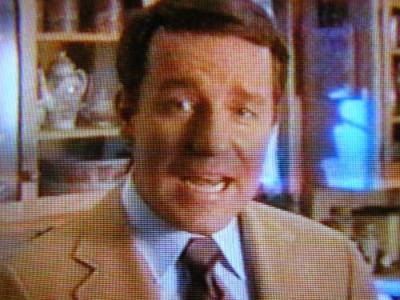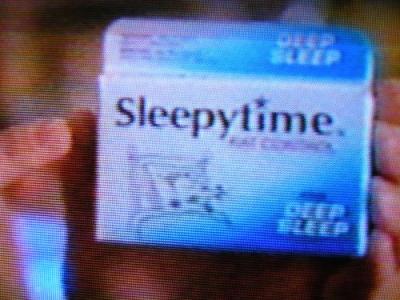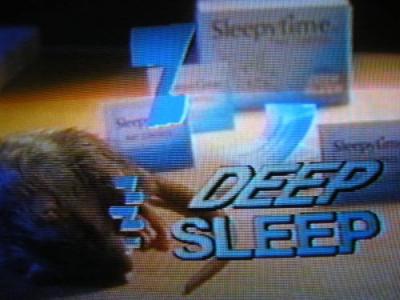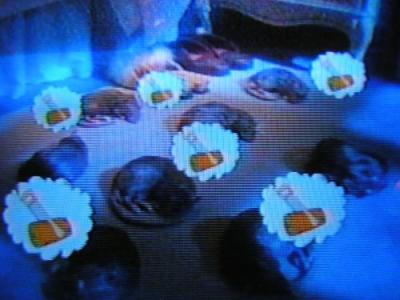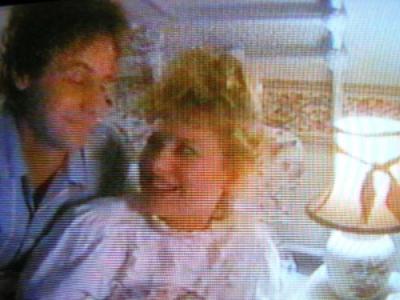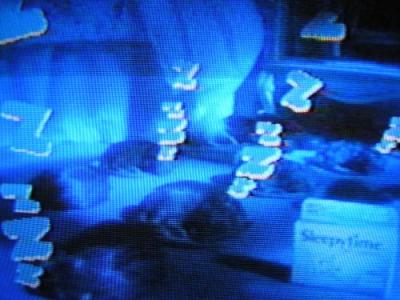 "Sleepytime Rat Control"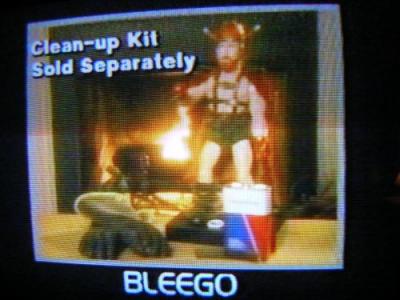 My personal favorites of the lot are "Big Red" (the "Mighty Man from the land of Thor" toy that shoots red goop when you pull the string), "10 Beatles Classics You Kind of Know the Words To" (this was a great precursor to a commercial that aired in 2001 and involved cast members coming up with words to classical songs), and "Sleepytime Rat Control." Plus, one of the Bush ads shows Massachusetts governor Michael Dukakis riding in the tank.



Great Moments



Some of my favorite moments:

Wayne Gretzky lip-synching to a much better singer belting out "Waikiki Hockey," while wearing a blonde wig that would make Conan O'Brien proud. Why this sketch aired at the very end of the show baffles me, as I think it was hysterical.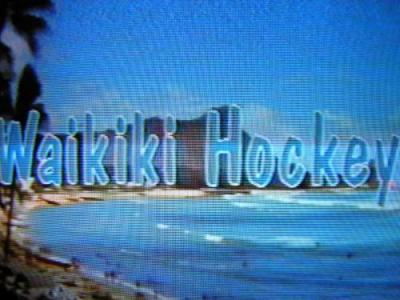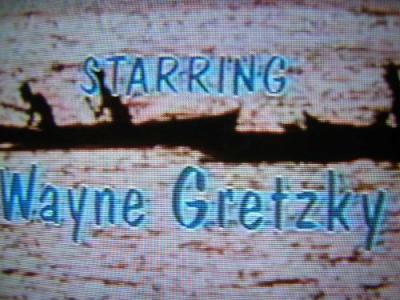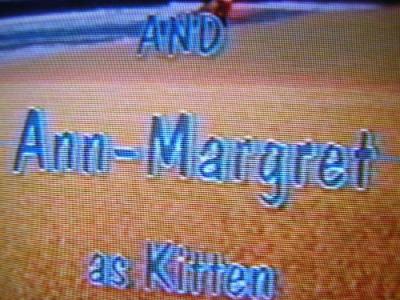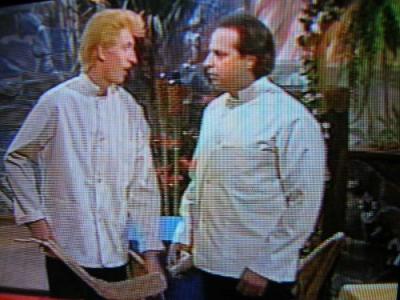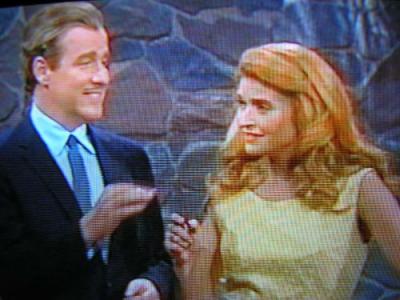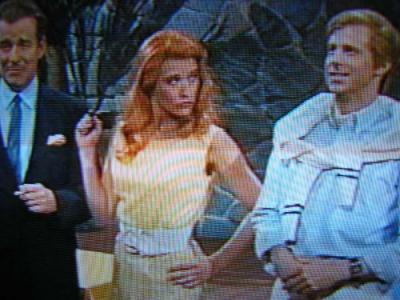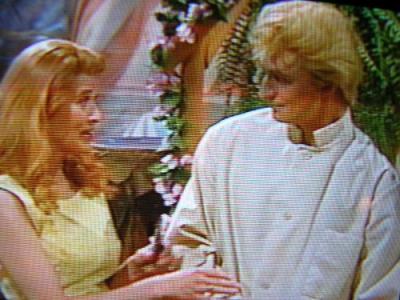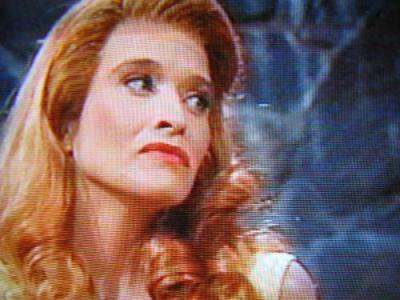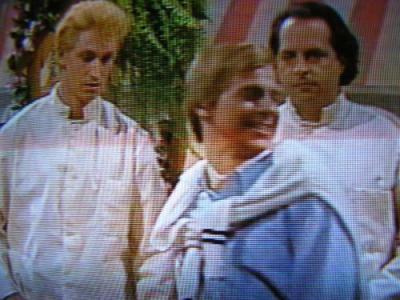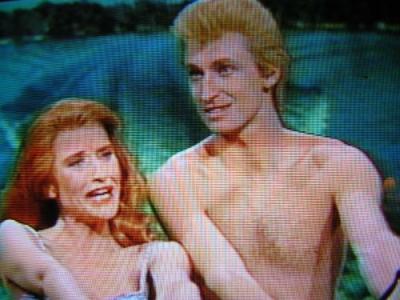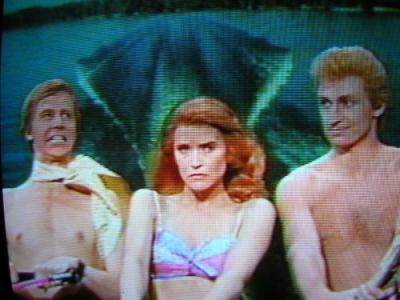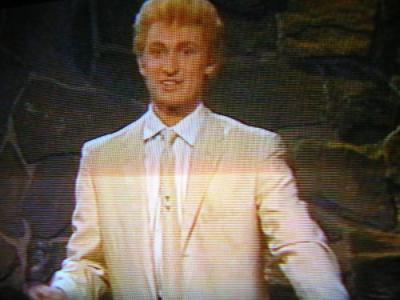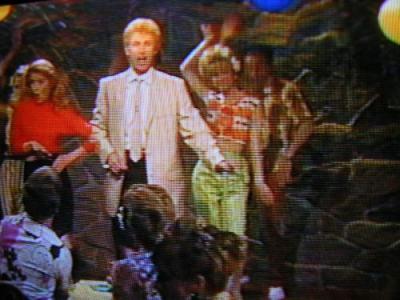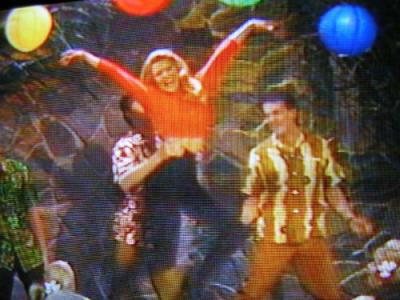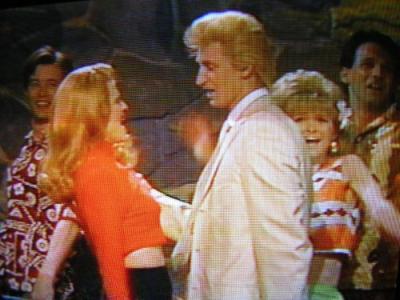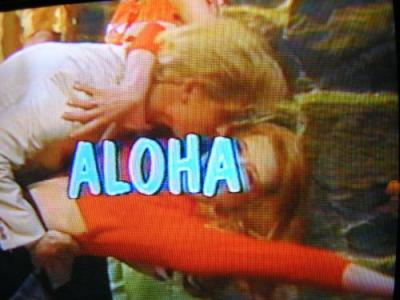 Yeah! Now, this is how to end a sketch! ALOHHHHAAAAAAAA!

"Dan Quayle: President." God forbid George Bush died in office, Dan Quayle would have had to take over. Dana Carvey played Quayle, who walked around not exactly realizing that he was President, until the next morning, when he pulls the blanket over his head while saying, "Oh god."

"Dolly's Mountain Stories." I wrote an article about this sketch (actually, I gave you a transcript/commentary of it) a few months ago. This one involves the cast, as themselves, sitting around and listening to Dolly Parton's stories, except they turn out to be plots for television shows, as the cast looks around in confusion. Hilarity ensues.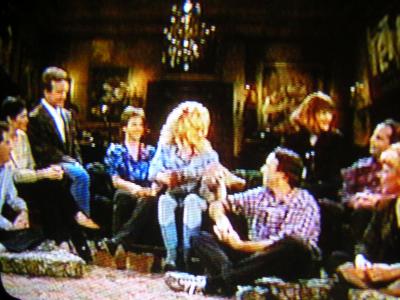 Mel Gibson throws acid in Dennis Miller's face, as Miller screams and slumps to the floor, during "Josh Acid" (April 1, 1989).

Jon Lovitz and Danny DeVito in "Ya Shot Me!" This sketch was not going anywhere (I thought it was funny), so Jon kept throwing in repetitive uses of "ya shot me" for laughs from the crowd (it worked). The highlight of it was how many times Jon could say it, and Danny DeVito cracking up over it.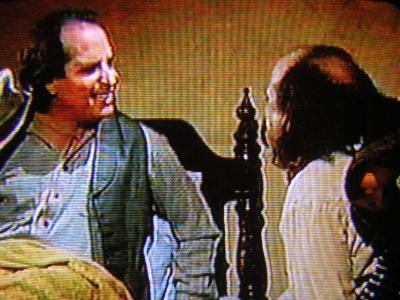 The "Big Chill" Alternate Ending, in which we watch Jan Hooks, as Glenn Close's character, "Sarah," slowly go insane over the fact that her husband, Harold, is still attempting to help Meg (Victoria Jackson) conceive a child after almost twenty-four hours! The whole time, you can hear the bed squeaking, and Hooks smiles throughout. The sketch begins to segue into a "Fatal Attraction" parody, and culminates in that famous "bunny in the pot" scene (with a stuffed rabbit being thrown at Meg and Harold!).

I don't have any pictures of this, but I first recall seeing this in 1997 during a Comedy Central "Saturday Night Live" Christmas "Merry-thon." You know what I'm talking about – the marathon of "SNL" Christmas episodes that aired on a Friday before Christmas (usually around the 17th), and began at 11:00 am. It always lasted the entire day, running until 4:00 am. I loved these marathons – I would rush home after school (I remember this marathon in eighth, ninth, and tenth grades), and turn on Comedy Central. In ninth grade (1997) and tenth grade (1998), I only took breaks during episodes I didn't want to see – this marathon stayed on television the whole day for me – from 2:30 pm until I fell asleep. It happened, trust me. Even the guru is flappable.



The Season Finale


The fourteenth season ended on May 20, 1989 on a sad note, as original cast member Gilda Radner died that morning from ovarian cancer. At the insistence of host Steve Martin, the show went on, without an open dress rehearsal (it was closed to a studio audience). The episode marked the debut of the ridiculous Toonces the Cat, and was a solid end to a great season.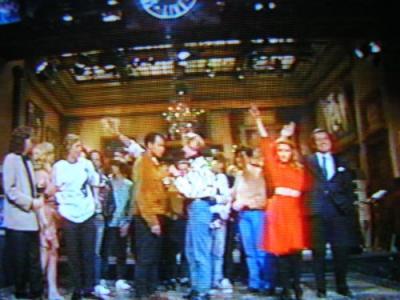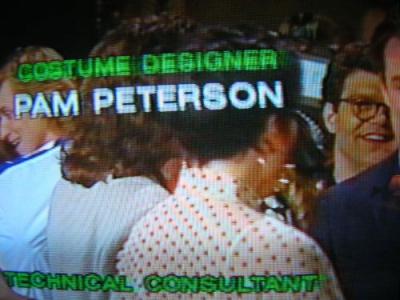 This is not the season finale - it was actually the goodnights from the Wayne Gretzky episode.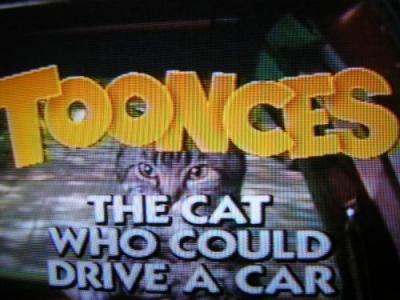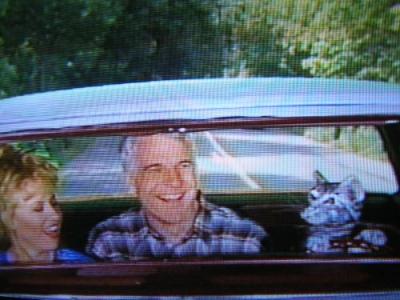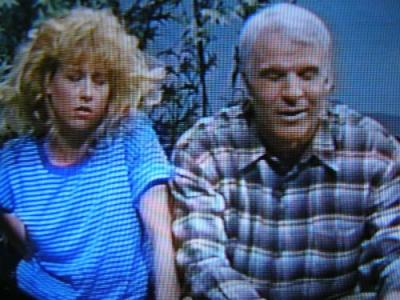 "TOONCES! LOOK OUT!"



Cast Photo: 1988-1989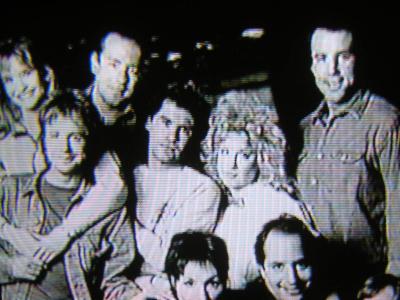 Hey, Dennis and Victoria, would it kill you to smile for the camera?



Images of the Season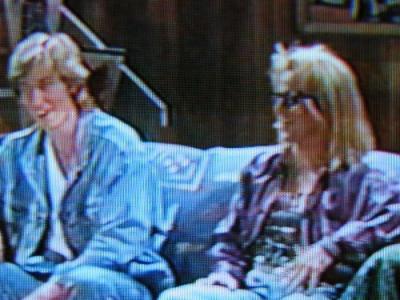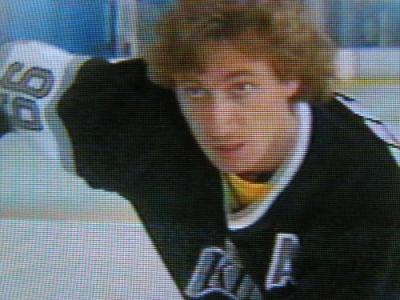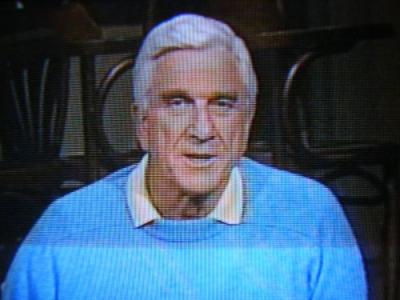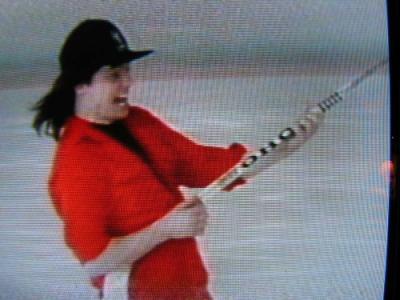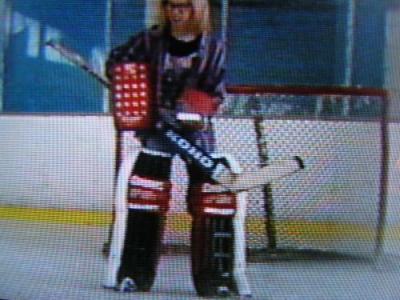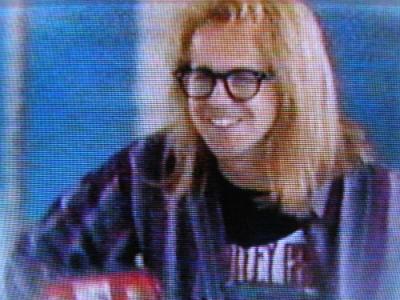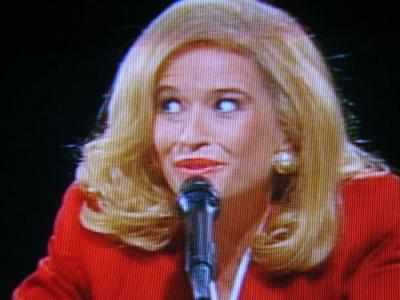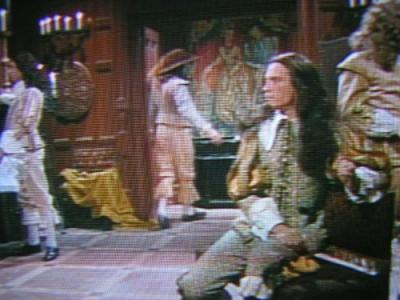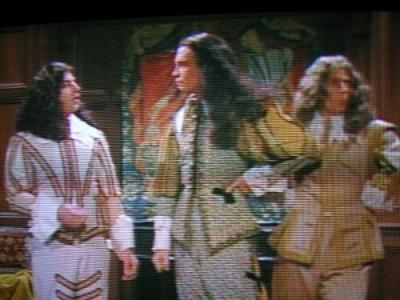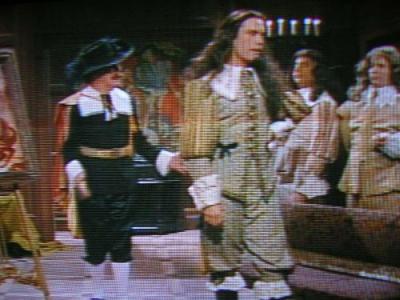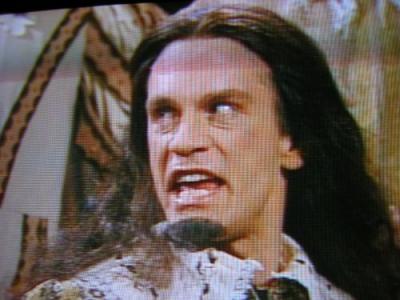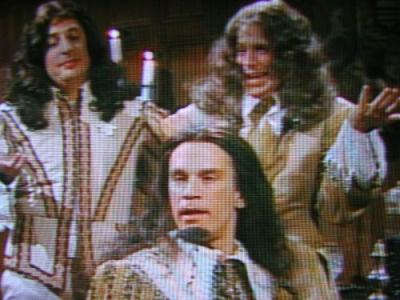 "I will not be mocked!"
"You're mocking me!"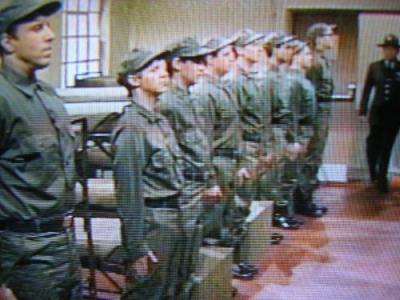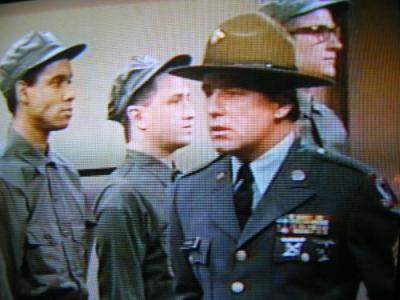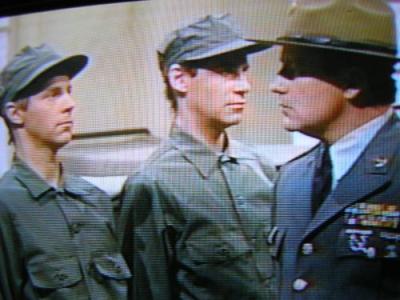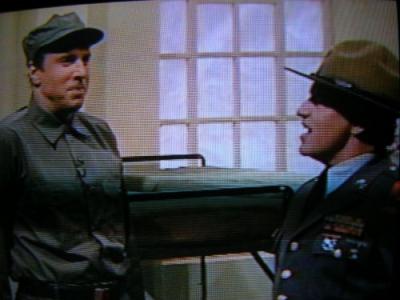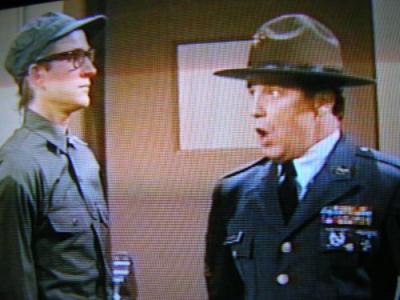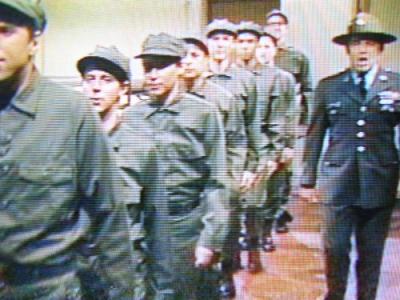 I like this sketch - this is the one where Phil Hartman plays the R. Lee Ermey-esque drill sgt. that gives cadets names like "Mr. Smiling-Laughing-Joking Around Man," "Mr. The Guy I Think is a Homosexual," "Mr. Fat Out of Shape Person," and "The Guy Who Reminds Me Of Doggie."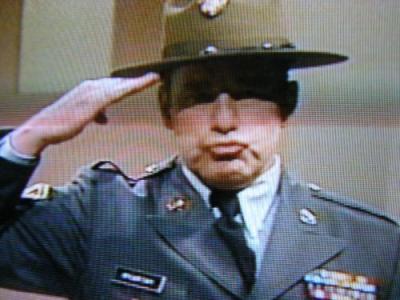 "LIVE FROM NEW YORK...IT'S SATURDAY NIGHT!" (Salutes)



Phil Hartman as Kitten's dad in "Wakikki Hockey"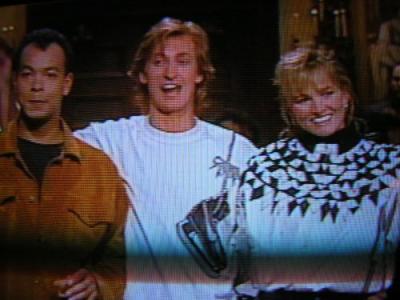 Wayne Gretzky, wife Janet Jones, and that lead singer from Fine Young Cannibals that I swore Damon Wayans looked like when he played him on "In Living Color" in 1990.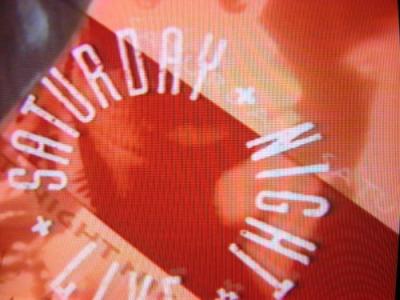 A transition screenshot from one of my "Saturday Night Live" videos - there were 3 episodes, and this separated the episodes.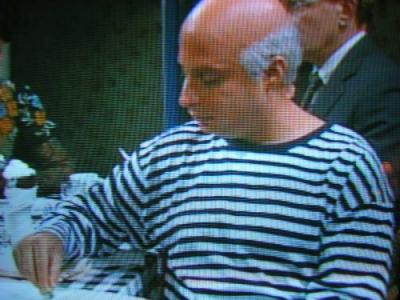 "I'm PICASSO!"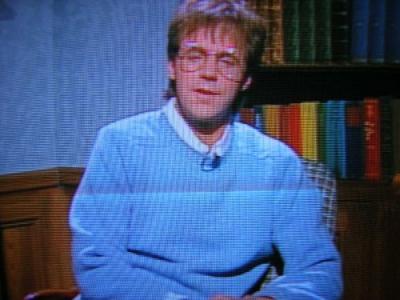 Dana Carvey hosting "Portrait of an Artist," which refers to the Pablo Picasso picture above.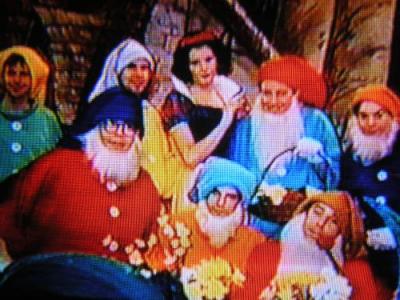 Don't ask. I didn't.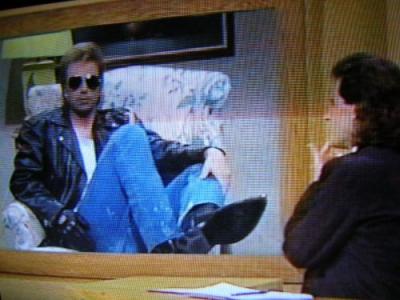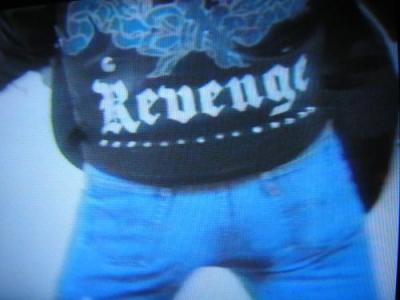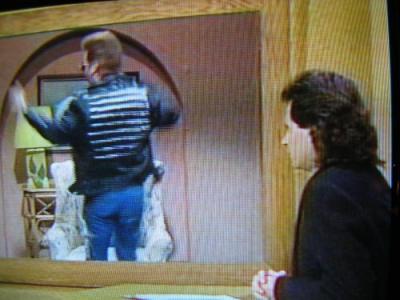 My mom thought this was

actually

George Michael. Go Mom! Actually, it's Dana Carvey, and yes, I try the booty shake every time I hear "Faith." "Cuz I gotta have faith faith faith. I gotta have faith. Gotta have faith faith faith ah!"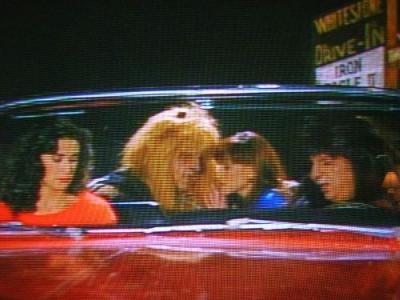 A parody of the drama series "Beauty and the Beast." I had a customer at my old job who rented "Hellboy" because she said Ron Perlman looked just like the character he played on "Beauty and the Beast."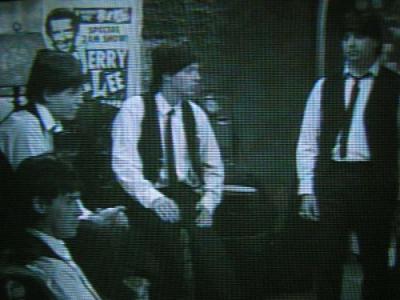 This is the 5 Beatles sketch I threw out several years ago. It thankfully showed up on my "Best of Jon Lovitz" DVD. Actually, a small portion of it showed up. This was the portion. Here is the only chance you'll see Dennis Miller with a British accent (playing George Harrison).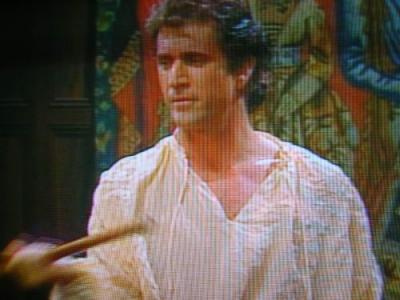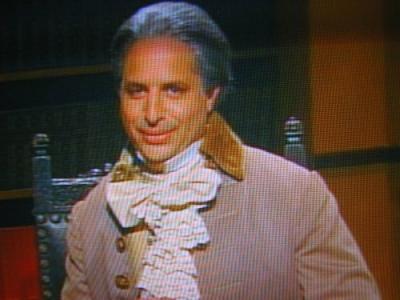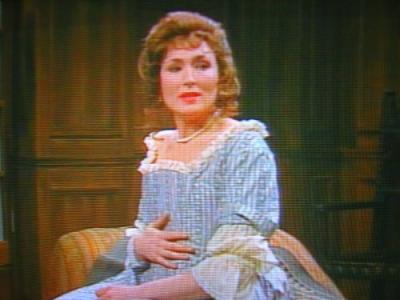 "Tales of Ribaldry." Jon Lovitz is Sir Evelyn Quince (pronounced "Eevelyn"). This is story is "The Woodsman and the Lady." Mel Gibson is hot here. No, really, he wears a mullet well.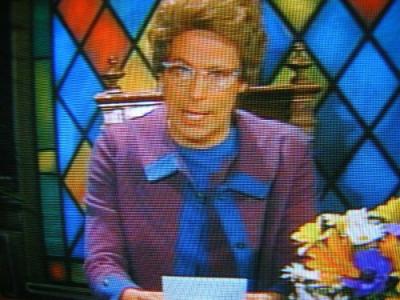 Dana Carvey plays a mean set of drums, demonstrated nicely here. I think this was from 1987 though.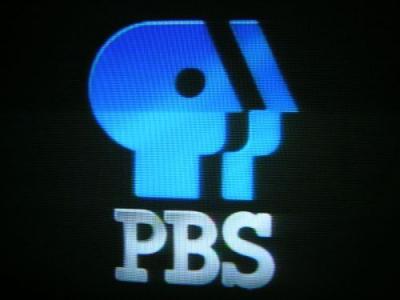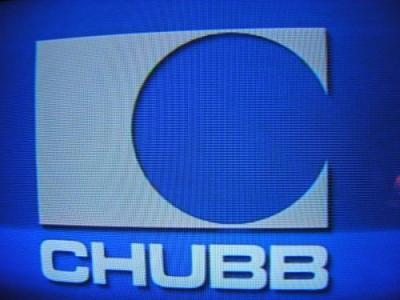 I love you all enough to include more retro logos - PBS 1988 and the Chubb Group. Yeah.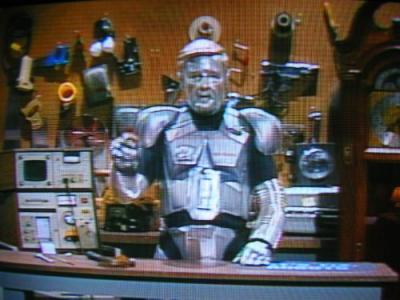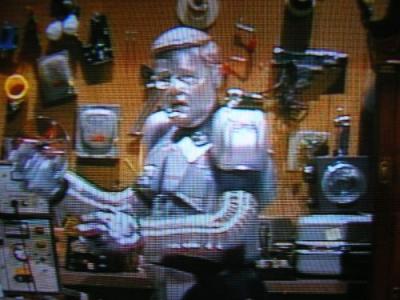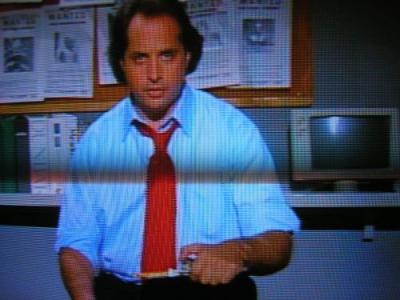 Ah, the infamous "Robot Repair/Let's Fix, Robots/Explaining Robots/This Old Robot/Fugitive Robots."
"Must destroy producer!"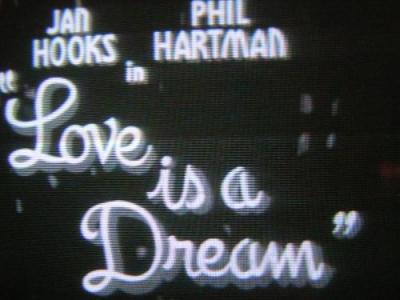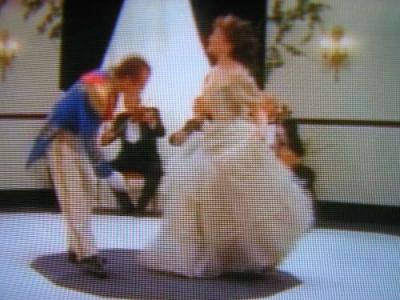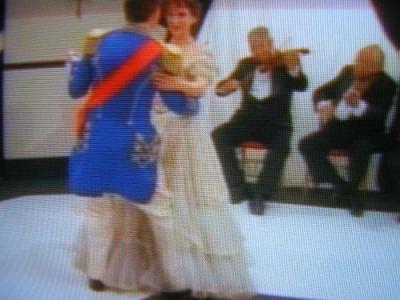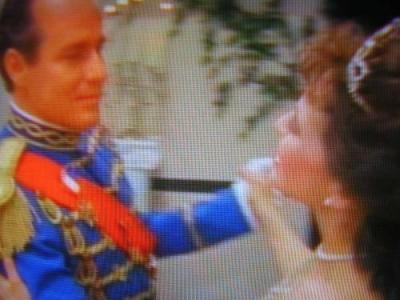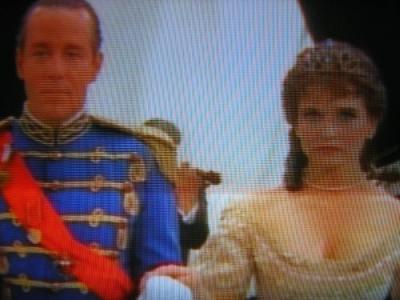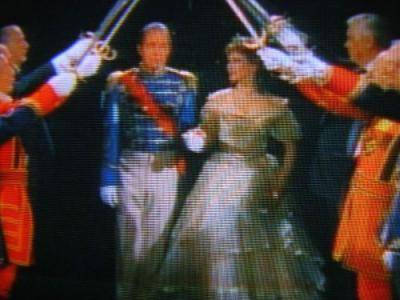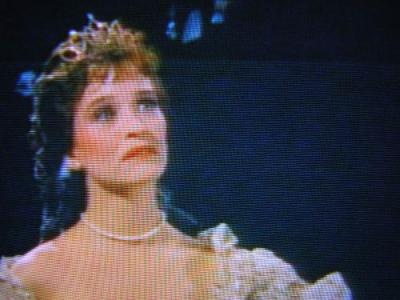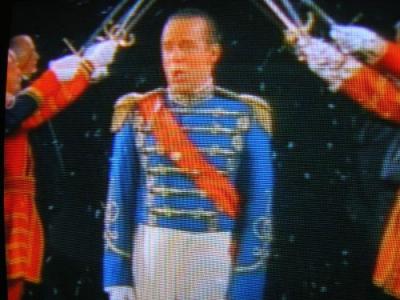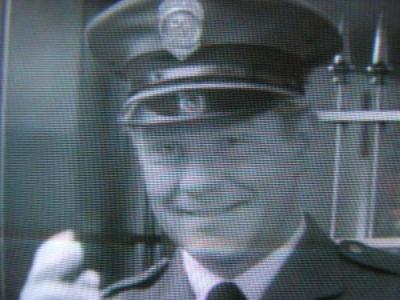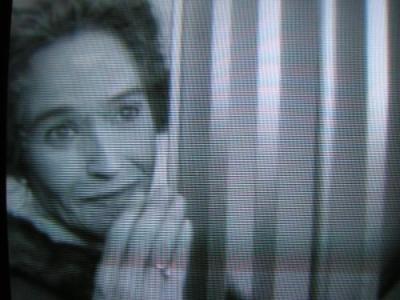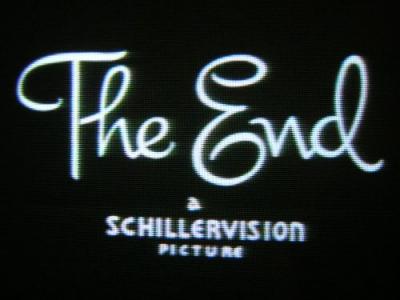 "Love is a Dream, yet its so real. Hard to explain just how you feel. Deep in your heart, joy seems to dwell. Like poets say, it's perfectly swell."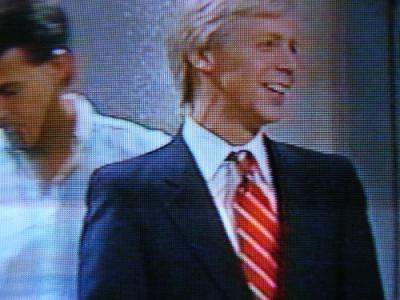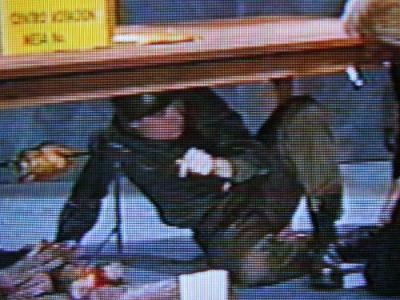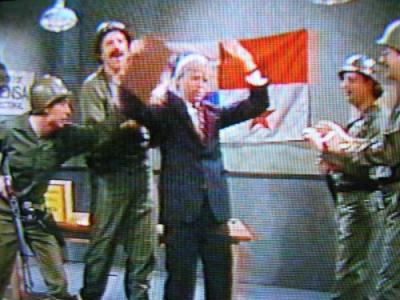 Jimmy Carter goes to Panama and gets tortured. The end.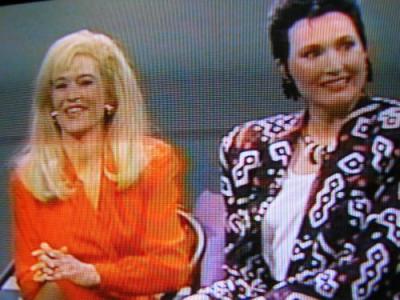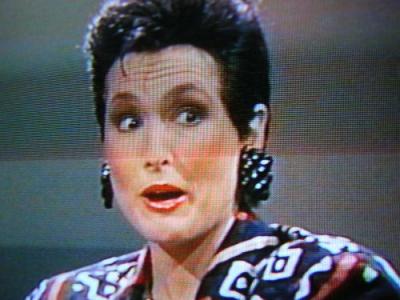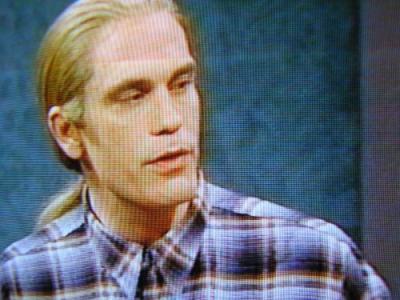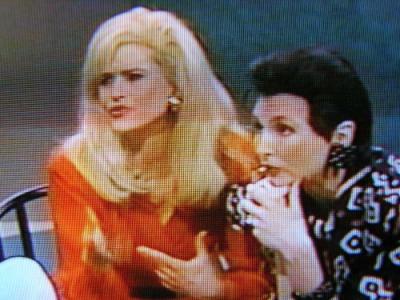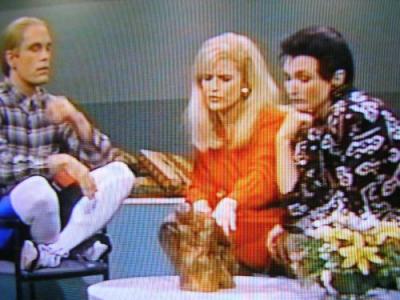 "Attitudes" - this was a talk show on Lifetime in the 1980's and I believe the early 1990s. Jan Hooks is Nancy Glass, and Nora Dunn is Linda Dano (who looks much like the REAL Linda Dano). Host John Malkovich is Len Tukwilla, a driftwood sculptor from the Pacific Northwest - somewhere in Washington.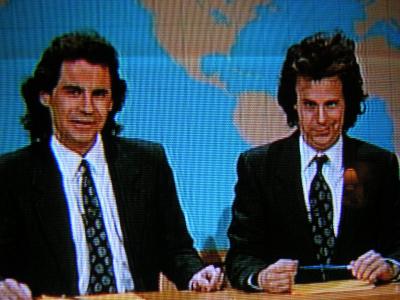 Dennis Miller and Dana Carvey narrate "Twas the Night Before Christmas" in December 1988. I will be working on a holiday-related article when the holidays approach, but here is your preview picture. "Merry Christmas to all, guess what folks? That's the news, and WE ARE OUTTA HERE!"




Author's Essential



"Saturday Night Live: The Best of 1988"
Starmaker
Approximately 60 minutes
Copyright 1992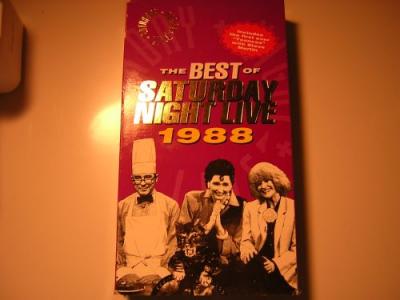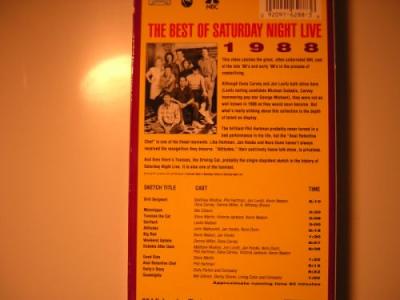 Contents
Drill Sergeant - Matthew Modine, Phil Hartman, Jon Lovitz, Kevin Nealon, Dana Carvey, Dennis Miller, A. Whitney Brown

Monologue - Mel Gibson

Toonces the Cat - Steve Martin, Victoria Jackson, Kevin Nealon

Geritech - Leslie Nielsen

Attitudes - John Malkovich, Nora Dunn, Jan Hooks

Big Red - Kevin Nealon, Jan Hooks

Weekend Update - Dennis Miller, Dana Carvey

Dukakis After Dark - Matthew Modine, Jon Lovitz, Jan Hooks, Nora Dunn, Phil Hartman, Dana Carvey, Victoria Jackson, Kevin Nealon

Good Side - Steve Martin

Anal Retentive Chef - Phil Hartman

Dolly's Mountain Stories - Dolly Parton and Cast

Goodnights - Mel Gibson, Danny Glover, Living Colour, and Cast




Conclusion



Well, kids, let's bring this crazy train to a stop as we conclude the fourteenth season of "Saturday Night Live," and part three of my four-part series. I want to remind you at this time that there are two other parts – 1986-1987 and 1987-1988, and if you haven't read the beginning of the revival of "Saturday Night Live," take a look now.

Coming up next, the final part of my four-part series on the revival of "Saturday Night Live"- next stop – 1989-1990, which will take you and me into the 1990s! Also, it's an anniversary season, and you bet your bippy I won't forget to mention it. So, stay tuned, gang, as we move into part four of "Saturday Night Lives!"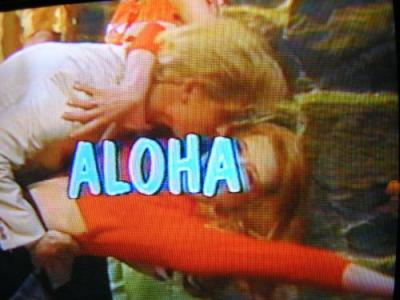 ALOHHHHAAAAAAAAAA!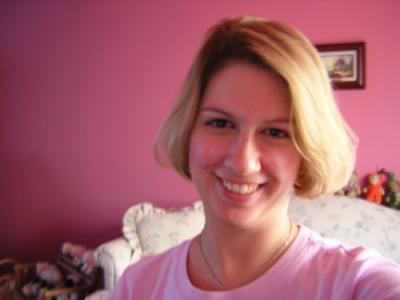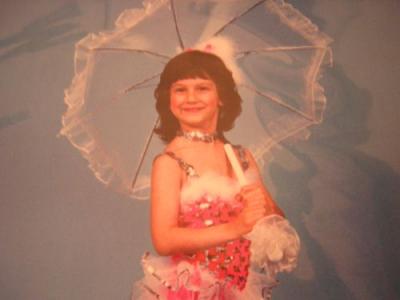 ~Allison Venezio, aka Allison_SNLKid, your "Saturday Night Live" Guru (and as a little future guru in 1988)