You have to give this guy credit. He had me rolling on the "So much for that 'Peace Train' crap, huh, Cat?" And the passionate way he awkwardly sings these songs is enough for a few minutes worth of laughs (which is a lot, considering this was maybe about thirty seconds to one minute worth of material). I'm still kicking myself for ridding my collection of this tape.
Discussing the deficit...
(Referring to George Michaels' booty shaking)"What an ass."
And nitpicking over the way "
thirty
something" is written.
If Jon Lovitz and Phil Hartman had already come into their own, their impressions and characters were just getting better. Lovitz's "Master Thespian" became funnier every season (especially when teamed with guest host John Lithgow, who plays "Beaudelaire," Master Thespian's inspiration). And, when he was paired with Glenn Close, he claimed he was "married," and her name was "ACTING!" She boldly tells him, "you have been divorced for a long time." Ooooh. Low blow. Phil Hartman, on the other hand...it goes without saying that the man is a genius, so versatile in anything he does. Personally, if you had to ask me about one of my favorite moments (aside from the Sinatra Group), it would be as The Anal Retentive Chef. Now, this type of show is enough to aggravate the worst of the anal retentive populations out there. If my mom--no, wait--my dad had a cooking show, this would be it. Except, in my kitchen, something manages to get prepared.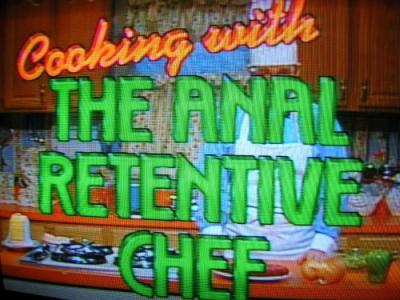 This is what happens when you fish with the "Anal Retentive Sportsman." Could you ever spend any tme on a boat in the middle of a vast ocean with this guy?
See what I mean? It's not good to be in the middle of the ocean with him. In the grand tradition of the "Great and Powerful Cos" head that presented itself in 1986, the crew broke out the big bucks and created this giant fish, which eventually takes Wayne Gretzky overboard. He was probably trying to escape Hartman's "Gene."
Jon Lovitz as "Master Thespian," the actor's actor. He is writing in his journal, as always. This is merely practice for the Subway commercials my friend Kristin loves so much. "Subway! Eat FRESH!" "ACTING!"
And, it was a season for the ladies – Jan Hooks, Victoria Jackson, and Nora Dunn were all impressive in the roles they played. Victoria Jackson began to come into her own this season, as she began to do routines and sketches that catered to her unique style of humor. Observe Hooks as "Lady Tewksbury" in "Mocking Lord Edmund" (January 21, 1989).
Her dress is beginning to take a slide south, but she manages to hold herself together (the audience is hysterical because it is obvious her dress isn't going to stay up much longer). As she exits the stage, you can see her holding that top up. She got some applause for that.
Nora Dunn, proving herself to be a woman of dry wit, shines in anything she does – particularly as my favorite character of hers, Pat Stevens. She also proves to play the part of "the b***h" to a "t." Her turn as powerful women like Imelda Marcos and Leona Helmsley are excellent, and her turn as Marcos crying while Dennis Miller asks her some tough questions about how she is going to prison, is quite funny.
And kudos to Kevin Nealon, who, in his second season as a full cast member, had proved his worth several times over, and all he had to do was play himself, merely using his dry wit to bring about laughter. His chemistry with Dana Carvey, as they continue to utilize their Hans and Franz sketches, is apparent.
And, the hosts? Just look at the line up – John Lithgow, John Larroquette, John Malkovich, Tom Hanks, Matthew Broderick, Mary Tyler Moore, Dolly Parton, Leslie Nielsen, Matthew Modine, Steve Martin, Mel Gibson, Wayne Gretzky, Melanie Griffith, Danny DeVito, Demi Moore, Glenn Close, Ted Danson, Geena Davis, even Tony Danza (I'm still scratching my head over this one) were all represented here.
It's too hard to flat out say what was good or bad about this season. It was a winning season on all fronts for everyone involved, and everything just worked this year.
Commercial Parodies of the Season
First Citywide Change Bank Part 1
First Citywide Change Bank Part 2
McDonnell-Rand
Come Back to Carbon Paper
George H.W. Bush Anti-Dukakis Advertisements
The Republican Party
Neuberg's Bleu Cheese Cooler
Long White Beard
Big Red
First Guardian Personal Service
Maydenform
Sleepytime Rat Control
Exxon School of Supertanker Engineering
10 Beatles Classics You Kind of Know the Words To
Tammy Wynette Sings the Classics
"Sleepytime Rat Control"
My personal favorites of the lot are "Big Red" (the "Mighty Man from the land of Thor" toy that shoots red goop when you pull the string), "10 Beatles Classics You Kind of Know the Words To" (this was a great precursor to a commercial that aired in 2001 and involved cast members coming up with words to classical songs), and "Sleepytime Rat Control." Plus, one of the Bush ads shows Massachusetts governor Michael Dukakis riding in the tank.
Great Moments
Some of my favorite moments:
Wayne Gretzky lip-synching to a much better singer belting out "Waikiki Hockey," while wearing a blonde wig that would make Conan O'Brien proud. Why this sketch aired at the very end of the show baffles me, as I think it was hysterical.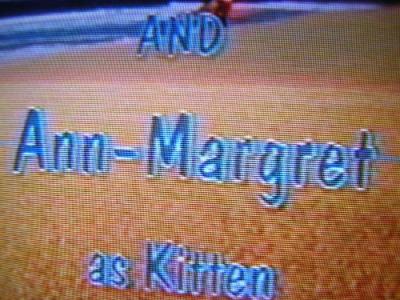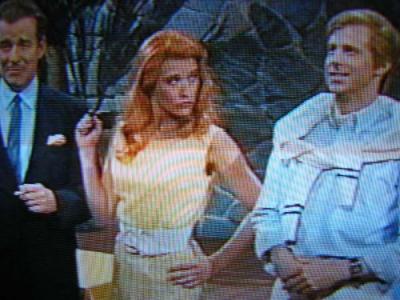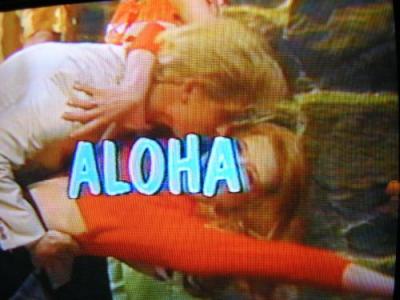 Yeah! Now, this is how to end a sketch! ALOHHHHAAAAAAAA!
"Dan Quayle: President." God forbid George Bush died in office, Dan Quayle would have had to take over. Dana Carvey played Quayle, who walked around not exactly realizing that he was President, until the next morning, when he pulls the blanket over his head while saying, "Oh god."
"Dolly's Mountain Stories." I wrote an article about this sketch (actually, I gave you a transcript/commentary of it) a few months ago. This one involves the cast, as themselves, sitting around and listening to Dolly Parton's stories, except they turn out to be plots for television shows, as the cast looks around in confusion. Hilarity ensues.
Mel Gibson throws acid in Dennis Miller's face, as Miller screams and slumps to the floor, during "Josh Acid" (April 1, 1989).
Jon Lovitz and Danny DeVito in "Ya Shot Me!" This sketch was not going anywhere (I thought it was funny), so Jon kept throwing in repetitive uses of "ya shot me" for laughs from the crowd (it worked). The highlight of it was how many times Jon could say it, and Danny DeVito cracking up over it.
The "Big Chill" Alternate Ending, in which we watch Jan Hooks, as Glenn Close's character, "Sarah," slowly go insane over the fact that her husband, Harold, is still attempting to help Meg (Victoria Jackson) conceive a child after almost twenty-four hours! The whole time, you can hear the bed squeaking, and Hooks smiles throughout. The sketch begins to segue into a "Fatal Attraction" parody, and culminates in that famous "bunny in the pot" scene (with a stuffed rabbit being thrown at Meg and Harold!).
I don't have any pictures of this, but I first recall seeing this in 1997 during a Comedy Central "Saturday Night Live" Christmas "Merry-thon." You know what I'm talking about – the marathon of "SNL" Christmas episodes that aired on a Friday before Christmas (usually around the 17th), and began at 11:00 am. It always lasted the entire day, running until 4:00 am. I loved these marathons – I would rush home after school (I remember this marathon in eighth, ninth, and tenth grades), and turn on Comedy Central. In ninth grade (1997) and tenth grade (1998), I only took breaks during episodes I didn't want to see – this marathon stayed on television the whole day for me – from 2:30 pm until I fell asleep. It happened, trust me. Even the guru is flappable.
The Season Finale
The fourteenth season ended on May 20, 1989 on a sad note, as original cast member Gilda Radner died that morning from ovarian cancer. At the insistence of host Steve Martin, the show went on, without an open dress rehearsal (it was closed to a studio audience). The episode marked the debut of the ridiculous Toonces the Cat, and was a solid end to a great season.
This is not the season finale - it was actually the goodnights from the Wayne Gretzky episode.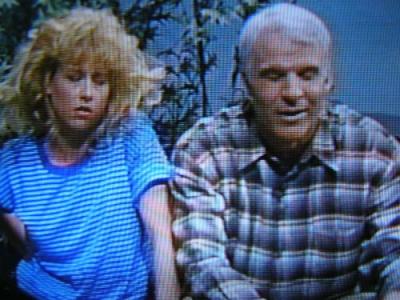 "TOONCES! LOOK OUT!"
Cast Photo: 1988-1989
Hey, Dennis and Victoria, would it kill you to smile for the camera?
Images of the Season
"I will not be mocked!"
"You're mocking me!"
I like this sketch - this is the one where Phil Hartman plays the R. Lee Ermey-esque drill sgt. that gives cadets names like "Mr. Smiling-Laughing-Joking Around Man," "Mr. The Guy I Think is a Homosexual," "Mr. Fat Out of Shape Person," and "The Guy Who Reminds Me Of Doggie."
"LIVE FROM NEW YORK...IT'S SATURDAY NIGHT!" (Salutes)
Phil Hartman as Kitten's dad in "Wakikki Hockey"
Wayne Gretzky, wife Janet Jones, and that lead singer from Fine Young Cannibals that I swore Damon Wayans looked like when he played him on "In Living Color" in 1990.
A transition screenshot from one of my "Saturday Night Live" videos - there were 3 episodes, and this separated the episodes.
"I'm PICASSO!"
Dana Carvey hosting "Portrait of an Artist," which refers to the Pablo Picasso picture above.
Don't ask. I didn't.
My mom thought this was
actually
George Michael. Go Mom! Actually, it's Dana Carvey, and yes, I try the booty shake every time I hear "Faith." "Cuz I gotta have faith faith faith. I gotta have faith. Gotta have faith faith faith ah!"
A parody of the drama series "Beauty and the Beast." I had a customer at my old job who rented "Hellboy" because she said Ron Perlman looked just like the character he played on "Beauty and the Beast."
This is the 5 Beatles sketch I threw out several years ago. It thankfully showed up on my "Best of Jon Lovitz" DVD. Actually, a small portion of it showed up. This was the portion. Here is the only chance you'll see Dennis Miller with a British accent (playing George Harrison).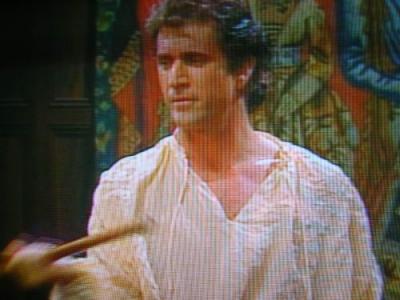 "Tales of Ribaldry." Jon Lovitz is Sir Evelyn Quince (pronounced "Eevelyn"). This is story is "The Woodsman and the Lady." Mel Gibson is hot here. No, really, he wears a mullet well.
Dana Carvey plays a mean set of drums, demonstrated nicely here. I think this was from 1987 though.
I love you all enough to include more retro logos - PBS 1988 and the Chubb Group. Yeah.
Ah, the infamous "Robot Repair/Let's Fix, Robots/Explaining Robots/This Old Robot/Fugitive Robots."
"Must destroy producer!"
"Love is a Dream, yet its so real. Hard to explain just how you feel. Deep in your heart, joy seems to dwell. Like poets say, it's perfectly swell."
Jimmy Carter goes to Panama and gets tortured. The end.
"Attitudes" - this was a talk show on Lifetime in the 1980's and I believe the early 1990s. Jan Hooks is Nancy Glass, and Nora Dunn is Linda Dano (who looks much like the REAL Linda Dano). Host John Malkovich is Len Tukwilla, a driftwood sculptor from the Pacific Northwest - somewhere in Washington.
Dennis Miller and Dana Carvey narrate "Twas the Night Before Christmas" in December 1988. I will be working on a holiday-related article when the holidays approach, but here is your preview picture. "Merry Christmas to all, guess what folks? That's the news, and WE ARE OUTTA HERE!"
Author's Essential
"Saturday Night Live: The Best of 1988"
Starmaker
Approximately 60 minutes
Copyright 1992
Contents
Drill Sergeant - Matthew Modine, Phil Hartman, Jon Lovitz, Kevin Nealon, Dana Carvey, Dennis Miller, A. Whitney Brown
Monologue - Mel Gibson
Toonces the Cat - Steve Martin, Victoria Jackson, Kevin Nealon
Geritech - Leslie Nielsen
Attitudes - John Malkovich, Nora Dunn, Jan Hooks
Big Red - Kevin Nealon, Jan Hooks
Weekend Update - Dennis Miller, Dana Carvey
Dukakis After Dark - Matthew Modine, Jon Lovitz, Jan Hooks, Nora Dunn, Phil Hartman, Dana Carvey, Victoria Jackson, Kevin Nealon
Good Side - Steve Martin
Anal Retentive Chef - Phil Hartman
Dolly's Mountain Stories - Dolly Parton and Cast
Goodnights - Mel Gibson, Danny Glover, Living Colour, and Cast
Conclusion
Well, kids, let's bring this crazy train to a stop as we conclude the fourteenth season of "Saturday Night Live," and part three of my four-part series. I want to remind you at this time that there are two other parts – 1986-1987 and 1987-1988, and if you haven't read the beginning of the revival of "Saturday Night Live," take a look now.
Coming up next, the final part of my four-part series on the revival of "Saturday Night Live"- next stop – 1989-1990, which will take you and me into the 1990s! Also, it's an anniversary season, and you bet your bippy I won't forget to mention it. So, stay tuned, gang, as we move into part four of "Saturday Night Lives!"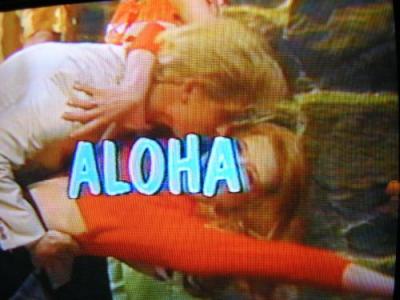 ALOHHHHAAAAAAAAAA!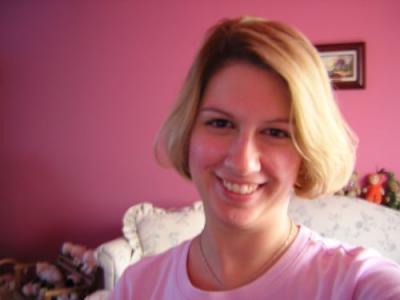 ~Allison Venezio, aka Allison_SNLKid, your "Saturday Night Live" Guru (and as a little future guru in 1988)