It may be the live show, but mistakes are bound to happen, because after all, it is the live show. If you think the current cast makes a lot of mistakes, these are nothing in comparison.
November 15, 1986
-At the beginning of Update, Dennis Miller says, "Never let them see you sweat." That's because the "Weekend Update" set was only up moments before the camera was on him. Also, Victoria Jackson breaks character while narrating her video footage, and Dennis Miller makes fun of her for it.
-During "Krypton Survives," Sam Kinison answers a phone, but it continues to ring. He ad-libs, "I answered the phone. Will you stop ringing it?" He left it off the hook when he hung it up.
March 28, 1987
-(Sketch - Church Chat) Jan Hooks (as Tammy Faye Bakker) can be seen briefly applying her running mascara. This is left unchanged in NBC reruns, but is removed in all others.
Controversial Moment
"People see me, they think I'm the Black Angel of Death. *Sam Kinison scream*"
Comedian Sam Kinison came to host on November 15, 1986, and performed an opening monologue that was foul-mouthed at best, and, in an October 18, 1986 special appearance, he delivered a comedy routine that is shown muted in reruns. Don't adjust your volume – the only thing you're supposed to hear is the audience laughing.
It Happened in 1986-1987: Newsworthy "Weekend Update" Moments
"And the New York Mets defeated the Boston Red Sox in Game 6 of the World Series tonight, prompting New York Yankees owner George Steinbrenner to fire his manager Lou Pinella."
"And remember, tonight's the night to turn your clocks inside-out. No, uh…actually, you turn your clocks back an hour tonight, so this show started at…what…12:40, and ends at 1:20? Pacing, kids, it's all pacing!"
"Christmas approaches, and the question becomes what to buy the children in your life. Well, why not a See 'N Say? Remember this popular toy? You dial a specific animal, and you pull the string…[demonstrates with horse] Cute, huh? But, you know, kids today crave up-to-the-minute toys, so here's the newest version of the See 'N Say - it's the Congressional Subpoena See 'N Say. We have Oliver North and John Poindexter and Regan - you know the guys. Let's see what Pointdexter says...[pulls string]
See 'N Say: I refuse to answer, on the grounds that it might incriminate me.
Dennis Miller: And…Oliver North? [pulls string]
See 'N Say: I refuse to answer, on the grounds that it might incriminate me.
Dennis Miller: And, you know, the crazy thing is, I must have pulled this thing about forty times, and it just kept saying the damn thing all the time!"
You know, it's funny, but I was four in 1986, and See 'N Say was actually an exciting toy for kids at the time.
"You know, Klaus von Bulow was sent home early from a New York hospital this week. The ailing von Bulow evidently angered hospital officials when he kept insisting on telling the anesthesiologist how to do his job."
"Gary and Lee Hart have announced that, in an effort to reaffirm their love for each other, they will take their marriage vows again and recreate their wedding ceremony. The event will take place in a small chapel just outside of Denver, and Lee said, "We will try to recreate the wedding as faithfully as we can, but we'll probably skip the rice thing.""
"The Bernard Goetz Legal Defense Fund Committee is soliciting five dollar contributions. If a Goetz fundraiser asks you for a donation, just hand it over and get the hell out of there."
The Best of the Season:
Breakout Star: Jon Lovitz
Best Impressionist (Male): Phil Hartman and Dana Carvey/(Female): Jan Hooks
Best "What the hell?" Moment: 3-way tie
-Joe Montana playing Phil Hartman's honest roommate, Stu – he says that he is going to his room to masturbate – "The Honest Man" (1/24/1987)
-Kevin Nealon reads a map and attempts to tell viewers where he went on vacation, but tears it apart to demonstrate Hawaii, and folds it demonstrate New Jersey – it is a true testament to why he was upgraded to full cast member the next season (November 22, 1987)
-"Salmon Spawning" (I think this was one of the weirdest concepts for a sketch – I was never a fan of it) (May 9, 1987)
Best Couple: Phil Hartman and Jan Hooks
(I understand this picture is a little dark, but it was a black-and-white sketch)
Best Host (Based on Author's Opinion): Robin Williams, Chevy Chase/Steve Martin/Martin Short, William Shatner (Don't like him personally, but it was a good episode), John Lithgow, and John Larroquette
Worst Host (Based on Author's Opinion): Bill Murray (I'm not much of a fan of his, and I only really liked one sketch)
Best Musical Guest: Paul Simon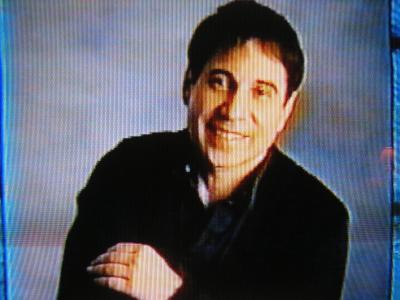 Worst Musical Guest: Buster Poindexter (he friggin scares me!)
Funniest Holiday-related sketch: Tie – "It's a Wonderful Life – The Lost Ending" (12/20/1986) and "Rev. Dwight Henderson, The World's Meanest Methodist Minister" (4/11/1987)
Funniest Commercial Parody: Adobe, Team Xynex (my favorite "blink-and-you'll-miss-it" commercial), Compulsion, "The World's Most Indulgent Disinfectant," and the New York Word Exchange (I just am amazed at how announcer-like Phil Hartman is, and he makes the best use of his distinctive voice here)
Dumbest Commercial Parody: General Dynamics (Does anyone want to tell me what this was about? Who are these people, and why are they in this commercial? Did they not have anyone who could have played these characters?)
Best On-Screen Duo: Jon Lovitz and Phil Hartman, "Johnny's Finished" (10/18/1986)
Funniest Fake Fight: Phil Hartman and William Shatner have a shoving match, "16th Annual Star Trek Convention" (12/20/1986)
Funniest "Weekend Update" Commentator: Dana Carvey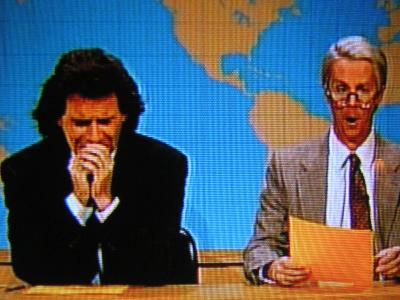 Best Political Moment: Phil Hartman as Ronald Reagan in "Reagan the Mastermind" (12/6/1986)
Ronald Reagan attempts to discuss his policies in a take-charge attitude during a top-secret meeting with his staff, but constantly gets interrupted. The interruptions? Jimmy Stewart, the little girl "who sold the most Girl Scout Cookies," an Arabic caller, and well…3 am. The sketch shows a time elapse, as Reagan is still discussing his policy while he staffers are sleeping. The idea was to show that Regan wasn't the feeble-minded person we thought he was, but rather a take-charge figure. I thought it was funny.
"I'm the President! Only I need to understand!"
Best Movie We Want to See: "The Fruiting" – an obvious parody of "Poltergeist" – Phil Hartman and Nora Dunn play a husband and wife plagued by a "fresh" problem – they are being haunted by citrus fruit.
You know, I think we've all had that nightmare that we are being chased by something. I fear I'll have nightmares about being chased by a pineapple tonight.
The Season Finale
"Saturday Night Live" ended its solid twelfth season on May 23, 1987 with host Dennis Hopper and musical guest Roy Orbison (who performed "Crying" and "Pretty Woman" during his first set, and "In Dreams" during his second set). In all, it was a great end to a great season, the first great season in a long time. At 1:00 am on May 24, 1987, the show went out on a high note, and the only way to go was up. But, that's a story for another time. Like part two.
Dennis Miller's Hair: A Comparison
So, what happened between late 1986 and mid-1987? For one thing, Dennis Miller's hair grew. And boy, did it grow! Miller's hair reached one of its longest points by the close of the season, but—I guess there must have been some pressure—his hair was short the next season.
Images of the Season:
Cast Photo: 1986-1987
Author's Essential:
"Saturday Night Live" Best of 1986
Annuals Video
Copyright 1992 – Starmaker Entertainment
60 minutes
Iranian Cold Opening
Jon Lovitz, Dana Carvey, A. Whitney Brown, Kevin Nealon, Phil Hartman
Thee Amigos (Monologue)
Martin Short, Steve Martin, Chevy Chase, and Company
You know I finally figured out why Dana Carvey wasn't part of the musical number--he was busy playing Steve Martin circa 1978![/align]
Adobe (Commercial Parody)
Phil Hartman, Nora Dunn, Victoria Jackson, and Kevin Nealon
Phil Donahue Show (Sketch)
Phil Hartman, Victoria Jackson, Jan Hooks, Nora Dunn, Kevin Nealon, Jon Lovitz
Hercules (Sketch)
Bill Murray, Nora Dunn, Dana Carvey
Weekend Update (News)
Dennis Miller, Jon Lovitz
Church Chat (Sketch)
Dana Carvey, Phil Hartman, Jan Hooks
Mr. Subliminal (Sketch)
Kevin Nealon, Victoria Jackson, Jon Lovitz
The Fruiting (Movie Parody)
Phil Hartman, Nora Dunn
Back Page (Sketch)
Jon Lovitz, Phil Hartman, Steve Guttenberg, Dana Carvey, Nora Dunn
Goodnights
Chevy Chase, Steve Martin, Martin Short, Randy Newman, and Company
Conclusion
Well, that does it for part 1. Stay tuned, because in part 2, we'll move ahead to the 1987-1988 season, where we'll take a look at the sophomore year of the cast, see what made headlines, who the breakout star of the season is, who hosted, what were the best and worst moments, who made mistakes, and trivia of the season. That's coming up next, so stay tuned for the next installment.
Photo Sources:
Saturday Night Live: The Best of Phil Hartman, Jon Lovitz, and Dana Carvey
Saturday Night Live: William Shatner/Lone Justice (12/20/1986)
Saturday Night Live: Malcolm Jamal Warner/Run DMC (10/18/1986)
Saturday Night Live: The Best of 1986
The Best of Saturday Night Live: Robin Williams
Saturday Night Live in the '80s: Lost and Found
I just wanted to say that I think it borders on weird that my desk lamp magically shows up in the television screen every time I took these pictures. It's kind of like in "The Sixth Sense" when you see that glimmer in all of the baby pictures. No sponsors tonight though, kids. Actually, think of that background lamp as a sponsor.
This is Allison Venezio, your "Saturday Night Live" guru, saying, "good night!"[/size]