That's right cha-cha, I'm talkin' about Dennis Miller. The hair-flipping, high-pitched giggling, head-shaking "Weekend Update" anchor was rivaled in his personality only by that of his "alter ego." If you thought Miller's mannerisms, speech patterns, hair, jokes, and general personality were hilarious, then you probably fell on the floor the first time you saw Dana impersonate him. Carvey debuted the impression briefly at his 1986 audition, but did not debut the alter ego until December 1987, when he appeared on "Weekend Update" alongside the real Dennis Miller. Can you imagine what his family, not to mention Dennis Miller, must have thought when they saw this? Carvey does a better impression of Miller than Dennis Miller could probably do of himself (actually, he did a quick impression of Carvey imitating him on his HBO show several years back – I'm not a good judge on years, so I'd say it was at least six years ago), and it didn't rival Dana. Actually, I think Miller almost choked on a Tic-Tac while doing the impression.
Dana Carvey imitated the long-haired "Update" anchor a total of seven times – debuting on December 19, 1987, and concluding on October 3, 1992. I should note that two of these times were after Miller left "SNL" in 1991. That last time he did the impression, Carvey parodied Miller's first talk show, "The Dennis Miller Show," which I didn't even know existed prior to 1996, when I first saw this sketch reran. It was a cooking show (the real show was a late-night talk format). I guess I wasn't the only one who didn't know this show ever existed – it was cancelled in 1992, in fact, I think it was cancelled before this sketch. Probably why they parodied it. The Fox network doesn't exactly have a good track record with celebrity talk shows (consider the hosts – Joan Rivers, Alan Thicke (!), Dennis Miller, Chevy Chase (?!), Keenan Ivory Wayans, Magic Johnson). Actually, in 1998, my dad predicted that Magic Johnson's show would only last one hour – it lasted something like three months. Think about it – all of these hosts lasted on the low end six weeks, and on the high end, six months. Wow.
And if that's not a tangent, I don't know what is. Now, where was I?
Ah, yes, here are the other appearances of the alter ego:
October 22, 1988
December 17, 1988 (to do a reading of "Twas the Night Before Christmas")
October 29, 1989
December 8, 1990 (in which Tom Hanks joined as a second alter ego – as if one wasn't enough - and the trio sang "Jingle Bells")
May 16, 1992 (it was a pre-tape for a parody of Johnny Carson's last "Tonight Show," and Carvey/Miller is crying the blues about how dismal his talk show's ratings are
October 3, 1992 (Cooking with Dennis Miller – David "Spudling" Spade appears on the show to cook his favorite recipe – Carvey jumps on David Spade in a way he probably thought Miller did to all his friends, associates, and acquaintences)
From what I've heard, for a long time, Dennis Miller used to cringe at the impression. In 2002, on Miller's HBO show, Dana, after doing a Miller impression, joked that Miller doesn't even flinch anymore. You've come a long way from 1987, babe.
The Middle Years: 1990-1992
By the fall of 1990, Dana Carvey was now thirty-five years old, and at the peak of his "SNL" run. A popular cast member in his own right, Dana's impressions continued to garner the attention of "SNL" fans. As the popularity of the "Wayne's World" sketches became more prevalent, Lorne Michaels decided it was time to bring the show's most popular duo to the big screen. Hence:
"Wayne's World! Wayne's World! Party time! Excellent!"
"Wayne's World," the motion picture spin-off of the "SNL" sketch of the same name, premiered in theaters on February 14, 1992, and became a box office sensation. The film, which reportedly was shot in only thirty-four days, grossed $121,697, 350 (according to Internet Movie Database, this is a sub-total) in its box office run, and an additional fifty-four million dollars in rentals. I'm sure with all the additional merchandising (my brother and countless other kids sported Wayne's World t-shirts in fourth grade, which was the fall after this film was released). And, one should also consider how many VHS tapes of this film were probably sold (I'm guilty on this too – my parents bought us the video for Christmas in 1992).
(This is from a "SNL" sketch - I haven't dug my VHS of Wayne's World out of the box I packed it in before I moved - I need a bookshelf for my videos)
For Dana Carvey and Mike Myers, the film was a huge success (it was the first major film for Myers, and the most successful film Carvey has starred in). It would spawn an almost-as-successful sequel (which was funny in its own ways, but does not rival the charm of the original).
In 1992, Carvey co-hosted the NBC primetime special "Saturday Night Live Presidential Bash" (the first of several) with Phil Hartman. Carvey played George H.W. Bush and Ross Perot (I think his size double was David Spade, because I see Spade in lots of pictures of the debate sketches that Carvey was playing Perot) to Phil Hartman's Arkansas governor Bill Clinton. The special earned Carvey a Prime Time Emmy Award in 1993 (six months after he departed from "SNL"), the first win in a string of nominations dating back to the late 1980s (his first nomination was in 1989).
A Quiet Good-Bye
February 6, 1993 continued the slow end of an era for "Saturday Night Live." With new and younger cast members beginning to come into their own on "SNL," and the departure of several of his original co-stars, Carvey quietly stood back and exited into the wings of Studio 8H. The era continued its end, as co-star Phil Hartman exited in 1994, after a then record-setting eight seasons. In addition, Mike Myers, who joined the cast in 1989, left in early 1995 (in the same mid-season fashion that Carvey did), with the era officially ending when Carvey's friend Kevin Nealon took his cue in May 1995.
In seven seasons with "SNL," Dana Carvey evolved from a quiet and modest thirty-one-year old young man with a career that hadn't quite taken off to a quiet and modest thirty-seven-year old with a successful run on a revived comedy series, several movies (including one spun off from a "SNL" sketch, and another on the way later in the year, a successful stand-up career, and the admiration of a national leader). Who else can say they've achieved that in seven years?
What You May (or May Not Have Known) About Dana Carvey
I have done my share of delving into my personal archives (as well as the Internet) to bring you some facts you may or may not have known about Dana Carvey.
You're my inspiration - Carvey has based characters on people in his life. The basis of Garth Algar is his older brother, Brad, who is a computer genius. He is credited with creating "Video Toaster," a post-production film-editing tool. In fact, the same year Dana won his Emmy award, Brad Carvey also won an Emmy, but his was mailed to him. Unlike Carvey's small stature, Brad is actually, according to Dana, a "burly scientist with a beard." He's very soft-spoken though – I've seen him interviewed.
"Enid Strict," better known as the Church Lady, was based upon the Holy Roller church-going women who always sat in the front row of Carvey's church. In 2002, during "Dana Carvey Revealed," it was said that the Carvey family went to church when they could (there were five children in the family, after all), much to the displeasure of the church ladies, who would all turn around when the family came in. Three of the Carvey boys (the subject, Dana, and two of his brothers, Brad and Scott) all do impressions of the church lady. "Well, there's the Carvey boys. Apparently, some of us come to church when it's convenient."
Awards - Carvey has been nominated five times for "Outstanding Individual Performance in a Variety or Music Program" at the Prime Time Emmys for his work on "Saturday Night Live" (the sixth nomination was for his guest appearance on "The Larry Sanders Show" in 1992. The sixth time was the charm – he lost one nomination in 1993, but won for his efforts on the 1992 "SNL" special "Saturday Night Live Political Bash." He was also nominated in 1989, 1990, 1991, and 1992.
Dana Carvey is also a four-time nominated (and three time victorious) honoree at the American Comedy Awards, in the category of "Funniest Supporting Male Performer in a TV Series." He won in 1989, 1990, and 1991. He was nominated for his guest hosting efforts in 2000 (the award year was 2001), but he lost.
Carvey was nominated (and won) for "Best Onscreen Duo" for "Wayne's World" at the MTV Movie Awards in 1992, and nominated for "Best Comedic Performance" that same year (he lost, along with his co-stars Mike Myers and Tia Carrere). In 1994, he was nominated for "Best On Screen Duo" (with Mike Myers), and "Best Kiss" (with Kim Bassinger). He lost both times.
Dana Carvey is the fourth of five children (he has three older brothers and one younger sister). His brothers (as profiled in "Dana Carvey Revealed") are Brad, Scott, and Mark, and his younger sister is Lori.
Carvey worked as a bus boy at a Holiday Inn in California while attempting to break into show business.
Dana Carvey met his wife, Paula, when she came to see him perform in California in the early 1980s. He tried picking her up during his act. They married in 1983.
Carvey is a talented drummer, but also plays guitar and piano. Carvey comes from a musical family – his siblings also play instruments.
Dana is Irish and Italian (woo-hoo, good heritage!) – his mother's family is from Dublin and his father's family is from Rome.
Was born in Missoula, Montana and raised in central California. He moved to San Carlos, CA when he was three.
Dana's high school yearbook from his senior year is displayed in Planet Hollywood at Pleasure Island in Walt Disney World. I was there on vacation in 2002, and stopped because I saw a high school yearbook. It was Carvey's, with his picture marked. He is a 1973 graduate of Carlmont High School (according to the description with the yearbook).
The Faces of Dana Carvey
As Jimmy Stewart reading an ultra-depressing poem about his dog, "Blue." Dennis Miller is reduced to "tears."
As Robin Williams' son, Robin Jr.
As Prince Charles, explaining that he going to become a "tampon in the trousers of the woman he loves." Was that woman Camille Parker-Bowles?
George Burns - "I'm here outside Emperor Hirihito's hospital room where he's been slipping in and out of a coma."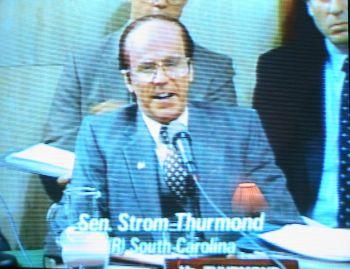 As Senator Strom Thurmond, telling Clarence Thomas about "porn with lots of fancy costumes."
As Paul McCartney during a Sinead O'Connor Awards Show. Sinead is played by Jan Hooks.
Dana as Bob Dylan, with Dennis Miller as his translator.
"Carsenio" - a cross between Johnny Carson and Arsenioooooooooo Hall. No, that is not a typo.
Grumpy Old Man - he hates everything modern, convenient, and dignifying.
Dana as Keith Richards, best man for Mick Jagger.
As Lane Maxwell, who can see into the future. He predicts a meteor is coming. A low-budget meteor hits Jan Hooks in the head.
As the host of "Portrait of the Artist." This was the sketch with Jon Lovitz as Pablo Picasso.
Dana as John Travolta on "Plug Away With Harvey Firestein" (Jon Lovitz). They are discussing an older Travolta movie called "Moment By Moment." "Oh, that movie was a real stinkah, yea."
As Jan Hooks' lover in "Compulsion," the world's most indulgent disinfectant. From Calvin Kleen.
As Ching Chang, who sells chickens. But, he won't sell you one...and tell you why.
As Lord Christie in "The Dancing Lord." I found this on the full version of the November 15, 1986 episode hosted by Sam Kinison. It is one of those rare occassions that I taped a 90-minute episode from the mid-1980s.
Conclusion
Well, Retrojunkies, I hope you liked this visit back in time to the memorable height of Dana Carvey's career. I will admit that I miss these days – Carvey is still very funny, but the peak of his career was in the late 1980s and early-mid 1990s. It doesn't feel like it was that long ago that I was nine years old and watching "Wayne's World" in the movie theater with my parents. In actuality, it was fourteen and a half years ago.
Carvey chose for himself a low-key lifestyle. He still rides high on his "Saturday Night Live" fame, and performs regularly in Las Vegas (his last visit to Atlantic City was his performance at Resorts in June 2000 – my friend Kristin's boyfriend Nick saw him in person – I envy him). But, I still have my close-up Dennis Miller ticket. Carvey chose his family as well – he is a proud papa to two boys, Dex and Thomas, and a husband to long-time wife Paula.
If you get the chance to see Dana on a talk show appearance, you'll notice that he is still very youthful, though it is apparent that he is no longer in his thirties. But, he still bounces around the stage of "The Tonight Show" with the same youthful energy that made him a beloved commodity on "SNL" in the 1980s.
Retrojunkies, I compel you to watch some of Carvey's better movies and "SNL" sketches, and you will easily see the magic he possesses. His charisma, not to mention his "Saturday Night Live" tenure, is truly an art form. And this art is his own. There will never be another Dana Carvey, though some comedians may try to come close.
Thank you for sticking around long enough to read my tribute to the art of Dana Carvey's "Saturday Night Live."
For now, this is Allison Venezio, aka "Allison_SNLKid," still your resident "Saturday Night Live" Guru bidding you a fond farewell until the next article. Which I promise won't be too far off.
Oh, and by the way, as I am finishing this article, my boyfriend snagged two free tickets to see ex-"SNL" star Kevin Nealon at the Borgata in Atlantic City, New Jersey on Friday night, November 3. I will tell you all about it in my next article.
As always, thank you all for your continued support and praise for my work. Your support is much appreciated. Much love.
~Allison Venezio, aka "Allison_SNLKid" doing a little "light reading"