Greetings, salutations, and rose petals at your feet, retrojunkies!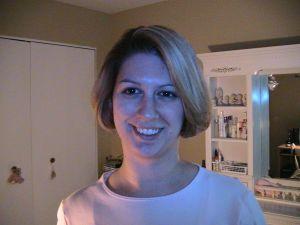 It is me, once again, Allison Venezio, your "Saturday Night Live" guru. I've become settled in my new surroundings, and have gotten back into my groove enough to begin writing again. Let me explain.

I published "Saturday Night Controversial" several weeks ago, but it was a pre-written article from before the move. I actually wrote the article in one sitting on August 31st, but the move put finishing it on hold for several weeks. I felt that when I settled in enough, and I had my research materials prepared and my electronics and computer hooked up, I could finish it up. In addition, work has kept me plenty busy (my hours get cut in November, leaving me with four days a week off until I get laid off in December). So, retrojunkies, consider this my first post-move article.

This is also not one of the lighter articles I've been putting around either. This is actually another pet project of sorts that I had planned after my four-parter. The next light article will come after Halloween is over, in the interest of a holiday-related article – more to come on that at a later time.

But first, a story of some human interest.

On September 30th, I was treated to an evening in Atlantic City. It's not as though I've never been there (I've always lived within 40 minutes of the city), but this was special.

As if you couldn't already tell, I'm big into stand-up comedy. And, I'm a bigger "Saturday Night Live" fan. So, how do you combine those two loves?

You see an ex-"Saturday Night Live" star in person.

BAM!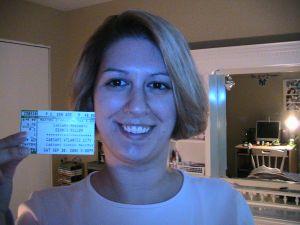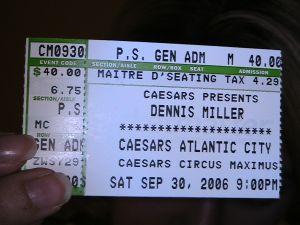 My boyfriend scored (ok, fine – he bought them) two tickets to see Dennis Miller at Caesars Atlantic City on Saturday, September 30th. It was our second time to see the ex-"Weekend Update" anchor in person (first time was at the Borgata on April 22, 2005). As if I wasn't already excited about seeing him in person again, my boyfriend tried to one-up the experience by tipping the usher in order to advance us to a closer seat (it was general admission – no assigned seating). She informed us that if she could move us, she would come back and get us, and in an honest gesture, she gave back his tip. Undaunted, we sat in anticipation through the opening act and waited.

Five minutes into Miller's show, the usher came back and tapped me, and asked if we still wanted to move down – there were better seats waiting. We jumped at the chance, and faster than you could imitate Miller's laugh, we were in the second row of tables. I swear, it will be the closest I will get to a "Saturday Night Live" star that isn't considered stalking. A good time was had by all - Miller was extra funny that night. And the moral of the story, my friends, proves that five dollars can get you far in life. Or, at least, in the Circus Maximus theater at Caesars Atlantic City.

And now, without further delay – and I'm a woman of my word - here is my next article.



Introduction



When I pore over the list of who I can truly favorite from "Saturday Night Live's" glory days, one name always comes to mind – Dana Carvey. Indeed, Carvey's tenure on "SNL" will always be nothing short of legendary. Unlike a lot of actors who came and went, and we didn't care about them for a second, Carvey will always have staying power among the names we will never forget.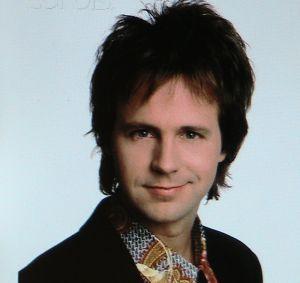 I go way back with this love for Dana Carvey. Allow me to explain.

In the spring of 1992, I was a cutely awkward nine-year old girl. I had third grade to conquer, Jazz dance class to master, and religious classes every Thursday night to make me a better Catholic. My parents were also still pre-screening PG-13 movies for me and my brother. If it looked questionable, it was a no-go. Imagine my current surprise that they took us to see this movie…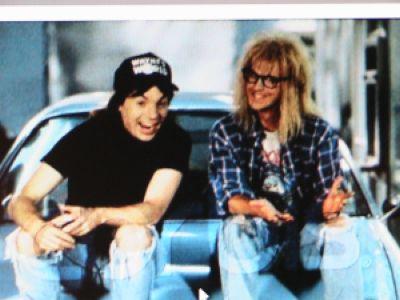 Wayne's World! Wayne's World! Party time! Excellent!



That's right – in March 1992, my parents took my twin brother and me to see "Wayne's World" in the movie theater. I fell in love with everything about the movie – the plot, the dialogue, and the characters, especially that "blonde guy with the black glasses. Who's that?"

My mom said Garth, the "blonde guy with the black glasses," was Dana Carvey, the guy who played Wayne was Mike Myers, and they were both on "some show" (as I referred to it in 1992 – who knew then what they know now?) called "Saturday Night Live." My first reaction from my naïve brain was "That's a guy! He has a girl's name!" But, I was over the moon for him. I loved him in all his awkward glory.

Or, at least I liked the character.

Flash forward fourteen years later to the fall of 2006, to a twenty-four year old (as of October 19th) college graduate who can't get enough of "Saturday Night Live." I have come to love Dana Carvey the actor, not only for his amazing impersonations and characters, but for his lively personality, and the amount of laughs he can easily provide.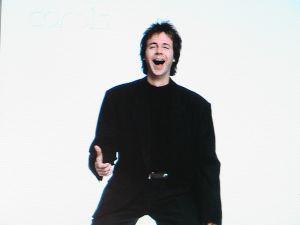 In the tradition of my tribute article to Carvey's "Saturday Night Live" co-star Phil Hartman, and my exploration of the art of his "Saturday Night Live" co-star and then-"Weekend Update" anchor Dennis Miler, I proudly present a look back into the art of Dana Carvey's legendary tenure on "Saturday Night Live." While I could easily look back on other moments in Carvey's career, I feel it would be a good use of my talent to discuss the time in his career that more people will look fondly on – and I'm not referring to some of the bad movies he's made (well, they're not all bad). I could easily save his better movies for another article – I wouldn't exactly acknowledge the bad ones, now would I? Quit shaking your head yes, because I'm not. So be it.

And now, I proudly present, the art of Dana Carvey's "Saturday Night Live!"



And so we begin…



Dana Carvey joined the ranks of "Saturday Night Live" in October 1986, at a time when the show was marked with uncertainty (if you've read a number of my articles over the last six months, you've seen the phrase "marked with uncertainty" referring to the start of the 1986-1987 season about as many times as you've seen "Wayne's World").

Carvey was a fresh-faced, blonde-haired, California boy, armed with a college degree (for the curious, he has a Communication degree from San Francisco State University), a lot of energy, and enough personalities to fill several lifeboats. In actuality, he was a struggling thirty-one year old comedian who was working as a bus boy in the early 1980s, who participated in bit parts on terrible television shows and bad pilot after bad pilot (he even said he got fired from a bad television show because he "didn't take it seriously" – you write the ending as to what happened to that bad television show).

Carvey took the opportunity to audition for "Saturday Night Live" seriously, and I have the audition tape to prove it. Actually, it was on the "Best of Dana Carvey" DVD.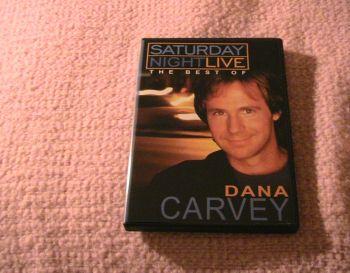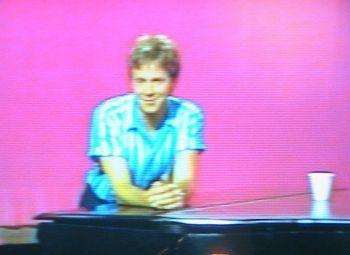 This is Dana auditioning for "Saturday Night Live" in mid-1986, on an empty sound stage in California. His audience is executive producer Lorne Michaels, several producers and writers, and cast members Dennis Miller and Jon Lovitz. In fact, if you listen closely, you can hear the distinct laughs of Miller and Lovitz.

Young Dana begins his audition by introducing himself, and going into his "pretentious rock star" impression (which later became Derek Stevens). The song was "Choppin' Broccoli."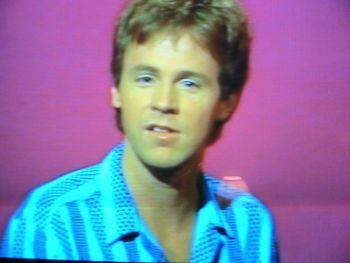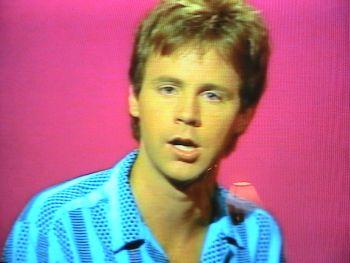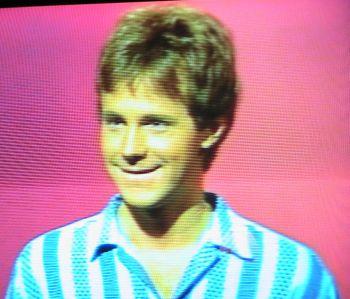 The tape then fades out and back in, and Carvey asks the audience with a British accent, "Would you like to see some impressions?" You can hear Lorne Michaels inaudibly, and Carvey exclaims, "Oh, Lorne! No!" while giggling. He then launches into impressions like Robin Williams, Paul McCartney, and Robin Leach (the ever-annoying host of "Lifestyles of the Rich and Famous") – "This is (babbles nonsensically). He has eleven gazillion dollars. You have nothing. That is why you watch this show." During the Robin Williams impression, Carvey launches into his Dennis Miller impression, which cracks Miller up (you can faintly hear his hysterical giggle – it will be the loudest background noise you hear).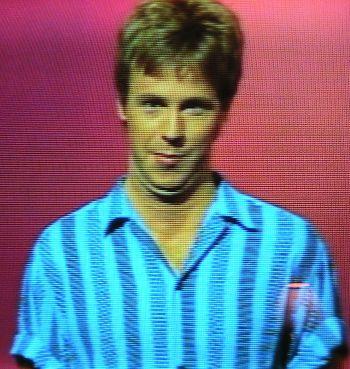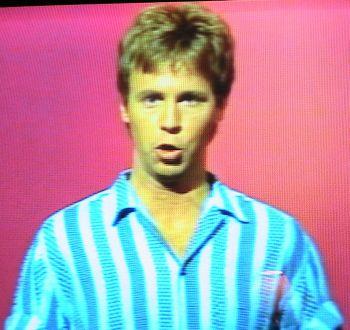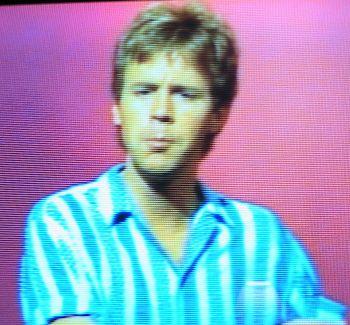 He then wraps up his audition by doing his John Travolta impression, which involves Travolta telling a joke that goes bad. You know – it is one of those "a guy goes into a bar" jokes. It is a John Travolta, circa "Saturday Night Fever" impression. You know what I mean – he could wear a black pompadour wig and bellbottoms, and you'd think he was Travolta.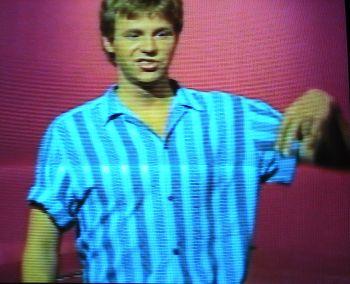 Carvey's audition was funny because you can see how natural a mimic he is, but you can also tell how shy he tends to be. Sure, he's a bundle of energy on tape, but, when captured on this tape, he acts nervous when asking questions. He even asks if they want him to do anything else, and even says he "doesn't want to take up anymore time." You can almost see why they hired him that season – he had the perfect mix of personality, humor, and a quiet shyness that made him a fun person to watch.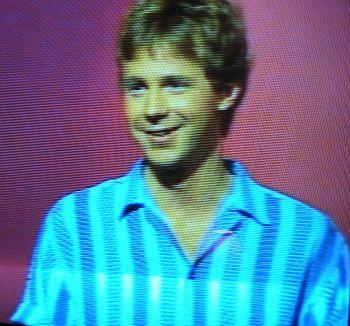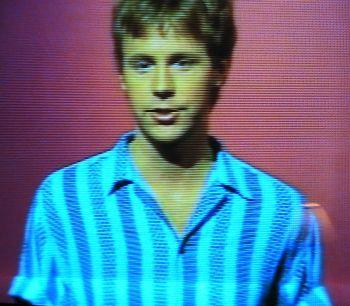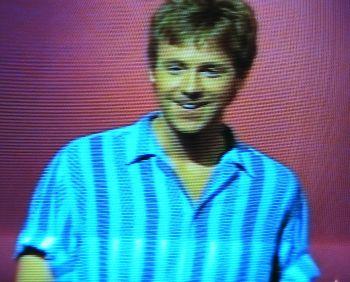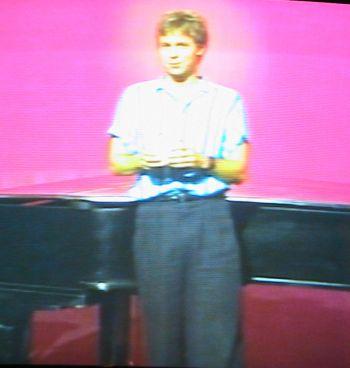 The Debut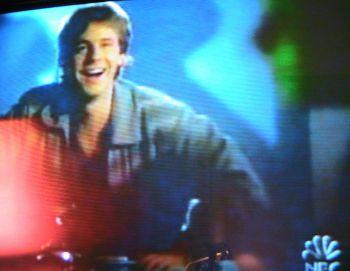 Dana Carvey debuted on "Saturday Night Live" on October 11, 1986 (ironically, when I started writing this, it was approximately twenty years to the day that the twelfth season of "SNL" premiered). Carvey was in good company. In addition to previous season cast members Dennis Miller, Jon Lovitz, and Nora Dunn, he was joined by newbies Kevin Nealon, Phil Hartman, Jan Hooks, and Victoria Jackson. In fact, it was Kevin Nealon's friendship with Dana Carvey that got Nealon an audition with the show.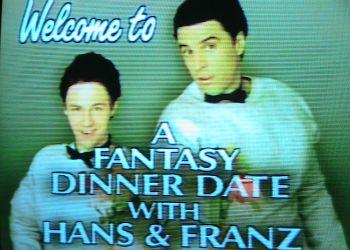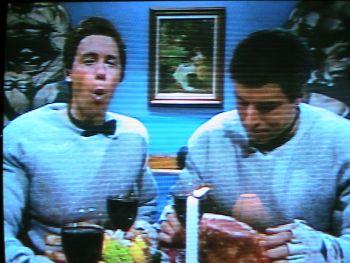 Carvey's debut came at a time when "SNL" was faced with an uncertain future. In fact, it was also the night he debuted one of his trademark characters, "The Church Lady." "Church Chat" was placed at the end of the dress rehearsal, and the sketch bought down the house with the uttering of Carvey's trademark Church Lady comment, "Well, isn't that special?" The sketch was immediately pushed up to the beginning of the show, right after the monologue. It is also said that Phil Hartman lobbied for the trademark purple Church Lady dress – Lorne Michaels originally wanted Carvey in a pink frilly outfit.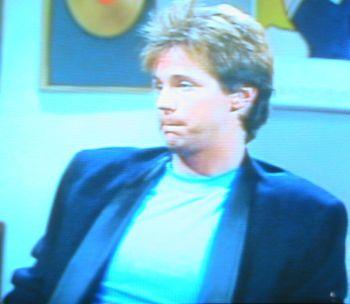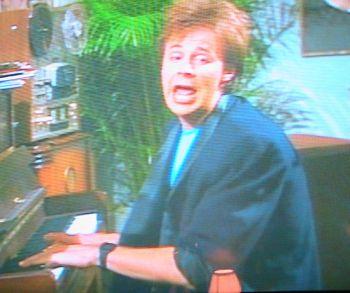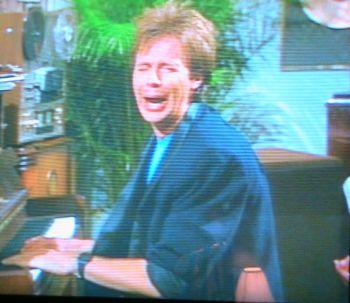 Carvey debuted several of his trademark characters and impersonations during the 1986-1987 season, including Enid Strict ("The Church Lady"), Derek Stevens (the "pretentious rock star" Dana portrayed during his audition), Ching Chang ("chicken make lousy housepet!"), Jimmy Stewart, George Burns, Casey Kasem, Robin Leach, and John Travolta. He would also have other funny moments (Gary Crosby, Bing Crosby's suffering son in "The Crosby Show," a parody of "The Cosby Show"), one of the two Sammies (along with Kevin Nealon), who would infamously quote "that's just another thing you're not gonna do!", a visitor in one of my favorites from the 1986-1987 season, "Reverend Dwight Henderson, World's Meanest Methodist Minister," (the showstopper was host John Lithgow, who played Reverend Henderson in all of his sarcastic glory, retorting "puh-leeeeeeeease!" and commenting on everything that the visitors felt was important to them). Carvey wrapped the season in 1986-1987, his future very much secure with the show.



Break Out Star



I believe that there are a few stars in every cast who have a season that they begin to come into their own in a big way. For Dana Carvey, that season would be 1988-1989. It was his third season – he was now thirty-three years old, developing new impersonations and improving on his popular ones, and noticeably more comfortable in the show's format. The chemistry he had developed over the previous seasons with his cast mates was ever-evolving. He worked well with everyone. It is hard to say who he worked with best – the cast he was in was never short on chemistry. Carvey's charm and charisma was shining through in every effort he put forth.

The reason this season also solidified my belief that it was his best was some of his more interesting moments:

-as a travel agent who unwillingly shares his chapstick with everyone who seems to notice he has it (including a prostitute with cold sores and a dog, a chili salesman with gum disease, a sneezing co-worker, and an alien – which was voiced by Conan O'Brien). You could almost feel him cringing at the repetitive line "Oh, Chap Stick! May I?"

-as a soldier nicked "Guy Who Reminds Me of Doggie" by Phil Hartman's R. Lee Ermey-esque drill sergeant in a parody of "Full Metal Jacket" – you can see him flinching and blinking constantly as Hartman screams in his face

-as arrogant restaurant host Buddy Precisely, who informed not-so-famous restaurant patrons to "wait at the bar." If they argued, they were to "take it outside, take it outside." If he told you to wait at the bar, and you could prove that you were a rising star, he would tell you to wait…"near the bar!" Carvey's arrogant tone was a real turn-around from his "nice guy" characters, but was a unique part with some excellent catchphrases. I have gone to restaurants and quoted "wait at the bar" when I've had to wait because of Buddy

-as Thomas the servant in "Mocking Lord Edmund." Along with Jon Lovitz, Carvey would yes his boss to death, but behind his back, he'd do the opposite and mock his boss's paranoia. When their master, Lord Edmund (host John Malkovich), retires for the night (after claiming that the moon mocks him, on top of all of the visitors who "mocked" him during the sketch), Thomas and the other servant (Lovitz's character doesn't have a name) chant a sing-song version of their master's paranoia: "I will not be mocked! I will not be mocked! I will not be mocked!"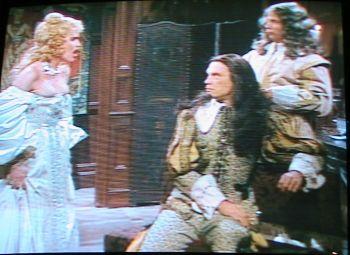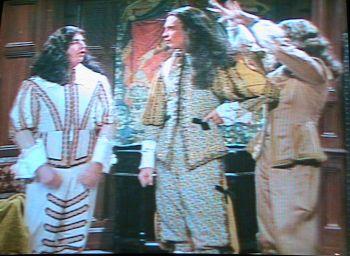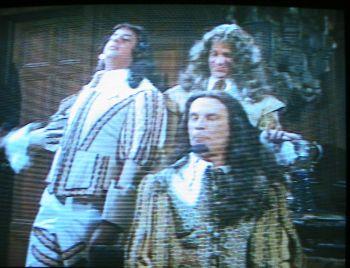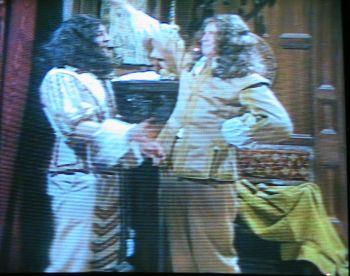 -as Paul McCartney in "The Five Beatles." This sketch, one of my favorites of the season, featured Carvey as Paul McCartney, host Matthew Broderick as John Lennon, Jon Lovitz as Ringo Starr, and sketch quiet man Dennis Miller as George Harrison. It will be the only time you hear Miller donning a British accent. But, it is Carvey who shines here, as Paul McCartney, an impression he said in a 1990 interview that he mastered when he was just eight years old. I particularly liked when he explained that he was the leader, not knowing that he was asked if he was the group's spokesperson. When he was told that he was to be the one to fire the fifth Beatle, trombone player Albert Goldman, he says "oh, well John's the lee-der!"

-Carvey's two Weekend Update appearances as George Michael. Both appearances involved him wanting to discuss his butt, which was "the best butt in music video today." Both visits involved Carvey/Michael telling Dennis Miller to "Look at my butt! Look at it! You can't take your eyes off of it!" while his suffering cast mate, Dennis Miller, sits and stares deadpan at his gyrating tushie. I especially like his second visit, in which he walks off the stage, but not before declaring, "my butt will prevail!"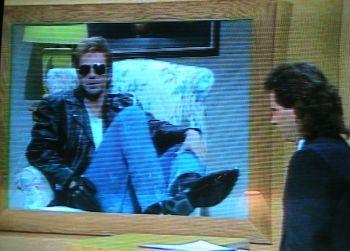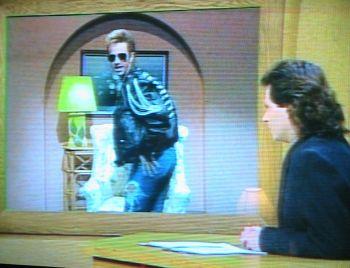 From "Weekend Update," early 1989



-as Reginald in "Waikiki Hockey" (as featured in "Saturday Night Lives! Part 3"). This sketch is probably on my long list as being an all-time favorite, yet it aired in the death trap better known as the 12:50 am sketch. Why it did is beyond me. While host Wayne Gretzky (as busboy Chad Gretzky) was the real star of the sketch, Carvey's stuck-up Reginald, Ann-Margaret/Kitten's (Jan Hooks) snooty boyfriend, was the right amount of snooty. He talked through clenched teeth, wore a sweater tied around his neck, and used a rich boy tone of voice. Him saying "Absolutely!" was enough to send me into a giggle-fit. He gets his in the end when Wayne/Chad Gretzky punches the scarf-clad Dana/Reginald off of his water skis. And why they put this over the earliest "Wayne's World" efforts is anyone's guess.

If you would like to know a little bit more about Waikiki Hockey," there is a feature about it in "Saturday Night Lives! Part 3," including the infamous "ALOHA" title card.



Presidential Impersonator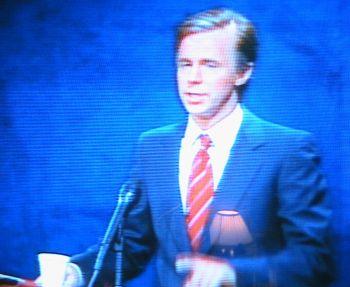 Carvey as Bush in October 1988. the impression is improving, but a long way from what it would be by 1990.



While Dana Carvey debuted his George Bush impression in 1987, it did not begin to come into its own until the 1988-1989 season. And, even then, it still wasn't the greatest impression then. By 1989-1990, it was a full-fledged laugh riot. Arguably, Carvey's impression became more accurate – it sounded like a soft-spoken southerner, and not like a whiny, higher-pitched version of Dana Carvey's voice. Carvey described the impression as "a combination of Mr. Rogers and John Wayne." Throw in those crazy hand gestures (it's the only way I know how to do my own George Bush impression), and you've got "George Hebert Walker Bush."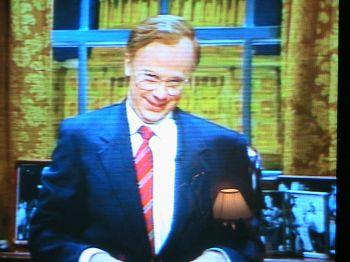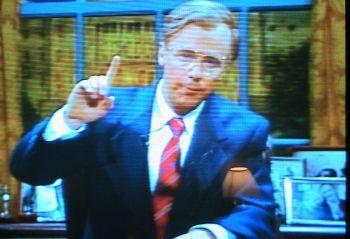 Carvey's impersonation was a beloved part of the late-1980s and early-1990s "SNL" era. Carvey opened many episodes during the 1989-1990 and 1990-1991 seasons with a presidential address, probably more addresses than the real President Bush had on television. While I can remember only certain key details about Bush 41's presidency (come on, I was six when he was elected!), I can tell you what Dana Carvey discussed in his "addresses." Even now, the impression holds up nicely, and every time I see a commercial with George Bush on it, I can't help but think of Carvey.

Even the real George Bush liked it. In fact, he liked it so much, he invited Dana and his wife, Paula, to the White House in December 1992, at the end of Bush's presidency. Carvey spoke at a staff breakfast to mark the end of the Bush administration. At least, the end of the Bush administration until his son was elected in 2000. That also marked the revival of Carvey's Bush impression (not that it ever went away). I used to have video of Dana's visit to the White House, as featured on NBC news in 1992 (it was archived on the MSNBC series "Time and Again," which is where I got all of those great Dennis Miller pictures from his talk show appearances). Just like those classic rarely rerun "SNL" episodes from the 1980s that I conveniently taped over or threw away, this archive special is now non-existent in my archives. I threw the tape away as well.



My Crazy Alter Ego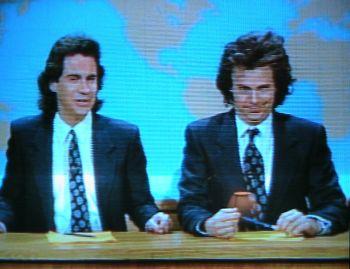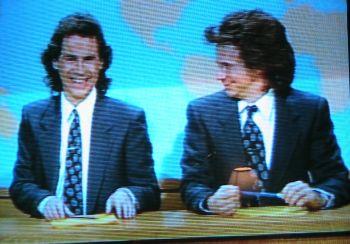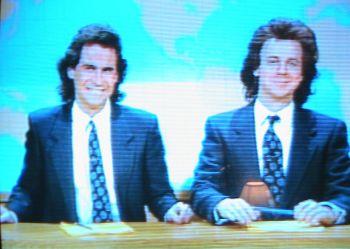 Dana Carvey was a natural mimic. While a lot of his impersonations were caricatures of the real people, he was undeniably good at what he did. He still is. But, Dana didn't have to look far to achieve what was probably one of his top best impersonations of a real person…

That's right cha-cha, I'm talkin' about Dennis Miller. The hair-flipping, high-pitched giggling, head-shaking "Weekend Update" anchor was rivaled in his personality only by that of his "alter ego." If you thought Miller's mannerisms, speech patterns, hair, jokes, and general personality were hilarious, then you probably fell on the floor the first time you saw Dana impersonate him. Carvey debuted the impression briefly at his 1986 audition, but did not debut the alter ego until December 1987, when he appeared on "Weekend Update" alongside the real Dennis Miller. Can you imagine what his family, not to mention Dennis Miller, must have thought when they saw this? Carvey does a better impression of Miller than Dennis Miller could probably do of himself (actually, he did a quick impression of Carvey imitating him on his HBO show several years back – I'm not a good judge on years, so I'd say it was at least six years ago), and it didn't rival Dana. Actually, I think Miller almost choked on a Tic-Tac while doing the impression.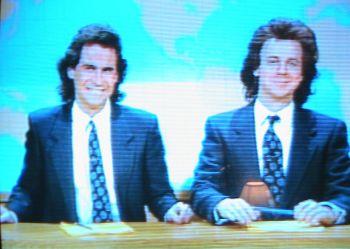 Dana Carvey imitated the long-haired "Update" anchor a total of seven times – debuting on December 19, 1987, and concluding on October 3, 1992. I should note that two of these times were after Miller left "SNL" in 1991. That last time he did the impression, Carvey parodied Miller's first talk show, "The Dennis Miller Show," which I didn't even know existed prior to 1996, when I first saw this sketch reran. It was a cooking show (the real show was a late-night talk format). I guess I wasn't the only one who didn't know this show ever existed – it was cancelled in 1992, in fact, I think it was cancelled before this sketch. Probably why they parodied it. The Fox network doesn't exactly have a good track record with celebrity talk shows (consider the hosts – Joan Rivers, Alan Thicke (!), Dennis Miller, Chevy Chase (?!), Keenan Ivory Wayans, Magic Johnson). Actually, in 1998, my dad predicted that Magic Johnson's show would only last one hour – it lasted something like three months. Think about it – all of these hosts lasted on the low end six weeks, and on the high end, six months. Wow.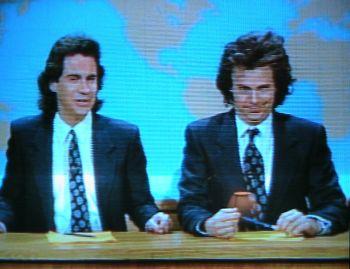 And if that's not a tangent, I don't know what is. Now, where was I?

Ah, yes, here are the other appearances of the alter ego:

October 22, 1988

December 17, 1988 (to do a reading of "Twas the Night Before Christmas")

October 29, 1989

December 8, 1990 (in which Tom Hanks joined as a second alter ego – as if one wasn't enough - and the trio sang "Jingle Bells")

May 16, 1992 (it was a pre-tape for a parody of Johnny Carson's last "Tonight Show," and Carvey/Miller is crying the blues about how dismal his talk show's ratings are

October 3, 1992 (Cooking with Dennis Miller – David "Spudling" Spade appears on the show to cook his favorite recipe – Carvey jumps on David Spade in a way he probably thought Miller did to all his friends, associates, and acquaintences)

From what I've heard, for a long time, Dennis Miller used to cringe at the impression. In 2002, on Miller's HBO show, Dana, after doing a Miller impression, joked that Miller doesn't even flinch anymore. You've come a long way from 1987, babe.



The Middle Years: 1990-1992



By the fall of 1990, Dana Carvey was now thirty-five years old, and at the peak of his "SNL" run. A popular cast member in his own right, Dana's impressions continued to garner the attention of "SNL" fans. As the popularity of the "Wayne's World" sketches became more prevalent, Lorne Michaels decided it was time to bring the show's most popular duo to the big screen. Hence:

"Wayne's World! Wayne's World! Party time! Excellent!"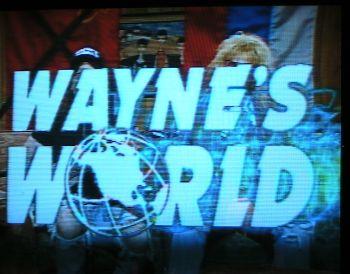 "Wayne's World," the motion picture spin-off of the "SNL" sketch of the same name, premiered in theaters on February 14, 1992, and became a box office sensation. The film, which reportedly was shot in only thirty-four days, grossed $121,697, 350 (according to Internet Movie Database, this is a sub-total) in its box office run, and an additional fifty-four million dollars in rentals. I'm sure with all the additional merchandising (my brother and countless other kids sported Wayne's World t-shirts in fourth grade, which was the fall after this film was released). And, one should also consider how many VHS tapes of this film were probably sold (I'm guilty on this too – my parents bought us the video for Christmas in 1992).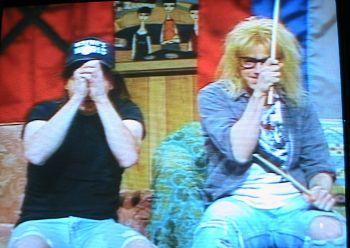 (This is from a "SNL" sketch - I haven't dug my VHS of Wayne's World out of the box I packed it in before I moved - I need a bookshelf for my videos)

For Dana Carvey and Mike Myers, the film was a huge success (it was the first major film for Myers, and the most successful film Carvey has starred in). It would spawn an almost-as-successful sequel (which was funny in its own ways, but does not rival the charm of the original).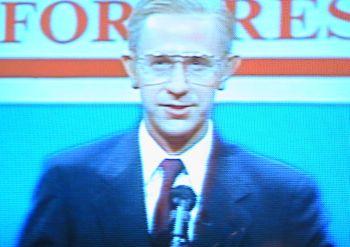 In 1992, Carvey co-hosted the NBC primetime special "Saturday Night Live Presidential Bash" (the first of several) with Phil Hartman. Carvey played George H.W. Bush and Ross Perot (I think his size double was David Spade, because I see Spade in lots of pictures of the debate sketches that Carvey was playing Perot) to Phil Hartman's Arkansas governor Bill Clinton. The special earned Carvey a Prime Time Emmy Award in 1993 (six months after he departed from "SNL"), the first win in a string of nominations dating back to the late 1980s (his first nomination was in 1989).



A Quiet Good-Bye



February 6, 1993 continued the slow end of an era for "Saturday Night Live." With new and younger cast members beginning to come into their own on "SNL," and the departure of several of his original co-stars, Carvey quietly stood back and exited into the wings of Studio 8H. The era continued its end, as co-star Phil Hartman exited in 1994, after a then record-setting eight seasons. In addition, Mike Myers, who joined the cast in 1989, left in early 1995 (in the same mid-season fashion that Carvey did), with the era officially ending when Carvey's friend Kevin Nealon took his cue in May 1995.

In seven seasons with "SNL," Dana Carvey evolved from a quiet and modest thirty-one-year old young man with a career that hadn't quite taken off to a quiet and modest thirty-seven-year old with a successful run on a revived comedy series, several movies (including one spun off from a "SNL" sketch, and another on the way later in the year, a successful stand-up career, and the admiration of a national leader). Who else can say they've achieved that in seven years?



What You May (or May Not Have Known) About Dana Carvey



I have done my share of delving into my personal archives (as well as the Internet) to bring you some facts you may or may not have known about Dana Carvey.

You're my inspiration - Carvey has based characters on people in his life. The basis of Garth Algar is his older brother, Brad, who is a computer genius. He is credited with creating "Video Toaster," a post-production film-editing tool. In fact, the same year Dana won his Emmy award, Brad Carvey also won an Emmy, but his was mailed to him. Unlike Carvey's small stature, Brad is actually, according to Dana, a "burly scientist with a beard." He's very soft-spoken though – I've seen him interviewed.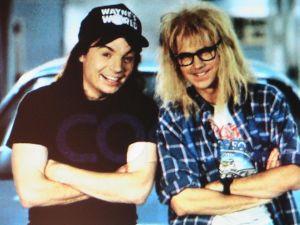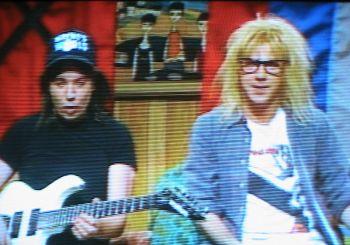 "Enid Strict," better known as the Church Lady, was based upon the Holy Roller church-going women who always sat in the front row of Carvey's church. In 2002, during "Dana Carvey Revealed," it was said that the Carvey family went to church when they could (there were five children in the family, after all), much to the displeasure of the church ladies, who would all turn around when the family came in. Three of the Carvey boys (the subject, Dana, and two of his brothers, Brad and Scott) all do impressions of the church lady. "Well, there's the Carvey boys. Apparently, some of us come to church when it's convenient."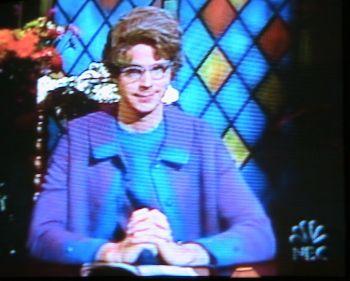 Awards - Carvey has been nominated five times for "Outstanding Individual Performance in a Variety or Music Program" at the Prime Time Emmys for his work on "Saturday Night Live" (the sixth nomination was for his guest appearance on "The Larry Sanders Show" in 1992. The sixth time was the charm – he lost one nomination in 1993, but won for his efforts on the 1992 "SNL" special "Saturday Night Live Political Bash." He was also nominated in 1989, 1990, 1991, and 1992.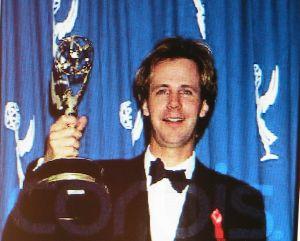 Dana Carvey is also a four-time nominated (and three time victorious) honoree at the American Comedy Awards, in the category of "Funniest Supporting Male Performer in a TV Series." He won in 1989, 1990, and 1991. He was nominated for his guest hosting efforts in 2000 (the award year was 2001), but he lost.

Carvey was nominated (and won) for "Best Onscreen Duo" for "Wayne's World" at the MTV Movie Awards in 1992, and nominated for "Best Comedic Performance" that same year (he lost, along with his co-stars Mike Myers and Tia Carrere). In 1994, he was nominated for "Best On Screen Duo" (with Mike Myers), and "Best Kiss" (with Kim Bassinger). He lost both times.

Dana Carvey is the fourth of five children (he has three older brothers and one younger sister). His brothers (as profiled in "Dana Carvey Revealed") are Brad, Scott, and Mark, and his younger sister is Lori.

Carvey worked as a bus boy at a Holiday Inn in California while attempting to break into show business.
Dana Carvey met his wife, Paula, when she came to see him perform in California in the early 1980s. He tried picking her up during his act. They married in 1983.

Carvey is a talented drummer, but also plays guitar and piano. Carvey comes from a musical family – his siblings also play instruments.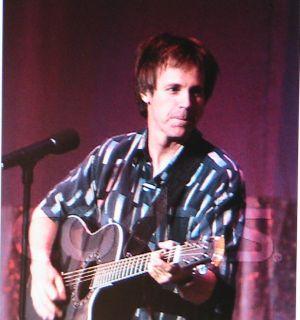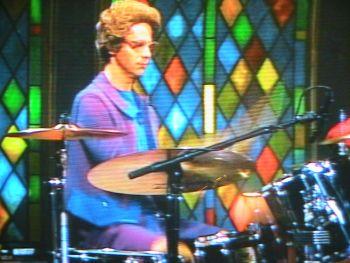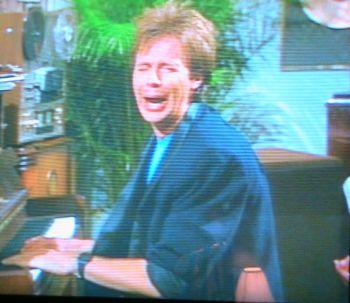 Dana is Irish and Italian (woo-hoo, good heritage!) – his mother's family is from Dublin and his father's family is from Rome.

Was born in Missoula, Montana and raised in central California. He moved to San Carlos, CA when he was three.

Dana's high school yearbook from his senior year is displayed in Planet Hollywood at Pleasure Island in Walt Disney World. I was there on vacation in 2002, and stopped because I saw a high school yearbook. It was Carvey's, with his picture marked. He is a 1973 graduate of Carlmont High School (according to the description with the yearbook).



The Faces of Dana Carvey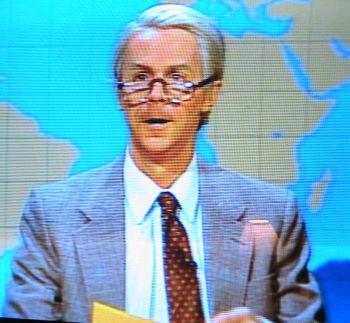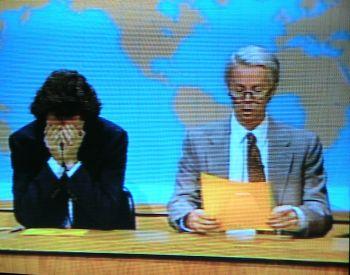 As Jimmy Stewart reading an ultra-depressing poem about his dog, "Blue." Dennis Miller is reduced to "tears."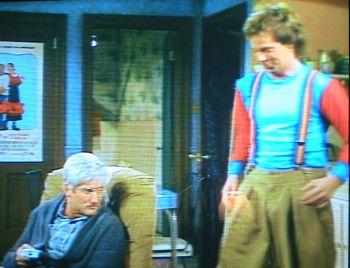 As Robin Williams' son, Robin Jr.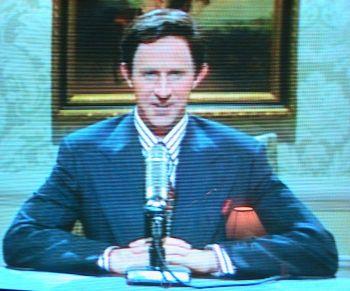 As Prince Charles, explaining that he going to become a "tampon in the trousers of the woman he loves." Was that woman Camille Parker-Bowles?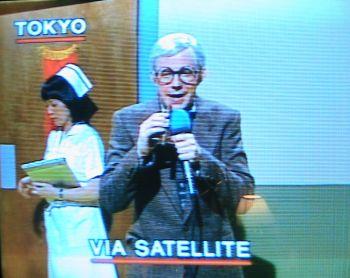 George Burns - "I'm here outside Emperor Hirihito's hospital room where he's been slipping in and out of a coma."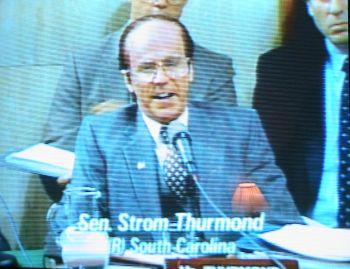 As Senator Strom Thurmond, telling Clarence Thomas about "porn with lots of fancy costumes."



As Paul McCartney during a Sinead O'Connor Awards Show. Sinead is played by Jan Hooks.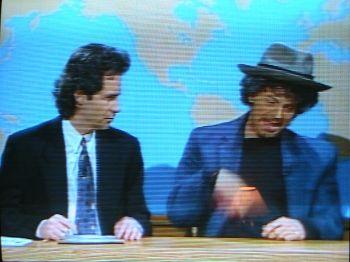 Dana as Bob Dylan, with Dennis Miller as his translator.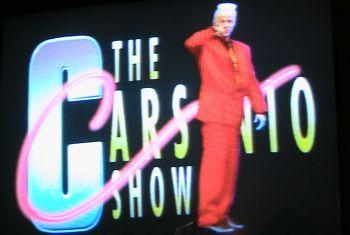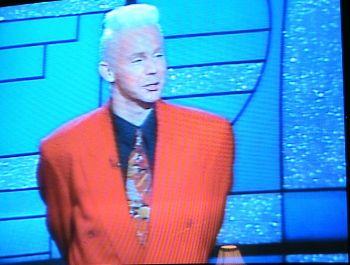 "Carsenio" - a cross between Johnny Carson and Arsenioooooooooo Hall. No, that is not a typo.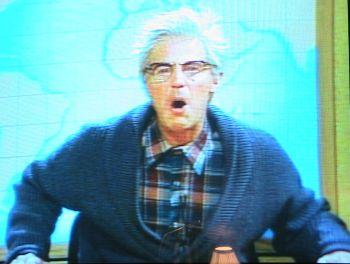 Grumpy Old Man - he hates everything modern, convenient, and dignifying.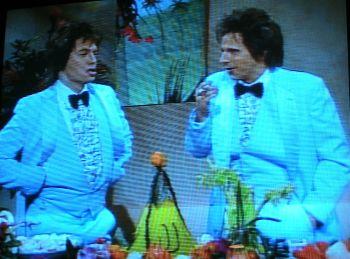 Dana as Keith Richards, best man for Mick Jagger.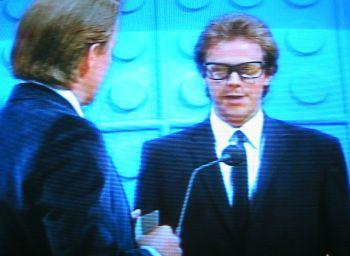 As Lane Maxwell, who can see into the future. He predicts a meteor is coming. A low-budget meteor hits Jan Hooks in the head.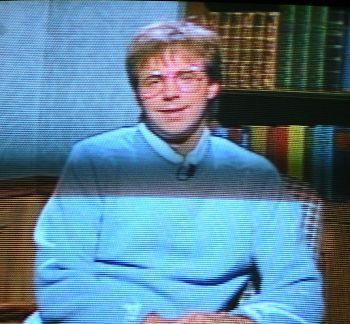 As the host of "Portrait of the Artist." This was the sketch with Jon Lovitz as Pablo Picasso.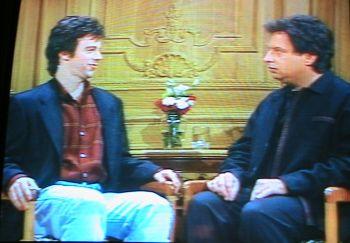 Dana as John Travolta on "Plug Away With Harvey Firestein" (Jon Lovitz). They are discussing an older Travolta movie called "Moment By Moment." "Oh, that movie was a real stinkah, yea."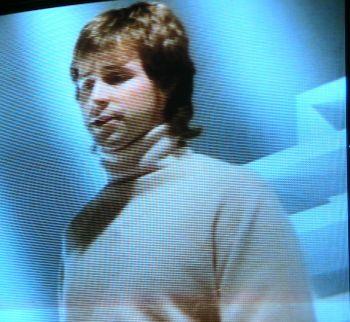 As Jan Hooks' lover in "Compulsion," the world's most indulgent disinfectant. From Calvin Kleen.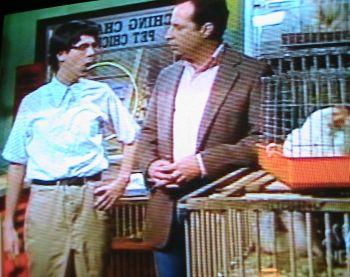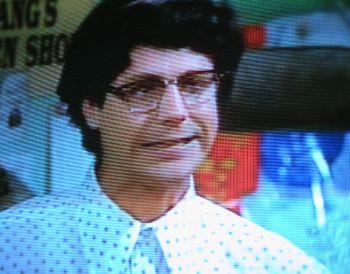 As Ching Chang, who sells chickens. But, he won't sell you one...and tell you why.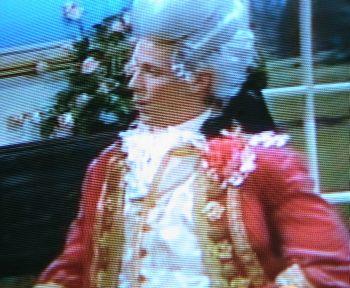 As Lord Christie in "The Dancing Lord." I found this on the full version of the November 15, 1986 episode hosted by Sam Kinison. It is one of those rare occassions that I taped a 90-minute episode from the mid-1980s.



Conclusion



Well, Retrojunkies, I hope you liked this visit back in time to the memorable height of Dana Carvey's career. I will admit that I miss these days – Carvey is still very funny, but the peak of his career was in the late 1980s and early-mid 1990s. It doesn't feel like it was that long ago that I was nine years old and watching "Wayne's World" in the movie theater with my parents. In actuality, it was fourteen and a half years ago.

Carvey chose for himself a low-key lifestyle. He still rides high on his "Saturday Night Live" fame, and performs regularly in Las Vegas (his last visit to Atlantic City was his performance at Resorts in June 2000 – my friend Kristin's boyfriend Nick saw him in person – I envy him). But, I still have my close-up Dennis Miller ticket. Carvey chose his family as well – he is a proud papa to two boys, Dex and Thomas, and a husband to long-time wife Paula.

If you get the chance to see Dana on a talk show appearance, you'll notice that he is still very youthful, though it is apparent that he is no longer in his thirties. But, he still bounces around the stage of "The Tonight Show" with the same youthful energy that made him a beloved commodity on "SNL" in the 1980s.




Retrojunkies, I compel you to watch some of Carvey's better movies and "SNL" sketches, and you will easily see the magic he possesses. His charisma, not to mention his "Saturday Night Live" tenure, is truly an art form. And this art is his own. There will never be another Dana Carvey, though some comedians may try to come close.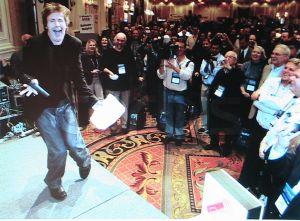 Thank you for sticking around long enough to read my tribute to the art of Dana Carvey's "Saturday Night Live."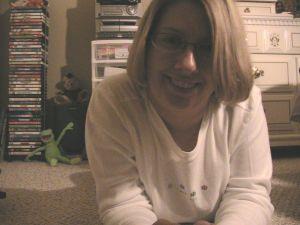 For now, this is Allison Venezio, aka "Allison_SNLKid," still your resident "Saturday Night Live" Guru bidding you a fond farewell until the next article. Which I promise won't be too far off.

Oh, and by the way, as I am finishing this article, my boyfriend snagged two free tickets to see ex-"SNL" star Kevin Nealon at the Borgata in Atlantic City, New Jersey on Friday night, November 3. I will tell you all about it in my next article.

As always, thank you all for your continued support and praise for my work. Your support is much appreciated. Much love.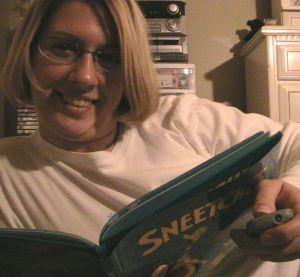 ~Allison Venezio, aka "Allison_SNLKid" doing a little "light reading"