Alabama? Heck no! Sweet Home Chicago. I'm a Chicago guy, and proud of it. The "Second City" is number one in my book. One of the great things about growing up in the Chicago area was watching movies and seeing the landmarks of downtown. I grew up in the northern suburbs. Recently I moved closer to the city and have taken classes and worked downtown, so I'm reminded pretty often of movies I watched that feature the landscape I pass daily. I always got a little extra excitement when I recognized something from my life in a movie, either a toy that one of the characters had or a place where they went. So that is what this article will focus on, movies set in and around Chicago that I watched growing up.
Uncle Buck
John Candy typifies the Midwestern label of an overweight, otherwise nice guy. Set in the suburbs, this is one of a few movies that really felt like it could have been shot down the street from where I lived.
Risky Business
Another movie set in the suburbs of Chicago. It hit home while I was in high school that I was in school with those characters. Well, I didn't go to school with a guy who turned into a pimp to get into college, but the way they all act was a bit too familiar.
Breakfast Club
Wow. I know the point of the movie was so people could connect with the characters, so they go for the vague feeling of a "high school in the suburbs of a big city in the Midwest", but for me, that was everyday life. I can really imagine going to that high school and figuring out if which of the characters I would have talked to (or which ones would have talked to me).
*John Hughes grew up in one of the Chicago suburbs, so that's one of the reasons he set a few of his movies in the area
Home Alone
I was young when this movie came out, so you can picture a 7-year-old kid making booby traps in case Daniel Stern and Joe Pesci try to rob the house. Yet again, this was a movie set in the Chicago suburbs. I recognized some of the small details that made it a "Chicago movie", like the recycle bins and a local pizza chain (slightly changed). I loved this movie and I loved it even more because it was so similar to neighborhoods near mine.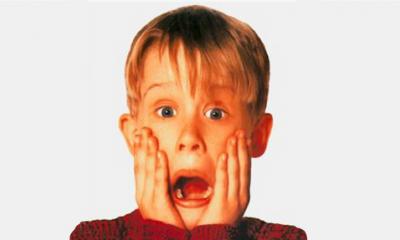 The movies so far seemed to pick Chicago because so many people can relate to some part of the setting. Its a typically American backdrop that lets a lot of the audience get attached to the setting by connecting in some way. From here on, the movies I'll go over will use the city and the people an important part of the scenery.
The Fugitive
Dr. Richard Kimble tries to find the one-armed man who killed his wife while interacting with Chicago landmarks and events. The coolest part of the movie for me was seeing the St. Patrick's Day Parade with the Chicago River died green (like it is every year on that day). It was definitely one of those "I've been there!" moments when I first watched this movie.
Rookie of the Year
When this movie came out, I was 9 years old, I played in Little League baseball, and I was a Cubs fan. Needless to say, I immediately identified with Henry Rowengartner and wanted to break my arm so I could do the same things he did. Wrigley Field is probably my favorite place in the world. This movie captures the beauty of watching the game from the bleachers as a kid and a bunch of other things kids who grow up in this area do.
*another movie with Daniel Stern
Wayne's World
Okay, this movie doesn't go out of its way to hit the Chicago landmarks, but when I watch the movie, I practically see the street I lived on and the guys in the middle of the street yelling, "Car" and "Game On".
*interesting note, I live about a mile from one of the few landmarks shown in the movie, a big spike with 8 cars impaled on it. It was recently put up on eBay, and didn't get sold, so they offered to let Mike Myers or Dana Carvey have it if they payed to have it shipped, but nobody wanted it, so it got trashed.
The Untouchables
Organized crime really formed Chicago's culture into what it is now (just look at our politics if you don't believe me). Al Capone is one of the three people I would say could be the face of the city (along with Oprah or Michael Jordan). I live in a small part of the city where most of the buildings were built around the time this movie was set. There are parts of the city that haven't changed much from those days and every time I see the movie or one of those neighborhoods, I'm reminded of the other.
The Blues Brothers
Now this is my favorite movie of all time and part of the reason why is because it is set in Chicago. It really gives a sense of the different parts of the city, from the Soul Food restaurants to Joliet State Prison (where "Joliet" Jake Blues gets his nickname), to the malls (which usually don't have high-speed car chases going on inside), to some of the famous roads.
"Yep, this is definitely Lower Wacker Drive. If my estimations are correct, we should be very close to the Honorable Richard M. Daley Plaza." "That's where they got that Picasso."
Ferris Bueller's Day Off
If any movie screams "CHICAGO", it is this film where Matthew Broderick as Ferris Bueller ditches High School to go sight-seeing in the city. He visits the Art Institute of Chicago, Wrigley Field, one of the city's many parades, the Sears Tower, and an upscale restaurant. I have always wanted to try to take a "day off" just like Ferris, maybe I will sometime.
There have been other movies set in my favorite city, but I don't remember seeing any of them while I grew up. There have also been other forms of media to put Chicago in the spotlight. Many television shows have been set here, including Good Times, Punky Brewster, Roseanne, Biker Mice from Mars, Family Matters, and Married...With Children (Al Bundy another John Candy kind of character who's typical of a Chicago Show). Frank Sinatra sang that "Chicago is my kind of town", Elvis sang "In the Ghetto", and I can't fail to mention "Bad, Bad Leroy Brown" from the south side of Chicago (the baddest part of town). And to come back to the movies, the Blues Brothers sing of "my sweet home, Chicago."