Hello! Long time, no see! Now first, for my thirteenth article here, I would like to explore what is possibly my favorite voice actress of all, albeit an underrated one...
Meet Cathy Cavadini, born Catherine Janet Cavadini on April 21st, 1961, an actress, voice artist and singer all rolled into one woman, who is perhaps always and forever be best remembered in so many circles for being the original voice of The Powerpuff Girls' commander and the leader Blossom.
So sayeth Cathy Cavadini herself concerning Blossom who hailed from the City of Townsville:
"Blossom's voice came to me very naturally after I saw a picture of her and read the sides from the script. I realized how spunky, tough, and smart she was and that's the voice that came out. Sometimes you get lucky and just feel an instant connection to a character."
Well, If you want to know what really goes on inside the head, mind, and brain of the commander and the leader of The Powerpuff Girls who hailed from the City of Townsville, then here is this mock character interview with Blossom as seen on the 2002 DVD release of The Powerpuff Girls Movie:
But fans also knew her as the voice of the following animated characters as well...
There was Glitter, a cartoon fairy who always sneezes up a storm in the about to be indefinitely lost 1980s kids cartoon show, Kidd Video:
There was also Clash from another, more well known 1980s cartoon show (besides He-Man and the Masters of the Universe or the even more well known Transformers), Jem and the Holograms (which notoriously inspired an infamous live action film in 2015):
And finally, last but not least, there was her rather very beautiful turn as Fievel's oldest sister, Tanya Mousekewitz, taking over from Amy Green and Betsy Cathcart (the respective original speaking and singing voices for Tanya in the first film by Don Bluth) for the 1991 Steven Spielberg-produced animated feature film, An American Tail 2: Fievel Goes West:
Speaking of the latter film, yes, it will always and forever be best remembered, especially in so many circles still, to say the least, for featuring classical Hollywood actor James Stewart's last performance in cinema (as the voice of the over-the-hill dog character Wylie Burp, of course), but this writer, however, will always remember Fievel Goes West nowadays and primarily for Cavadini voicing the aforementioned Tanya, the subplot involving her wanting to be a singer, and finally, the two songs that Tanya actually sang in that film, which will be 'Dreams to Dream' and 'The Girl You Left Behind,' respectively.
And after less than 30 years, and being a big, ambitious dreamer myself, not only can I really still relate to Tanya wanting to be a singer in Fievel Goes West, but I also think that Tanya's Fievel Goes West character redesign which depicts her as a teenager on the cusp of young womanhood (and especially extending to that beautifully stunning saloon girl diva makeup and dress of hers in that movie's Girl You Left Behind sequence) by character designer Uli Meyer, animator Rob Stevenhagen and possibly even the film's co-director Phil Nibbelink (all three of whom had previously worked on the 1988 live action/animated classic film, Who Framed Roger Rabbit, alongside co-director Simon Wells, who also just so happened to be the great, great, GREAT grandson of H.G. Wells, the British guy who happened to write such science fiction classics as Time Machine (the notorious 2002 film adaptation of which Simon Wells happened to direct) and War of the Worlds (famously adapted for radio in October 1938 by future Citizen Kane filmmaker Orson Welles)) has got to be, for me, especially, among the cutest and also among the most beautifully stunning female mouse cartoon character designs I've ever, EVER seen, especially outside of Don Bluth's 1982 The Secret of NIMH's Mrs. Brisby herself or any of the mice characters in Disney's 1977 film The Rescuers or even their own 1986 film, The Great Mouse Detective.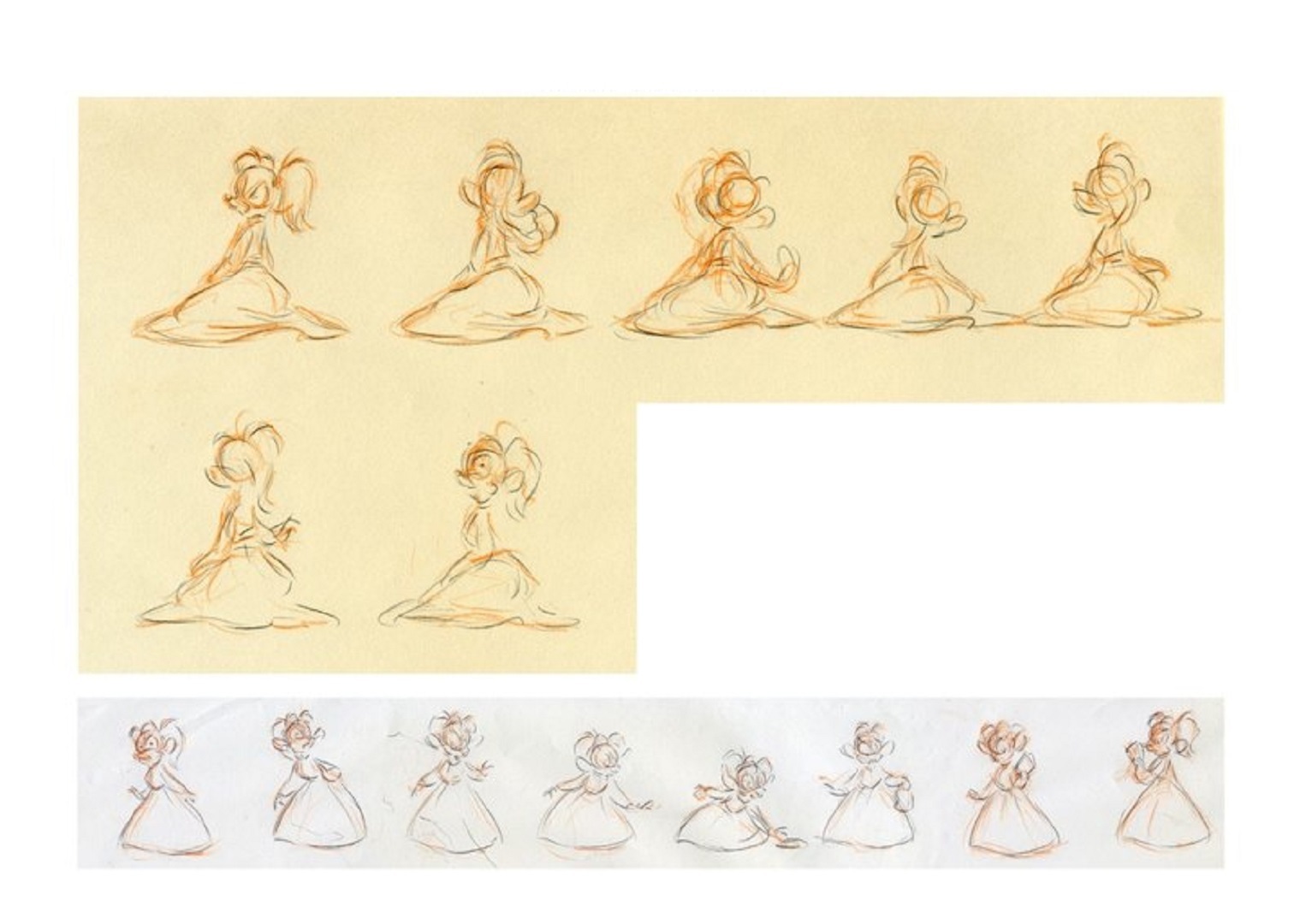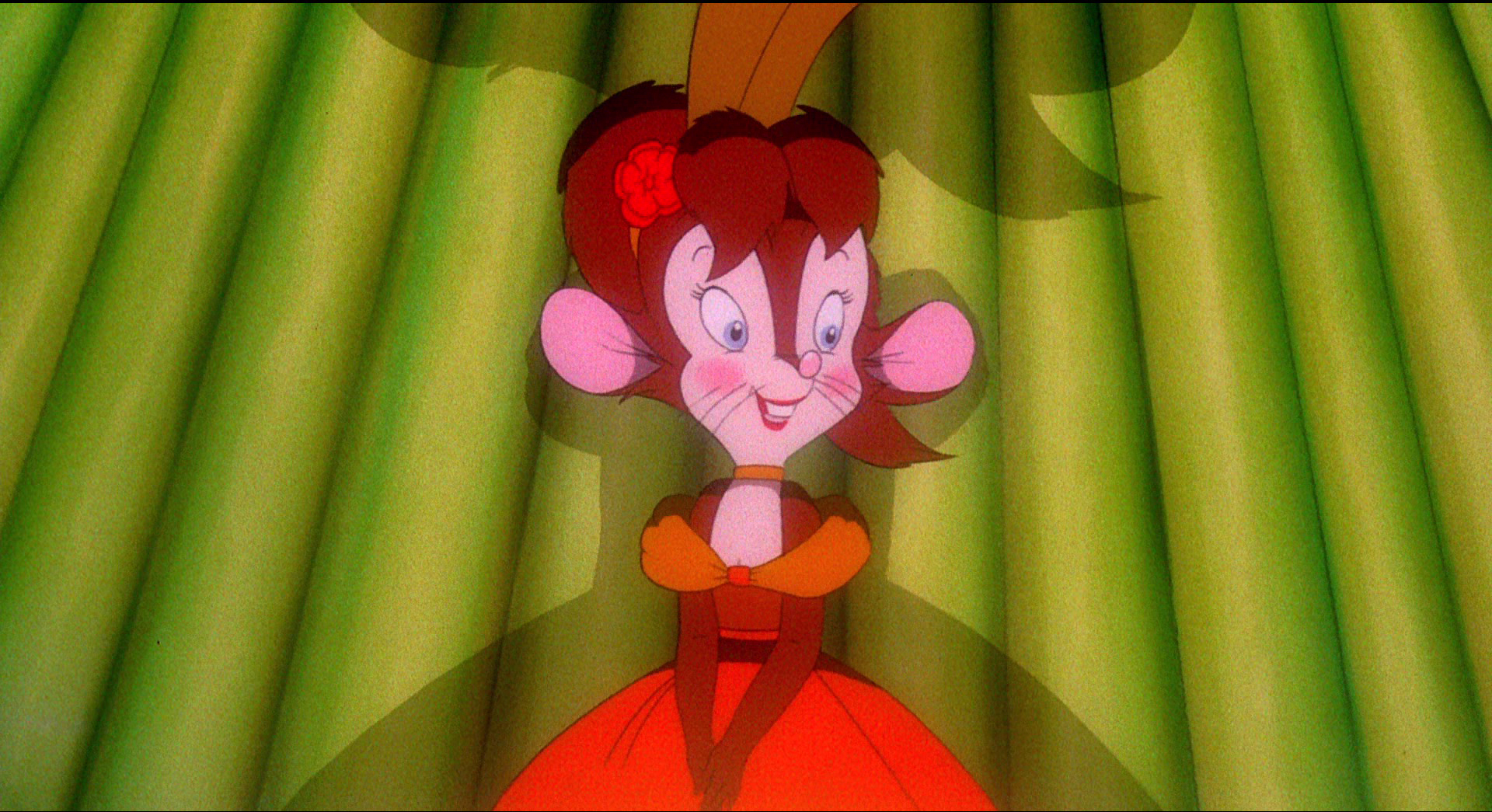 And I do well remember seeing and hearing and having been moved by Tanya losing herself in her rather beautiful and lovely singing of the song 'Dreams to Dream' (or Tanya's version, in particular) and dancing not only with a paintbrush, but also with Cat R. Waul's paw (Cat R. Waul being voiced by Monty Python member John Cleese) before the cat carries her off to the saloon as part of his dance hall performance act:
Cathy Cavadini once revealed that (and I quote): "When I met legendary composer James Horner for the first time, he said that because the songs for the character of Tanya were so important, Steven Spielberg had given him free reign to choose whoever he wanted for the role. I felt really at home singing for James and somehow I was fortunate that it was in my destiny to get the role. I remember feeling like Barbara Streisand when I recorded because the studio was warehouse-like in size with a microphone hanging in the middle of it. It was kind of a surreal and dreamlike experience. The music and the lyrics to the song James wrote, "Dreams to Dream," are beautiful, incredibly uplifting, and inspiring. To this date, it is one of my favorite songs and I still love to sing it."
And in addition to that, I also may do well remember seeing and hearing Tanya singing and dancing to her saloon act song and dance hall performance number, 'The Girl You Left Behind', in, of all places, a saloon full of cats, whether she really like it or not, and while her little brother Fievel gets chased all over the place by a talking spider with the voice of Jon Lovitz (formerly of Saturday Night Live fame) named Chula:
Once again, to quote from Cathy Cavadini herself: "The role of Tanya was originally going to be played by another actress. I was hired to replace her because James Horner, the composer, really like how I sang. The songs that James wrote, especially "The Girl You Left Behind,' were not easy for someone who was not a trained singer. When you replace someone's voice it gives you a very clear insight in what they don't want the voice to sound like. It's also a little difficult because in this case they had already animated the character to her line readings so I was locked into the rhythms of her speaking pattern. Luckily I had had a lot of experience looping other people's lines changing the reads and they liked what I came up with!"
Anyway, even between the late, great AVATAR/TITANIC/Braveheart movie music composer, the aforementioned James Horner's lovely music scoring talents and the aforementioned Cathy Cavadini's rather beautiful singing and/or voice acting chops, I really still love that Tanya Mousekewitz, Fievel's oldest sister in the American Tail franchise, was able to, somehow or another, and as I will even put it this way, fulfill her 'epic dream-quest to sing a song or two to the whole, entire world' (whether the world really like it or not) in An American Tail: Fievel Goes West.
And even recently, also, I sometimes felt an almost existential desire for the character of Fievel's sister Tanya (or even her Fievel Goes West character redesign) to be fleshed out or greatly expanded or perhaps take center stage in her own story and carrying said story on her own small shoulders, perhaps even more so than in Fievel Goes West or anywhere else in the American Tail franchise outside of that film.
But alas, of course, it all didn't happen outside of An American Tail: Fievel Goes West itself, certainly as far as fleshing out or even greatly expanding upon the character of Fievel's sister Tanya, or her Fievel Goes West character redesign, or even let alone, allowing Fievel's sister Tanya to take center stage in her own story and carrying said story on her own small shoulders even more than her more popular little brother Fievel's or something like that, to say the least.
But hey! At least her Dreams to Dream song in Fievel Goes West is very beautiful to hear!
Anyway, according to her online biogrpahy, during her long and prolific career, Catherine's voice has been featured in over a hundred radio & television commercials, and in over a thousand films, television movies, and series. Various animated film credits include The Powerpuff Girls Movie as Blossom, Babes in Toyland as Mary, Sky Blue as Jay, Young Shua, and Cheyenne, Batman: Dark Knight Returns as Carol Ferris, Joannie, and Woman with hot dog, Scooby-Doo Legend of the Phantosaur as Faith, My Little Ponies as North Star, and Pound Puppies: Legend of Big Paw as Collette and her newborn puppies. Collette is pictured below:
Also according to her website, she has performed guest roles in numerous animated series. Some of Catherine's recent guest roles are Doc McStuffins (Dart), The Cleveland Show (Siri), Batman: The Brave and the Bold (Alanna Strange, Jan, Ruby Ryder, Dr. Myrrha Rhodes), Ben 10 (Cooper), and Teen Titans (Alien Woman/Cironelian Chrysalis Eater). Catherine also originated the series regular roles of Jennifer Jane Parker in Back to the Future, Tanya and Yasha Mousekewitz on Fievel's American Tails, and Mom, Terri, and Mrs. Weebles in season 1 of What's with Andy.
In this clip from the Fievel's American Tails episode, The Legend of Mouse Hollow, Tanya reprises the very beautiful Dreams to Dream song from Fievel Goes West in front of a mice audience while Cat R. Waul and Chula (the latter being voiced by Homer Simpson's voice artist this time) goes away to enjoy the night to themselves:
In the gaming world, she has voiced the roles of Car'l, Twyla, and Candle Maiden in Broken Age, Mechari Female in Wildstar, Kara in White Knight Chronicles 1 and 2, Felicia in War Hammer, Griffin's Mom, Dr. Hoffstader, and Assassin in Jumper, Valla the Witch of the Tundra, Bolvangar Nurse, and Tartar Leopard in The Golden Compass, Norma Jean in the Happy Feet Interactive Game, Sadie in Gun, and a variety of roles in Final Fantasy X, XIII, and XIII-2.
Here is a picture of Car'l from Broken Age: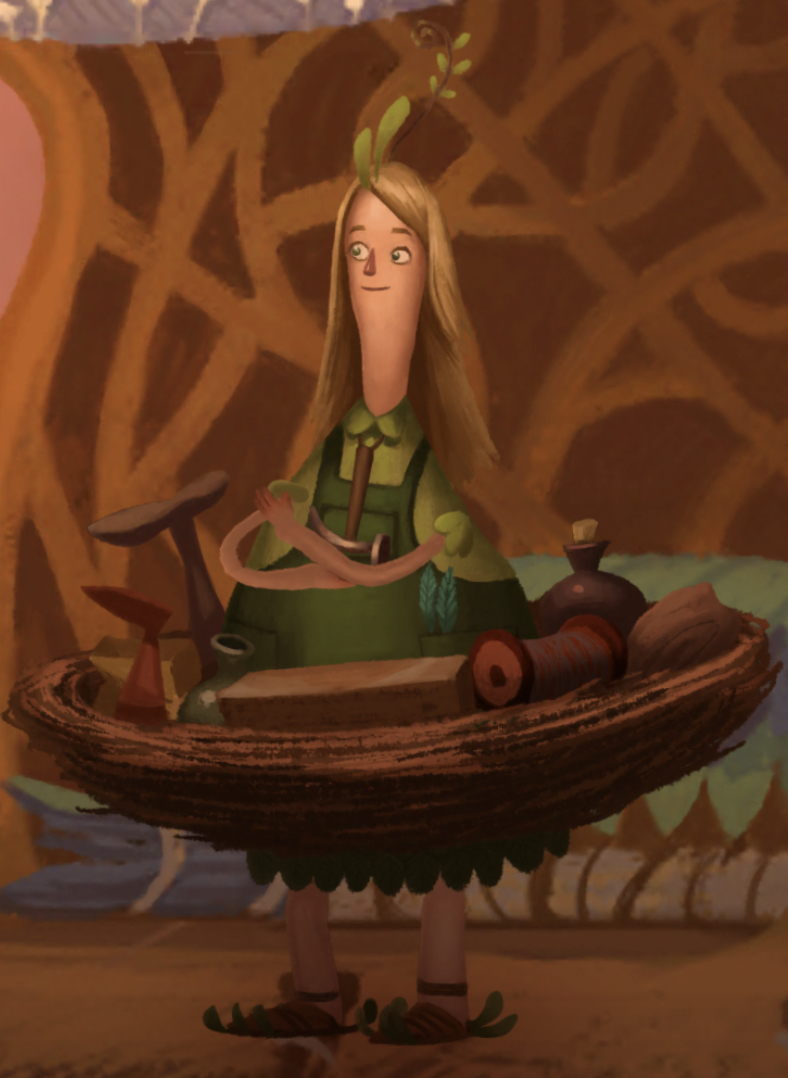 In addition to her animation and game voice work, she has also done ADR (automated dialogue replacement) in innumerable movies and television series. Recently, she has performed additional voices in Guardians of the Galaxy, Teenage Mutant Ninja Turtles, Transformers: Age of Extinction, Hercules, Jersey Boys, The Lego Movie, Twelve Years a Slave, Red 2, The Great Gatsby, and Rise of the Guardians. Listed under the umbrella of "additional voices" are: Pacific Rim (voice of one of the P.A. announcers in the Shatterdome), Now You See Me (reporter voice), Happy Feet Two (emperor penguin voice), How I Met Your Mother (southern teenage mommy), Sleepy Hollow (voice of woman on phone from Oxford College), Fun Size (voice of 911 Operator in the scene with Johnny Knoxville), and Bridge to Terabithia (voice of Judy Burke).
Throughout her career, Cathy has been honored by and nominated for a number of awards. In 2003, Catherine was recognized with an Epic Award from the White House Project for promoting positive images of women's leadership through her work in The Powerpuff Girls Movie. In 1998, she was nominated for an Annie Award for "Outstanding Individual Achievement for Voice Acting by a Female Performer in an Animated Feature Production" for performing the voice and singing for the role of Mary in Babes in Toyland. And just like I've already established, she also sang "Dreams to Dream" as Tanya in Fievel Goes West, which was nominated for Best Song at the 1992 Golden Globe Awards. In addition, she has received 2 Emmy Award Certificates for contributing to Outstanding Sound on the television series X-Files.
Anyway, this writer had never actually met Cathy Cavadini herself in person, because most of my interactions with her occurred online, but nonetheless, this past summer of 2021, around the twenty-third day of July 2021, I had sent an autograph and MP3 shout out recording request letter to Cathy Cavadini, the one responsible for voicing Fievel's sister Tanya in Fievel Goes West (probably after James Horner persuaded Steven Spielberg to cast her in the movie after being moved by her demo recording of Dreams to Dream) before moving on to become the original voice of the Powerpuff Girls' commander and the leader Blossom, and I know my mother and I had pay like eighty bucks for it to happen but...
Surprise! Surprise!
Cavadini really like my letter to her because she thinks that my letter to her was so sweet, and she even thought THAT was so nice of me!
And so she sent me not only this recorded MP3 shoutout to this writer which you could hear below (listen out for the beautiful Dreams to Dream at the end)…
But in addition to the MP3 shout-out recording, Cathy Cavadini also sent me two signed autographed photos: one of The Powerpuff Girls' Blossom as well as one of Fievel's sister Tanya Mousekewitz in An American Tail: Fievel Goes West, both of which I now had hung on one of my bedroom walls!
Man, I've never been so happy like I was this past summer! Anyway...
When dreams come true in the movies and especially in cartoons, it can be very lovely and beautiful and all, but in real life, sometimes, it can also be very tragic.
In An American Tail: Fievel Goes West, Tanya, Fievel's oldest sister, was very lucky to fulfill her epic dream quest to be a singer if not just an actor, but some girls and some boys aren't so lucky in reality, for drugs, crime, gangs, sexism, racism, and all kinds of inequalities and violence really damaged their lives.. But some people are smart enough to avoid the streets.
But anyway, just like I have already established in my twelfth article, The Whoopass Beginnings of the Powerpuff Girls, ever since Craig McCracken was fired from Cartoon Network by the notorious Stuart Snyder in 2009, efforts have been made by Cartoon Network and Warner Bros. not only to diminish his contributions to the Powerpuff Girls franchise, but also to diminished Cathy Cavadini's as well as, Tara Strong's, and Elizabeth 'E.G.' Daily's contributions to the respective voice talents of Blossom, Bubbles, and Buttercup, as demonstrated by the outcry over the notorious and controversial 2016 reboot of The Powerpuff Girls:
In fact, many, many, MANY fans of the Powerpuff Girls will always and forever be deeply frustrated with and very bitterly disappointed to this very day and date that the actual 2016 Powerpuff Girls reboot didn't even used the original voice actresses for Blossom, Bubbles, and Buttercup (as in the aforementioned Cathy Cavadini, Tara Strong and E.G. Daily, respectively) like in the original Powerpuff Girls show.
But rest assured that as far as whoever provided the original voice of Blossom and even the voice of Tanya Mousekewitz especially as heard in Fievel Goes West, Cathy Cavadini herself will always still remain, and always will remain, the guiding force for generations yet to come.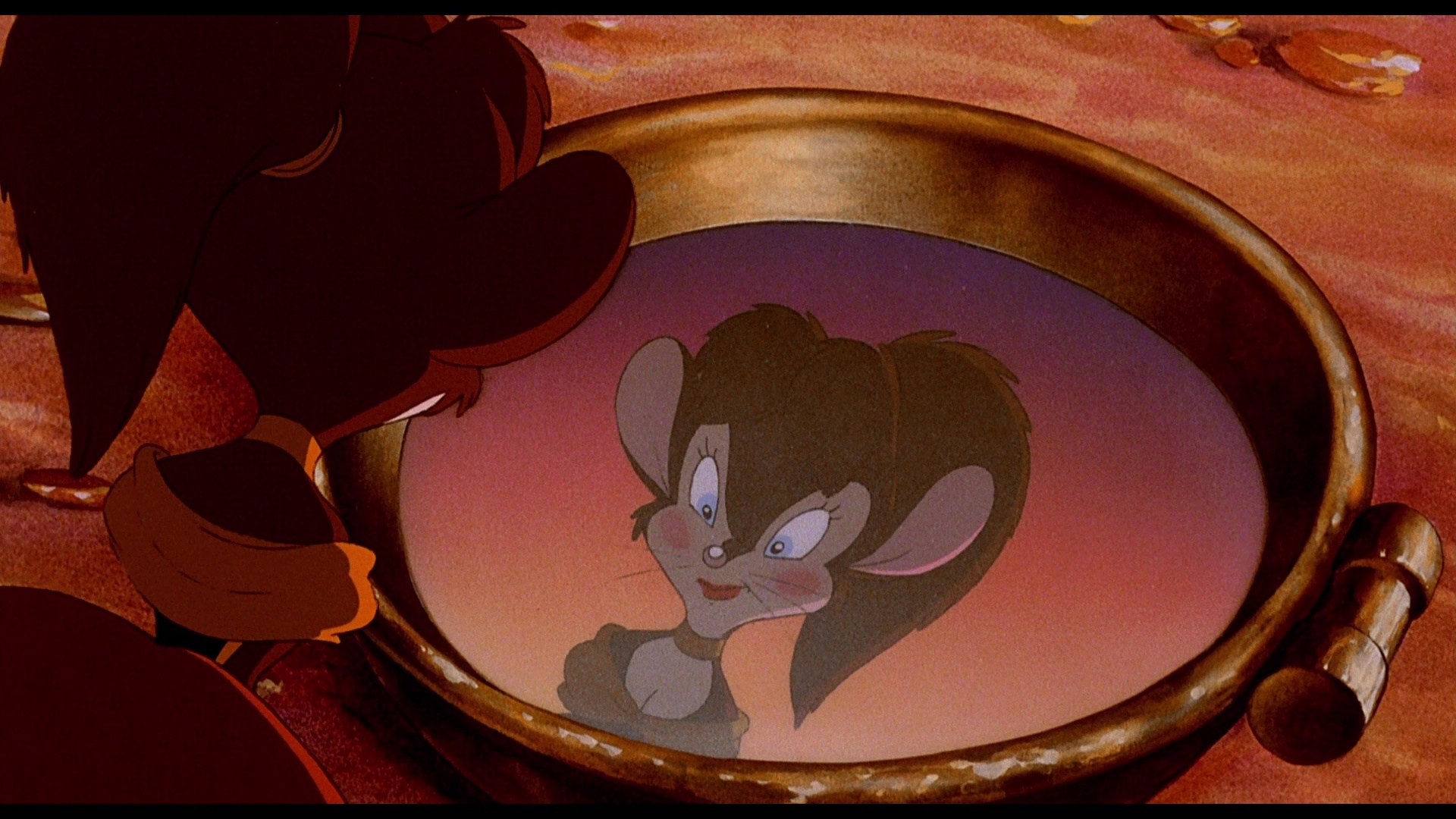 Anyway, what do you really think of Cathy Cavadini and especially her contributions to The Powerpuff Girls' Blossom, Fievel's sister Tanya in An American Tail: Fievel Goes West (especially her very beautiful singing voice in that movie) and the very like?
Well, everyone?