evening, and what can I tell ya?"
Introduction (The Rebuilding Years)
"Saturday Night Live" returned to the air for its eleventh season in November 1985 with a few changes…actually, they were more like major changes.
Gone was executive producer Dick Ebersol, who made "Saturday Night Live" somewhat watchable between 1981 and 1985. Back in the saddle was Lorne Michaels, who left in 1980 to pursue other creative interests. He was through with the show, and pretty much assumed that it would get cancelled. Gone was the previous cast, which was considered "SNL's All-Star Cast." Known faces like Billy Crystal and Martin Short were out, and a bunch of unknown faces moved in. Basically, everything that made "Saturday Night Live" almost unwatchable in the early 1980s was gone, and the show went into a "rebuilding year" of sorts. This seems to happen in cycles—this was the third rebuilding year since 1980 (the first was in late 1980, and the second was the following season, in 1981).
However, the one thing that remained inconsistent throughout the show's entire run was "Weekend Update's" anchors. The news segment changed hands every few seasons. Most "anchors" lasted as much as two years—many only lasted a year. This all changed in the fall of 1985 when a young comedian took over behind the desk…and changed the face of "Weekend Update" forever.
(Cue any classic rock song from the 1970s or 1980s; cue announcer Don Pardo)
"…And now, "Weekend Update," with anchorperson Dennis Miller!"
Who?
Did the name throw you off? You may have asked more than once who the skinny guy with the skinny tie and the mullet was. Indeed, this "Yuppie-crossed-with-a-long-haired-rebel" was the new "Weekend Update" anchor.
The Debut ("Good evening, and what can I tell ya?")
Dennis Miller debuted on "Saturday Night Live" and "Weekend Update" on November 9, 1985, just six days after his thirty-second birthday. Looking remarkably different from the Dennis Miller we all know now, he was the new face of "Weekend Update." The comedian didn't exactly hit the ground running, and spent his first season tailoring his style to that of "Weekend Update." The end result of his efforts came forth by the time the 1985-1986 season ended, but the show's future was uncertain.
First Show, November 9, 1985
"Saturday Night Live" was headed on a crash course with cancellation in 1986. While that season's entire cast was fired, Miller was spared the axe, along with cast mates Jon Lovitz and Nora Dunn. In fact, Miller was one of the cast members left to "perish" in the season finale's rather interesting cliffhanger. The studio was set on fire, with only Jon Lovitz being led out of the impending "disaster." Apparently, Miller and Dunn found their ways out. Miller also managed to find his way back to the "Update" desk. His second season proved to be a better season, and, by the close of the season, Miller was quickly becoming one to watch.
What Made Miller's "Update" Different?
Dennis Miller's debut on "Weekend Update" bought about many changes for the sketch that were never treaded on before, and have not been imitated since. For example:
There was a new "theme" song every week. Much of the stuff was classic rock; some of it was movie scores. For example:
1.Simply Irresistible—Robert Palmer
2.The Odd Couple—used on December 6, 1986, when Miller co-anchored with the original "Update" anchor, Chevy Chase
3.Superman—used on Miller's debut on November 9, 1985
4.Allelujah (I'm not so sure about why he chose this)
5.My Funny Valentine—Frank Sinatra (used on February 13, 1988)
6.Born to Run—Bruce Springsteen
7.Should I Stay or Should I Go?—The Clash
8.When the Music's Over—The Doors
9.Lawrence of Arabia
He was the only anchor to have an impersonator…made possible by the incomparable Dana Carvey.
Will the real Dennis Miller please stand up? Dana Carvey (right) portrayed Miller along side him from 1987-1991 (and twice even after Miller left), sometimes doing a better impression of Miller than he could probably do of himself. These three pictures are from 1987-1988, and the last one involves Carvey mispronouncing one of Miller words, causing Carvey to break character entirely, and Miller to laugh hysterically.
Commentators and Interviewees
(L to R) Miller interviews "George Michael" (Dana Carvey) in early 1989; Dennis Miller introducing himself alongside Chevy Chase in late 1986; Miller portraying Chase's old "Weekend Udate" jokes; Jimmy Stewart (Dana Carvey) reads one of his poems, this one about a dog named Blue, which sends Miller into tears.
Miller was good for welcoming a revolving door of commentators and interviewees to the desk. In six years, he welcomed many different people. The list includes:
1.George Michael (once in person, and once in a "satellite interview"). Both interviews ending with George Michael (Dana Carvey) screaming "Look at my butt," and proclaiming that his butt is the best in rock videos. Both times, Miller responded in puns.
a.1st Appearance—after winning the Grammys—"What an ass."
b.2nd Appearance—after Miller had the (dis)pleasure of staring at Michaels' gyrating tush in person—"bummer."
2.A. Whitney Brown's appearing many times between 1985 and 1991 to provide commentary in "The Big Picture"—the segment would consist of a monologue about an issue currently in the news—censorship and religion were two of his many topics.
3.Victoria Jackson stopped by to recite poetry, sing, and perform her famous handstands on the desk. He also liked to have a little fun with her.
a.He handed her a five during a dance, after she planted a kiss on his cheek. After she left, he said "I want my five back!"
b.After the poem "The Life of a Desk," he said, "You know, if we were married, I would never leave the apartment."
4.Dana Carvey made many appearances in six years—Grumpy Old Man, George Michael (see above), George Burns, and Jimmy Stewart are among his best. But of course, there was his greatest feat—playing Dennis Miller's alter ego. And what an ego it was—in a wig and matching suit, Carvey could quite possibly be more Dennis Miller than the real Dennis Miller could be. It should also be noted that Carvey did not make any more appearances after Miller's departure in 1991.
5.Mr. Subliminal (Kevin Nealon) would come on occasionally and provide commentary. The slipping in of words was often classic for the dry-humor Nealon, notably his use of the word "hair cut." "Thank you, Dennis—haircut." Miller's response? "Thank you, Mr. Subliminal—too long."
6.Imelda Marcos (Nora Dunn)—he told her to call him Denny, and she started crying during the questions.
"I can have some fun too."
Someone told Miller this suit was a GREAT idea...
Dennis Miller often cracked wise about Ronald Reagan and George Bush, the two presidents who were in office during his tenure. He proved to also be an equal opportunity offender, attacking democratic politicians such as Gary Hart (which he coincidentally played in a debate sketch in 1988), and the Kennedy clan. He played with a Mouse Trap board (which failed twice during a demonstration), showed the mating rituals of the Dancing Coke Can (made possible by putting the grooving Coke can on a Barbie Dream Bed and beating a drum stick on the desk—tap/tap/tap), talked with a dummy, and even sported a full-body condom (sorry, no pictures available!).
Not only am I the News Guy, I Also Do Sketches (Sometimes)
Dennis Miller wasn't the biggest sketch player, but he certainly did make the effort to show up in a few every now and then. The following photos are some of his more memorable appearances.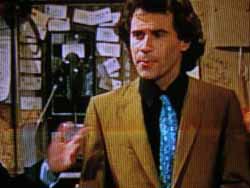 Steve in "The Stand-Ups"
"What's the deal with refried beans?"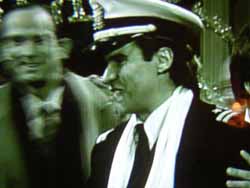 Harry Bailey in "The Lost Ending of 'It's a Wonderful Life"
Now wait a minute, everybody! I got a telegram here I wanna read--from London! (reads) "Dear George. Stop. Mr Gower cables you need cash. Stop. My office instructed to advance you up to $8000. Stop. (crowd reacts) Hee-haw and Merry Christmas! Sam Wainwright"!!!
Clarence Dalton in "Josh Acid"
Miller plays the cowboy who meets an untimely end when Sheriff Josh Acid (host Mel Gibson) throws a jar of acid in his face. Sets the stage for the joke that Dennis Miller dies in every movie his makes. also sets up the idea that I may never look at Miller the same way again.
Koko, the French Clown
Miller played one of the "sprites" in "Miss Connie's Fable Nook." I can't exactly say I've ever seen this sketch before, but since it only aired twice, and neither 1-hour rerun showed it, I can't tell if it was actually popular (it was the 12:50 sketch both times). This was the only lead Miller ever played in a sketch.
Dennis Miller as Ted in the infamous "Nude Beach" Sketch
This sketch originally did not star Miller. It was cut from the October 8, 1988 episode of "Saturday Night Live," in which Tom Hanks played the character of "Ted." It was aired in an episode a few weeks later, hosted by Matthew Broderick. Broderick stepped into the part ofDoug, the part Jon Lovitz played in the earlier sketch (Lovitz took a minor role for the latter version). The sketch garnered much controversy (phone calls from irate viewers, and letters from religious groups) for the use of the word "penis" in excess of forty times.
Miller explained in 1992 that he did not understand what was controversial, going as far as to say that people were writing letters saying, "they said penis a lot." He says, "that was the whole point." This sketch is rarely seen anywhere outside of tapes and retrospectives, and that's being generous.
Dennis Miller plays himself in "Dolly's Story"
Dennis looks somewhat confused over Dolly Parton's "mountain stories." His expression matches that of his cast mates. I'm thinking about doing an article on this one eventually.
Dennis Miller is "The Guy I Think is a Homosexual" in a parody of "Full Metal Jacket"
Phil Hartman, playing the R. Lee Ermy-esque Drill Sgt. tells Miller that he is all skinny—and bets he's a homosexual. When asked if he liked the name "The Guy I Think is a Homosexual," Miller replies the way he is supposed to:
"SIR YES SIR!"
Scream a little louder, Dennis. I think some of my hearing is still intact.
Dennis Miller is Nathaniel Crosby in "The Crosby Show"
Dennis played Bing Crosby's son Nathaniel in this 1986 sketch, with Hartman playing his abusive daddy, Bing Crosby. Yeah. Mr. White Christmas himself. I think this may have came after those accusations by his sons, Gary and Nathaniel, that he beat them as kids. Nathaniel, unlike Gary, is still alive and well. Bing Crosby, however, died long before this sketch ever aired.
Conclusion
Dennis Miller's amazing six-year run as "Saturday Night Live/Weekend Update's" resident wiseass ended on May 18, 1991, as Miller, signed off for the last time. He left with these parting words:
"Well, this is my last show. I want to thank all the people I worked with--you couldn't ask for a nicer group of people. And I want to thank all of you. It's been my real privilege to work here, and I'll miss it a lot. Guess what, folks? That's the news, and I am out of here!"
Then, as "Layla" played, Miller did his famous scribble on his papers, hence ending his stellar run. And what a run it was. Dennis Miller began his "Weekend Update" tenure in 1985 as the skinny guy with the mullet and the skinny tie, and left in 1991 as, well…the skinny guy with a "normal" tie and the same mullet.
The changing face of Dennis Miller (1985-present):
And since I love the Two Dennis Millers so much, I decided to do this "then and now" comparison of them...
This sketch has been brought to you by...
"Nah, forget it."
"That's the news, and I am outta here!"
Screen caps courtesy of the author's digital camera and various "Saturday Night Live" videos and DVDs. Additional screen caps courtesy of MSNBC's "Time and Again, " (MSNBC, 2000) and "Dennis Miller Live" (HBO, 2002)