Thursday, June 28th , 2007
Now, I know that there was a long period between June 9 and June 28 where I did not go garage saling. I felt it too. One of the Saturdays in June that I did not go garage saling because my family went to Starved Rock in Utica, Illinois (which you should definitely go to if you are in the area - it's cool!), and I was probably tutoring the nurses in statistics on the other Saturday and the Fridays I did not get to go garage saling (but that was okay because I got paid nicely, which gave me more garage saling money!).
So, when I heard that my Aunt (my Mom's older sister) was having her annual garage sale, my Mom and I went to it. Now, my Aunt lives in Wilmington, IL, and people in Wilmington start their weekend garage sales as soon as Thursdays (I know this because my Grandmother, who was the veteran garage saling matriarch of our family and lives in Wilmington also, told me that she mostly went garage saling on Thursdays because that was the prime day for garage saling). So after I got home from work in the afternoon Mom and I drove down to Wilmington to see what was going on.
My Aunt's garage sale is pictured below:
Now, the older woman with the white hair in the picture is my Grandmother, my Mother's Mom. My Aunt is not pictured here - she is inside her house doing something. But Mom and I go up to the sale, say hi to Grandma, and then look at the stuff my Aunt has put out. Not that I haven't seen this stuff before in her house, but I wanted to see if I wanted to buy anything.
I find the MouseTrap game, which my Aunt says was only played once or twice. I also find some cool books and a music book of 80s pop music (to be played on the piano or another instrument). My Aunt, of course, let me have a big discount on the stuff because I got the "family discount" (she laughed when I suggested this).
After I put the stuff I bought in the car trunk, I went back to sit at the picnic table and listen to my Aunt and Grandma talk about how slow the garage sale has been going all day. My Aunt talks about this guy in particular who buys a microwave and then returns it later in the day because he doesn't know how to work it. Then she talked about another couple of old guys who came to the garage sale about three different times in the day, looked around, and didn't buy anything. She concluded that they just liked going out to garage sales to talk to people.
She then talked about the nice wine rack she has for sale, and how it, when it was in her kitchen, would knock over onto the floor and wake her up every time someone opened the refrigerator during the night. So, after a couple of hours of talking and gossiping, Mom and I went home.
Friday, July 6th , 2007
Today was the day we went to sales in the Dellmar subdivision. I bought plenty of cartoon VHS from the 80s, such as Underdog and the Jetsons, and some VHS's from the 90s such as some X-Files episodes (the Pilot and Ice, to be exact) and a Power Rangers episode (that was in crappy quality picture wise). I also saw some VCRs to buy as backups in case my own VCR goes caput, but they looked like something was spilled on it, so I did not get any VCRs that day. At one of these sales, I also find a Kangaroo Beanie Baby that looked like Kanga (with a little Roo in her pouch!). The woman seller at that sale let me have the Kangaroo for only $1 instead of $1.75.
But, before we went to the Dellmar subdivision sales, we went to the garage sale below:
Now, this sale was in another neighborhood, not Dellmar - I just remembered. I saw the first season of Seinfeld on DVD here for $10, but I did not buy it because I have a whole tape or two of these episodes at home and I have seen the episodes so many times before. My Mom bought some nice beer glasses.
Anyways, back to the pictures of the Dellmar sales:
At this house below, I found my Kangaroo Beanie Baby and a very nice backyard. The woman seller let me take a few pictures:
The house where I found my Beanie Baby
My Mom fell in love with the rock garden and the angel
Anyway, besides some books and VHS's, Mom and I did not find a lot of things that interested us at these sales. We went on Larkin, looking for more garage sale signs, when I saw the Family General dollar store (I've gone to this store before, and you know how crazy I get at dollar stores if you have read my "Antiquing with Mom" article here on Retrojunk). I know it's not a garage sale or a rummage sale, but I just had to take a break from it all and go to a store where there was florescent lighting, predictable pricing, and where I was sure to find at least $20 worth of stuff to buy on any given day.
Here's a couple of things (among the bunch of school supplies and $1 DVDs I also got) that I got from this dollar store:
Awwww! Three cute Care Bears to add to my collection. I think they were about $3 each. You will recognize the one on the left as Cheer Bear, but the other two are newer. The one on the right is Sweet Dreams Bear, and the crazy one in the middle is called Work of Heart Bear. It's so beautiful, with all its different colors and all. Here's what her placard says:
"Work of Heart Bear is the most creative Care Bear of all. She's artistic and imaginative. She reminds us that we can all express our feelings while we create beautiful things when we put our heart into it. She shows this with her tummy symbol - an artist's palette with hearts."
I also get some Kool Aid drinks, in Blue Berry, at that dollar store. You'll recognize what I'm talking about:
Very sweet, delicious, and refreshing!
After Mom and I got out of the dollar store (she practically dragged me out of there!), we went to a garage sale we saw on Brentwood. It is pictured below:
The man holding the garage sale told us that he and his family are moving to St. Louis to be near their family. I found a movie called
The Sandlot
, which I remember seeing in my eighth grade literature class (it's funny!). I also found a nice $12, blue, child's guitar. It was slightly out of tune, but Mom and I did not care about tune. The guy lets us have it (and the guitar handbook) for only $10.
Mom and I also went to a garage sale in the Maywood subdivision. A picture of that garage sale is below:
At this garage sale, I found a couple of
Arthur
episodes on VHS and another VHS tape of
The New Adventures of Winnie the Pooh
. It was the episode called "The Monster Frankenpooh," but it was a bit discolored visually when I played it at home later. I also found a nice necklace that I got to have for free because the clasp is a bit loose on it.
After that sale, Mom and I took our stuff home and cleaned the dust off it.
Saturday, July 14, 2007
Today was not only another garage saling day, but it was also the day of my best friend's (Mary) 21st birthday party. I went garage saling in the morning and to her party that afternoon. Before I talk about the garage sales I went to that day, I want to talk about what I gave to my friend. For the first time ever, I learned how to convert a VHS into a DVD. I had spent the previous week putting ten episodes of
The New Adventures of Winnie the Pooh
on DVD for my friend, who loved that show also when she was a little girl. And, oh yeah, I gave her a case of Strawberry Daiquiris as well. I will definitely be converting more VHS to DVD in the future. It's partially thanks to the video tapes I got from some of these garage sales, my own Winnie the Pooh tape that my parents made for me when I was younger, and my great discovery of Retrojunk that I was able to make this DVD. Here's some pictures below.
Here's the cover I made for the DVD. It doesn't look "professional," I know, but I think it's pretty neat. It's sitting atop my old Winnie the Pooh VHS, which held most of the episodes I converted to DVD:
Here's the list of episodes I put in the DVD -
1. Friend In Deed
2. Pooh Oughta Be In Pictures
3. Balloonatics
4. Gone With the Wind
5. Babysitter Blues
6. Find Her, Keep Her
7. Nothing But the Tooth
8. Donkey for a Day
9. Luck Amok
10. The Great Hunny Robbery
Here's a closeup of the DVD label I made. I got a pack of labels for only $5 at a Deals dollar store, and I made the design on the computer and printed it out onto a label. Not bad for a first timer!
Oh, alright, I'll get back to my Garage Sales Adventures. Here's the garage sales Mom and I went to on this day:
This was the first garage sale Mom and I went to on that first day. There were a lot of collectible perfume bottles from the 1970s, a old-fashioned type radio with an audio cassette player in it, outdoor decorations, knick knacks, and some cool, unique jewelry. I bought a couple of bracelets and a cute little QQQ blue jean purse for a couple of dollars, and a nice decorative, blue rounded piece of glass with the U.S. flag on it.
Then, we went to a friend's garage sale on Tiger Lily Lane. When we got to her subdivision's entrance, we knew that she knows how to put on a garage sale. I mean look at that sign!
The subdivision was right off a highway, and this sign probably grabbed a lot of attention from passerby.
Anyway, she and her neighbors were having a neighborhood block garage sale together.
We went to our friend's garage sale first, and we looked at her items: kids' toys, glassware, coffee cups, kids' clothing, etc. The pictures are below: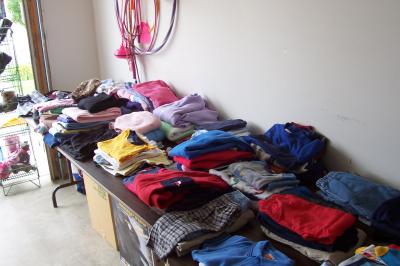 Anyway, Mom and I talk to our friend for awhile, and I bought a nice mirror. Mom bought some nice glassware and a clay statue of an angel. My friend said that her neighbor next door also donated a few things (such as VCRs) to be included in the garage sale. I also bought an old 80s cartoon that teaches the alphabet.
Then, Mom and I went to another sale up the same road (it's in the bottom picture above where the pictures of the houses for that day are). There, I found an adorable stuffed bunny for fifty cents, a little Care Bear for a quarter, and The Littlest Angel cartoon video for only 75 cents.
The woman seller told us that garage selling is a good thing in our society, especially for the children, because it teaches the children business sense. Her own children, for instance, put out some of their own stuff every year so that they can earn money to buy new things - they are learning the value of money. Mom said to the woman that she wishes I could learn the value of money in that way.
Then we left that subdivision and went to a couple other garage sales around my town.
At this garage sale, I found a lot of Nancy Drew books for 50 cents each. Some were the older version, and some were a newer version from Toys R Us in the 1990s (the price sticker was still on a couple of them - that price sticker brought back memories...). I also found some Babysitter's Club Mysteries books for a dollar each, so I got a few that I didn't have. I have a good, sizable collection of Babysitter's Club books, but I don't really have that many of the mysteries books. I also bought an interesting book called
The McDonaldization of Society
by George Ritzer. It talks about how McDonalds and other corporations like it are using advertisement and recognizability to gain access and control of every aspect of our lives - to make homogeneous the eating experience of the entire world.
I also bought a
Jars of Clay
tape cassette (they are a religious/rock group). Mom bought a kids' tambourine, a triangle, and a couple of other kiddie instruments. She said she was completing my 'band' and is adding to the guitar and the organ I already have at home. I laughed
We left that sale, and went to another sale.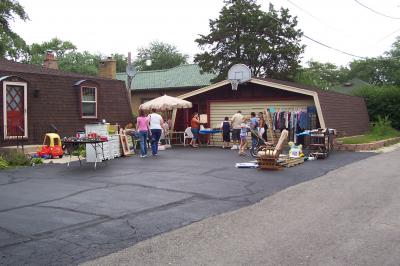 I didn't find a lot to buy at this sale, but I saw some interesting, white dressers there. I also saw that, like in the very last garage sale I just went to, there was a red Tikes child's car with a yellow roof. I used to have one of those when I was little:
I did find, for a quarter, an old McDonalds Happy Meal Toy - Papa Bear from the Berenstain Bears!
I found a bit more at the next sale:
The funniest thing happened at this garage sale. Remember how I found the Papa Bear at the last garage sale? Well, at this garage sale I found the Mama Bear (only a quarter) to go with the Papa Bear! I had the Brother and Sister Bear Happy Meal toy (they are on a seesaw together) at home, and so the whole family is reunited!
At this sale, I also bought some Richard Marx CDs, a tape of movie promotions from January 1986, a Spanish-English dictionary, and a Bruce Springsteen CD. I also saw my next door neighbor, let's call her Mrs. N, at this sale. Of all the places! She was friends with the sellers (at least that's how it seemed to me). Anyway, she was buying a 1950s stove. It was white with a black top, and she was taking it home to help complete her 50s kitchen. Her husband, Mr. N, helped her load it onto the back of their truck.
Then we went to another sale.
At this sale, I found several tape cassettes, a
Goodnight Moon
book, the
Goodnight Moon
HBO program on VHS, and, among other things, a TI-83 Plus calculator for only $1.50!!!
These calculators are pretty expensive in stores (like, 90 dollars!). The woman seller was charging $3 on it, but I haggled the price down to $1.50 because there were no batteries in it and I didn't want to potentially buy a dead calculator. The woman seller, who was a high school teacher, said that one of her students left their calculator at a study session at her house, and they never came back to get it.
Here's a picture of the next sale we went to:
Not a lot to be found here, but I did find a Peter Pan stuffed toy - for free!
Then we went to the last garage sale of the day.
I didn't find a lot of things to buy at this sale either, but I did see this parrot.
After that sale, Mom and I went home and that afternoon I went to my friend Mary's 21st birthday party. No, I did not get drunk and party all night, but it was fun!
Saturday, August 11th, 2007
Okay, Mom and I did not go garage saling on this day. Instead, we went to an auction. It was my first auction ever.
After being at that auction, I can personally say that I like garage sales better - I can buy what I want and not have to buy things by the box, nor do I have to pay an outrageous amount of money for things. I also do not have to deal with the colluding forces of two middle aged women competing with me for a box of books - but that is a long story I would rather not get into in this article. But, as an experience, it was in some ways fun. I got to see people from my university and from around town that I hadn't seen in a long time, and I got to look at a lot of cool stuff. I also got to play the auction game and won some books for me and my Mom.
My Mom and I went to the auction at Dr. S's (Let's call him) house. Dr. S. was a very prominent historian and professor in our town, but now he is moving out west with his wife to be near his family.
When we arrived, we saw that over 100 people were there! It was a very sunny and hot day, and there were people milling about, looking at the possessions Dr. S. and his wife had put out not only on their driveway, but also on two of their neighbors' driveways.
Here we walked on the sidewalk leading up to the auction. A ton of cars were already parked on the street!
Across three driveways, I saw that the following was up for auction: office furniture, office supplies, living room furniture, entertainment centers with televisions, shelves, armoires, paintings, old artifacts from our town (books, pictures, prison spoons, paintings, currency, etc), samurai swords, books (history books, novels, recipe books, children's books, etc.), old children's toys, old records, old kitchen utensils and dining trays, dinner glasses, a lantern, old Christmas decorations, old board games, and much more stuff.
There was even an ice cream truck there serving ice cream, hot dogs, hamburgers, water, soft drinks, etc. so the people wouldn't starve or dehydrate (which was very possible).
The bidding started a bit after 11 AM.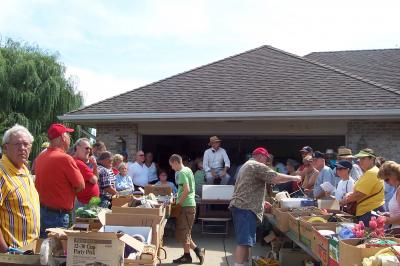 The auctioneer introduced himself and told us the rules of the auction
Before the bidding began, my mom and I got a bidding card so we could bid. I did not know this, but I had to have my driver's license and a dollar to get a bid card. Anyway, the people were in a frenzy trying to buy Dr. Ss stuff. I saw an old picture go for over $300! Although I was not willing to pay $300 for something, I did play the bidding game and bought a box of novels (by authors such as John Grisham, Nora Roberts, and Devereaux) for me and Mom for $20.
Mom and I didn't end up with much, and I got a bad sunburn on my shoulders to top it off. If it would have been a garage sale, my Mom would have gotten the little bear figurine she saw and wanted and I would have gotten way more stuff - more books, some nice filing cabinets, and some videos of Johnny Carson. But, it was a fun experience, and in a way I am glad that I got to experience being at an auction.
Afterwards, on our way home, Mom and I found this garage sale:
ahhhhhhhhhhhhh! That's more like it!
At this sale, I found a nice backup VCR (in case the one I have breaks) for only $2. I also find some Judy Blume Fudge books.
And that's my last garage saling experience of the year - the Fourth (and FINAL) Part will come soon, with the conclusion, and my insights. I know some of you wanted to see my loot, and so I will include pictures of a lot of my loot (all which I could not put into these three articles because it would have made these articles wayyyy too long - I got that much stuff) into the next article.
And, also, thank you for all of your feedback and positive response so far, and for following me through my adventures!
Keep on the watch out for Part Four!