Garage Sale Adventures 2007: Part One
This summer (well, it actually started in April), I embarked on quite an adventure: Garage Saling. I had never been garage saling (or to rummage sales) before (except for my Grandmother's garage sales which she held every year) - I didn't like the thought of scavenging through other people's old junk. But I was wrong, very wrong, as this article will highlight. This website, besides introducing me to many wonderful people and allowing me to share my thoughts on a myriad of different nostalgic topics, has also allowed me to fully remember and appreciate the wonderful childhood that I had. I wanted to not only preserve what pop culture toys and books I already had, but also add missing pieces of my childhood to that collection (much to my parents' dismay, since I already have tons of toys and stuff at my house).
But my adventure was not just about what I could buy at these sales or for how much - it was about the people I met, the time I spent with my mother (who also went to these sales with me), and the amazing plethora of memories going to these sales provoked within me. It was quite a learning experience - I learned about checking items for scratches and marks (especially CD's), I learned how to haggle (more of an art instead of a science), and I learned about the special cultural bonds that tie us together, no matter how different we are. I also learned about the amount of space my room had to store stuff until it burst at its seams, and how to stack and organize items very carefully on the shelves in my room so that nothing would be on the floor.
When I went to these sales, especially the good ones, I was transported back to another era in time, and it was like I was looking at Time's merchandise that had been left in the dust by the ever-evolving future. It was almost as if I was looking my childhood in the eye as I shuffled through the items at these garage and rummage sales.
So, in this expansive article (that will be released in multiple parts), I will re-examine my adventures, looking back upon it with the reminiscent fondness with which I look upon other wonderful memories of a now past time. There will be plenty of pictures, but no addresses or identities will be compromised. I also went to several church rummage sales this summer, so I will highlight those in my multiple-part article. This multiple-part article will also highlight the random dollar store or two that I went to over the summer, when I was frustrated with (or just tired of) the whole garage saling process and needed the security of a well-lit convenience store with already established prices. I will post pictures of the 'loot' I accumulated this summer in the last part of the article.
Before going garage saling, I set up some goals for myself that I think I accomplished this summer. I never go into something without a goal or two to accomplish. If I did not have goals, or specific things I would be looking for at these sales, then I probably would have gone crazy and bought everything interesting within my eyesight. I actually did do this a couple of times this summer, and while I do not regret those crazy times or what I bought, I admit I could have saved some money in the long run by not buying that tambourine or that Aerosmith tape (do I even like Aerosmith? I guess I'll see when I listen to it...)
Anyway, my goals were:
1) to spend the least amount of money possible. I wanted to learn how to haggle, and I didn't want to deplete everything out of my bank account. I did not keep track of how much money I spent in total (too depressing and time consuming), but I estimated I spent about $400 (probably even more) at these garage and rummage sales. Luckily, I had two student jobs at my college - as a math tutor and as a secretary to one of the VPs - to help supplement (and replenish) my income.
2) to learn about the types of garage/rummage sales held in my area - what kinds of items they had to offer, when the big community sales were, and what prices these sales typically charged.
3) to obtain these specific types of items (often I veered off course if I saw a nice Garfield clock, for instance):
* VHS episodes of
The New Adventures of Winnie the Pooh
. I had loved the series when I was younger, but only had about twenty of the 83 episodes on tape. I wrote an article recently about this show (look for it and read it, and you'll see why I love it). I wanted to complete my collection, and even though I have not collected my collection as of yet, I got much closer this summer.
* VHS episodes of the old
Berenstain Bears
and
Care Bears
. I loved these series when I was younger, and wanted to see the episodes on tape again.
* VHS episodes of older, miscellaneous cartoons such as
Underdog
,
The Jetsons
,
Charlie Brown
, etc.
* VHS episodes of 80s and 90s Nicktoons and Nick Jr. shows.
* Berenstain Bears books (to complete my collection), Arthur books, old textbooks (especially math ones), Winnie the Pooh books
* Some nice jewelry, especially costume jewelry.
* Some Care Bears to add to the collection I already have.
* To get some older movies my mom did not have.
4) to not overstuff my room full of junk (this one I failed for sure).
Anyway, with my goals and expectations set, my sun lotion, and with plenty of one dollar bills and quarters in my change purse and pockets, I was ready to embark upon the first of my many Garage Sale Adventures.
Saturday, April 21, 2007
I started my epic garage saling adventure on Saturday, April 21, 2007. This was to be the first of my many Weekend Garage Saling Adventures that I would go on almost every weekend this summer.
Mom and I read in the newspaper, several days before April 21, that a rummage sale would be held on April 21 at the Guardian Angel Home in our community. So Mom and I decided to go there and have a look. It was a beautiful Saturday morning - sunny, with nary a cloud in the sky, and not that humid. It was garage saling weather, and my town was already priming itself for another great garage saling season - signs were up all over street corners and telephone poles, their black proclamations of opportunity resting against the neon orange or pink or just plain white backgrounds. Before we could even get to the rummage sale at the Home, we saw a nice orange sign with black lettering announcing a sale on Sherwood. We decided to go there first, since it was on the way. When we got there, we saw this layout.....
The first garage sale of my adventure
WOW. What a nice introduction to garage saling! Everything nicely set up on tables, in boxes, with different categories - movies, CD's, old VHS cartoons, old McDonald's toys, etc. all nicely put in different sections of the tables. More than one family's stuff was in the sale, and Mom and I spent a full half-hour scouring the stuff, and we found a lot of things to buy. I found, to my surprise, four old
Berenstain
videos with two episodes each from 1986 - "No Girls Allowed," "The Trouble With Friends," "The Bigpaw Problem," and "Get Stage Freight." GOLD, at least that's how I felt. I also found, among many other retro items, some nice Snoopy cookie jars, and some older movies such as "Romeo and Juliet" from the 1960s that I last remember seeing in 9th grade English class. I also found two
Heathcliff
VHS's there - I know he's a knock-off of Garfield, but he's cool in his own right. I almost bought some old McDonald's toys, but I didn't know which ones I already had and which ones I didn't have (I have a huge collection at home), so I didn't risk it. Mom figures that at least one of the families whose items are in the garage sale owned a store, since some of the items were duplicates. Mom has found some nice figurines of Sally from
Charlie Brown
and of a bear (she goes crazy for that stuff), but decided the price was too high to buy them (she hadn't learned haggling at that point either, but she became a quicker study than I did). I didn't haggle either - I was way too excited about all the great finds I had scored at my first garage sale of my adventure. I ended up spending about $10 for all the stuff (one-fourth a trunk full). When we were getting in the car, Mom asks,
"Done looking?"
Me: "Mom, I could never be done looking at this sale. Let's go on to the Guardian Angel Home before we spend all our money."
Mom and I then go over to the Guardian Angel Home to go look at their rummage sale. Their rummage sale was not as extensive as the first garage sale we went to (luckily for us), but we had fun looking at the theme-coffee cups (ones with state flags on it, ones with companies' logos on it, etc) and the belts and old purses they had for sale.
Guardian Angel Home rummage sale
I ended up buying a cool gold belt to put around my waist - for only a quarter. But now I see in the second picture (the one to the right), that I could have bought a red and black plastic lunchbox(it's near the front of the picture) with what looks like a Teenage Mutant Ninja Turtle or something on it. Damn! I missed that lunchbox, and the old women would have let me have it for only a quarter! Oh well, it's only the first of many garage sale regrets I would have this summer.
When we walked out of the Guardian Angel Home, she asked if I was done for the day. I was about to say yes when I saw a garage sale at a house across the street from the Home.
Me, eagerly and pointing to the sale: "Mom, how about if we go to that sale, across the street?"
Mom: "Oh sure. We can take a look."
So we got in the car (no walking across the street for us!) and drove closer to the house with the garage sale.
Instantly I saw, as you can now see in the lower left of the picture, all the Barbie stuff that these people had for sale. Now, when I listed my goals for my Adventure, getting Barbie stuff was not one of my goals. If you had seen the Barbie World I had set up in the basement when I was younger, than you would know that I do not need anymore Barbies or their stuff.
Now, there were some interesting clothing and DVDs at the garage sale that Mom and I looked at. I also found the original TMNT movie for only two dollars. But, the find of this particular sale, for me at least, was a
Simpsons
Season 1 DVD for $15. Mom and I looked at the backs of the discs inside the case and Mom saw that a couple of them were a bit dusty and a bit scratched up. Mom wasn't sure whether the discs worked or not, so she asked the lady if I could pay her $10 for the DVD - the lady agreed!
And, when I checked the DVD out in my DVD player at home, the discs did work. Except that one of the discs was from Season Two (whoops), but I didn't mind because that disc had "Homer vs. the 8th Commandment" on it, which is one of my favorite
Simpsons
episodes. I learned that I had to more closely inspect the titles of discs inside of DVDs and the labels of the VHS's inside their cases, because sometimes people make the mistake of putting the wrong VHS tape into the wrong VHS sleeve.
Mom and I then went on to one more garage sale that day. It was very small, as you can see in the picture.
It had nice figurines (which my Mom looked at in interest - there were some unicorn figurines she liked), some 80s action movies, and art in frames. There was quite a bit of unicorn items at this sale - this lady must have been obsessed with unicorns. So I bought a nice unicorn painting off of her for $1 so I could hang it in my room. That's another reason why I like garage saling now - at every garage sale, the items reveal information about the seller's life - what they like to wear, what music they like to listen to, what kinds of movies they liked, etc. I like having a limited access to the inner going-ons of people's lives in that way.
After that last garage sale, Mom and I were exhausted for the day, so we decided to call it quits and go home. One gold mine and three decent sales were not a bad way to start off my Garage Sale Adventure.
But the fun wasn't over yet! When we got home, Mom and I spent the next hour cleaning off the stuff we got from the garage sales. This is the most 'fun' part of the whole experience. Now, I understand why garage sale stuff have to be cleaned - it's dusty, and it's sometimes dirty and mildewed. I don't want dusty garage sale stuff going into my room (I'm allergic to dust, by the way). Mom has her rule for garage sale stuff - "None of it goes into the house unless it has been wiped off by a damp rag." Mom gets out her bucket of water with some kind of cleanser soap (I'll have to ask her the brand) in it (it smells like lemons!) and a blue rag. Mom then puts the rag into the water/soap combo, wrings the rag out, and then gently wipes down each garage sale item, after which I dry each of the items off carefully with a paper towel. Then, when all the cleaning is done, Mom and I relax with glasses of Lipton's Iced Brisk Tea before I carry everything upstairs to my room and arrange the stuff on my shelves. We would do this after every Garage Sale Adventure throughout this summer, and we would get more and more exhausted as the number of garage sales and items bought at garage sales increased exponentially (especially during the crazy times). In a way, though, this 'ritual' bought Mom and I closer together.
At the end of the day, although tired from cleaning, I wasn't thinking about my college Finals that were coming up in two weeks (I just studied on the weekend of the 28th of April). I was thinking about the cool stuff I had found during my first Garage Sale Adventure, and I started to plan my next Garage Sale Adventure knowing more about haggling, location, and what to expect from the garage sales in my community.
Friday, May 4, 2007
Ahhhh....Finals were finally over! Nothing to do for the weekend - no homework, tutoring mathematics, NOTHING! The only things I could think of doing were waiting anxiously for my final grades to be posted for my classes, or to go garage saling. I chose the latter, since I had seen several great sales listed in the classified ads of my newspaper. I went by myself on this day to do some solo shopping.
The first garage sale I encountered had a poster on a tree with triangle sized flags (whatever they are called) trailing it. Very nice.
These flags do draw attention - I would see these kinds of flags a lot more this summer
I then went into the driveway to look at the items the seller put out.
I also see the nice yard sale sign on their fence - very creative!
I saw some clothing, some lawn furniture, a couple of mattresses, and a creepy old Ronald McDonald doll that spooked me out. But among with that stuff I also saw a VHS of
Harry Potter and the Chamber of Secrets
for two dollars, and a bobble head of Grouchy the Care Bear for two dollars also. I had heard that bobble heads are a collectible, and I could not pass this cute Care Bear bobble head up! I also bought a couple of books.
After that garage sale, I went over to another street where several houses were having garage sales - I learned that this is known as a "neighborhood garage sale." The first one I went to had things assorted on the grass on a blanket and in boxes in the driveway.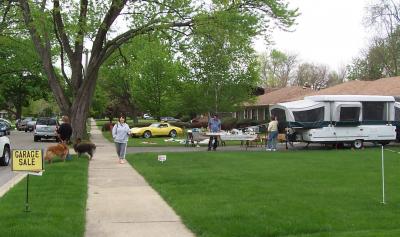 Wow. Look at that Corvette!
They had books, magazines, figurines, clothing, and even a yellow Corvette for sale (and it was $15,000 - I asked. Pretty car though). I looked through some bins at the older mathematics and business books (I'm a math major at college, and a big nerd for old textbooks). An older woman and man were sitting by their camper (no, that wasn't for sale), and I asked them if they had a daughter who graduated from college. Oops - it turns out that the older woman had graduated from college with a business degree! She was charging two dollars each for the books, which I thought was a bit high since they were older books. The woman asked me why I was interested in those textbooks, and I told her I was a math major at my college. I started to talk with her about the different classes I have taken, the math tutoring job I have, etc. She went to college several years ago after her kids got older, and now works with a company in accounting. I told her the particular textbooks I was interested in, and she let me have them for only a dollar each! This was only my second haggle, and I got half-price off! For my first haggle, I bought the
Animal House
movie and an
Allegra's Window
episode for only $1.50 instead of $2.
I then left that garage sale, and on the way to another garage sale just down the street when I saw this dalmatian fire hydrant. How cute! I remember when I was little, probably 10 years old, my Dad used to paint our fire hydrant like a dalmatian also, and it looked very much like this one.
Okay....back to the sales. This one looked interesting.
I first see a baby crib and a ton of nice chairs stacked on top of each other, which I did not need. I also looked through some trendy retro clothing, but none of them were in my size. There were also some tools there which my Grandpa would have loved. I, though, was attracted to the jewelry table set up in the garage. There were some nice bracelets and necklaces, but they were a bit expensive. One bracelet, a nice gold one, was two dollars, and I tried to haggle with the lady seller (she was an older woman) to get the price down to one dollar, but she would not budge. I put the bracelet down and said, "No thank you." I wish I would have walked away at this point, but I had to have the cherry red bangle bracelet that was a dollar.
So far, I was not overly happy with my haul, but I was happy with finally achieving my first haggle. I was also really happy with the Grouchy Bear bobble head I got, but that's not all I would be happy about on this day.
I then went to a couple of garage sales in the Inwood Neighborhood area. And, boy, am I glad I did! At one of the houses, this woman was already packing up her garage sale things, done for the day, when I came. She had a lot more stuff in her driveway earlier, but people had bought all the stuff. I was allowed to look at the remaining stuff that was on tables in the garage, and I found a bunch of cool children's books such as
The Carousel
and a bunch of 90s
Rugrats
VHS's, besides some old Christmas decorations. I wasn't excited about the Christmas decorations, but I was very excited about the books and the
Rugrats
episodes. I saw that the price tag said that the video tapes were a dollar each, so I decided only to buy a couple of tapes. BUT, the woman said she wanted to get rid of her stuff, so she let me buy whatever and how much ever I wanted for
ONLY A DOLLAR!
Yes! So I bought about seven Rugrats videos and a bunch of children's books and put them all into the trunk of my car.
But I wasn't done with the day. No way! I was then officially hooked by the enticements of the garage sale "lottery," because I had realized that I could score a lucky jackpot like that sale!
So, continuing on my journey...
I then went to another neighborhood garage sale over in the Twin Oaks area.
It seemed like a lot of people were mingling at this sale, so I decided to check it out. The dog cage in the driveway did not impress me, but I bought some nice children's books and VHS's of
Porky Pig
cartoons.
I didn't find much at this sale (below) either. It was mostly comprised of clothing and baby toys, and I already had enough clothes, and I am not a baby, so I was not interested in those things. I did see a couple of knick knacks my mom would have probably liked.
And so I went to like ten of these garage sales in that neighborhood. And I found, at the various sales, cassettes of 80s pop stars for 10 cents each, some nice, inexpensive bracelets, and some cartoon VHS's. At one particular sale, I had found several
Charlie Brown
VHS's, such as the NASA one, a couple of Christmas special, and a camping special, as well as some
Winnie the Pooh
and several
Arthur
tapes. So cool - and the woman at that sale let me have all those tapes for only ten dollars, which I haggled down from $12.
Now, you'd think that after going to all of these garage sales that I would be tired enough to call it a day. And you might have been right, if I hadn't of been senseless out of my garage-sale addicted head that day. I had driven all over my town, but there was still one more garage sale on Frederick that I wanted to look at.
At this sale, I bought a
Little Sister
book by Ann M. Martin (the one about magic tricks or something), and I got to look at really nice jewelry. The jewelry was a bit steep in price ($15 for a necklace?). I then saw a beautiful jewelry box made of wood that had nice blue lining on the inside. It was a bit dusty, but nothing that me and my mother couldn't clean up. It cost $4, a bargain to me, so I paid the full price. I also bought some nice, cheaper bracelets for a couple of bucks.
After this house, I was done for the day. I went home, ignoring all the other garage sale signs that were enticing me... "Shop some more, pleeeease, stop at our driveways" in a ghoulish like voice. Surprisingly, this was not the most exhaustive garage saling trip I would go on this summer, but it certainly was the first such trip I took.
Saturday, May 5, 2007
Saturday, May 5, 2007 was such a historic day. It was the day that I learned what really good church rummage sales were made out of, and it also was the day that I learned about community-wide garage sales and all the pleasure and pain these kinds of sales could induce.
First off: the Grace United Methodist Church's annual rummage sale. My coworker at my job was not kidding when she said this was a really good rummage sale. Mom and I woke up extra early (at least for me - 6 AM), got ready, went to McDonald's for breakfast, and then over to the church.
When Mom pulled our car into the parking lot, I saw a sight that was very impressive to my young, naive garage-saler's eye: the very long line of people waiting to get inside the church.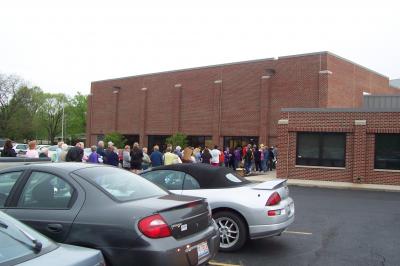 Look at how many people are in line!
Some of them were holding bins, and all of them were anticipating and gossiping about how good the rummage sale would be. A couple of minutes after 8 AM, the church opened its doors and people began to flood into the junk-filled room. At the door, church volunteer workers were handing out boxes for people to put their stuff in. When we passed them, they asked,
"Would you like a box?"
Mom, thinking that we could carry the stuff in our hands, replied, "No thanks."
We then go inside, and see this.....
Whoa
They had everything in there! Computer monitors, TONS of children's toys, stuffed animals, movies, books, jewelry, and a whole room devoted to clothing. They also had sports equipment, furniture, camping equipment, and semi-automatic rifles! No, they didn't have rifles, or delicious apple pies from McDonald's, but they did have just about everything else. Mom and I split up and I started hoarding Kid Video VHS's like mad and grabbed the
Pippi Longstocking
movie before a guy even has a chance to look at it. I get tons of books, including some
Heathcliff
comic books and some
Garfield
comic books, an autobiography of Jerry Seinfeld, and some books on writing and math, among other books I had grabbed. And you know that stainless steel desk lamp that's in the bottom left picture up above? It's now sitting on my work desk in my bedroom - it was three dollars, and it even had a light bulb already in it! I also buy some nice bags of necklaces for a couple of bucks. Now, I expected there to be more pushing and shoving, but these people shopped pretty peacefully among each other. It was a good thing too, or they would have had to answer to God directly on his home turf if any of them got into a fist fight.
I met back up with Mom. Poor Mom! I saw her struggling to hold everything she wanted to buy in her arms - a nice, three dollar Tiffany lamp, a wooden chair, an aquatic painting, some knick knacks, some candle holders, some nice wind chimes, and some other stuff I can't remember right now. Mom even wanted to buy the entertainment center the church was selling for ten dollars, and a nice couch to replace the old one in our living room (she didn't end up buying these two items, but she was interested).
"We should have taken a box." said Mom
"I'll go get you one," I offered.
"Oh, no. Can you get that nice lady over there to help us?"
That "nice lady" was a young church volunteer named Karen. She was nice enough to plug in both mine and Mom's lamps to make sure they worked, and to help us carry our stuff to the cashier's table. I spent about $10 all together on my stuff, and Mom spent about $20. I then went out to the car and put my stuff in the trunk. I then drove the car to the front of the church so Mom could put her stuff in the trunk. I then drove a couple of blocks, and Mom tells me to pull over. Was she having a heart attack because she bought so much stuff? No - she just wanted to rest for a moment before going on to the rest of that day's sales.
Yes, that's right. I said "the rest of that day's sales." I wasn't quite over the addictive high I got from the plethora of garage sales I had went to the day before - I hadn't quite gotten it out of my system yet. When looking upon this day in hindsight, it's no wonder my mother was at times frustrated with me - I tired her out, poor woman. But I didn't see this on that day, and so after a moment of rest I drove us to Channahon's community-wide garage sales. I had gotten a list and a map the day before from the Internet, and there were over 40 sales listed on it. No, there was no way we could have gone to all forty sales, but we went to plenty of them, that's for sure.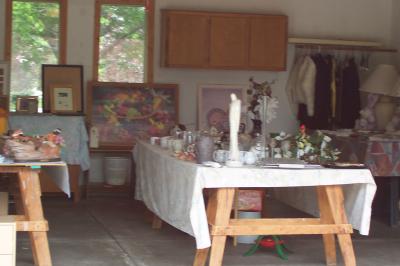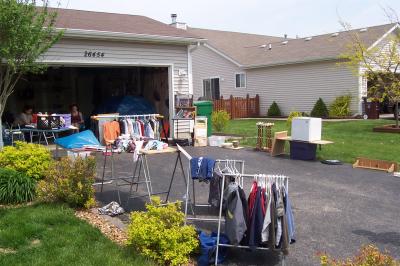 Some of these sales were a gem, and some of these sales were busts. I am not going to tell you which ones above were busts. A good garage saler, I learned, can tell a gem from a bust by the mere appearance of a driveway while driving by very slowly.
I don't know how much I spent that day, but I did buy several Care Bears and some Care Bears memorabilia - I even found a Care Bear M&M quarter machine for only 10 cents! I also found more movies to buy and Mom found a lot more knick knacks and nice clothing to buy. I found
The Tigger Movie
and got to have it for free since my Mom was buying so much clothing from one of the lady sellers. I also bought several books, including some National Geographic Magazines and more Heathcliff books. I also found some Aerosmith cassettes and bought them (Mom: "Do you even like Aerosmith? You know they're loud, right?") and The Eagles on Tour on VHS. I also saw an extensive train collection at one of the sales. I also bought a
Popples
book for a quarter.
I also do know that Mom and I got lost several times on this day.
She kept yelling stuff like: "Aimee! You should have turned right - didn't you see the sign?????" and "Aimee, don't turn so fast!" She probably thought that I was going to crash the car and kill us both because of my reckless driving that day.
We had a pretty good time at these sales, besides all the stress and getting lost stuff. We tried out exercise machines, talked to the people about how they got their house address onto the garage sale flyer (they had to pay about $5 to be listed), and I even got to meet a dancing snowman - in May, I'll tell ya! He was $30 and a bit spooky, so we did not buy him.
But the most fun we had that day were at the Hunter's Crossing subdivision sales in Channahon. Mom noticed that a bunch of the garage sales were in this subdivision, and she didn't want me to be driving around all day from one individual garage sale to another. And I do not blame her for that, because I was getting tired of fighting traffic as well. So, we were off to Hunter's Crossing. But first, we had a lot of "fun" trying to find the place. I was not as prepared that day as I should have been, because I did not bring a map with me. So we had to do it the old fashioned way, by asking a nice young man at one of the garage sales to give us directions. Sadly, even though the subdivision was just down the street from his subdivision, he was not sure of where it was. I reflected on the sad fact that Americans are getting increasingly isolated from each other for a couple of minutes, and then got in the car to drive to Hunter's Crossing.
We found it shortly up the road, because of the huge sign off to the side of the road with a huge fish on it with the subdivision's name, in big and yellow lettering, on it. We drove into the subdivision warily, and as soon as we saw the first few sales, we both thought the exact same thing....Wow....
Going through these garage sales was like a crash course in haggling and deal-spotting. I learned to hone my skills on this day. I also learned about the tons of different kinds of merchandise were available for sale - nice necklaces from antique stores (that were only half the price!), old books, department store clothing, a lot of movies, furniture, lawn care equipment, old holiday decorations (Halloween, Christmas, Easter, and Thanksgiving!), and sports equipment. It was like a one-stop bazaar that had almost everything I needed, and then some. I even got a free croquet set from one of these sales - no, it wasn't a complete set, but there were enough balls for me and my Mom to play against one another. I hadn't played croquet since the first grade, so I was a bit rusty. The only thing these garage sales lacked were children selling lemonade and cookies at their lemonade stands - that would have made my day, and it would have made my Mom's hair less frizzled at the end of this day.
And, not meaning to sound sexist, I learned that men held garage sales. I had never seen this 'phenomenon' before this day. Before, when I heard the words 'garage sale' I would imagine my grandmother (or other older women) dusting off their vinyl record collections and old clothing and putting them out so they could clear out space in their closet for newer, better things from the other old ladies' garage sales. But, that thought was just another sign of the prejudice I held against garage sales before I started my epic garage sale adventure. Anyway, at one of the garage sales two men (one younger, one older) were pointing out the extensive collection of VHS movies they were selling and how much they were. They seemed to enjoy themselves, like they weren't forced to put their stuff out by their wives or mothers. They sat back in lawn chairs, lounging way back in them, gabbing to people who came by their table. Thanks to them, I now have another episode of
The Muppet Babies
, - the episode where the Babies built their own amusement park, "BabyLand."
Mom was also learning to overspend at these sales, and she started to see why I was getting addicted to them. She found all sorts of figurines - angels, bears, turtles, frogs, on and on to buy so she can put them outside to decorate the backyard. She found shirts from Carson Pirie Scott that were originally twenty dollars reduced to only a dollar each. Not only that, but at one of these Channahon sales, she found shirts from JCPenny's that she had just seen in one of the catalogs not too long ago (that were probably 20 dollars or more each) for only 10 cents each! They were almost brand new too, and hardly worn! She picked up piles of shirts, jeans, and even a couple of dresses and put them into our trunk.
A couple of hours later, Mom, dripping in sweat and trying to straighten her frizzy hair, asked me if I was done garage saling for the day, because she wanted to get home and cook dinner. Looking at our junk-filled trunk, and seeing that the poor car, and my mother, were both suffering, I decided to call it a day. At home, it took us about two hours to wipe off all the stuff we had gotten that day! Needless to say, I was exhausted after all this garage saling. I almost said "Never again!" but then I remembered that Plainfield's subdivision sales were in two weeks, and I had to go to those. Oh well.
And that ends Part One of my Garage Sale Adventures! Part Two is coming soon!