As I walk through an antique store, any antique store, nostalgia for the past washes over me. I finger the collectibles and/or jewelry as a sense of wonder enters my mind. It's like I have stepped into a time
warp, a storage room where the past is stored for me to wander through.
These antiques hold the key to the past, a past I have not lived or was too young to remember.
The past, besides filling me with nostalgia, fills me with fascination as I put togetherthe pieces of culture from my life and from before I was born.
When I was younger, 9 or 10 years old, Mom took me to antique stores in Wilmington, Illinois.
It is just 30 minutes South of Joliet, where I live.
It is also where my Grandma and Grandpa live.
So, whenever we went to visit them, I also got to go to the antique stores that lined Main Street.
We usually went to the antique stores in the summer, when I was out of school. Just this week, March 5 to 9, 2007, I was on Spring Break from college. I noticed that we have not gone to an antique store in a long time. I also wanted to try a newer thrift store that opened in Joliet. So, on March 5 and March 8, 2007, Mom and I went into the time warp and found ourselves, once again, in the store room of the past.
Monday, March 5, 2007
On Monday, March 5, 2007, I woke up slightly groggy, but a little excited about the day. It was beautiful and sunny out, 47 degrees, a perfect day to go thrift shopping. Mom and I got ready and left the house around 9:30 AM to go to the thrift store, Unique Thrift, that is near our home. It is half-off Monday, which means everything is half-off on Mondays (of course!). It is packed to the gills when we get there, so much so that there's a security lady wearing a Bears sweatshirt directing patrons to scarce parking spots. She finds us a parking spot near the front of the store, which my Mom considers lucky. We get in, and it's busy. We separate to look around the store, which neither one of us has ever been to before.
I wonder if I will find any worthy 'treasures' to buy at this store. I find the shelf of video tapes - some personal VHS's of movies and shows people have taped off their tvs, some official VHS's.
I looked through the shelves and found these cool tapes (costing only 75 cents each!)
Garfield and Friends! I loved watching that show when I was younger afterschool.
These are special made-for-vhs tapes, Garfield's first VHS episodes - "Here Comes Garfield," "Garfield on the Town," and "Garfield Goes to Hollywood." I watch the tapes later in the day,
and they are in good quality and they are very funny - I liked "Garfield on the Town" the best.
A Care Bears episode called "The Great Race." Can't wait to watch this episode!
6 hours of classic cartoons! Wow! 50 different classics,
including Superman, Popeye, The Three Stooges, Daffy Duck,
Beaky Buzzard, and Bugs Bunny.
Welcome to the Family! This Harley Davidson video is for my
Uncle Dan, who's a big fan of their motorcycles.
I also found some CD's for only 50 cents each!
Carmen Sandiego game and Blink-182!
I also find a Kenny Marks CD.
And look what I found in the board games section!
Babysitter's Club Mystery Game!
And, of course, jewelry! This store did not have a bad selection.
Mom and I paid for our items, and put our items in the car.
Mom: "That store was okay. I don't know if I would go to it again."
Mom likes antique stores better than thrift stores.
Me: "Well, the thrift store did have some nice things in it, like the jewelry."
It was busy and a bit messy, but I did find some nice things in there,
and will probably go back by myself.
Mom and I then attempt to look for another thrift store I heard about, on the same street.
We stop by a Baklava Plus store to buy some danish and baklava (YUM!).
Then we see a Dollar Days store and pull in. Mom and I both LOVE dollar stores, and go whenever we have a chance.
On our way into this dollar store, Mom asks me not to let her go crazy on stuff.
Amidst the junk and copycat items, there are some real treasures to be found at the dollar store. March 5 was no different.
$1 for a DVD of classic Gumby episodes? Get OUT!
I used to LOVE watching Gumby on Nickelodeon.
There's five episodes of Gumby on the DVD, including Gumbasia,
Concerto aka Gumby Concert, Mysterious Fires, Robot Rumbus, and Too Loo.
There's five episodes of other classic cartoons.
Ah, Color Pops. I can paint these and hang these from my window sill.
Or I can decorate my bookbags with these.
Part of me never knew Nintendo made glass stain decorations,
and part of me knew they would sell anything for money.
Still, four of them for four dollars is not a bad deal.
A couple of old tapes of the Thompson Twins and the Bay City Rollers
Mom says they are pretty good. I will take her word for it.
Then we go to Plato's Closet, a clothing thrift store.
We find some nice shirts, and I find:
RED HIGH HEELS! I am such a girl, but I could not resist these for only $10!
Mom: "Those look really nice, but when will you wear those? Can you even walk in them?"
I show her I can walk in them, and tell her that I will wear them to parties and with nice jeans to school. Mom sympathizes with me because she's bought red shoes that way before.
Mom and I were pretty tired after all that shopping and baklava eating, so we went home for the day.
I was not done with my antiquing yet though!
Thursday, March 8, 2007
Today was the day Mom and I would go to Wilmington, Illinois to go to some hardcore antique stores. When I say antique, I mean these store have stuff from even before 1900s! Mom and I listen to music on the way, and talk about how the day is so BEAUTIFUL and sunny once again!
We get to the Water Street, where most of the antique shops are.
They are almost all closed, at 9:30 AM in the morning. So we go to the Dollar General.
Dollar General
Dollar General is one of my favorite dollar stores. Today, I find some great, old video tapes and DVDs strangely arranged on a shelf - every time I pick one out, five more would fall out onto the floor. Mom sees me in the video aisle.
Mom: "Oh no! Not again with the tapes!" in a loving but teasing tone.
Me: "I won't go crazy. Here's what I found so far..."
Here is what I had found:
Berestain Bears DVDs for $3 each. These are from the new series, but it's nice because I rarely get to watch the new series on TV (I am at school when they are on).
Care Bears DVD! For $5, they know how to string a Care Bears lover's heart, don't they?
I also found a fairy tale DVD for $1.
The Video TREASURE of the day, though, was a "Sing Along with Eureeka" videotape.
Eureeka's Castle! I never thought I'd get to see any episodes of it again! Only $2.50.
Mom has found a couple of cool items, including "Collateral" and "The Butterfly Effect" with Ashton Kutcher on VHS. We pay for our items and get out of that dollar store before we go completely bonkers.
We go back to Water Street, and some of the stores are open.
The first one we go into is called Paraphernalia Antiques.
Their jewelry is real, and it is EXPENSIVE. Hundreds of dollars expensive.
So we buy a few records for a dollar each and high tail it out of that store.
Water Street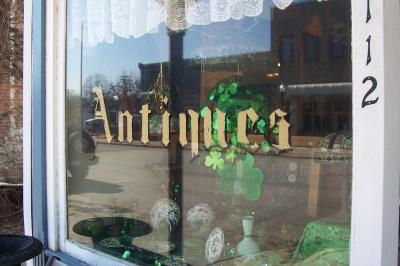 Paraphernalia Antiques
Records - My Fair Lady, the Eagles, Neil Diamond, and John Denver
Then we go to a costume jewelry store called Guest House Antiques.
Their jewelry store is less expensive, so I find a few nice things to buy.
The store also sells old clothing and other household items.
Guest House Antiques
Jewelry I find there (and some from Twice as Nice), including a nice rhinestone-bangle bracelet for $15.
Then Mom and I go to a clothing thrift store called "Twice as Nice."
Well, it is a new shop, and the prices are twice as nice as the other antique stores' prices, meaning they charge low prices.
We found some retro clothing there, and I found some nice jewelry.
Mom and I are famished.
It is time for a lunch break, and we go to McDonald's to order the double filet-o-fish sandwich with fries and drinks. We go to the nearby park to eat lunch (in the car) and watch the seagulls by the dam, who are looking hungrily at our meal.
Seagull at the park. No, you cannot have a bite of my sandwich!
Mom and I agree to go to two more antique stores before the day is over. The first one is Serenity Antiques, and boy is that store HUGE! It's like four antique stores in one. It has a lot of collectibles in it, including metal lunchboxes, Coke stuff, New Kids on the Block videos, and even an Atari for $95! If I had $95 with me, I could have bought it!
I buy a nice Winnie the Pooh cup, a California Raisin, and a Pink Panther figurine instead.
This is the place where I start to go a bit crazy.
When I have been antiquing for hours, my mind sometimes goes a bit haywire from the overload of nostalgia. An Avril Lavigne song about holding on is playing, and although I do not like her songs, this one resonated with me at the time. I go around the store, randomly picking up items and looking at the Charlie Brown encyclopedias.
I am lost in a trance, and I do not want to bring myself out of it. I connect with these items, these memorabilia of the past, for just a few moments before my mother snaps me out of it.
Mom: "Aimee, what are you doing?"
Me: "I'm just looking at stuff."
Mom: "Are you okay? Are you going to buy the stuff in your hands?"
She asks me about the Pink Panther figurine. She thinks it's a bit silly, but I like it. I find her a nice ceramic frog for her to put in her yard, since she likes collecting ceramic animals.
Mom and I go up to the counter and pay for our items, and go out of the store.
But I am not going home yet, no matter how crazy I went in the last antique store. I cannot leave Wilmington, Illinois without visiting my favorite antique store: Old Milltown Market.
Old Milltown Market
I find some nice items in there too, such as a Charlie Horse from Lamb Chops!
I have looked all over for him, and here he is, for $5. And a nice flag pin too, for $3.
Well, I am pooped, and so is Mom. We load up the car and go back home, where I unload all the cool stuff I got from the antique and dollar stores, along with my memories of the day.
I am already looking forward to when we can go antique shopping again.