Welcome to Part Two of my Garage Sale Adventures! In this Part, I will recall the Plainfield sales, some cool sales around my town, and another church rummage sale (and you won't believe what I bought there!).
Here we go...
Friday, May 11, 2007
As I said in the last part of this article, the Plainfield sales were in two weeks, but I could not wait two weeks to go garage saling again. So, on Friday, May 11, 2007, I went on a mini-saling trip by myself. Mom was still too exhausted from the Grace United Methodist and Channahon sales to come with me. I had prepared the night before by looking for good sales in the newspaper and making a map on Mapquest of all the garage sale locations I would go to on this day.
I went to only four garage sales on this day, and all of them were pretty good, especially one sale that turned out to be a gem.
At the first garage sale, pictured in the top left above, had some very interesting stuff - Chicago Bears collectibles (a signed football, posters, etc), Navajo Indian artifacts, and little safety boxes to hide valuables in, among clothes, a bicycles, and other knick knacks. I bought a wooden frame which had a friendship message painted on it and talked to the very nice lady holding the sale. She didn't have many customers that morning, and she talked about the safety boxes and showed me how they conceal stuff.
Soon after, I left that garage sale and went to the second garage sale of the day, which is pictured in the upper right above. I looked at the books and books on tape, the clothing, and stationary they had, among other things. I don't remember getting much from this sale - maybe a nice necklace or two.
At the third garage sale, which is pictured in the lower left above, I was a bit luckier. It was small - mostly knick knacks, ceramic figures, old furniture, kitchen appliances, some painted pictures in frames, and some toys (
Pokemon
, Happy Meals Toys, etc.). As I was looking through the articles at this sale, I suddenly saw a ceramic Winnie the Pooh pop out at me. He was a bit bigger than my hand, and had a small hole at the top of his head. I asked the lady seller what it was used for, and she said she figures it was used to hold pencils. I also saw a smaller ceramic Winnie the Pooh figure. The bigger one was two dollars and the smaller one was a dollar, but I got them both for $1.50 by haggling. Wowee! They are now proudly displayed on my Winnie the Pooh shelf in my storage room.
I felt lucky at that third garage sale, but I would feel even luckier at the fourth and final garage sale of the day. It's pictured at the bottom right above, and even you can tell that this sale was a gem (well it depends on your point of view, but I thought it was spectacular). The driveway was full of stuff, the garage was full of stuff, and a third room off to the side of the garage was also filled with stuff. I saw old tools, screws, holiday decorations, arts and crafts materials, tons of books, old computer programs for Windows 95 and 98, a couple of ice cream makers, lots of animal figurines (Mom was jealous when I told her later), tons of clothing, some 60s and 70s children's toys, Mickey Mouse memorabilia (including a cool Mickey Mouse picture in a frame that I almost bought for five dollars), and a whole table full of jewelry (rings, bangle bracelets, necklaces, pins, earrings). The garage sale was only missing VHS movies and 90s children's cartoons, which was a bit unfortunate for me.
But, the jewelry was to almost die for - sterling silver, gold, and costume jewelry. There was more than one seller at this garage sale, and they put their jewelry into different price ranges in different places on the table. I picked up a really nice $6 necklace and was looking it over in my hands when one of the sellers approached me. I talked to her about how nice the jewelry was, and she told me part of the collection was her daughter's. Her daughter was getting married. She asked me which pile I got the necklace I was holding from, and I told her it was the $4 pile (I didn't want to pay six dollars!), but the daughter then comes by and sees the orange tag on it, which indicates it was on the six dollar pile. Oops! The older lady seller lets me have the necklace for five dollars, and I bought the necklace along with several old colorful bangle bracelets. I also almost bought a nice little jewelry box with a glass top that cost $4, but it was a bit scratched up on the side, so I decided not to buy it. I told my coworker about the garage sale and where it was, and she was even jealous that she didn't find and go to it. She's kind of addicted to garage sales herself, and had told me about several community garage sales I could go to this summer.
Saturday, May 19th, 2007
Lake View and Plainfield subdivision sales - that's where my mom and I were going on this day. It wouldn't be as productive a day as the Channahon sales, but my mother and I would have a fun time seeing all the different sales and all the different stuff they had to offer. But there was one sale we had to go to before we went to Lake View or Plainfield. It was just down the street from our house, and it was being held by one of the daughters of the coworker I talked about earlier in this article.
My co-worker's daughter's sale
They had nice shade tents put up over the tables of clothing they were offering to protect the clothing from the elements of sun and rain - I thought that was nice, and it's also a nice way for people to notice the garage sale from down the street. I noticed that my coworker, who put some of her things in this garage sale, had a collection of things with apples on it - kitchen utensils, cups, wooden signs, etc.
I told her, "You must like apples. I didn't know that!"
I knew she liked pigs, but I did not know she collected things with pictures of apples on them. I learned something new about my coworker that day.
I also learned she has a box's worth full of fabric - different kinds and colors of fabric. Mom and I looked through this box, picking out the interesting patterns, while my coworker was asking me about how work has been this week (she took a couple of days to help her daughter set up the garage sale. Mom ended up buying a nice piece of fabric she said she was going to use to cover the top of the entertainment center in our living room, where she puts figurines according to the season - like for Christmas, for example, she puts up a Christmas village with ceramic houses (and fire stations, train stations, ice cream shops, book stores, etc.). I ended up buying some pictures from Italy in frames - of Venice, the Leaning Tower of Pisa - and I also ended up buying a picture of the Eiffel Tower in Paris - all for only a dollar!
After that garage sale, my Mom and I went to the Lake View subdivision garage sales. There were about three of them to go to, and Mom and I had a blast looking at the painted pictures, books, and even swimming pool lounge chairs on sale, even if the prices were a bit above average. At these garage sales I found some cool little Smurfs figures from the 80s, some cool little Care Bear figures, boxes with Winnie the Pooh pictures on it, the
A Child Called It
book (such a chilling, but very good, book), an old economics textbook, and some old children's books. My mom found a couple of framed paintings, some nice gift bags, and a nice flower vase.
In the garage sale pictured in the lower center above, you can see a door for sale. Mom and I looked at this door intently for a long time before deciding it wouldn't be wide enough to fit any of our doorways. At another one of the sales, I looked at old GI Jones toys, some hair care products, some old exercise equipment, and some paperback books.
After quickly looking through these garage sales, Mom and I went to a few garage sales in my hometown and in Crest Hill before going on to the Plainfield sales.
At this garage sale above, where the sales benefitted a children's organization, I found a beautifully painted portrait of the canals of Venice for only a dollar. I also looked at some vases and candle holders, a table lamp, some little kids' toys, and saw a cute stuffed dalmatian dog wearing a red fireman hat. I also saw a computer desk for sale for about sixty dollars.
At a garage sale in Crest Hill, we got there just as the woman seller was closing up her sale. I saw a box of Beanie Babies that were a dollar each. I saw a snake Beanie Baby and a fox Beanie Baby that I liked, and I was about to pay the lady, when she said that I could have the Beanie Babies for FREE! She said she was going to give them to Salvation Army if she did not sell them, and she wanted other people to have them. I thanked her, and Mom and I left.
Then we were on our way to Wesmere Subdivision, the first subdivision we were going to go to in Plainfield to do some garage saling. Well, we were going to go to that subdivision first, but we couldn't find where it was off the main highway we were driving on. At a stop light, we tried to ask the gentleman in the car next to us, but he wasn't really sure where it was either. Mom was getting madder and madder, and I was getting more frustrated. I referred to the map I made on Mapquest I made the night before, and the map didn't really help because there were no signs telling us which subdivision was the Wesmere subdivision. Mom was about to call it a day (she was the one driving), but then we saw another subdivision that was having a garage sale, and we decided to go have a look. Later in the day, we eventually got to the Wesmere subdivision sales, but most of them were closed up for the day and we only got to go to a couple of the sales. Additionally, I'd like to say that I like it when people put up nice tents over their merchandise so people like my Mom and I do not get sunburned.
The Plainfield Subdivision Sales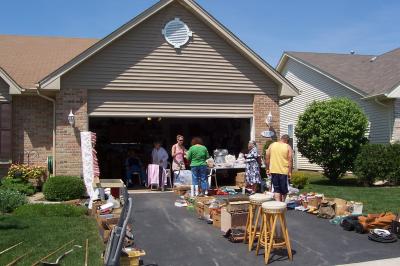 Most of the stuff we saw was little kids' stuff from this day and age, which I was not interested in at all (
Barney
? YUCK). But Mom and I found some good deals. At one of the houses, Mom found a table full of almost new women's jeans that were in our size, and they were only a dollar each! At another garage sale, near the end of the day, Mom found a big oak dresser that was at least 30 years old. She spent about (in my estimation) thirty minutes looking at this dresser, which would be for my room, but decided not to buy it because it would be too big to fit in my room. And the woman seller was going to let Mom have it for only thirty dollars! Oh well.
Mom also saw a unique Mickey Mouse puzzle that was framed. It depicted different scenes from Walt Disney World with different pictures of the characters. I could have looked at that picture for hours and kept on discovering new things in it - it was that detailed. It was only $5 (and it was a huge picture!). Mom loves puzzles, especially putting them together, and she was impressed by how the puzzle was in a nice black frame. Mom ended up buying it. I found a writing book and a journal at another garage sale. I haggled the price down from $5.00 to $3.00. I also found two novels and paid $1.50 instead of $2.00. At one of these garage sales I also bought a little Kermit for only 10 cents, and the lady seller was also offering me the entire collection of the
Sesame Street Children's Treasury
for only $5. I declined since I have all of them at home in my basement. I also found a cool
Garfield
clock for $5 at another one of these sales - and it works!
I bought a
Bugs Bunny
video for 50 cents instead of a dollar. I also found two movies,
Circle of Friends
and
Ferris Bueller's Day Off
, and I paid a dollar instead of two dollars for them. I also found a stainless steel makeup mirror that lights up for only $6 (and it is still in great condition!). There was this one lady selling Avon stuff, and her daughter was selling lemonade and bottles of water. Mom bought some lemonade while I bought some water. An interesting thing I saw with the Plainfield garage sales is that there were more kids selling lemonade at lemonade stands. I saw at least three stands on this day, including a solitary boy at a corner.
In one of the subdivisions I also remember getting some nice antique store necklaces for only $3 each! They would have cost about $10, no make that $15 at the antique store down in Wilmington, Illinois. One of the necklaces was gold with a locket that has a picture of an angel on it. I also find a nice gold bracelet at another garage sale, and as a bonus it came in a sparkly red box.
We also had a hard time getting out of any of the subdivisions once we were done looking at its garage sales. Mom would circle around and around, get mad, and then yell, "How do we get out of here?"
Me: "I think you turn this round corner and..."
Mom: "No, now we're in a cul-de-sac! I hate those things!"
Me: "Okay, then. We can go the other way and then turn left at where that house with the water fountain is."
Mom: "There! I've finally found the exit. Now why can't they invent a 4-way stop sign at this intersection? We'll be here forever with these cars zooming in front of us!"
On the way out of one of the subdivisions, Mom saw a sign for a business called Higher Nelson, which fixes and installs cabinets.
Mom: "Aimee, write their phone number down. We need new kitchen cabinets."
Me: "Um, okay Mom."
I remember getting mostly books, a couple of movies, including some 80s cartoons on tape, some Care Bears, and all the other stuff I already said I got, plus about half a trunk full of other stuff that I do not care to remember right now. This day, like the others, was a learning experience onto itself. I definitely learned how to not get lost in subdivisions that day, and I also learned about the kinds of merchandise and prices I can expect from these kinds of neighborhoods.
So Mom and I were on our way home. We got back to town and we saw a garage sale going on one of the streets - no, make that several. At one of these sales, I tried to haggle with an older woman in order to get a cheaper price for some statistics books, but the lady would not budge. The old guy was a lot more friendly, and he talked about how math was invented by these goat herders several hundred years ago when they put black stones on the ground in order to identify their sheep. At another one of the garage sales I found some Rick Springfield audio cassettes for only 10 cents each.
Now, after all of that, Mom and I were exhausted. We went home and cleaned off our stuff. That night, I watched some of my new cartoon tapes.
Saturday, June 2nd , 2007
I hadn't been garage saling for about two weeks. One reason was because I was working on Fridays and I was tutoring a group of six nurses in Statistics on Saturday for the past two weeks. Another reason was because I had spent a lot of money at the past garage sales I had gone to, and I did not want to run out of spending money this early in the summer. Plus, my room was getting filled up more and more with cartoon tapes, cassette tapes, movies, tons of books, and other garage sale stuff. The spending spree would not stop, nor would my room magically expand to fit all my new garage sale stuff in the near future. But I still had that garage sale fever that I could not cure with ibuprofen, so Mom and I went back to garage saling on June 2, 2007. This time, instead of going to the fancy subdivisions in Plainfield or to the Channahon subdivision sales, we went to the Elwood subdivision sales.
Now, you might be thinking - same old stuff. And yes, there were the typical garage sale fare - VHS movies, cartoon VHS's, knick knacks, clothing, books, old kitchen appliances, and Christmas decorations. But I found some cool stuff that day. For instance, I found some
Berenstain Bears
and
Arthur
books at one of these garage sales. The woman seller was going to charge $6 for all of them (I think there were about 5 or 6 books altogether) but I haggled the price down to $3 for all of them. At another garage sale I found the album to the
Top Gun
movie, and that movie has some great music (in my opinion), and I found some old Disney
Ducktales
books - for all of this I paid only $1.50 instead of $2.50. At one of these sales, I found
The Rescuers Down Under
movie for only a dollar. My Mom loves
The Rescuers
, and we only had the original movie at home.
Then, at one of the last garage sales we went to that day, I found another
Berenstain Bears
video from their old series, "Forget Their Manners," with four episodes on it! It was in a hard-to-reach street (we didn't know how to enter it) on a hill of sorts. Mom and I got very frustrated trying to reach the last garage sales on this road, but we eventually found a way to get to these houses. One of the houses sold some of the of ceramic houses (the kind Mom buys to put atop the entertainment center at Christmastime), but Mom didn't find any that interested her. I found the movie
Homeward Bound
and a couple of
Dr. Seuss
books featuring the
Berenstain Bears
and a couple of
Winnie the Pooh
books, along with the
Berenstain Bears
tape. I got this all for $4 (instead of $5, the lady let me have a discount). I found out the family owned a store in Wilimington, and that is why they had duplicate stuff (like the ceramic houses, Fourth of July stuff, and religious stuff) for sale. Mom bought some frog and puppy knick knacks, and found a neat polar bear figurine at one of these sales. She also found some novels and wind chimes at these sales.
Now here's some interesting things we saw on our journey on that day.
Mom loves the book (and the movie)
The House Next Door
. She believes that this house below looks like a house next door-esque kind of house (it has woods in the back of it).
Mom and I also saw some very nice paintings at some of these garage sales. They were mostly high in price, so we did not buy them. Here is one below that we took a picture of (secretly):
On the way home, we passed by a very big house - a mansion, in fact. Mom thought that a doctor or a CEO must live at that house, and I agreed with her. The house had its own golf course, for goodness sakes! I think it also had its own swimming pool. Its picture is below:
I want to live in a house like that someday!
And that was it for the Elwood Garage Sales!
Friday, June 8th, 2007
After going out for dinner, we, as a family, went to visit Grandma and Grandpa (my Mother's parents) in Wilmington, Illinois. Grandma told us about a garage sale that was going on at her neighbor's house, and so naturally we all went over to my Grandma's neighbor's' house to see what was up. Grandma's neighbor and her husband were having a moving sale, and so were selling some furniture, their tools, some outdoor furniture and lawn equipment, some jewelry, some books, and some other knick knacks and miscellaneous items.
Grandma's neighbor's' sale
I bought some jewelry, including some African jewelry, some pins (including a bowling pin), and a book called
The Memory Keeper's Daughter
(for only a dollar - beat that
Barnes and Nobles
!) I wanted to buy a nice small jewelry box, but Grandma (the garage sale veteran) told me not to buy it because she had a nicer one at her house she could give me. She had a discerning eye about everything I looked at, telling me advice about what was good to buy. Mom wanted to buy some wooden lawn furniture, but my Dad discouraged her from buying it.
After we had bought our items, we sat down with Grandma's neighbor to talk about different people and stuff going on in the town. A few minutes later, a woman in a golf cart drove up the driveway, got out, and started to look at the stuff. She was just working in her garden, so there was some dirt on her clothes. She was an upbeat woman who Mom had known as a child. She let me have a ride in her golf cart, and even let me drive it.
I was very excited about the next day's sales, and I would soon find out that I had good reason to look forward to them...
Saturday, June 9th, 2007
The Presbyterian Church Rummage Sale!
Yes, it's yet another Church Rummage Sale, where all sorts of doodads, toys, jewelry, books, clothing, etc. can be found for very low prices. Here's a picture of people waiting in line to get in:
The line of people waiting to get into the Presbyterian Church
Now, the line wasn't as long as the Rummage sale at the Methodist Church Rummage sale Mom and I went to last month, but I knew there would be some good stuff in there. This time, Mom and I were prepared: We each carried a box to put our stuff in, because we knew we'd find a lot of good stuff in there. Waiting in line, Mom talked to another older woman about gardening while the woman's two granddaughters played and fought with each other. A few minutes after 8 AM the church people finally let us in . ABOUT TIME! They handed out cat litter containers as we came in so we could put our stuff in, but of course we didn't need that. So we get in, and this is what we saw
I immediately went to the toy section and I immediately found a big Care Bear for sale- it was Friend Bear, and he was asking me to buy him. I couldn't say no, although he was a bit dirty.
I also found some nice jewelry at this rummage sale. I found some bracelets and a nice trolley pin. All of this jewelry was only 50 cents each. I also found some new frames for my glasses - no kidding - for only $1. My Mom told me that I could take the frames to the eye doctor's and have him put my prescription glass in for only $30. I tried putting them on with the existing prescription glass in them and I get very dizzy. Also, I found some nice books there - Arthur books, a couple of history books, some young adult novels. Mom found some more knick knacks, and a nice bear Valentine's Day jewelry box. Also she found some beer glasses for the kitchen.
But then my mother found what would become the first of the two great finds of the day: the ORGAN! It was only TEN DOLLARS and it included books of music stored in the seat (its seat opened up). I have always wanted a piano/organ for the house! Mom laid claim to the organ, but then she discovered that we had no way of bringing it home. We took our car that day, and the organ was not gonna fit in that! So Mom and I rushed to the car, drove home (which was only five minutes away), and traded our car for my Dad's green Ford pick-up truck. We drove it back to the church and some very nice gentlemen helped us load the organ onto the back of the pick-up truck. Here's the organ in its new home - my garage (and it's covered by a orange bed sheet so that it doesn't get so dusty). Isn't she a beaut?
We catch the same boys who helped us with our organ sit on a couch that someone will pick up:
Hard-working boys who needed a break
But that church rummage sale was not the only garage sale we went to that day. There was another garage sale my Mom saw on Reed, and so Mom drove us there. I sat in the back of the pick-up truck, holding the organ so that it doesn't slide around in the truck. Mom and I then get to the garage sale where I would find my second great find of the day:
The New Adventures of Winnie the Pooh
episodes on VHS!!! Now, if you had read my article "Winnie the Pooh" on Retrojunk, you would know that this show was one of my favorite childhood shows. I had gotten a tape or two at other rummage and garage sales, but I didn't have that many episodes besides the tape full of episodes my parents taped off the TV for me when I was little. I had no where near the full collection of episodes. But as soon as I got to sale, I saw this:
Do you see the shelves of The New Adventures of Winnie the Pooh episodes in this picture? It's in there (it's rather small, but it's there)
Now, this might not look like an extraordinary sale to you. It didn't look like an extraordinary sale to me either, but looks can be deceiving. I walked closer and I saw a bin of exercise books, a couple of comedy movies in a bin, books on tapes in a bin, some clothing hung on hangers in the garage, and a nice table of jewelry (of which I would buy some nice necklaces and pins). And all that stuff was nice and good, but it wasn't what struck my eye at this sale. When I turned around from the jewelry table, I saw shelves full of cartoon video tapes. There was a bit of
Barney
, some
Thomas the Engine
tapes on the shelves, and then there was - a WHOLE TON of VHS tapes of
The New Adventures of Winnie the Pooh
! Before anyone else could grab them, I dashed over to the shelves and grabbed as many
Winnie the Pooh
VHS tapes as I could hold in my hands. The women holding the sale must have thought I was a crazy woman or something else. They were shocked (and happy) that I was buying all of those VHS tapes. The tapes were $1.00 each, and I was buying at least 12 tapes, if not more. I tried to haggle with one of the women sellers on the price, because I was buying so many tapes, but she would not budge because those episodes were special to her.
She, I learned, was a huge Winnie the Pooh fan - she even had other Winnie the Pooh merchandise such as the plush animals of almost all the characters (she even had the plush animals of Rabbit and Owl, which I couldn't find in stores), nice Winnie the Pooh puzzles, a nice metal Winnie the Pooh lunch tin, some nice Winnie the Pooh books, and two Winnie the Pooh pictures in wooden frames. Of course I bought all this stuff! I ended up spending $42 at this sale (it was $47 but the woman seller dropped the price of my jewelry by $5), but it was worth every penny to relive some of my childhood memories and see episodes of
The New Adventures of Winnie the Pooh
that I had not seen since I was a child. The episodes, when I played them in my VCR at home, were in great condition.
Mom eventually dragged me away from that sale and to the final sale of the day, which was a bit of a let down after the first two great sales I had went to that day. Not because it didn't have great stuff, of course. I found Upton Sinclair's
The Jungle
for sale for a buck, and a
Worse Case Scenarios
book that would teach me how to get out of quicksand, get out of a car that fell into a lake, and how to fall a great height without dying, among other things. Mom found a couple of books as well. Here's a picture of the sale below:
Mom and I also saw a nice little wooden picnic table, but it was a kiddie table, and so was too small to buy.
Mom and I went home after this sale, cleaned off all of our stuff (there was a ton of it!), and figured out where we were going to put our brand new organ. When we pulled up the green pickup truck into the driveway, my Dad was outside doing chores. A woman neighbor was outside, and she saw us pull in. We told her all about the church rummage sale and all about how Mom found the organ, and she admired the organ. She asked us if we needed any help getting it off the truck, but we say no thanks. It was Dad who helped us get it off the truck, and he wasn't too enthused, at first, about the new organ.
Dad (angry): "Where the Hell are you going to put that organ?"
Mom: "But she's always wanted a piano, and it was only $10. We couldn't pass it up!"
Me: "We can put it in the basement."
Dad: "The basement? There's no way we'll be able to carry it downstairs! Why do you keep getting junk, anyway? You're just filling your room with clutter."
Mom: "How about we put it in the garage, where the refrigerator used to be? It'll fit perfectly, and nobody will have to worry about the car running into it."
So Dad put the organ in the garage, and eventually got less upset about us buying the organ. I'm just glad it fits somewhere!
Well, that's the end of Part Two of my Garage Sale Adventures! Part Three is coming soon!