Throughout this summer, I went to garage and rummage sales all over different suburbs, talked to all sorts of people, and got a whole ton of great stuff (a lot of it retro) in the process.
I can't think of any form of shopping (even antique shopping) that is better than garage saling - the hunt, the anticipation, and the bargains all give me a pleasure that not even the mall can give me. I hope to go garage saling next summer, and I will probably be more adept at it since I gained experience through these adventures. I probably won't be making an old lady upset by trying to haggle her son's math textbook down to half price, and I will be more adept at playing the auction game. I'll know how to handle my money better and I will know more about what I want to spend my money on - since I now know what kinds of things garage sales have to offer.
I've learned so much over this adventure. Getting up at 8 AM (or earlier!) every Saturday was tiring, but worth every lesson learned and every bargain found. I've learned to differentiate between good and bad sales, to wear older clothing and drive an older car to sales (or, if a newer car must be used, then park it far away from the sale), to not carry large denominations of money (such as 10 dollar bills or higher - people sometimes get upset when they have to make change), to not pay $5 for something in dimes (oh sellers get mad at that too!), and I also learned about the unprecise art of haggling (I usually asked for half price, then went up a bit when they refused the offer).
I think I accomplished most of my garage saling goals for this summer. Of course I probably spent too much money, and I also over filled my bedroom to the brink with garage sale stuff. My bedroom has a finite amount of space - at least I learned how to pile stuff neatly on top of each other and under my bed!
I learned about what garage sales had to offer - some offered knick knacks and Christmas decorations (those sales my Mom liked), some offered kids' stuff (baby cartoon videos, baby clothes, baby toys, etc.), and others offered an assortment of stuff (those I liked best - they had old cartoon VHS's, old VCR's, clothing, kitchen appliances, Christmas decorations, stuffed animals (Care Bears!), and a bunch of other stuff so that I could find at least one thing I liked at each of these kinds of sales).
I definitely cumulated more VHS's of older (and more recent) cartoons over this summer. I had a decent collection before going garage saling, but now I have more variety in my collection. I also have more cartoons that I loved to watch when I was younger -
The New Adventures of Winnie the Pooh
,
Berenstain Bears
,
Care Bears
,
The Jetsons
,
Underdog
, various Nick Jr. shows (
Allegra's Window
,
Busytown
(Richard Scarry),
Gullah Gullah Island
, etc.),
Muppet Babies
, and many more cartoons and movies that I will post pictures of below.
I also got some cool jewelry and I got to spend more time with my Mom. I could not have completed my adventure without her help and guidance (nor my Grandma's wisdom!).
But this adventure was not just about the stuff I got(that I will get to in a bit), but it was also about the wonderful people I got to meet when garage saling around my community. From getting gardening tips from a woman at the Presbyterian Church Rummage Sale to learning about the foundations of mathematics from an elderly man at another garage sale, I learned something from everyone I met along the way. I learned how garage sales can teach kids business sense, how they can bring neighbors together, how Walmart isn't always the place with the most bargains, and that if I need almost anything, I can almost always find it at a garage sale or rummage sale.
As I mentioned earlier in the article, my room has a very finite amount of space to store stuff in. Luckily, our house has a storage room that I have fitted to be my new "Retro-Room." I will use it to store the stuff I got from my garage saling, as well as other books and stuff that does not fit in my room. Here's a few pictures of it:
You'll notice in the pictures above that I have categorized my stuff - I have a whole section for Care Bear stuff, and my shelves each has a different collection or two on it - One whole set of shelves is for my Winnie the Pooh collection, one shelf is filled with Garfield stuff on one side and Fraggle Rock stuff on the other side, another shelf is filled with Snoopy stuff on one side of it, another shelf is filled with my Berenstain Bears stuff, and so on.
And here's the rest of the good loot I had gotten this summer besides the stuff I had already shown in my other articles (like the organ!). There's a lot more than this, but this was the good stuff!
I got some more Arthur videos this summer plus a few Arthur books
These are the Babysitter's Club Mystery books I got at the July 14 sales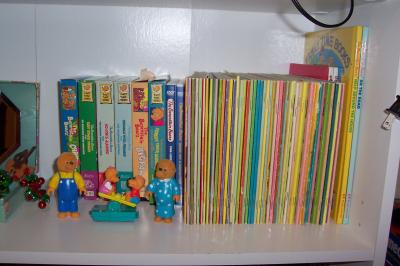 One of my most notable accomplishments this summer was finding several VHS tapes of the OLD 1985-86 episodes of The Berenstain Bears. I had only one episode (the Christmas Special) before I started garage saling, but now I have 6 tapes' worth of episodes. I also found the Papa and Mama bear toys to add to the Brother and Sister toy I have so that they are reunited as a family again! And I also found some Berenstain Bears books to add to my collection as well
A lot of these books I already had in my room, but I also added a lot of math textbooks, economic textbooks, writing books, and novels to my bookshelves. As you can see, the one set of shelves is not enough to put all my books on - I will have to build another set of shelves, I see
July 14 - I found this cute bunny for only fifty cents! He's so cuddly
I got these for 25 cents each at a garage sale
An old Care Bear M&M dispenser, for only 10 cents! I found it at one of the Channahon sales
I got some more Care Bear episodes from 1986 and beyond at these sales also - I think these were a dollar each
A nice friendship plaque for only a quarter - it says, "A friend is someone who reaches for your hand and touches your heart."
A cool Garfield alarm clock I found at one of the Plainfield sales. It was $5, and it works perfectly!
Only $2 - I got him at one of the first sales I went to!
Only $10 - I got this from the Brentwood sale on July 6th. A beginner's guitar, I know, but it will help me learn how to play.
Some nice Heathcliff books I found at various sales - only 10 cents each!
This is a very nice jewelry box that I got for four dollars at the Frederick St. sale on May 4
Only ten cents, and so cute and green too! I got him at one of the Plainfield sales on May 19th
A nice mirror bought July 14, 2007. Only a dollar.
The Nancy Drew books I got from one of the July 14 sales
A whole bunch of Nicktoon and Nick Jr. tapes I got at various garage sales - Rugrats, Muppet Babies (which originally aired on CBS but was also aired on Nick Jr.), Gullah Gullah island, Allegra's Window, and a Christmas cartoon from Richard Scarry. I found the Eureeka's Castle VHS at a dollar store earlier in the year.
A free Peter Pan - from one of the July 14 sales!
I loved this movie when I watched it in 8th grade literature class. Now I'll get to enjoy this movie again thanks to this find at the Brentwood sale on July 6.
This is some of the Snoopy stuff - the stuffed Snoopy I already had - that I collected at various sales this summer - Charlie Brown tapes, books, and glass jars.
My Mom bought these at one of the July 14 sales - she wants to add them to my other instruments so that I can start a band
Some more tapes I got at these garage sales. Heathcliff, Goodnight Moon, Kidsongs, Talespin, an X-Files episodes (Pilot/Deep Throat), a Talespin episode, Before Sunrise movie, an episode of The Jetsons, LIFE Looks Back, and an interesting Preview Trailer for Embassy Home Video whose street date was Feb. 12, 1986 that showed previews for such movies as The Black Marble, Day of the Dolphin, Psychic Killer, Shoot, Morgan the Pirate, Beauty and the Beast, Divorce of Lady X, The Hurricane, Knight Without Armour, Rembrandt, They Got Me Covered, and children's classics such as The Daydreamer, Here Comes the Grump Vol. 3, Raccoon's Buried Treasure, and Tales of Magic Vol. 1.
This is the TI-83 PLUS I got for only $1.50! I recently sold it to someone at my college for $40 - see, I have good business sense too (and I even gave that person a bargain, I'm so nice!)...
For 25 cents only, from the Grace United Methodist Church rummage sale. A cute place to put keys or coins.
This is the nice unicorn picture I got from one of the April 21 sales for only a dollar.
I love this Venice picture I got for only a dollar from one of the May 19th sales. I've been to Venice and went on one of the gondolas, and this picture is a beautiful representation of the exquisite bridges that I found there.
I found some plush Winnie the Pooh characters at one of the June 9th sales to add to my collection - A big Eeyore, another Piglet, a rabbit, and an owl. This picture also includes the Kangaroo Beanie Baby I found at one of the July 6th sales (I know it's not technically Kanga and Roo, but it looks enough like them).
I added a lot of episodes to my collection of The New Adventures of Winnie the Pooh episodes - mostly thanks to a Winnie the Pooh lover who sold her collection to me on June 9th.
A shelf of Winnie the Pooh stuff I bought over the summer at various sales, some on June 9th.
And lastly, where did this key come from, and what door does it open? The people at the sale where I found this key didn't know. They found it in their backyard one day, and they have no idea where the key came from. I got to have this for free - maybe I'll find the answer to the mystery!
Thank you all for sharing in my adventures this summer (I know it was a long adventure!). Was all the loot I got treasure or junk? Who knows, but these items are all treasures to me, and I wouldn't have found any of it if I had not gone to any garage sales this summer. The garage saling experience was fun, frustrating, and a real learning experience not only about finding bargains, but also about the community in which I live and the communities around me. I would not have gone on this adventure if it were not for the nostalgic memories of my childhood that Retrojunk helped bring forth, so for that thanks, I am really fortunate.