Hi everyone! I have recently come back to Retrojunk after a 2 year hiatus. I have just finished my Master's degree in Applied Statistics, and I have been busy TA'ing, doing schoolwork, etc. during the last couple of years. I did not go garage saling as much as I did in 2007 and 2008 (and did not keep track of them by pictures – hence no articles). I have been looking at some of my Garage Sale Adventures articles here on Retrojunk and decided to write another article about a couple of great finds I made at garage and rummage sales while I was away from Retrojunk (Summer 2009 and Summer 2010). I'll also give you guys and gals an update about my Retro Room, and share a couple of garage sale adventures I've had so far in 2011.
In Summer 2009 and 2010, I mostly found suit jackets and pants for my TA job, stuff for my apartment, a new, small, filing cabinet for $5, another TI calculator for $1 (and it worked!) and some books and tapes, as usual. The two treasures below, though, were a couple of the best garage sale finds I have EVER made, in par with the organ I bought for $10 at the Presbyterian Church sale a couple of years ago (don't worry – I still have it). I hope you enjoy the article (and don't worry, there are plenty of pictures), because it's been a long time coming.
Treasure #1: June 1977 Girls Schwinn Breeze Bicycle (Blue)

Purchased: June 2009 at the Presbyterian Church Rummage Sale
It was a sunny Saturday morning, near 8 am, in June 2009 (don't know the exact day), a few months before I would leave my parents and hometown to go to Graduate School. My Mom and I were standing in line at the Presbyterian Church sale (for the third year in a row!) with our boxes ready. I had made a promise to my mother that I would not go crazy at this sale, and I certainly would not buy another organ again. I was trying to save money for grad school (tuition was paid for, and a $930 stipend was given to me per month, but I saved money for personal expenses), so I had even promised myself that I would not buy every pretty thing I saw. This sale has been pretty good for the last couple of years, but I did not think I would find as much this year that I would really want to buy.
8 am came, and a volunteer from the church opened the doors so everyone could go inside the church and look around the rummage sale. As soon as I walked inside of the church, the notion that I would not find anything interesting was proven WRONG (is it not always?). The first thing I saw when I entered the church was a row of bicycles for sale, leaning against each other. Most of the bikes were not in really good condition, and in prior years I had passed them without a care because I already had a girl's Route 66 bicycle at home, and I did not exactly need to buy another bicycle that summer. But amongst the row of bicycles, there was a beautiful, shiny blue bicycle. I was immediately attracted by the bicycle and took a short look at it. Reminding myself that I did not need another bicycle, I went into the church's main room to look at some books. For some reason, I could not stop thinking about that bicycle. I found my mother in the church's main room, looking at some knick knacks or something, and I told her about the bicycle I had seen. She and I went back to the bicycles and took a good look at the pretty blue bicycle. It was a girl's Schwinn Breeze (about 26''), in good condition (maybe the Schwinn name had sort of faded off). It was an original three gear bicycle, and did not have its original blue and white Schwinn seat (it was replaced by a modern day black seat). The tires were flat, and they flopped out a bit from the circular metal wheel that originally held it together, and they were also not the original tires. Now, I do not know a lot about bicycles, but I know a good Schwinn bicycle when I see one.
Mom, upon seeing the bicycle, mentioned that it was indeed pretty, but she was a bit worried about the flatness of the tires. She also reminded me about the bicycle I already had at home. A church volunteer came by, and Mom asked him how much the bicycle was. He replied that the church was selling the bicycle for only $10 (just like the organ!) and the former owner had been an older man who took good care of the bike (I believe his children and grandchildren rode it). Mom asked him about the wheels and wanted to know whether the tires were "broken" or not. The church volunteer replied that this was an older bicycle model and the tires, when flat, would look like that. The tires were not broken, as he told both of us, but only needed to be refilled with air. Mom thought the volunteer was lying, but I believed he was telling the truth (we were in a church for goodness sakes!) so I paid the man $10 and bought the bicycle. The volunteer told us that he would hold it for us until we were done looking around, and we could get it in the back of the church after we were done. So, Mom and I looked around the church rummage sale some more, found a few more things to buy, and then left the church with the bicycle. Mom and I put the rest of the loot in the trunk of our car (which was parked in the church's parking lot). She mentioned to me that the bicycle would not fit in the car. I told her that I would walk it home and meet her there (it was only about a 10 minute walk from the church).
So, I walked the bicycle, with its flat wheels, home, worried that my parents (especially my Dad) would be mad at me once again for something that I had bought from the Presbyterian church. I arrived at our house, and Mom was already home, and had told Dad (who was outside doing yard work) about the bicycle. Now, Dad was not as mad about the bicycle as he was about the organ (since he has an expensive racing bicycle that he used to love riding, and he knew more about bicycles than I did), but he also mentioned that I did not need to buy this bicycle, since I already had one in the garage. Mom showed him the tires, and said that I should not have bought the bicycle. I told Dad that all we would have to do is pump the tires and it would be good to ride, as the church volunteer told us. Dad (I think he agreed with me) went to get the air pump, and immediately began to pump air into one of the tires. As the church volunteer had told us, the edges of the tire had folded back into the metal part of the wheel, and while the tire was a bit worn, was in good condition (it had no holes or anything). Dad filled the other tire with air, and told me to try riding the bicycle. I eagerly get on and rode the bicycle around our street a bit.
Here is what my bicycle looked like when I brought it home from the church:
The bicycle rode beautifully – the brakes and pedals worked (I think Dad had to put a bit of oil in the pedals' mechanics). Dad told me it was a nice bike. This day was a very happy day for me! For the remainder of the summer, I rode that bicycle EVERYWHERE. It was hard to ride up steep hills (it only had three gears), but it rode nicely down hills, up less steep hills, and around the neighborhood. I already had a blue lock and chain (and a blue helmet) for the bicycle that I used to chain my bicycle at a bike rack or around a pole (I did not want it stolen!).
Dad, Mom, and I went to K-Mart the next Friday afternoon to buy a bell for the bike (I paid for it) and to the bike store nearby to buy a nice black metal basket to put on the front of the bike and some lights for the front and back of the bike (in case I rode it at night). All of these accessories cost more than the bicycle itself, but I believe it was worth the money.
Here's what the bicycle looked like after my Dad helped me "pimp" it up:
I named her Annabelle, and she's a beauty! (And no, she's not for sale)
I took several bike rides around the neighborhood with my mom. She asked if I could ride the bicycle (a couple of times) and I let her try it out. A couple of months later (it was late summer), my parents went shopping. I did not know where they went until they returned home, and my Mom showed me her own beautiful, 1970s girl's Schwinn Collegiate (in green, which was one of my Mom's favorite colors). It had the original green and white Schwinn "S" seat. They had gotten the bicycle from the same bike shop where I had bought my bike basket and lights. I asked them how much it had cost, and they would not tell me at first. They said it certainly cost more than $10 (Mom told me later it was around $130!). Mom and I then rode our Schwinn bicycles around the neighborhood, showing them off to our neighbors.
Now, $10 was a good deal for the bicycle, but I did not realize what a good deal it was until Mom told me the cost of her Schwinn bike, and I also had looked up information about the bicycle on the internet. There was an seller on ebay who was selling the exact same kind of bike I had, slightly used, for $159.00 (with $120 shipping)!!! There was another user on ebay selling a Breeze for $125. A 1976 women's Breeze that was selling for about $60. So, in my consideration, this bicycle was an AWESOME deal, and I am glad I did not pass up this bicycle!
Treasure #2: A Box of Calvin and Hobbes Treasury books

Purchased: June 2010 at Neighborhood Garage Sale
The second good deal came about a year later, in June 2010. Mom and I were taking a leisurely walk around our neighborhood. It was HOT outside, over 90 degrees Fahrenheit, and Mom and I were not intending to go to any garage sales that day. On our way home, though, Mom and I saw a garage sale and went to it to have a look. I bought a couple of CDs and my Mom bought an older edition of The Wizard of Oz (the book), but not anything special.
Mom and I then continued walking home, and later down the road there was ANOTHER garage sale. Mom told me I could take a look, since she was tired, but she changed her mind a few minutes later and joined me. At this sale, there were clothes, kitchen utensils and plates, children's toys, etc. – the usual. BUT, there were also boxes of the Far Side treasuries, Fox Trot treasuries, and Calvin and Hobbes treasuries. I had been collecting Calvin and Hobbes treasuries for a couple of years, so I was interested in the Calvin and Hobbes treasuries. I found several (at least a box full) of treasuries that I did not have. I saw the woman running the sale, and asked her how much the Calvin and Hobbes treasuries were.
Now, I thought she was going to say something like "Oh, $1 (or $2) each." In that case, I would have bought only a couple of the treasuries, since I would not have had enough money to buy them all. To my amazement, the woman replied, "Oh, they're 25 cents each." At the bookstore, these treasuries would be $20 EACH, and at other garage sales I have bought some of the treasuries for $2 each. So, when I heard that these treasuries were only 25 cents EACH, I bought them all, since I thought it was a deal of a lifetime. The woman running the sale put all the treasuries in a bag. Mom, looking at clothes, saw me buy all of the treasuries, and asked how I was going to carry all of them home (since we were walking). I told her I could not pass them up, since they were so cheap, and that I could carry them. They were heavy, so Mom and I took turns carrying them, but they made it all the way to my house and to my Retro Room.
Here's a picture of the treasuries below (all of them – the ones I bought that day and the ones I already had):
I've been reading and enjoying the books ever since that day (about a year ago!).
Garage Sale Adventures 2011

June 3-4, 2011

Wilmington, IL All Town Garage Sales

June 3, 2011
Since I have graduated from graduate school, I have already been to a couple of garage sales, especially on June 3-4, 2011 (I know, I know, I should be finding a job or something, but I want to enjoy a bit of summer first).
Wilmington, IL had its 3rd Annual All Town Garage Sales from June 3-5, and my Mom and I went to a lot of sales on the first day. I used a town map and a list of sale locations to plan out our route. There were around 70 sales in all, but Mom and I probably went to about 25 of them, including my Aunt Denise's. Now, if you read my previous Garage Sale Adventures articles, you'll remember reading about Aunt Denise's garage sale. This year, she had a HUGE sale, and not only was her family selling stuff, but my Uncle Bill also had stuff in her sale, and so did I (I was selling some old clothes – shirts, jeans, pajamas). So she was a bit nervous about how well the sale would go, but I'm happy to report that it went pretty well (I made $17.50 on my stuff, so I did okay, but my Uncle Bill made $400 on his stuff).
Here's a picture of her sale below:
There's plenty of stuff in her driveway, and there's more of it in her garage.
I came to my Aunt Denise's house at around 7 AM, so I could help her put up garage sale signs at both ends of her street, and so I could set up my stuff that was for sale. A couple of early birds came to the sale at 7:30 AM. At 8 AM, Mom and I jumped in my car and went to several sales around town. I was all ready for the day. I had applied suntan lotion and bug spray to myself, made some snacks, and brought bottled water for my mother and I. I also brought along some AA batteries (to test electronic items), a magnifying glass, a small flashlight, and plenty of one dollar bills and quarters (about $65 worth in all). There was plenty of gas in the car, and so my mother and I were all ready to go garage saling.
Here are some pictures of some (but not all!) of the garage sales we went to:
As seen in the above pictures, most of the garage sales had the usual stuff – clothes, kids' stuff, movies, arts and crafts, kitchen stuff, etc. I got some great deals on jeans and jean shorts, some cool t-shirts, and some nice clothes for "work" (in case I find a "job" soon or go to "interviews") including a nice black skirt and a beautiful laptop carrying case that only cost $1.00. I also got some movies, books, etc. which I will show pictures of near the end of the article. Mom also found some nice framed photographs for my Grandma, and some nice shirts for Grandma. The Friends of the Library also had a huge book sale at the Wilmington Public Library, where softcover books were priced $.50 each (or 5 for $2.00) and hardcover books were priced $.75 each (or 3 for $2.00). Needless to say, Mom and I (especially I) went crazy at this sale.
At the above sale, nothing popped out at me, at least at first. Then I saw a nice beige purse that was on sale for only 25 cents! It was in near perfect condition, and looked like it was never used. The woman selling the purse told me that the purse was her mother's, and her mother used the purse (and others like it, which were on sale today) to hide money. I looked in the purse, hoping to find some money, but I did not find any. Mom bought some nice glass end tables from this sale.
Sometimes Mom and I find very interesting items for sale, and we've found cars for sale over the years. At this sale (I believe it was around the Kahler Ridge neighborhood), we found a beautiful 1968 Mustang for sale for around $12,000. Its condition looked decent to me, but I don't know a lot about old cars, and there was a list stating some work that had to be done on the car. Since I already had a car and did not have $12,000 on hand, I did not buy the car. It would be the kind of item that the guys on American Pickers (History Channel, Monday nights, 9/8c) would maybe buy, but not a small-time saler like me.
We had a wonderful day. Mom and I checked on Aunt Denise's sale a couple of times (Uncle Bill was helping her with the sale) and had some lunch at her house. I also got to see my Grandma (I had not seen her in about a month) and she gave me a graduation card with $15 (3 five dollar bills), and I thanked her for giving me more garage sale money. I don't know how much I spent, but I did not spend all of my garage sale money, which was good because I still had to go to the Presbyterian Church sale the next day.
Presbyterian Church Rummage Sale

Saturday, June 4, 2011

I woke up at around 6:30 AM on this day, a bit worn out from the Wilmington sales the day before. I was NOT going to miss this rummage sale, because I had gotten some awesome stuff from this sale in prior years (like the Schwinn bike and the organ), and this sale keeps growing bigger and bigger each year. So I was excited about this rummage sale, and made sure to get to the church before 8 AM, the starting time for the sale.
There were already people waiting in line when I arrived (around 7:45 AM), and more people arrived soon after I found my spot in line. It was a beautiful day, not as HOT as the day before, and I eagerly waited in line for the sale to open at 8 AM. I did not know what I would find at this sale, since there are always a variety of items at this sale.
When the sale opened, I ventured inside of the church. I saw that there were several rooms and hallways full of stuff, all of it categorized by item type. I first went to the section with clothes, furniture, toys, and holiday decorations.
It wasn't crowded at first, but later on in the hour more people came into the room looking for bargains on clothing. I found quite a few bargains myself, with most of the clothing priced at $1.00 each, including a colorful skirt, shirts, and a couple of jeans.
Next, I went to the section with glassware, knick knacks, kitchen stuff, and photo frames. I ended up buying three 8'' x 10'' frames and two 5'' x 7'' frames for $5.00 altogether, because I needed some frames for my graduation pictures.
Mom would have LOVED the glassware for sale (below), but she was not with me that day, since she was pooped out from the Wilmington sales the day before.
Lastly, I went to the section with books, music, and movies, and went to town on the books.
At the end of two hours, I was all done with my rummaging, and went to one of the counters to pay for my goods. I had filled my bag (I had brought it with me – should have brought two!) to the brim, and it was heavy. I paid $28.50 altogether for the goodies, and I carried two bags out to my car (a nice boy asked if I needed any help with carrying the bags, but I did not need his help). I went home, cleaned my items off, and washed and dried my "new" garage sale clothes in the washer and dryer. My parents felt relieved that I did not buy any big ticket items this year, and I felt victorious because of all of the awesome deals I had gotten over the last two days (I felt tired too, but very happy).
As for my "motherlode," the pictures of most of my stuff are below, including an update on my Retro Room.
My Stuff, and an Update on My Retro Room
I obtained some awesome deals at these sales:
I obtained this purse and laptop case at two separate sales in Wilmington, Illinois. The purse, on the left, cost me only 25 cents, and was in immaculate condition. The brown laptop case, on the right, cost me only a dollar and was in beautiful condition as well. I wish I would have had this case when going to grad school!
I got the books shown in the above two pictures at the Presbyterian Church sale and at the Wilmington Friends of the Library sale (held at the Wilmington Public Library). At the Presbyterian Church sale, the books were either 50 cents or 1.00 each. I love reading books (I have a huge collection of books in my Retro Room) and I look forward to reading more books for fun this summer.
I obtained the photo frames in the above picture at the Presbyterian Church sale. The 5'' x 7'' frames cost 75 cents each, while the 8'' x 10'' frames cost $1 each. This was a great deal, compared to what I would have spent at the store for these frames. I wanted some frames for my graduation pictures, and these frames were in great condition.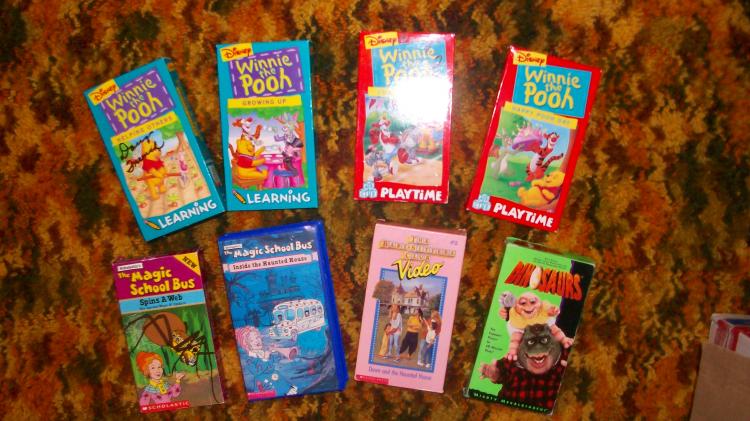 I obtained the movies, cds, etc., shown in the pictures above, at various garage sales in Wilmington and at the Friends of the Library sale. The Back to the Future and the Greatest Sports Follies movies were part of my Father's Day present to my Dad. I collected more videos of some of my favorite childhood TV programs, including The New Adventures of Winnie the Pooh, The Magic School Bus, The Berenstain Bears, and Care Bears. Most of these movies, etc. were for a low price (50 cents or one dollar each), including the Sims 2: Pets computer game, which I bought at a garage sale in Wilmington for only 2 dollars.
I also obtained some miscellaneous cool stuff at these sales, as shown in the above pictures. I bought the mirror for only 10 cents, and I also bought some cute necklaces for $1 each. At the Presbyterian Church sale, I bought the stuffed beagle for only 50 cents (my Mom and I have always wanted a little beagle of our own sometime in the future, but I am happy with my stuffed one for now).
After the sales, I put all of my finds (excluding clothes, which went into my closet in my room) in my Retro Room, which I have not seen much of in two years. I am trying to organize and clean it up a bit, so it might look a bit different (and hopefully less messy) in the future. For now, here is an update of my Retro Room (as of June 2011):
Thank you for reading about my Garage Sale Adventures in 2011 (thus far). I will try to go on more adventures this summer. I have already gone on another Garage Sale Adventure with my Mom and Aunt Patty in Coal City and Wilmington, Illinois, so don't be surprised if you see another article by me on Retrojunk fairly soon!