It is hard to believe that it has been almost a year since I last published an article here at Retro Junk. Well, that is about to change.
Welcome to my latest article; an article that may be my most comprehensive one ever. Welcome to Living in the 90s! Also note that there will not be apostrophes in this article. A bug here on Retro Junk will not let me use them.
As you know, my previous articles, not counting the Carolina Circle Mall article, dealt with my life as a 4-5 year old in late 1994 and early 1995 with some 1995-1996 in there as well. Those were great articles, but I got to thinking about something. There are many other moments in the 90s that I lived through that I would like to share with you today.
1993 was also a pretty awesome year. I do not remember too much about the first half of the year, except for two weather events that occurred.
The above picture is a video snapshot from February 27, 1993. Greensboro had a somewhat minor winter storm consisting of a little snow and a little ice. Yes, North Carolina does have snow. This would probably be my earliest memory of snow. That is me on my sled at age 3. I actually used that sled for quite a few years until sometime around the late 90s.
This is another video snapshot from the same day. Soon after this on the video, I mention I want to go to Carolina Circle Mall. Honestly, I think that is the only place I ever wanted to go.
Alright, the February 27, 1993 snowstorm was just peanuts compared to what happened on March 13, 1993 when the Super Storm AKA the Storm of the Century struck. This is a storm that I bet many of you remember. According to my parents, the storm hit Greensboro at around 10:00 AM that day and lasted for a pretty good while, blanketing the area with snow and causing lots of destruction. In fact, our local CBS affiliate WFMY TV 2 got knocked off the air for the day because the storm knocked their power out.
Alright, time for my memories of this storm. It did not take long for the storm to knock our power out, leaving the house in a cold paralysis. My parents let me go up the road to where my grandmother lived because she was the only one on the block who still had power.
The next day, March 14, the power was still out so we all rode up the road to where my aunt lived. I remember getting in her Camaro to ride home, where the power had been restored. I may have only been 3 years old at the time, but it is definitely a weather event I will never forget.
The date is now April 19, 1993. As you recall in Living in 1994-1995 Part Deux, I mentioned a swing set my parents got for me in the summer of 1994. Well, the picture above is of what was in the place of the swing set before the swing set was built. This is a Little Tykes slide play set that I would play a lot. As you can see, about all it had was a slide and climbing holes. But it was pretty awesome, nonetheless.
Alright, the above picture is of one of my all time favorite toys. It is a toy that I am positive you are all familiar with. The Little Tykes Cozy Coupe; a toy my grandma got for me in November of 1991. I would drive that thing all over the place, inside and outside the house. That was my main mini transit device that I would play with up until about 1996 or 1997.
That is my bedroom on July 6, 1993. I will pay you $50 if you can the floor in that bedroom. Whoa!
Christmas 1993 was a pretty interesting Christmas. I do not really remember the events that led up to it, except for a few things.
On November 26, 1993, the day after Thanksgiving and the day before my 4th Birthday, Santa Claus parachuted into Carolina Circle Mall to kick off the Christmas shopping season. This was back when Christmas started the day after Thanksgiving and not the day after Halloween. I remember being at Carolina Circle Mall early that morning to shop at Montgomery Ward, but I missed Santa parachuting. However, I remember watching a video of it on the news that evening. It looked like his sleigh flying over Carolina Circle Mall. It was pretty awesome.
Back in May of 2007, I was digging through some of my old videotapes and I came across a tape I recorded in December 1993 that includes Flintstones Christmas on TBS and the original airing of Flintstones Family Christmas on ABC. Of course, the commercials are what interested me most and they give a great perspective on what life was like in 1993. You can see some of the commercials on that tape by going to my profile and finding my contributions.
And the season ended on December 25, 1993. I do not know why it ends on that exact same date every year, but anyway. The above picture shows me with my main present from that year; a Fisher-Price toy kitchen. I am not sure if you are able to see it, but I also got a small table and chair set from I believe Beckley Place at Carolina Circle Mall. The chairs are gone, but I am still using that table to hold my tabletop fan in my bedroom.
Before we enter the year 1994, let us pause for a moment and discuss a musical group I was crazy over during this time. As you recall in my Living in 1994-1995 articles, I enjoyed listening to Peter, Paul & Mary. However, during the era of 1993-1994 (and even before), I enjoyed listening to the rock group The Eagles, especially the album The Eagles Greatest Hits Volume 2. I would say that my favorite song back then, even now, was Hotel California. Around the summer of 1994, The Eagles were mostly replaced with Peter, Paul & Mary.
Okay, we are now in 1994, my favorite year. As you can see in this March 5, 1994, I am pointing at the VCR and telling my dad to put the tape in the VCR. By tape, I mean the videotape that my dad is using to videotape me. Back then, I had a fascination with VCRs and videotapes, even though most of the tapes I recorded off TV during this time have since been erased. This is an interest that I have retained to this day. I also sometimes prefer VHS over DVD because of the nostalgic feel that can usually not be found on a DVD.
Also, the show on the TV is Nickelodeon GUTS, one of my all time favorite shows. I just have one question to ask you folks. Do you have it?!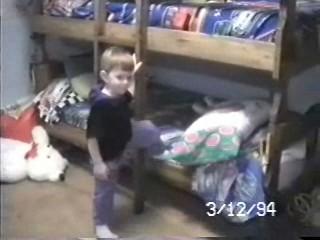 March 12, 1994, 364 days after the Super Storm, I was dealing with another problem, but it was not weather related this time. No my friends, it was chicken pocks. I spent the next few days at home, not going to Carolina Circle Mall or any other great places. Fortunately, this was an extremely mild case and other than one bump on my leg, I felt completely great.
In my first Living in 1994-1995 article, I mentioned going to see Nickelodeon GUTS at the Greensboro Coliseum on March 19, 1994. Well this is a video screenshot of the Tuesday after that. Not only was GUTS there, but GUTS was combined with Nick Arcade, another personal favorite of mine. I will never forget that day. It was such a cool experience to see those two shows in person and see Mike OMalley and Phil Moore in person. As you can see in the picture, I am wearing a GUTS t-shirt I got there.
This is a picture of the novelty Nickelodeon flag pennant I got from the show.
Easter 1994 was a pretty awesome one. I got a couple of cool toys that you can see in the above picture. That lawnmower I am holding did not really do much when you think about it. All it did was blow bubbles when you would push it. Another toy I got was Mr. Bucket, which was pretty cool despite its suggestive TV commercial.
Throughout the 90s and even the early 00s, I would ride up to a playground at Lake Daniel Park which had some of the coolest equipment. I would always ride on the swing set they had there. I have never been on one that went as high as that. In the above picture, you can see my sliding down my favorite slide at the park, which included lots of static electricity. Let us just say if you were to ride it, you would be in for quite a shock.
In Living in 1994-1995 Part Deux, I mentioned that almost every evening, my dad would take me for a ride in his awesome pickup truck. Well in this July 1994 picture, you can see that we are in a different vehicle; a 1983ish Ford Escort. The only time I could ever ride in it was when my dad would take it up and down our road. Because of all the problems with it, he was afraid to take it far. It was only when my dad put it in the shop for a long time that we started using the truck.
As customary in my articles, we will take another look at some of my memories of Carolina Circle Mall; Americas Greatest Dead Mall. Listen, if you steal that slogan, I will hurt you.
Sometime around early 1994, my parents bought a wooden swing set from a small lawn and garden stand at Carolina Circle Mall. When I say swing set, I do not mean it as a toy. I am talking about one of those large ones that can seat multiple people on a single seat. Anyway, my dad and I had to go pick it up in the truck at the mall. Well when we picked it up, the guy at the stand let us go through the emergency exit as a shortcut to the truck. That was my first and only time going through an emergency exit.
One time when I was riding the Carousel at the mall with my dad, we decided to sit in that thing that you spin. Well, when the ride started, my dad kept on spinning it and spinning it until finally, the Carousel operator yelled at my dad. I do not remember that, but I am sure that was a sight to behold.
Directly across from the mall was a Toys R Us, one of my all time favorite stores. I got so many awesome things from that store such as my Power Wheels Jeep, the Little Tykes play set as seen in the part about April 19, 1993, Sega Saturn which was my first game console, and much more. I will never forget the store as long as I live.
We are going to fast forward a few years to October 1997, a month I will never forget. Why? Well, that was the month I first watched the Back to the Future Trilogy. Soon after that, I became interested in the concept of time travel. With my Legos, I would build a very bad rendition of the DeLorean and pretend to go back in time to 1955. I wish I had taken pictures of that Lego DeLorean.
In fact, I drew this comic on our old Packard Bell computer back in 1997. This was my own version of Back to the Future. No, that is not Twin Pines Mall. That is actually a very bad 7 year old drawing of Carolina Circle Mall. The rectangle with the pink circle is supposed to be the sign outside of the mall. The little green car is supposed to be the DeLorean.
I suppose you are wondering why I am not saying anything about 1998 and 1999. Well that is because I simply do not have any interest in that era. There was not much left of Carolina Circle Mall except Montgomery Ward, I did not have many friends, and quite frankly, it was a pretty boring time. I simply do not have any nostalgia for the late 90s.
Now let us fast forward even more to the year 2008. I am now 18 years old. Many things have changed since the early and mid 90s. Carolina Circle Mall is now a Wal-Mart, the Ford Escort is completely gone with no evidence leading to its whereabouts, I have completely outgrown my Cozy Coupe, the equipment at the Lake Daniel Park playground has been replaced with boring plastic equipment, and much more.
However, when things change, things stay the same. I still love Back to the Future, I am still an Eagles fan, I still love Nickelodeon GUTS, and most importantly, I still love Carolina Circle Mall.
I have been a 90s nostalgist since February 2005. Ever since then, many wonderful things have happened. I started an Internet blog about Carolina Circle Mall which was featured in the newspaper in October 2005 and I discovered Retro Junk.com.
Before I go, I want to settle a debate that has been driving me crazy. It has come to my attention that you have to like a certain decade to be retro. The last I heard, it is not required by law to have to just like the 80s, 90s, or so on. Be nostalgic for the era of your choice.
Never forget your past. Preserving the past is something that all of us must do.