Before I start this article, I would like to say. I've seen many articles on Nickelodeon Studios and most I have seen are either inaccurate or about personal experiences. I will be telling this article as if it were in a text book and I will try to make this as accurate as possible, ok here it is!
November 1988- The 9 year old children's television network, Nickelodeon joins Universal Studios Florida
(Notice the Nickelodeon logo "N"'s on their hats)
A 1989 ad for Nickelodeon Studios
A 1989 original artist rendering of what the studios would look like.
They start building the stages for what will be Nickelodeon Studios
June 1989- The building is finished for their first program to be filmed, Super Sloppy Double Dare, on Stage 21.
June 1990- Universal Studios Florida opens its doors to the public along with Nickelodeon Studios.
On June 7, 1990, Nickelodeon Studios opened its doors to the public. And what way to start a studio, than a grand opening celebration. The opening was hosted by Double Dare host, Marc Summers, along with other Nickelodeon stars at the time, like Harvey from Double Dare, Greg Lee from Total Panic, Christine Taylor and Kelly Brown from Hey Dude, Les Lye from You Can't do That on Television, and others too.
Musical guests included Perfect Gentlemen
Perfect Gentlemen performing at the opening
There were 2 main sets seen on television during the opening:
A Florida postcard set
And the set of the opening day party where the stage was
At the end of the 3 hour long special they counted down to the first time the slime geyser would erupt, and to officially open the studios. Kids ran from the Universal Studios globe (where it originally was) all the way to the front of Nickelodeon Studios, just to be there at the opening.
Now this image below is SAID to be the photo taken on the opening day, but there's one error.
The green awning is on the studios which wasn't put there until 1995. What was originally there on the opening day was red and white tents, as seen here
So I can't back up the first image to day it was the opening day. I think it was just a promotional photo for the studios taken around 1993 or something.
October 27, 1990- A big day for the only 4 month old studio. Crowds of kids and even some celebrities gathered to dedicate and OFFICIALLY open the Nickelodeon Studios Slime Geyser. Russel Johnson (The Professor from Gilligans Island) was part of the event.
Buttons like this one were given out to put your picture in and say you were there for the "very first slime".
Also a shirt was given out that day to also say you were there.
April 30, 1992- People gathered in front of Nickelodeon Studios to bury the official, Nickelodeon Studios Time Capsule. Not much is known about this event and it is still being debated whether it was taped or not. The time capsule contained items deemed important to the children of 1992 as voted upon by Nickelodeon viewers, including a new Nintendo Game Boy, a Home Alone VHS tape, clips of Nickelodeon station IDs and various other toys. But that day, who knew exactly 13 years after that, the studio would close forever.
For visitors at Universal Studios Florida, Nickelodeon Studios offered a studio tour for YOU to see where Nickelodeon is really made. Now, the tour changed over the years, but here's a testimony from a visitor of the studios from 1994.
"Back to the tour itself, which finally makes it up the escalator (Just be glad it's not a 15 min. escalator ride like the one in the middle of Universal Studios, Hollywood. You go into a room where you have a perfect view of one of the two Nickelodeon sound stages. You are shown a short movie on Nickelodeon and a short movie on the attraction that is filming on monitors overhead. They usually show a close-up of whatever activities are going on in the sound stage. Usually you can see someone performing or rehearsing a show here or the other sound stage. Next, you head into a post-production room, and are shown editing and sound FX. You head into the other sound stage, and see a movie on that attraction. You pass through the Nick-At-Nite museum, which contains many props from old TV shows and some stuff from Nickelodeon shows (like the couch from the commercials for SNICK). After that, it's back down the escalator to the Gak Kitchen, where costuming is shown along with various types of Gak. Finally, the tour concludes in the Game Lab, where new games are tested for possible inclusion at a Nickelodeon Game Show."
As you can see, the tour at this time was at its best. The tour offered multiple activities like, slime testings in the Gak Kitchen
Trying on wardrobe
Testing out new ideas for game shows in the Game Lab
and trying out for Nickelodeon game shows in the Nickelodeon Auditions Room
Nickelodeon needed to get their word out about their studios, so what better way to get people to come than advertisements?
A 1994 ad for Nickelodeon Studios from Nickelodeon Magazine.
Also they had postcards you could purchase at the studios
In 1995, Nickelodeon did some renovations to the studio. The Game Lab was renovated, adding new bleachers, a video screen, along with the newly themed look of the Game Lab with now signs of Nickelodeon show logos.
Along with the renovations of the Game Lab, a green awning was added to the exterior in front of Stage 18 of the buildings, replacing the original red and white tents.
The green awning as seen in 2003
Also, some minor paint changes were made, but that's it.
As for 1996 and 1997 nothing much changed at the studios with events and things at the studios. So that I don't COMPLETELY skip over these 2 years, here are some shows filmed during that time.
Gullah Gullah Island
Kenan and Kel
Figure it Out
To start off the new year, Nickelodeon had a 1998 New Years Eve Party at Nickelodeon Studios. The televised event was hosted by none other than Nick in the Afternoon host, Stick Stickly. The event also was hosted by All That cast members, Danny Tamberelli, Lori Beth Denberg, and Amanda Bynes.
The event featured comedy skits between Stick Stickly and his stick friends,
Kids waiting for the Slime Geyser to erupt for 1998
Kids rejoice as 1998 has come and the Slime Geyser is erupting
Full view of Nickelodeon Studios as it starts 1998
The All That cast members celebrate that it's 1998
In 1998 Nickelodeon also started advertising their new shows on billboards outside Nickelodeon Studios on the Stage 18 wall. Them putting up billboards outside the studio for their newest shows would go on from 1998 all the way to the last year of Nickelodeon Studios in 2005.
These were the first billboards put up in 1998
A billboard for Nickel-O-Zone
A billboard for CatDog
In 1998 some changes were made to the outside area of the studio. They removed the slime truck (no photo available) and the Nick at Nite taxi.
Another disappointing change was they took away the Sega Genesis games you used to be able to play while waiting on line to get a tour.
1998 was also a big year for Universal Studios Florida. The once little studio theme park was no more. The park's parking lot was now a man made body of water. There was also a new globe and archway constructed. Now a whole resort had been built there with night life at Universal's CityWalk, on site hotels, and soon to be a 2nd park, Universal's Islands of Adventure. No longer just Universal Studios Florida. Now Universal Orlando Resort.
THEN
NOW (1998 Speaking)
Changes for Universal, meant changes for Nickelodeon Studios. Two new studios for Nickelodeon were put in California, so less taping and activity went on in Florida, but still some. Also, less people visited the studio due to the fact that now at Universal there was more to do.
In 1999, there were no new shows being filmed at Nickelodeon Studios. Unless you count Figure it Out Wild Style which was just a variation of Figure it Out which previously had been filmed there. Other than that, only specials and things were hosted there like Nickelodeon GAS between commercials and Kids Choice 1999 with Britney Spears.
The tour in 1999 changed only a bit from the original tour. As visitors entered the building, the tour would take them up an escalator to the second floor, where they would enter a Blue's Clues themed room. From there, the tour would enter the sound stage 19 viewing tube, in which the tour guide would tell guests about the production taking place on that sound stage. Then, the tour would enter the Control Room viewing area, which showed a video about Nickelodeon, and allowed guests to see into the Nickelodeon Control Room. From there, the tour entered the sound stage 18 viewing tube, where guests would again learn about the production going on below. The tour would then go down another escalator into the Game Lab area, and bypass it to the hallway with the Wardrobe, Makeup, and Gak Kitchen departments, where visitors would get a hands on experience tasting Nickelodeon Gak and slime, and trying on different items for a Nickelodeon production. Then, the tour would conclude in the Game Lab, where lucky guests would have the chance to participate in testing possible games for upcoming Nickelodeon shows, and even have the chance to get slimed. The entire experience lasted around 40 minutes.
The year had come. 2000 a new millennium and the studio's 10th year in operation. Nothing special was planned for the 10th year, but the studio finally seemed to be having more activity than in recent years. During the year 2000 at the studios, Double Dare 2000 was filmed there, Slime Time Live was filmed there, Noah Knows Best, Taina, and other specials. Things were looking good for the now 10 year old studio.
Double Dare 2000
Slime Time Live
Noah Knows Best
Taina
Although all good things always have to come to an end. Every show listed above except Slime Time Live were sadly canceled just after one season.
In 2001 a BIG change was made to the studio. Due to low budget, the once 45 minute Nickelodeon Studios tour that took you through audition room, the Game Lab, the Gak Kitchen, etc. etc. was extremely altered. Just to show you what the tour had become, here's a testimony from a visitor from 2003 (This was the same tour as in 2001, just a 2003 testimony).
"Once inside, you no longer get the grand tour upstairs, overlooking all the different sets. Instead, you walk down a hallway by the props department (Look! A rubber chicken!), and make up department (Look...umm...a make up chair!), and are quickly ushered into the show area. The show was fine, but really quick, with just two short games played, both "based" on...Nicktoons. After sliming one kid, that's it. See ya! In and out in 10 minutes. The tour used to take 30-40 minutes, but was worth every minute as a kid. The kids going through this tour couldn't have cared less. It was just something to do while they were waiting for the line for "Shrek 4-d" to die down.
I felt bad for the show host, Mike, whom I talked to afterwords for a bit. I knew he looked familiar, and for good reason: He's been doing the show for about 10, 11 years now, and still made it as much fun as he possibly could. Talking to him, though, he was a bit frustrated with the number of cuts. The complete studio tour stopped two years ago, and Nickelodeon hardly ever uses the studios, renting them out for outside productions mostly. (PAX TV's "Beat the Clock" was taped there, for one)..
It was a sad, sad experience. It was almost like visiting a sick friend, but knowing that the doctor wasn't going to do anything to help them. The studio is a shell of what it used to be, the kids didn't appear interested, and there is nothing that the adults of today can look at and say "I remember how much that was.."
As you can see, the tour was not nearly as good as it had been the last 12 years.
Also, due to the minimal amount of money the studios had, in 2001 Nickelodeon auctioned off over 2,000 props from all the shows filmed there. Such items included skateboards from Kenan and Kel and the sign for Gullah Gullah Island.
In 2002, the Game Lab which previously had signs up in it from shows like Nickelodeon GUTS and Family Double Dare had been replaced with signs for more recent shows like Slime Time Live.
The Game Lab after the changes to the signs.
In 2002 and 2003, Nickelodeon continued to have its slime oriented block, Slime Time Live. Now this wasn't a show, it was a block that appeared between commercials. Slime Time Live featured 2 teams competing against each other in what you could call "physical challenges" Then at the end Nickelodeon would have a caller on the line to play slime time. To play, a screen appeared on TV and had Nicktoons characters on the screen behind numbers. The caller would have to try to match up characters. If the caller got a match, a picked member of the audience would get slimed. If they didn't get a match, the host, Dave Aizer, was pied in the face. It was filmed in Stage 19 and occasionally outside in front of the studios. The show actually broke a record of the most slime in a sliming in 2003. After a 5 year run, Slime Time Live was canceled in 2003.
Slime Time Live's logo in 2002
Slime Time Live's updated logo in 2003
On the set of Slime Time Live in 2003
In 2004 Nickelodeon Studios did something it had never done before. It got a NEW paint job. The paint scheme had been the same since the opening day back in 1990, so it was time for a change. The new paint scheme to the exterior was a mix of lime green, orange, and white. It gave the studio a look of hope to visitors to see that they were still updating ans occupying the studio.
Exterior before 2004
Exterior in 2004
2004 was the year. Other than the U- Pick Live special hosted in Orlando, Nickelodeon Studios was filming no shows. It was summer time and the studio needed a show to film. Slime Time Live was canceled so they needed something else. So, in summer 2004, Nickelodeon Studios filmed its last show which was Nickelodeon SPLAT.
SPLAT was often divided into three colored teams (green, yellow and red, which were determined by the birth months of the contestants). The teams, made up of audience members and park guests age 7 to 16 taken from the Universal Studios Florida theme park, would have to perform silly humorous tasks to earn prizes. At the end of each show one team would win, and the team along with its captain and respective portion of the studio audience (who were given "allegiance" to one of the teams for the purpose of interest) would be blasted with the network's trademark slime.
Nickelodeon SPLAT!'s logo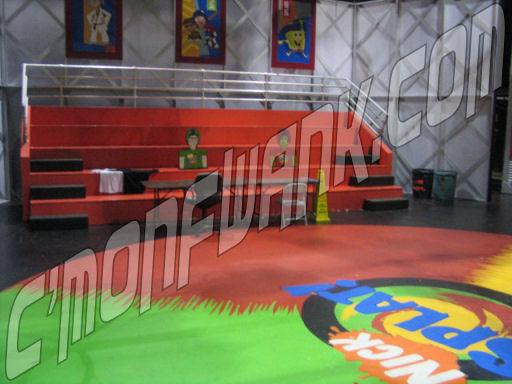 The set of Nickelodeon SPLAT! (Credit to Cmonfwank.com)
A caller playing SPLAT! on screen
SPLAT! didn't last long and ended on August 17, 2004.
and
THAT
WAS
IT.
Nickelodeon Studios taped its last program that day. The studio went on to do their tours in the Game Lab and prop room until April 30, 2005. The studio had been losing visitors in recent years and was running out of money to operate the studio. Also, Nickelodeon was phasing out of the game show age so the studio was useless. So, on April 30, 2005 Nickelodeon Studios did its last tour. After that the studio OFFICIALLY closed. After 14 years, 10 months, and 30 days, Nickelodeon Studios at Universal Studios Florida, closed.
The Slime Geyser on April 30, 2005
After the closure, then came the removing of the logos and things outside the studio. The following removals occurred at the building between May 2005 and July 2006:
The Nickelodeon Studios logo on the entrance to the waiting line under the awning.
BEFORE THE CLOSING
AFTER THE CLOSING
The Nickelodeon logo on the side of the building.
BEFORE THE CLOSING
AFTER THE CLOSING
The Nickelodeon Slime Geyser.
BEFORE THE CLOSING
AFTER THE CLOSING
The Nickelodeon show billboards.
BEFORE THE CLOSING
AFTER THE CLOSING
The Nickelodeon trademark splat logo on the building
BEFORE THE CLOSING
AFTER THE CLOSING
The Nickelodeon Time Capsule
BEFORE THE CLOSING
AFTER THE CLOSING
It had been 1 year and 9 months since the closure, and then it was announced....
In September 2006 it was announced that Stage 18 of the former Nickelodeon Studios would become The Sharp Aquos Theatre for the Blue Man Group.
Construction went on from late 2006 to mid 2007 to transform a building that used to occupy a network, into a building for the Blue Man Group.
Construction in early 2007
Under the awning, they built a little box office to buy tickets for the show.
The day was June 7, 2007. Exactly 17 years after the grand opening of Nickelodeon Studios. The Blue Man Group took their place in the studio. The Sharp Aquos Theatre opened at Universal Studios CityWalk for the first time. The Blue Man Group still occupy the studio.
The wall of Stage 18 which formerly had billboards for Nickelodeon shows, now had been painted over with the 3 heads of the Blue men.
The attention on the outside used to be focused on the big Nickelodeon trademark splat sign. The exterior of that building now white and all the attention of the exterior goes to the wall of the paintings of the 3 blue men.
In late 2008 Nickelodeon went back to its roots in Orlando and FILMED a show in what used to be a stage for Nickelodeon Studios. My Family's Got GUTS was filmed on sound stage 19 in 2008 and the second season is airing in May 2009.
On the set of My Family's Got GUTS
Nickelodeon Studios ran for 14 years, 10 months, and 30 days and in that time over 2,000 episodes of shows were filmed, millions of people were amazed, and it created a legacy. A legacy that kids could be on TV and dreams do come true. Nickelodeon Studios has been gone for 4 years now, but its legacy still lives on.
So here's to Nickelodeon Studios. 1990 to 2005.
BUT WAIT!!!!!!!!!!!
Here's a list of every single production filmed at Nickelodeon Studios and what has occupied it now from 1989 to present
1989:
Super Sloppy Double Dare-Stage 21-April 1989
1990:
Think Fast-January 1990
Total Panic-Stage 20-April 1990
Welcome Freshmen (Pilot)-Stage 20-May 1990
Total Panic-Stage 18-May 1990
Nick Live Opening Day Celebration-Stage 19-June 7th, 1990
Make the Grade-Stage 18-June 1990
Outta Here-Stage 18-July-October 1990
Family Double Dare-Stage 19-July 1990
USA Gonzo Games-Outside Universal
The Early Days-Stage 19-August 1990
Clarissa Explains it All (Pilot)-Stage 19-September 1990
Eureeka's Castle-Stage 19-October 1990
Launch Box-Stage 19
Hi Honey, I'm Home-Stage 19-December 1990
Welcome Freshmen-Stage 18-December 1990-April 1991
1991:
Get the Picture-Stage 18-February-March 1991
Launch Box-Stage 18-April 1991
Clarissa Explains It All-Stage 19-February-June 1991
Rock Line on MTV-Stage 19-March 1991
Nickelodeon Gets Real Mature-Stage 18-April 1991
Hi Honey, I'm Home-Stage 18-June-October 1991
Nick Hit List
Eureeka's Castle
Get the Picture-Stage 19-July 1991
What Would You Do?-Stage 18-July-September 1991
America's Funniest People-Animal Actors Stage
Nick Arcade-Stage 19-December 1991
Fifteen-Stage 18-December 1991
Roundhouse-Stage 19-December 1991
1992:
Eureeka's Castle
Clarissa Explains It All
Super Special Double Dare-Stage 19
Family Double Dare-Stage 19
Launch Box
Roundhouse-Stage 19-July-October 1992
Nickelodeon GUTS-Stage 21-August 1992
Fifteen-Stage 18-August-September 1992
Nick or Treat
Nick Arcade
1993:
Nickelodeon GUTS-Stage 21-February 1993
Kids World Council: Plan it for the Planet-Stages 20 & 21-April 1993
Clarissa Explains It All
What Would You Do?
Legends of the Hidden Temple-Stage 18-July 1993
Nickelodeon Weinerville
Launch Box
Nick or Treat
1994:
My Brother & Me-Stage 18
U to U-Stage 18
Double Dare: Super Sloppiest Moments
Launch Box
Nickelodeon GUTS-Stage 21
Nickelodeon All-Star Challenge-Stage 18
Nickelodeon Weinerville
Legends of the Hidden Temple-Stage 18
All That-Stage 18
Allegra's Window
Teacher to Teacher with Mr. Wizard
Gullah Gullah Island
Nick or Treat
Slime Time: U Match U Win
1995:
All That
Allegra's Window
Teacher to Teacher with Mr. Wizard
Legends of the Hidden Temple
Gullah Gullah Island
Global GUTS-Stage 21
The Mystery Files of Shelby Woo
Nick or Treat
Slime Time: U Match U Win
1996:
Allegra's Window
Gullah Gullah Island-Stage 19
Kenan & Kel-Stage 18
Teacher to Teacher with Mr. Wizard
The Mystery Files of Shelby Woo
1997:
Gullah Gullah Island
The Mystery Files of Shelby Woo
Figure It Out-Stage 19
Kenan & Kel
Binyah Binyah!-Stage 18
The Big Help: Sister Hazel Live
Nick or Treat
Slime Time: U Match U Win
1998:
Figure It Out-Stage 18
You're On!
Tooned In!
Figure It Out: Family Style-Stage 18
Who Knew?
Me and My Friends
1999:
Nickelodeon GAS: Games and Sports for Kids-Stage 19
Figure It Out: Wild Style-Stage 18
Kids Choice Awards '99 with Britney Spears
2000:
Double Dare 2000-Stage 18-January 2000
Slime Time Live-Stage 19-January 2000
Slime Survivor
Double Dare 2000-Stage 18-July 2000
World Yo-Yo Competition-Outside Nickelodeon-July 2000
Noah Knows Best-Stage 19-July 2000
Nickelodeon GAS: Games and Sports for Kids-Stage 19
Slime Time Live-Stage 19-September 2000
U-Pick Friday Live-September 2000
Kids' Choice Awards 2000 with 'N Sync
A*Teens: Snick Underground
Baha Men: Snick Underground
Taina-Stage 18-December 2000
2001:
Slime Time Live-Stage 19-January 2001
TEENick
CBS Sports: Extreme Super Bowl Presented by GameDay 2001
Nickelodeon GAS: Games and Sports for Kids-Stage 19
Slime Time Live-Stage 19-September 2001
2002:
Slime Time Live-Stage 19-January 2002
Beat the Clock-Stage 18-July-September 2002 (note, for PAX)
Slime Time Live-Stage 19-September 2002
2003:
Slime Time Live-Stage 19-January 2003
Game Farm-Stage 19
Summer Slime Live-Stage 19-July 2003
Sunshine Network
2004:
Sunshine Network/Sports Talk Live
U-Pick Live/Slime Time Live-Stage 19-April 2004
MXC: Almost Live-Outside Nickelodeon-March 2004
Splat!-Stage 18-July-September 2004