10 years after this show was abruptly cancelled, for my third RetroJunk article (after Memories of More Dinosaurs and Timbox's Top Ten Favorite TV Show Episodes, of course!), I would like to share you ladies and gentlemen, boys and girls, one of the great modern masterpieces in the annals of the animation art form itself (and especially one of the non-Disney animation variety): Genndy Tartakovsky's 2001-2004 animated television series Samurai Jack!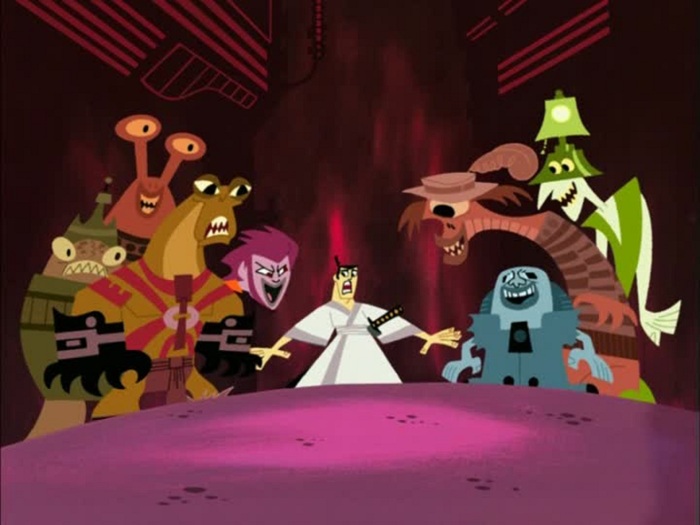 Here's the intro along with the lyrics:
Long Ago in a distant land,
I, Aku, the shape-shifting master of darkness,
Unleashed an unspeakable evil!
But a foolish samurai warrior
wielding a magic sword
step forth to oppose me.
Before the final blow was struck,
I tore open a portal in time
and flunged him into the future
where my evil is law!
Now the fool seeks to return to the past
and undo the future that is Aku!
Gotta get back, back to the past,
Samurai Jack! Watch Out!
Gotta get back, back to the past,
Samurai Jack!
Jack-Jack! Jack-Jack-Jack-Jack-Jack!
And now for some background info:
Jack is a proud Japanese warrior, a man of few words who is determined to overthrow the evil reign of the shape shifting godlike demon Aku.
As a young boy, Jack witnessed his society's enslavement at the hands of the monstrous wizard and so got sent 'round the world to train among all kinds of warriors from Arabia, to Africa, to Egypt, to Greece/Rome, England's Sherwood Forest, to Scandinavia, to Russia, to Mongolia and the Eurasian Steppes to China.
With his mind and body sharply honed, Jack returns home a man ready to vanquish Aku and end his terrible reign.
Before he can do the killin' blow, however, the wizard gives the warrior the boot to a strange and dark future through a time portal.
Jack has only one goal: to find the time portal and return home to so he can free his people once and for all.
But the future is a very bleak and difficult place, segregated into tribes as well as being policed by Aku's robots and bounty hunters.
In the course of Jack's quest, the time-flung warrior encounters exotic civilizations, unusual creatures and modern urban cityscapes with fantastic trappings.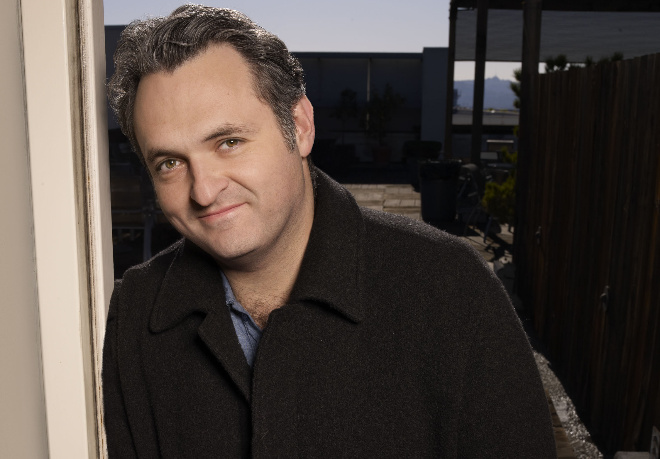 Genndy Tartakovsky, the show's creator, once said that "I've always loved samurais, I've always been influenced by samurais--[Akira Kurosawa's] Seven Samurai (1954), all that stuff. I really wanted to do that."
But early on, there was a major problem: there is a lot of swordplay and violence and gore in the Samurai tales of Japan; so try make one without any. That kind of graphic violence is taboo according to kids programming standards even in 2001, so Genndy used his fertile mind to solve that issue for his samurai show:
"I can't really cut anybody [who is a human] and there's no fun in doing samurai action if I can't...so I thought "Oh, what if they're all robots? And I can get away with some, y'know, hard-core fighting?" That's where the whole sci-fi element came from. Like "oh, then he's thrown into the future and there's this wizard, and so on." I knew that I didn't want it to be bound to one world; I wanted [Jack] to do all this traveling...so the story started to come together out of the necessities that I needed to make the show."
So he pitched the idea to Mike Lazzo, then head of programming at Cartoon Network over a dinner one night: "Hey, remember David Carradine in Kung Fu? Wasn't that cool?"
The pitch was just that, but Mike Lazzo, Linda Simensky and other people representing Cartoon Network at the time approved of it.
Anyway, as for the unique visual imagery of Samurai Jack--lush, painterly backgrounds along with characters drawn as solid colors without any surrounding black outlines: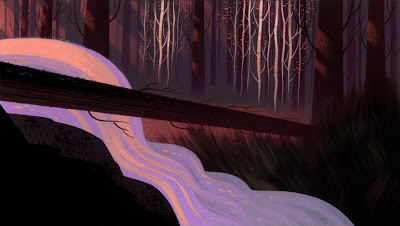 Well, that developed slowly.
As Genndy himself puts it:
"It kind of evolved. I definitely wanted the show to have a different feel to it, and then, once I started work out the idea, I realized that I wanted to make a cartoony action show--a stylized action show. I'd been doing black lines all through Dexter['s Laboratory], all through [The] Powerpuff [Girls], I was just kind of sick of it...even though I love the black line. And I just said, "Oh, maybe I'll take out the lines." And because of computers [and of computer software programs such as Photoshop], you could do it a lot easier. To do it by hand would be almost impossible."
So he began to study Disney art from the 1950s--which employed minimal line work:
and finds that he like the way it felt.
Then somebody (presumably Chris Mitchell) showed him this early Japanese anime feature film from the 1960s:
The Little Prince and the Eight-headed Dragon, to be exact!
Anyway, Genndy was amazed to discover that 1960s Japanese cartoon movie has no lines, or so he thinks:
"Well, there were some self-colored lines but because the print was old [presumably from a Japanese widescreen laserdisc or something like that!], it appeared that it had no lines around it. And it had a great feel to it. I wanted Samurai Jack [to be] flat and highly stylized...[and with] a lot of lighting and mood. It would be a show with very little dialogue, [more] about the action, simple stories, and the character. And that's what I wanted."
Cartoon Network (Genndy Tartakovsky's former employer in his pre-Sony Pictures Animation days), never even asked him for a test.
And just to see if his idea was feasible, he did this one on his own:
That footage, which Genndy and background painter Lou Romano made, was simpler looking than the polished show, but it is still striking nonetheless, depicting Jack battling a group of giant insect robots and utilizing graphic split-screen wipes and close-ups for dramatic impact.
It also confirmed Genndy's hunch:
"I storyboarded this little sequence, they animated it overseas, and it came back. And it was worked. 'Cause I wasn't even sure...can they do it? Is it gonna be too hard? Can they do the action? So I did this two-minute thing, and it turned out great."
Not only did CN loved it (so much that you can find it on Disc 2 of the Season 1 DVD release), but Genndy Tartakovsky had an easier time hiring talent for his new project, since they could see exactly what we wanted now.
So speaks G.T.:
"Y'know, nobody envisioned it. Nobody understood really what I was talking about. And even when Mike Lazzo and Linda Simensky saw the first half hour when it came back, all silent with no music, they were just like, "God, I never pictured it being like this.""
Along with a small crew, Genndy dove into research on Japanese samurai culture and society, scouring through books and screening movies.
So speaks G.T. (Genndy Tartakovsky, that is):
"I read about all the history...We tried to stay true to the way of the warrior, the Bushido code, as much as we could. That's kind of what makes [Samurai] Jack straight as opposed to the crazy world around him."
But he claimed the Samurai Jack cartoon show has just as many influences so he said, "It's kind of a big meld of everything."
Instead of writing actual written scripts, they extensively storyboarded the show (just like Alfred Hitchcock, director of Psycho, North by Northwest and Vertigo), outlining story ideas, and showing them to CN (that is, Cartoon Network).
G.T. remembers:
"One of the outlines actually said, "After Jack builds weapons, 20 minutes of fighting." That was in the outline that I sent to Cartoon Network. What we talked about when I was pitching the show to them was that [Samurai Jack] was going to have the most amazing fight sequences that anybody's ever seen. And we're not going to cheat the audience and just give them two minutes at the very end after fifteen story plots. We're going to give them one very thin, clear, simple story plot, and then fifteen minutes of action."
Anyway, here's a clip from the first half-hour depicting the battle between Samurai Jack and Aku's taskmasters:
Well anyway, If anyone were scared by possible criticism for depicting too much animated mayhem, they would rather not to show it.
But Paul Rudish the guy who also worked on Samurai Jack long before he later made Mickey Mouse shorts for Disney, balked at any such notions:
"People never complain about violence. They complain about sexual references. They complain about innuendo...but no one really calls in about violence. The thing that Genndy [Tartakovsky] smartly did was, you know, Samurai Jack does not fight humans. He fight robots, he fights demons...and you know, the robot lobby is pretty quiet."
Anyway, right from the start, G.T. planned Samurai Jack with far more visuals than dialogue, which made the look of the Samurai Jack cartoon show itself extremely crucial and even more so than any other animation project then and now.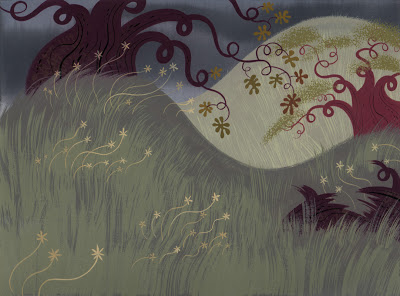 When Scott Wills--a brilliant painter who left TV shows like Ren and Stimpy to work on feature films like DreamWorks' The Road To El Dorado (which (other than DreamWorks' best CGI work like Shrek, Kung Fu Panda (whose 2d hand drawn animated opening is influenced by Samurai Jack itself) and How to Train Your Dragon as well as Madagascar) garnered the most cult status out of Dreamworks' 2D feature animation output that also includes The Prince of Egypt, Spirit: Stallion of the Cimmarron and last but not least, Sinbad: Legend of the Seven Seas) agreed to join the Samurai Jack show, essentially as its art director, G.T. was thrilled.
He said that "It really came together when Scott Wills came aboard, 'cause when Scott started to paint, all of a sudden, we had lighting, we had mood and atmosphere."
According to Scott Wills himself, the early Samurai Jack test that they showed him influenced his decision to hop aboard the Samurai Jack production train, even if he knew he had his work cut out for the painter.
So Speaks Scott Wills:
"That first test that was done by Genndy and Lou Romano [just before Lou Romano was hired by Iron Giant director Brad Bird and the Pixar studio to help make their 2004 film, The Incredibles] had a lot of texture. Maybe Genndy was thinking texture...crazy texture. I dunno. It was just a first shot, and good for what it was, but he didn't really have the time I've had to sort of coalesce it into a style."
According to Genndy Tartakovsky himself, he initially spend "about three or four months to kind of put [the show] together. Dan Krall, once he finished up on [The]Powerpuff [Girls], did a bunch of drawings for me, for backgrounds, and we started to develop the kind of environment we wanted."