This is the 2nd part of a series of articles I'm working on. Like my 70's Rock Album article, I used the same formula for this list: I carefully selected one album from each year of the decade, and I made sure that my selection would be such a mind-blowing album that I'd want to listen to it over and over again. So, without further ado, here are my picks for the Top 10 rock albums of the 80's. Let's see just how it turned out...
#10 - Sonic Youth - Daydream Nation (1988)
Sonic Youth may be a fairly underrated band, but this album stands out as an 80's masterpiece. Originally released as a double album, "Daydream Nation" combined all the elements this band had and put them all into one. Yes, this is quite an album, but what this album is all about is the anthem, "Teen Age Riot".
#9 - Bon Jovi - Slippery When Wet (1986)
Bon Jovi is one of the most influential artists of all time, and if you're a fan of him, there's no doubt that you cannot argue with this album. Most of Bon Jovi's biggest hits can be found on this album like "Livin' on a Prayer", "You Gave Love a Bad Name" and "Wanted Dead or Alive", which was originally going to be the title track of this album, and it would have been had Jon Bon Jovi not passed up that street sign.
#8 - Dire Straits - Brothers in Arms (1985)
If you know Mark Knopfler, he has written some pretty long songs. While "Brothers in Arms" may have not been Dire Straits' best album, it is indeed their most popular one. This album went beyond the limits most albums had back in the day, it almost had too much music for an album to handle! What this album is most known for is it's radio hits: "Walk of Life" and "Money for Nothing". Man, those guys were ahead of their time making a computer-animated music video to an 8 minute song!
#7 - Huey Lewis & The News - Sports (1983)
Jumping from the studio to the big screen, Huey Lewis and the News always managed to pull off a big hit, but a majority of their biggest hits come from this album. Such include "I Want a New Drug", "Heart and Soul", "If This is It", and the big one, "The Heart of Rock and Roll". "Sports" is undeniably one of the biggest albums of the 80's. Therefore, it deserves a spot on my list!
#6 - Tom Petty - Full Moon Fever (1989)
Tom Petty's first solo album was a big leap for the artist. While he seemed to be doing fine working with the Heartbreakers, when he goes solo, it's not much of a difference. However, "Full Moon Fever" is still undeniably one of Petty's finest albums with hits like the rocking "Runnin' Down a Dream", the inspirational "I Won't Back Down", and the chart-topping "Free Fallin'". It's definately worthy of a spot on my list.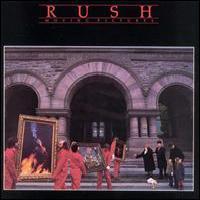 #5 - Rush - Moving Pictures (1981)
Not only is "Moving Pictures" Rush's best album, but it's also one of the best albums in the history of rock & roll. The whole first half of this album contains nothing but a handful of some of the band's biggest and most memorable songs: "Tom Sawyer", "Red Barchetta", "Yyz" and "Limelight". Awesome-sounding stuff like this is a lot for just three guys, and they're all one of a kind. If something happened to Geddy Lee, Neil Peart, or even Alex Lifeson, Rush would be no more!
#4 - Michael Jackson - Thriller (1982)
While this doesn't exactly fit under the category of rock, when making a top 10 list of albums of the 80's, it's nearly impossible to pass this one up. This whole album is loaded with huge hits. Michael Jackson may scare some people away today, but most of those people never took the time to appreciate his work in the 80's when he was a superstar. With numerous hits like "Billie Jean", "Beat It", "The Girl Is Mine" and "Wanna Be Startin' Somethin'", "Thriller" is by all means the best album ever made by an R&B artist.
#3 - Guns 'n' Roses - Appetite for Destruction (1987)
One of the most memorable rock bands of all time, and one of the greatest debut albums ever. With "Appetite for Destruction", Guns 'n' Roses welcomed us to the jungle, took us to Paradise City, and talked to us like their sweet child. I can't really say anything else; Guns 'n' Roses deserves a spot on this list, because they are a quintessential rock band!
#2 - AC/DC - Back in Black (1980)
Before we had Guns 'n' Roses, there was AC/DC. Ever since the mid 1970's, this band has been rocking out and giving us so many masterpieces, yet they never made a decent compilation album. Before this album was released, the band tragically lost their lead singer, Bon Scott, but they found a replacement for him, and he seemed to fit in perfectly. Despite Scott's fate, "Back in Black" turned out to be AC/DC's best album ever and an album that made a landmark as a historical piece. Included on the album are timeless classics including the powerful title track, the memorable anthem, "You Shook Me All Night Long", the fan favorite, "Hells Bells", the radio hit, "Shoot to Thrill", and the song that speaks for itself, "Rock and Roll Ain't Noise Pollution". When I first heard this album, I was blown away. This is definately an album that's worth listening to!
#1 - Bruce Springsteen - Born in the U.S.A. (1984)
This albums deserves to be #1 on my list being that I'm a huge fan of Bruce Springsteen, and for an artist who was popular in the 70's, having a masterpiece album in the mid-80's is sort of unusual. Overall, Springsteen fans, and pretty much any rock fan will enjoy this album piece for piece. Included on this album are such masterpieces as the title track, "Dancing in the Dark", "Glory Days", "My Hometown", "I'm On Fire", and more! "Born to Run" may be a timeless album, but "Born in the U.S.A." is just as timeless! Take my word for it, and buy this album, and if you already have it, I praise you!
Now, once again, I'm going to list my honorable mentions just so nobody will get mad at me for any albums I left off:
Bruce Springsteen - The River
Queen - The Game
Talking Heads - Remain in Light
The Police - Synchronicity
Depeche Mode - Dreaming of Me
Genesis - Abacab
Journey - Escape
Judas Priest - British Steel
The Human League - Dare!
Duran Duran - Rio
Iron Maiden - Number of the Beast
Def Leppard - Pyromania
U2 - War
ZZ Top - Eliminator
Bryan Adams - Reckless
The Cars - Heartbeat City
Twisted Sister - Stay Hungry
Van Halen - 1984
Robert Palmer - Riptide
Simple Minds - Once Upon a Time
USA for Africa - We Are the World
Eurythmics - Touch
Metallica - Master of Puppets
Peter Gabriel - So
U2 - The Joshua Tree
Def Leppard - Hysteria
They Might Be Giants - Lincoln
Traveling Wilbury's - Traveling Wilbury's Vol. 1
Aerosmith - Pump
Beastie Boys - Paul's Boutique
John Mellencamp - Scarecrow
Madonna - Like a Prayer
Stay tuned for my next article, which will cover rock albums of the 90's!