I know exactly what you're thinking. I must be out of my mind making something like this. The only problem with putting together a top 10 list of rock albums is that everybody's list will be different. Not one list will be the same, because everybody has their favorites; personally, I don't doubt them; there are so many great albums out there! For this particular list, I carefully selected one album from each year of the decade, and I made sure that my selection would be such a mind-blowing album that I'd want to listen to it over and over again. So, without further ado, here are my picks for the Top 10 rock albums of the 70's. Let's see just how it turned out...
#10 - The Clash - London Calling (1979)
The Clash were the definitive band of British punk rock in the 70's and 80's. Without a doubt, "London Calling" is the greatest punk rock album of all time. There's no way you can go wrong with this album with it's mixture of styles and numerous big hits. From the opening title track to the closing "Train in Vain", this album offers something for every music fan to enjoy.
#9 - The Rolling Stones - Exile on Main Street (1972)
The next album on the list happens to be another double LP! According to reviews I've read and heard about, "Exile on Main Street" stands as the Stones' best album and one of the best albums ever made by a rock and roll band. The songs on this album, though mixed with styles, all seem to blend together as they are good both musically and lyrically. It's hard to pass up songs like "Rocks Off", "Tumbling Dice", "Happy", "All Down the Line" and "Let it Loose".
#8 - Genesis - The Lamb Lies Down on Broadway (1974)
During their progressive era, Genesis managed to make a good amount of masterpieces, but this concept album tops them all! It's hard not to argue with a rock opera like this. While the story doesn't really make sense, it is set up in a fashionable way. Hey, if you're a big fan of progressive rock bands, I guarantee that once you listen to this album, it'll be your all-time favorite album!
#7 - Van Halen - Van Halen (1978)
Now, here's a single disc album with a one for one style. Van Halen's self-titled debut is definately one of the greatest debut albums of all time. This album is most known for containing probably the most amount of big hits on a Van Halen album. "Runnin' With the Devil" and "Ain't Talkin' 'Bout Love" are awesome rockers, while "Jamie's Cryin'" offers some good sounds, "Eruption" takes Eddie Van Halen's guitar shreds up to full blast, and the cover of "You Really Got Me" stands as one of their finest songs. Nobody can argue with the energy on this album.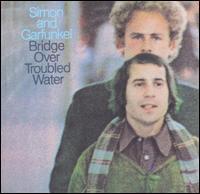 #6 - Simon & Garfunkel - Bridge Over Troubled Water (1970)
Okay, you rockers, it's time to calm down. We all know Simon and Garfunkel as one of the greatest duos in folk music, and their final album before their breakup is coincidentally their best as well as one of the best selling albums of the 70's. With songs as lyrical as these (especially the title track), it definately shows that Paul Simon's songwriting was at it's highest point. It was also a fitting way to say goodbye to them. I know Simon and Garfunkel have had lots of reunions over the years, but that was just for touring.
#5 - Pink Floyd - Wish You Were Here (1975)
A loose concept album dedicated to the band's founder, Syd Barrett, this follow-up to Pink Floyd's commercial masterpiece is also a masterpiece. Even though there are only five songs on the entire album, each one of them is perfect! Weather it be the tear-jerking title track or the epic "Shine On You Crazy Diamond", it's all in all great. I'm sure that all classic rock fans will agree with me on the fact that there is no way you can go wrong with Pink Floyd!
#4 - Fleetwood Mac - Rumours (1977)
With it's countless hits, this multi-platinum album is one of the best selling albums of all time. I mean, literally, look at all these hits this album has! "Don't Stop", "Go Your Own Way", "Dreams", "You Make Loving Fun", "Gold Dust Woman", "The Chain", "Second Hand News", "Never Going Back Again", "Songbird". Dang! That's almost the entire album! Thus, making this album a worthy spot on my list.
#3 - The Eagles - Hotel California (1976)
While the Eagles mostly had some just okay albums, they were still strong in the rock world during the 70's. Putting all their effort into it, "Hotel California", is by all means, the band's masterpiece. This album takes us through the eyes of Don Henley on how he envisions the state of California. The album stands strong with it's big hits like the rocking "Life in the Fast Lane", the beautiful "New Kid in Town" and the elusive title track. This album definately stands as one of the greatest albums of all time, but on THIS list, there are two that top it.
#2 - Pink Floyd - Dark Side of the Moon (1973)
Yes, Pink Floyd is so great that I had to put them on this list twice! When I said "Wish You Were Here" was a follow-up album to the band's masterpiece, this is the masterpiece I was talking about. "Dark Side of the Moon" is, hands down, the album that defines what these guys are all about! It's not just the hits like "Time", "Money" and "Us and Them", but the entire album itself is a mind-blower! Heck, it totally syncs up with the first 43 minutes of "The Wizard of Oz"!
#1 - Led Zeppelin - Led Zeppelin IV (1971)
Of all the 10 final decisions I made for this list, this is the album that deserves to be put as #1. This fourth album of Led Zeppelin's is actually untitled, but many refer to it as "Led Zeppelin IV". Not only is it Led Zeppelin's best album, but it's also one of the greatest albums of all time, not to mention being made by one of the rock bands that ruled the 70's! This is like a perfect album! Take a look at what we've got on here! "Rock and Roll", "Black Dog", "Misty Mountain Hop", "Going to California", "When the Levee Breaks" and of course, "Stairway to Heaven". That's 75% of the album I read off to you, so you gotta know that it's awesome! I don't really know what else to say, because this album speaks for itself!
So, this concludes my Top 10 list of 70's rock albums. I'm sure I ommitted a lot of favorites, so just to be fair, I'm going to give you a list of my honorable mentions. These are other great albums of the decade that almost made my list:
Black Sabbath - Paranoid
Creedence Clearwater Revival - Cosmo's Factory
CSNY - Deja Vu
Elton John - Elton John
George Harrison - All Things Must Pass
Grateful Dead - American Beauty
The Beatles - Let It Be
Carole King - Tapestry
David Bowie - Hunky Dory
Elton John - Madman Across the Water
Jethro Tull - Aqualung
John Lennon - Imagine
Paul McCartney - Ram
The Doors - L.A. Woman
The Rolling Stones - Sticky Fingers
The Who - Who's Next
Yes - Fragile
Allman Brothers - Eat a Peach
David Bowie - Ziggy Stardust
Deep Purple - Machine Head
Elton John - Honky Chateau
Neil Young - Harvest
Randy Newman - Sail Away
Stevie Wonder - Talking Book
Alice Cooper - Billion Dollar Babies
Elton John - Goodbye Yellow Brick Road
ELP - Brain Salad Surgery
Genesis - Selling England by the Pound
Led Zeppelin - Houses of the Holy
Wings - Band on the Run
ELO - Eldorado
Aerosmith - Toys in the Attic
Bruce Springsteen - Born to Run
Bob Dylan - Blood on the Tracks
Elton John - Captain Fantastic and the Brown Dirt Cowboy
Fleetwood Mac - Fleetwood Mac
Queen - A Night at the Opera
Led Zeppelin - Physical Grafitti
Rod Stewart - Every Picture Tells a Story
Aerosmith - Rocks
AC/DC - Dirty Deeds Done Dirt Cheap
Boston - Boston
Billy Joel - The Stranger
Kansas - Leftoverture
The Ramones - Rocket to Russia
Cheap Trick - Heaven Tonight
The Rolling Stones - Some Girls
Tom Petty - Damn the Torpedoes
Supertramp - Breakfast in America
AC/DC - Highway to Hell
Pink Floyd - The Wall
If you want, feel free to post your Top 10 in the comment box. Stay tuned for my next article, when I do one for the top 10 80's rock albums!