"Off the Deep End" was released in the spring of 1992. For this album, Al was granted to turn Nirvana's "Smells Like Teen Spirit" into "Smells Like Nirvana", which is also one of Al's biggest and most recognized hits to date. Other parodies on this album include "I Can't Watch This" ("U Can't Touch This" by MC Hammer), "The White Stuff" ("You Got It" by New Kids On the Block) and "Taco Grande" ("Rico Suave" by Gerardo). The other parody on this album is the first parody that Al did which parodied two different songs: "The Plumbing Song" is a parody on Milli Vanilli's "Baby, Don't Forget My Number" and "Blame It On the Rain". The album's polka, "Polka Your Eyes Out" is debatably one of Al's best polkas. The album closes with an acoustic love song called "You Don't Love Me Anymore", one of his most popular originals, and it originally ended with a hidden track that was inspired by the hidden track at the end of Nirvana's "Nevermind" album; however, this hidden track was removed from later releases of this album.
Due to the success of "Off the Deep End", Al went back into the studio to start working on another album right away. "Alapalooza" was released in the fall of 1993, and some of the songs on this album were intended for "Off the Deep End" but rejected. This album's biggest hit was "Bedrock Anthem", a parody on two Red Hot Chili Peppers hits: the intro is a parody on "Under the Bridge" while the remainder of the song is a parody on "Give It Away". There are only three other parodies on this album: "Achy Breaky Song", a parody on Billy Ray Cyrus' "Achy Breaky Heart", "Livin' in the Fridge", a parody on "Livin' on the Edge" by Aerosmith, and my personal favorite, "Jurassic Park", a parody on the god-awful "MacArthur Park" by Jimmy Webb. With the exception of one other track, the remainder of the album consists of original songs that left most Weird Al fans cold. The album closes with "Bohemian Polka", which is basically a cover of Queen's "Bohemian Rhapsody" done in the style of Weird Al's polkas. Most people speculate that he did this due to the success of the movie, "Wayne's World" (which helped make that song become so popular), while others believe he did it as a tribute to Freddie Mercury (who died two years prior to the release of this album).
In September of 1994, Al released a compilation box set called "Permanent Record: Al in the Box". This four-disc set contained songs from Al's first eight studio albums hand-picked by him as well as a brand new single, "Headline News" (a parody on the Crash Test Dummies' "Mmm Mmm Mmm Mmm"). As of March 2006, this box set is out of print due to the loss of the artwork.
Weird Al has been pretty well known for making songs about food and songs about TV, so in the early-mid 90's, he was told by his record company to make two compilation albums: "The Food Album" in 1993 and "The TV Album" in 1995. Al was not pleased with either compilation, especially since they were made against his will. Since the release of these CD's, Al has written other TV and food songs, and there are rumors out there saying that he's going to re-release these albums with those said tracks mixed in.
In early 1996, Al released his ninth album, "Bad Hair Day". Al had numerous ideas for a leadoff track to this album, but each one was refused. One idea he had was to turn the Offspring's "Come Out and Play" into "Laundry Day", but the band members felt the song was too silly. Another was the Beatles' "Free As a Bird" turned into "Gee, I'm a Nerd", which Yoko Ono turned down. Another was to turn the Rembrandts' "I'll Be There For You" (the theme song to "Friends") into "I'll Repair for You" (a song about "Home Improvement"), but the producers of "Friends" didn't want their show to be overexposed. He also wanted to turn U2's "Numb" into "Green Eggs and Ham", but Bono didn't like how it was lyrically-written. The lead-off track of the album wound up being "Amish Paradise", a parody on Coolio's "Gangsta's Paradise". Coolio's record company gave Al permission to do the parody, but Coolio himself stated that he never granted permission thinking his song was too serious to be parodied, and as a result, he got infuriated. Al apologized to Coolio for the misunderstanding, and from that point on, Al always made sure he talked face to face with the artist when granting permission to make his parodies. As for the other parodies, there was "Gump" ("Lump by the Presidents of the U.S.A.), "Phony Calls" ("Waterfalls" by TLC), "Syndicated, Inc." ("Misery" by Soul Asylum) and "Cavity Search" ("Hold Me, Thrill Me, Kiss Me, Kill Me" by U2). The originals on this album are forgettable making this another weak album for Yankovic.
In the fall of 1997, Weird Al got his own Saturday morning TV show on CBS called "The Weird Al Show", which sadly had a short run and was quickly-forgotten.
In 1998, Weird Al was granted a new look. In January of that year, he had eye surgery, and after which, he no longer needed his glasses. Along with that, Al shaved off his moustache and grew out his hair in place of his traditional mop-top.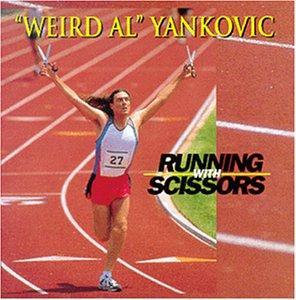 In the summer of 1999, Al released his tenth studio album, "Running With Scissors". This turned out to be a much more enjoyable album with awesome parodies and clever originals. The album's lead-off hit is "The Saga Begins" a song about "Star Wars: Episode 1" done in the melody of Don McLean's classic, "American Pie". An interesting fact about that song is that Al started writing it before the movie was even released; he went onto the Internet to look up spoilers from the movie to know exactly what he was writing! The album's other parodies are "Pretty Fly for a Rabbi" ("Pretty Fly for a White Guy" by the Offspring), "Jerry Springer" ("One Week" by the Barenaked Ladies), "It's All About the Pentiums" ("It's All About the Benjamins" by Puff Daddy) and "Grapefruit Diet" ("Zoot Suit Riot" by the Cherry Poppin' Daddies). It also included the theme song to "The Weird Al Show" and another one of his best polkas: "Polka Power!" The album closes with a story-telling song called "Albuquerque", which to this day (excluding the "Peter and the Wolf" tracks) is Al's longest song clocking in at 11:23.
Al's Running With Scissors tour turned out to be one of his most successful tours, and it helped him become more popular. The success of the tour led Al to releasing a live concert DVD, although Al claims that he's never going to release a live album.
In the summer of 2000, Weird Al wrote his own song for "Pokemon the Movie 2000". The song was called "Polkamon", and I'm willing to bet that a lot of kids bought the soundtrack to that movie just because of Weird Al's song.
On February 10, 2001, Weird Al got married to Suzanne Krajewski. Suzanne gave birth to their daughter Nina just a day after their 2 year anniversary.
We had a long wait for Al's next album. The much-anticipated "Poodle Hat" was released in the spring of 2003 and it won a Grammy for best comedy album. However, the album does fall into somewhat of a disappointment. The album's main hit was "Couch Potato", a parody on Eminem's "Lose Yourself". The song was supposed to have a music video to help promote the album, but Eminem denied Al permission to shoot it leaving Al with no music video to promote the album. In fact, none of the songs on this album had music videos to them, with the exception of "Bob", which was used to open the 2003 edition of "Al TV". I, myself, was disappointed with the album as well. Most of the parodies are good. The other parodies on the album are "A Complicated Song" ("Complicated" by Avril Lavigne), "eBay" ("I Want it That Way" by the Backstreet Boys), "Ode to a Superhero" ("Piano Man" by Billy Joel) and "Trash Day" ("Hot in Herre" by Nelly). The album's polka, "Angry White Boy Polka", is probably the biggest let down because this polka consisted of songs that I wanted Al to make parodies on! Another let down is that the album does not contain any food-related songs. The album is not bad at all; in fact, it's actually quite good. I just think that Al could have done a better job on it.
A few weeks before "Poodle Hat"'s release, "Weird Al" made a cameo on an episode of The Simpsons to promote the release of his album. On the episode, he performed a parody called "Homer and Marge", which was interestingly a parody on "Jack and Dianne", which John Mellencamp had refused to let him parody 20 years ago! Al happens to be a huge fan of The Simpsons, so I felt his cameo on the show to be very appropriate.
In 2004, Al's parents died in a house fire. This was a shocking moment to Al and all of his fans. Al thanked his fans for their generosity and support after the incident, and he promised to continue his career.
Weird Al's twelfth studio album, "Straight Outta Lynwood", was released in the fall of 2006. This album surprisingly resulted in being the best album he had ever done in a long time. The album's main song, "White & Nerdy" (parody on Chamillionaire's "Ridin'"), became Al's very first single to hit the Top 10 on the Billboard 200. Another parody on this album is "Canadian Idiot", which, correct me if I'm wrong, I think Al made just because his fans (both fans and haters of Green Day alike) really wanted him to parody Green Day's "American Idiot" due to the album's success. Another parody is a parody on Usher's "Confessions, Pt. II", which is cleverly-titled "Confessions, Pt. III". Originally, Al was going to have a parody on this album called "You're Pitiful", a parody on "You're Beautiful", which James Blunt granted permission to make, but Blunt's record company turned it down at the last minute causing a delay in the album's release. The song was at one time available for download on Al's MySpace page, but in the end, it didn't make it to the album. The song was replaced with "Do I Creep You Out", a parody on "Do I Make You Proud" by American Idol winner, Taylor Hicks. My favorite parody (in fact, song) on the album is "Trapped in the Drive-Thru", a 10+ minute song that parodies R. Kelly's "Trapped in the Closet" chapters. The album's most successful original was the closing song, "Don't Download This Song", which was also available for download on Al's MySpace page before the album's release. Just about every song on this album has a music video to it, which I think was done as a way to make up for "Poodle Hat" having almost none.
In the fall of 2008, Al released a new single on iTunes called "Whatever You Like", which is a parody on a T.I. song of the same title. During the summer of 2009, Al released four more singles on iTunes, all of which were original songs. The first was "Craigslist", which was a style parody of the Doors. The second was "Skipper Dan", an alternative rock song about being a Skipper on Disneyland's Jungle Cruise ride (which reminds me a lot of Al's 90's stuff). The third was "CNR", a tribute song to Charles Nelson Riley done in the style of the White Stripes. The final one was "Ringtone", which was a style parody of Queen. All five of these songs were released on an EP called "Internet Leaks" in August of 2009, and they are planned to be released on Al's next album, which is set to come out sometime in 2010.
This concludes my Tribute article to "Weird Al" Yankovic. Hopefully, all you fans enjoyed this article. This is also my way of wishing him an early Happy 50th Birthday!