well guys and gals it's me again warriorman coming at you with my final installment of KISStory, sorry to have kept alot of you waiting but like everyone else here I've been busy working and doing other things in life. Now let me just look and see where I left off..........oh right my last one was Unmasked, so this must mean my next album is none other than,
Music From The Elder
.
Okay not the greatest album ever, or the worst album either, but since it is a KISS album it looks good in my collection. On the bright side of things, this would also be new KISS drummer Eric Carr's debut album with the band. With this album Ace was very unhappy with the band's choice of Bob Ezrin for producer for the album because Ezrin was the main force behind the new direction the band was going to take. Ace thought that KISS needed to do another heavy metal record to get themselves back on track, but Ezrin pushed them to do the concept album. Eric Carr agreed with Ace, but was not given a vote since he was not part of the original band. Ace was outvoted two to one. Because of this, Ace felt more alienated from the band than he already had. Because of this he had little to do with the recording other than the two tracks he wrote and recorded himself. Ace was also reported to be unhappy with the final mix of the album which downplayed his guitar work. The band refined their look for the album as they wanted to be taken seriously. Paul cut his hair short and wore a headband; Gene tied his hair back in a strange-looking ponytail, and Ace also cut his hair into a shag. Oddly enough, Eric Carr was the only member to keep his long hair. Other changes included the nixing of the infamous blood-spitting and wild antics, no more platform shoes and a toning down of the outfits. Needless to say, this hurt the band's image rather than helping it.
KISS Killers
.
.
As you may have noticed there are 2 album covers, the only difference being the 1st one has the regular s where as the second one has the original lightnining bolt for the north america realese only. This album would also be Ace's very last official album, even though he does appear on creatures of the night. The Elder bombed so bad worldwide that Kiss' record company outside the U.S., Phonogram, demanded that the band immediately assemble another album to prove to their fans that they were not prog-rockers but still a heavy metal group. The band decided to release another greatest hits package but since "Double Platinum" had just been released four years earlier, the band decided to include four brand new tracks. ("I'm a Legend Tonight," "Down On Your Knees," "Nowhere to Run," "Partners In Crime") The new tracks resemble the KISS of old more than anything they had done recently. Despite Ace being on the cover and listed as a member, Bob Kulick once again subbed for Ace for most songs. Killers didn't become the chart topper the record company had hoped for but it did proove to fans that Kiss were set to rock once again. Unfortunately this album was never released in the US, so it has always been a highly sought after collector's item. With the addition of the new tracks, it's worth the search.
Creatures of the Night
.
.
KISS finally comes screaming back with one of their heaviest albums ever. The drum sound on this disc has to be the heaviest, biggest sound ever laid down on tape or so they say. The song writing is so much more aggressive than the past few disco dabbling albums and surpasses the new material on Killers With a little help from Vinnie Vincent. In my own opinion War Machine is one of the heaviest songs ever written by KISS and fun to play too on guitar. Unfortunately by then the band had lost so many fans that despite the album being the best they had done in a long time, it didn't do very well and Kiss decided it was time to remove their signature make-up. Creatures was re-released after the make-up came off with a completely different cover and an altered sound, due to new mastering. As I have pictured above the original cover art and the video(I Love it Loud which would also be Ace's last song with the band for well over 15 years) featured Ace in make-up but by this time Ace was already long gone despite repeated attempts by the band to get him back for the tour. Eventually Vinnie Vincent became Ace's permanent replacement. The non-makeup re-release featured Bruce Kulick on the cover, which I find is funny because like I said Vinnie was offically named Ace's replacement.
Lick it Up
.
As you can see this would be KISS' official debut non make-up album, and the only album/tour Vinnie Vincent would play on until being replaced by another new guitarist Mark St. John on the next album Animalize. Kiss who were finally once again becoming masters of marketing, knew the time was right to drop the makeup, so in September 1983 the band shocked the world by unmasking on MTV in the wee hours on the night, after a re-run of a Van Halen concert. MTV at the time considered anything that had to do with Kiss as old hat. That night on MTV, despite the fact that Lick It Up was the simplest song the band had ever written, the video for Lick It Up helped re-established the band among the growing hordes of heavy metal fans. The album became the band's first record to achieve gold status since 1980's "Unmasked." Of particular surprise was the strong Eric Carr written track All Hell's Breaking Loose. Vinnie Vincent had become accepted as Ace's replacement(but still not by me) but would soon leave the band to form the Vinnie Vincent Invasion(which sucked bigtime) with Dana Strum and Rob Rock. Vinnie co-wrote most of the album's stellar, yet simple, material. Let's just say NOT my favorite album ever.
Animalize
.
Yes once again KISS had made yet another line up change this time adding Mark St. John to the line up as lead guitarist, but NOOOOOO that would not be the last line up change but I'll get to that later.This was the second strong album in a row from Kiss and once again they were filling up the large stadiums. The album went double platinum. Mark's guitar playing stood in direct contrast to that of Ace, as he was a more technical player, yet in my opinon did not have the same charisma as Ace.(and at least he wasn't wearing Ace's make up either, not mentioning any names.......cough Tommy Thayer....cough)Fortunately this worked in the bands favor as shred was what the people wanted. Heaven's On Fire became a huge MTV hit. The band seemed as though they were once again at the top of their game. Unfortunately however, Gene Simmons was more concerned with pursuing an acting career, so once again the band would begin to become unfocused, leaving Stanley to pick up the pieces. Simmons contributions to this album already showed his lack of interest, but overall, Animalize was still a strong album and one I do have as a part of my collection.
Asylum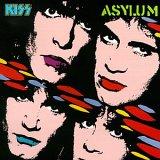 .
Finally we come to bruce's debut album with the band, but once again ANOTHER line- up change, this time Bruce offically became the new lead guitarist for KISS after Mark had gotten Ill and developed a problem with his hands. This time Kiss began to lose their identity once again sounding like the hordes of pop metal bands that were flooding the market at the time. The album went platinum. Tears Are Falling was the only single off this album even though they had a few other great tunes such as Who Wants to Be Lonely and Uh! All Night.
Crazy Nights
.
Producer Ron Nevison, who had recently produced chart-topping records for Heart and Ozzy Osbourne, added the keyboard to this KISS album. Keyboards should have no part of a Kiss record in my opinion it totally wrecks the whole KISS sound. I have no problem with keyboards in fact they are a regular part of then 80's rock music scene but just not in KISS music. The production also suffers from wimpy/bad bass overall. However, despite these problems, hidden under all the covers I guess I could call it were some decent Kiss songs like Reason to Live, and Crazy Crazy Nights, the only 2 singles off this album.
Smashes Thrashes and Hits
.
Pretty much another greatest hits album with the exception of 2 new KISS songs, You Make Me Rock Hard, and Let's Put The X In Sex. This album also features the 70's hit Beth but this time with a twist, Instead of Peter Criss singing it was actually Eric Carr and may I just say my hats off to you, I actually beleive he did a better job then peter himself, no offence to any Peter Criss fans here in Retrojunk. To bad Kiss didn't let Eric sing on more songs/albums because he had such a strong voice that I beleive even shock Gene and Paul themselves.
Hot in the Shade
.
The production of Hot in the Shade has a less pop metal sound than Crazy Nights and the keyboards have been tossed out the window for this album which was/still is a big releif to many KISS fans, can you just amagine how KISS would sound today if they continued using keyboards........man the thought is just scaring me, but the fact that Kiss were using so many pop writers proved that they still had their minds set on conquering the dying pop metal world. The album did spawn Kiss' first top ten single in many years with the great ballad Forever, but it failed to do much else. Even the obvious attempts at radio singles like Hide Your Heart did little to bring Kiss out of the slump that they were starting to fall in, fact is everybody wanted Kiss to rock hard, not to sing pretty ballads all the damn time. Unfortunately this would be the last album Eric Carr would play or appear on who sadly died of cancer in 1991 2 years after Hot in the Shade was realesed.
Revenge
.
MAN....will it ever end, once again KISS had another line up change but this time they would last all the way up untill 1996 KISS reunion tour but that is later on. It was sad for me to think of Kiss without Eric Carr who had been with the band even longer than original drummer Peter Criss. Kiss replaced Carr with Eric Singer who also eventually went on to steal the identity of the catman persona in the later years, but once again that is further on down the road(But I do like Eric, but couldn't he have just picked another character like the Hawk he was always talking about in his interviews if they ever put on the make up again)? Revenge was the heaviest disc KISS had recorded since Creatures of the Night, driven by heavy riffs, relentless rhythms and thundering drums. A funny note about this album Vinnie Vincent once again has some co-writing credits on two of Revenge's better songs, Unholy and I beleive Domino but I'm not sure I'll have to look that one up. Although this album has been out for years now, I just recently found a copy of this one and bought it for $10.00 at the pawn shop.
Alive 3
.
The 2nd last album Paul, Gene, Bruce and Eric would be all togather on. Alive 3 is a nice collection of live material highlighting the band's 70's,80's and some 90's material.One song that didn't appear on the album itself but did appear on the DVD of Alive 3 was Take it Off where in the song (on the DVD) they actually had strippers come on the stage and dance for that one song, Let me tell you I was more interested in watching the strippers than the band or song itself. Anyone got a cold beer and doritos LOL. Another funny note about this album is, it was the only album or live album that featured the band playing the Star Spangled Banner at the very end. Pretty cool song the way they did it considering I'm Canadian EH!.
MTV Unplugged
.
ALRIGHT...the beginning stages of the official KISS re-union tour. Gene Simmons has always been the king of marketing, so it is no surprise that Kiss would attempt to revive their careers with a reunion and an acoustic set all at the same time. MTV Unplugged is the 90's way to revive a career,Kiss chose to do this as a celebration of their 25th anniversary. What is surprising to me and many others is how good this album was/is and the type of material the band chose to play. Before KISS Began to play the song 2000 man, paul said he had some members of the family here tonight and it wasn't mom and dad, I literaly jumped out of my chair and got on my knees and prayed this is what it sounded like, when paul introduced Ace and Peter I kissed anyone I could find close enough but it was only the dog. A few days later I was watching the grammy's and when tupac introduced KISS as co-presentors and they came out in full make-up and costume, I once again grabbed the closes person to me and kissed them...........YES it was the dog again, and ever since that day my dog gets very jealous if she see's me around another female human or dog like she will totaly let you know if she is un happy, and let me just tell you the dog always wins, so If I bring girls over I can't let the dog see them or I have to go outside to talk to them.
You Wanted The Best You Got The Best
.
This is the album that was released for the reunion tour, It is a combination of songs from the first two Alive albums plus the unreleased live recordings of Room Service, Take Me, Let Me Know, and Two Timer.A bonus track on this album also includes a 17 min Kiss Tells All interview with the four original band members conducted by Jay Leno. Not much else to say buy KISS IS BACK AND THEY ARE ROCKIN
Greatest Kiss
.
YES.....another greatest hits album(WELL DUH NO BRAINS TO FIGURE THAT ONE OUT)This is one greatest hits album everyone should own, well I know what you are all thinking why should I, It's just another greatest hits album, well your right, but.....there is one new live track, The 1996 live recording of Shout it Out Loud, other than that all I can say again is KISS IS BACK IN ACTION.
Carnival of Souls: The Final Sessions
.
Before Gene and Paul reunited with Ace and Peter, they recorded Carnival of Souls with Bruce Kulick and Eric Singer. It was intended to be their next album but things changed once the reunion happened. Kiss never intended to release the album but bootlegs were floating around everywhere so Kiss and Mercury decided to release the disc. Carnival of Souls is a heavy and dark Kiss album, and seems to be the logical next progression from Revenge. Both Gene and Paul seem to be writing at their best here. It's a shame this album didn't get the proper promotion or tour as intended because I beleive it would have been a really sucessful tour. It really is a good album to have in your collection.
Psycho Circus
.
The first album released with all 4 members in full make up and costume, since there un official break up way back in the 80's. It's now 1998 and KISS are still alive and kicking. Since the 1996 reunion tour was such a success, Paul and Gene both decided to keep Peter and Ace around to record a full-fledged album. This new KISS reunion album was highly anticipated. Psycho Circus, Raise Your Glasses, We Are One,and You Wanted the Best are great new KISS songs. Into the Void is Ace's own written song that is one of the best he has written for KISS since Shock Me. The cool thing I like about the cover is, it has an affect of a curtain opening to reveal a circus wagon with the four KISS faces in frames.
The Very Best Of KISS
.
Another new best of album but this time they were trying to hit all the hits in one volume. According to the pre-release hype, The Very Best of Kiss was suppose to span the band's entire career, While there are a few tracks from the non-makeup years of the late 80's and early 90's, the music focuses mostly on the band's 1970's output with only the last four tracks covering the years from 1980 - 1999. Missing hits like Tears Are Falling, Heaven's on Fire, King of the Mountain and Crazy, Crazy Nights are not include, there is also nothing from Psycho Circus on The Very Best Of.Only a few people would deny that the 70's was the best years of the band. I was a bit surprised myself to see New York Groove, from Ace's solo album included on this release with nothing else included from the other three solo discs.
With no new material on this collection and Greatest Kiss having been released only a few years before this one, and containing some of the same songs, I think The Very Best of Kiss is a bit unnecessary or at least a bit to early to have been realesed in only a 5 year span, But that's just my opinion.
Alive 4
.
Well finally we come down to this, the realese of alive 4, the one album that was being promised for years. I always wanted Alive IV to include all members (Original) of kiss Gene, Paul, Peter and Ace. BUT NOOOOOOOOOO, Ace just happens to not be on it, but instead yet another new guitarist Tommy Thayer, I beleive this is what caused Peter to not renew his contract when it was up, and as he even said in interviews after Alive 4 "I Missed Ace a Lot". Alive 4 without Ace really gets me mad. I mean, what happened to all those recordings they did during the Farewell Tour? Kiss even released one song from those tours on the box set claiming that it was a song from Alive 4, and what really gets me going is they had a symphony orchestra playing with the band..........WHAT THE HELL DOES A SYMPHONY ORCHESTRA HAVE TO DO WITH ROCK AND ROLL? THAT WAS PROBABLY THE BIGGEST MISTAKE OF KISS' CAREER, They have pretty much since then been laying low, with the exception of the Rock The Nation tour, which funny enough this time didn't include Ace or Peter, but again instead Tommy Thayer and former drummer Eric Singer, and even dare to don the famous make up of Ace and Peter......WHAT THE HELL. I can't talk about this album anymore I might just do something crazy and very bad, so moving on we have up next.....
The Millenium Collection Vol.1 Vol. 2 and Vol. 3

.
.
.
Yes another best of Kiss album but this time in volumes. The Very Best Of Kiss"was released not even a year before this one and Greatest Kiss is not that old either. This is pure record company greed here my friends. 20th Century Masters presents highlights of the first half-decade of Kiss' existence, and completely ignoring the hugely successful 80's maerial. A more career-spanning collection would have included the hits Lick It Up, I Love It Loud, Heaven's On Fire"and the 1990 Top Ten single Forever." Ahh, but I suppose they are saving that for a second volume. (Vol.2) Yes, I know, yet another Kiss greatest hits it is a long past overkill. I mean in the last decade there are probably a good ten singles to surface. However, the majority of Kiss hits collections to surface have focused primarily on the group's makeup years. Not that there is anything wrong with than neccessarily, but I always felt that the band 80's, non-make-up material was excellent decade of music from KISS as well, and was always sorely missed on any greatest hits compilation. And last but not least (Vol.3) Volume 3 for Kiss in the Millennium Collection closes out the collection with songs from the 1990's. (Go Figure)
KISS Gold
.
And Finally the last KISS album to date.....KISS Gold. Yes just to sum it up, this is yet another greatest hits album,This two-disc set covers the band's singles from 1974 to 1982. Need I say more
Now let's not forget some of the honourable mentions
The Originals
.
This is basically one big album combining the 1st 3 albums all into one big one, hence the name Originals.
KISS My........uh well you know
.
Just a quick sum up, this is not actually a KISS album, but more a tribute to KISS with new and old artists playing/singing one KISS song or classic. also available on video or DVD, so I've been told.
Box set
.
Let's just say every single KISS song ever made is in this well boxset, and with a few treats thrown in, not only does it contain damn near every KISS song made but also a few unrealeased Wicked Lester songs before KISS became well KISS.
Chronicles
.
I don't really know too much about this one, but judging by the pic above it's just another album containing the 1st 3 KISS albums, also with I beleive KISS Alive on it as well.
Well there you have it, after 1 and a half days of typing I beleive I have Just covered pretty much all of KISStory and please try to keep the negative comments to a low, I literly put my entire heart into this article and beleive me the last thing I want is someone telling me I know nothing or have nothing better to do than talk about KISS all day......Well these guys are my hero's and when I become a huge rockstar I'll have each and everyone of them to thank.
Hope you enjoyed this and catch you all later
Warriorman Out.