One thing that always was a big deal to someone growing up in the 90's was the movies. For me, going to the movies was mainly something I did with family. As I became older, my parents trusted me enough to see a movie with a friend, or even by myself.
In the 90's, a companion to the movie became almost as big as the movie itself, if not bigger! This companion was the film soundtrack. It is highly debated that the biggest part of this time period was during the 90's and the success of this "soundtrack boom" has one film to thank:
The Bodyguard.
The Bodyguard is a 1992 film starring
Kevin Costner
as a former Secret Service agent who must protect a pop star (played by megastar
Whitney Houston
) from a dangerous stalker. Despite mixed reviews, the film was a massive hit, making $411 million against a $25 million budget. A lot of the film's success could be credited to Houston, who was at the height of her popularity and made her film debut in this flick. The soundtrack now holds (and in the internet age, will keep) the record for "Best-Selling Soundtrack of All Time"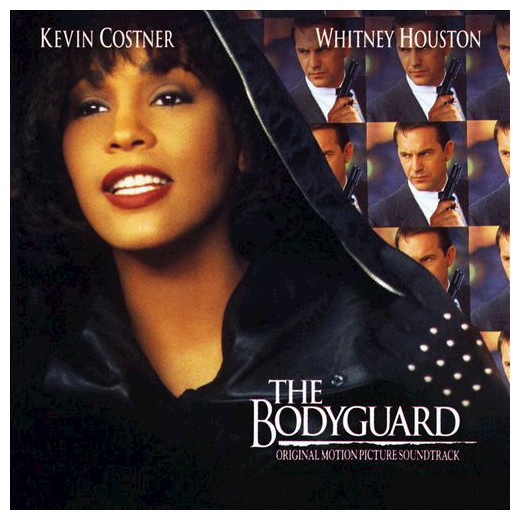 Top 3 Songs
(All by Houston, of course)
1. I Will Always Love You (Dolly Parton Cover)
2. I Have Nothing
3. I'm Every Woman (Chaka Khan Cover)
In this article, I will be discussing a couple other memorable soundtracks to films from what has been called, "The Last Great Decade". This will be an ongoing series of articles, so while you may not see a favorite on here, it might show up later. Let's continue:
Empire Records
Warner Brothers made this 1995 film about a day in the life of various record store employees. Despite having a great ensemble cast with early performances from
Liv Tyler
,
Renee Zellweger
and others, this film unfortunately became the victim of studio interference and was a critical and commercial ($303,841 gross, budget unknown) failure. However, it has since become a cult film and the soundtrack is perhaps more well-known than the film.
Top 3 Songs
1. Til I Hear It From You-Gin Blossoms
2. Sugarhigh-Coyote Shivers
(Broken YouTube Link Removed)
3. Free-The Martinis
(Broken YouTube Link Removed)
Batman Forever
After the McDonald's fiasco forced Warner Brothers to change the tone of the "
Batman
" franchise,
Tim Burton
was cast out as director and
Joel Schumacher
took over. In this installment,
Val Kilmer
portrays The "Dark" Knight and fights
Two-Face
and
The Riddler
, played by
Tommy Lee Jones
and
Jim Carrey
. While the film wasn't as loved as the first two films, it was still a hit ($336.5 million gross on a $100 million budget) and its soundtrack is regarded as one of the best of the 90's.
Top 3 Songs
1. Kiss from a Rose-Seal
2. Hold Me, Thrill Me, Kiss Me, Kill Me-U2
(Broken YouTube Link Removed)
3. Bad Days-The Flaming Lips
Space Jam
Warner Brothers (odd that I used all WB films for this first volume) released this 1996 film about
Michael Jordan
teaming up with the
Looney Tunes
to face off against aliens in a basketball game. Even with mixed reviews (legendary animator
Chuck Jones
hated it), the film made $230.4 million against a $80 million budget.
Top 3 Songs
1. I Believe I Can Fly-R. Kelly
(Broken YouTube Link Removed)
2. Fly Like an Eagle (Steve Miller Band Cover)-Seal
3. Space Jam-Quad City DJ's
(Broken YouTube Link Removed)
Well, that's the first volume of this memorable 90's soundtrack list. Did I miss a favorite song of yours off of this list? Let me know in the comments below and stay tuned for Volume 2!