I recently realized something while trying to come up with new ideas for articles. I've written about some of my favorite television shows, movies, video games and even characters from days gone by during my time on retrojunk, but there is one aspect of the past that I am very fond of but have never written about: my favorite music. That being the case, and seeing as how
Retro Bout Round 2
has done so poorly that a round three doesn't seem feasible at this point, I guess I'll just have to change subjects. In this article I'll discuss my taste in music by sharing some of my favorite albums.
When it comes to music I'm a huge buff and am mostly a classic rock person, though I also have a fondness for pop and soft rock, mostly because I was raised on it. I got my taste for hard rock around the end of my time in high school (although it is possible that it goes all the way back to my single digits) but I couldn't listen to it all the time because I live on Long Island (New York) and the station that I listen to comes from Connecticut which wouldn't help me when I had to listen for closings and delays in Winter time during the school year. Once I graduated high school (class of 2001 in case anyone is wondering) I was able to tune into my classic rock station 24/7. I think one reason for my love of the tune is that I have a nice singing voice so I enjoy using it and also one of my dreams is to learn to play the electric guitar. Strangely enough, while I have a favorite genre I don't have a favorite band, but I think (or at least I hope) that a lot of you guys may agree that the following albums make for one awesome MP3 player. Plus, since it's classic rock, it's also all retro.
Dead Man's Party


by Oingo Boingo
Genre -

Rock, New Wave / Ska


Release -

October 28th, 1985
Dead Man's Party
is the fifth studio album of American rock band Oingo Boingo, taking on a more pop type feel than most of their albums and features a cover depicting the Mexican festival Day of the Dead. Several tracks have been used for movies and television including the title track "Dead Man's Party" presented here in it's entirety (an edited version also exists), "No One Lives Forever", "Stay" and most notably "Weird Science" which was made exclusively for the original movie, also released in 1985, and was also borrowed for the hit TV series on the USA network. Oingo Boingo was founded in 1972 under the name The Mystic Knights of the Oingo Boingo and sadly retired after a special farewell Halloween concert in 1995. That hasn't stopped band leader Danny Elfman, however, as he continues his career in showbiz as composer for movie scores, especially for films by dark Hollywood legend Tim Burton, most notably
Batman
(1989) and my personal favorite
The Nightmare Before Christmas
(1993) in which Elfman also provides the singing voice of the main character Jack Skellington. My favorite of his vocal tracks is "What's This?" from the scene in which Jack discovers Christmas Town.
Thank You


by Stone Temple Pilots
Genre -

Alternative Rock, Grunge, Hard Rock


Release -

November 11th, 2003
Most of you may notice by this list that I'm a sucker for "best of" and "greatest hits" albums and this is the first one up.
Thank You
may have been released more recently but the songs contained on it date back to 1992, namely "Creep" which has been on the radio and "Wicked Garden" which has become one of my all time favorite songs. I also like "Vasoline" and the album also contains such radio favorites as "Big Empty", "Plush", and "Interstate Love Song". Stone Temple Pilots were founded in 1985 and have had a pretty solid career although they lost their original lead vocalist Scott Weiland in 2013 and he has since been replaced with former Linkin Park lead vocalist Chester Bennington.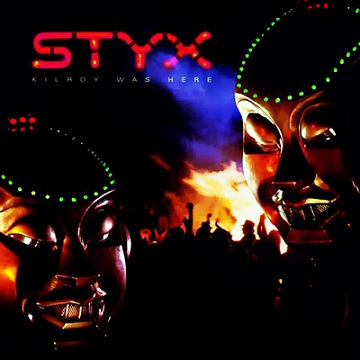 Kilroy Was Here


by Styx
Genre

- Progressive rock, pop rock, rock


Release

- February 22, 1983
The eleventh studio album for rock band Styx, the idea for
Kilroy Was Here
was based in large part on the 1970's and early 80's when concerned parents were plagued by the notion that rock music could permanently damage youths by causing them to become rebellious and obsessed with sex and drugs, not to mention blowing their ear drums out from the sheer volume of the music. This album is cool because it also acts as the soundtrack to the
Kilroy Was Here
short film. Set in a dark, dystopian future, Kilroy, a legendary guitarist, is arrested for illegally performing a rock concert, the initial attack (by robots no less) having claimed at least two lives. Later, a young man named Jonathan Chance tries to help Kilroy return after he escapes the enemy robot soldiers called Robotos (two of which appear on the cover) by disguising himself as one, so that they can save rock n' roll, and the world, from the evil Dr. Righteous (yes, despite his name he is the bad guy). The mini movie would usually be performed as a live stage show before a concert and the main characters were all played by the band members. The show and concert can still be found on VHS in the USA under the title
Caught In The Act
. Notable songs from this album include "Don't Let It End" and the classic "Mr. Roboto" which helped put Styx on the musical map, and which is also another one of my favorites. I also like "Heavy Metal Poisoning" which is sung by Dr. Righteous as he attempts to persuade the children to join him by offering to give them everything their parents would disapprove of.
Domo arigato, Mr. Roboto
Mata au hi made
Domo arigato, Mr. Roboto
Himitsu wo shiri tai

Thank you very much, Mr. Roboto
Until the day (we) meet again
Thank you very much, Mr. Roboto
I want to know your secret
Eagles: The Very Best Of


by The Eagles
Genre -

Rock


Released -

October 21, 2003
This is a two disc compilation album containing a complete list of the greatest hits by American pop/rock band the Eagles. Included in the album's thirty three tracks are such memorable songs as: "Take It Easy" (1792), "Peaceful Easy Feeling" (1972), "Best of My Love" (1974), "One of These Nights" (1975), "Life in the Fast Lane" (1977) and another one of my personal favorites, "Hotel California" (1977), and that's only a hand full. I recommend this band and album for those who enjoy listening to relatively easy going music while going on road trips.
Aerosmith's Greatest Hits
1973-1988
by Aerosmith
Genre -

Hard rock, blues rock


Release -

October 1980 (original album), 2004 (reissue)
As stated above this album was originally released in 1980 (recorded between 1973-1979) at which time it contained ten tracks in edited forms. In the years following the first album Aerosmith scored more hits and so a second album was bound to happen. Sure enough in 2004 a slightly revised version was released (above) which retains the original ten edited tracks but also includes an additional seven which were recorded between 1980-1988. The reissue contains most of Aerosmith's most recognizable songs such as: "Dream On", "Same Old Song And Dance", "Sweet Emotion", "Walk This Way" (which I loved having been used in
The Smurfs
as "Smurf This Way"), "Back in the Saddle", and their remake of the Beatles classic "Come Together". You can also get a taste of Aerosmith on their ride Rockin' Roller Coaster at Disney Hollywood Studios park at Walt Disney World (that is, if you can take a coaster that goes from zero to sixty in less than three seconds!).
Van Halen Best Of - Volume 1


by - Van Halen
Genre -

Hard rock, heavy metal


Release -

October 22, 1996
After all, what would an article about classic rock music be without Van Halen? This album covers most of the legendary band's greatest hits from 1977-1996 including radio favorites: "Ain't Talkin' 'bout Love" (1978), "Runnin' With The Devil" (1978), "Dance The Night Away" (1979), "Unchained" (1981), "Jump" (1984), "Why Can't This Be Love" (1986), "Dreams" (1986), "Right Now" (1991), "Can't Stop Lovin' You" (1995) and their one and only Hollywood exclusive "Humans Being" from the soundtrack to
Twister
(1996). The band is also known for it's legendary members Eddie and Alex Van Halen and Sammy Hagar who went on to start a solo creer resulting in one of his own most famous songs "I Can't Drive 55" (1984) which was also used in a movie once,
Back to the Future Part II
in which it was played during the scene where Marty wanders into "Hell Valley" town square in the dark version of 1985.
Not all albums that I listen to come directly from factories. Below are two CDs I made at home for slammin' fun on my MP3 player (I've officially retired the PSP). For obvious reasons I can't give complete track listings but I will mention some of their high lights.
Teenage Mutant Ninja Turtles:
A Darker Shade of Green
Genre -

classic rock, hard rock, heavy metal, some rap
I've been a TMNT fan since the classic 1987 TV series but I have a particular soft spot for the original Eastman and Laird comic book, even having memorized Leo's opening from the legendary first issue, and any on screen media that is related to it in any way (i.e. the 1990 movie, 2003 series and yes, even the current series on Nick). That being the case I thought I would put together an album for my favorite skull busting terrapins the way I feel that it should sound. This album is a collection of both retro/nostalgic songs from the classic 90's movie albums ("Turtle Power" by Partners in Kryme and "Can't Stop Rockin'" by ZZ Top), a song from the 2007 CG movie ("Lights Out -Chris Vrenna Remix" by P.O.D.) and original songs from newer bands in most categories of hard rock. It also contains "Goongala!" by Johnny October from the Casey Jones online mini movie and staying in tradition with past soundtracks, until the 2014 movie at which point Paramount broke
both
traditions with them, it has two score tracks at the end: "Shredder's Suite" by John Du Prez (1990) and "I Love Being A Turtle" by Klaus Badelt (2007). If I could release this album to the public I would recommend it for most
adult
TMNT fans as it contains two EP tracks ("Into The Sewers" by Sparzanza and "Goongala!", both contain the F bomb). For more turtle fun check out
Nightwatcher's Patrol #5
.
Head Bangin' Halloween
Genre -

Classic rock, hard rock, heavy metal
I was a little hesitant to mention this one as a similar third party album has already been released. The few differences are a different cover,
real
songs by
real
artists instead of newer third party re-recordings and I've replaced two of their tracks with ones that I can actually stand to listen to. The album starts off with the Marilyn Manson version of "This Is Halloween" from
Nightmare Revisited
, a rock oriented take on the soundtrack to
The Nightmare Before Christmas
, and also includes such high lights as: "Highway to Hell" by ACDC, "Bark at the Moon" by Ozzy Osbourne, "Werewolves of London" by Warren Zevon, "The Devil Went Down to Georgia" by Charlie Daniels and "Enter Sandman" by Metallica and is capped off with "Halloween" by Siouxsie And The Banshees (last used in the movie
Monster House
). I made this, along with two other albums, because Halloween is one of my two favorite holidays, my other one being Christmas (of course), and it's another one that I wish I could distribute to the public but I just can't afford the licensing. I guess it's okay to list this album here too because the third party album that inspired it is no longer made, although you can still find used copies of it online but I wouldn't recommend it (wink, wink).
And there you have it, I hope everyone enjoys my top music list and if you have a taste for the genre prism of rock (little nod to Pink Floyd there *wink*) than I would recommend looking up these bands. It may be a while but I will try to return as I do have a few more ideas in this rusted out brain of mine, so until then retrojunkers...