When I first penned Volume 1 of this series, I wasn't expecting how well people would respond to it. The fact that a good number of you enjoyed the article made me want to jump right back in! So because of that, here's Volume 2!
Reality Bites
User
Keiichi77
is to thank for this one because I honestly almost forgot about it, haha. Universal released this 1994 romantic dramedy starring
Ben Stiller
(who also made his big-screen directorial debut),
Winona Ryder
, and
Ethan Hawke
about a group of college grads who try to figure out life after graduation. The movie was well known for exploring issues during the early to mid 90's and also featured performances by
Steve Zahn
and
Janeane Garofalo
. The film received mixed reviews upon release, but grossed $33 million against an $11 million dollar budget and was commercially successful.
NOTE: My "Top 3" may be different than yours, but we can always agree that the AMAZING reggae cover of
Peter Frampton's
"Baby, I Love Your Way" by
Big Mountain
(great for dance fighting) and "Stay (I Missed You)" by
Lisa Loeb
(it basically started her career) belong at the top.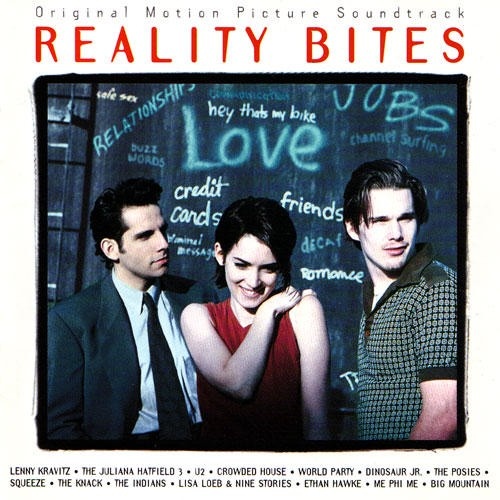 Top 3 Songs
1. Baby, I Love Your Way (Peter Frampton Cover)-Big Mountain
2. Stay (I Missed You)-Lisa Loeb
FUN FACT: Ethan Hawke directed the music video himself!
3. Spin The Bottle-Juliana Hatfield Three
The Crow
C'mon, did you actually think I wouldn't highlight this one? Miramax/Dimension released this 1994 adaptation of the comic book by
James O'Barr
. If you aren't familiar with the plot, it's about a musician who is resurrected from the dead to avenge his murder, as well as the rape/murder of his fiancee. Of course, this film was well-known for the on-set accidental death of star
Brandon Lee
. The film was both critically and financially successful, earning $50 million against a $23 million budget.
Top 3 Songs
1. Big Empty-Stone Temple Pilots
2. Burn-The Cure
3. Snakedriver- The Jesus and Mary Chain
Clerks
Ah, the film that started both
Kevin Smith's
career and the "View Askew-niverse". Miramax released this 1994 comedy about the day in the life of 2 convenience store employees. Kevin Smith actually was an employee of the Quick Stop that the movie took place in and actually had to shoot at night and then, he'd work during the day at the store! Being a huge fan of Smith's, I have visited the shop a couple times myself and it is quite a surreal experience. I highly suggest visiting at least once. The film is considered a cult classic, received great reviews and made $3.2 million against a $27,000 budget.
NOTE: The rights to the songs for the soundtrack cost more than the film did, bringing the budget to $230,000!
Top 3 Songs
1. Got Me Wrong-Alice in Chains
2. Go Your Own Way (Fleetwood Mac Cover)-Seaweed
3. Can't Even Tell-Soul Asylum
(Broken YouTube Link Removed)
Godzilla
A rare case where the soundtrack is better than the film itself! TriStar Pictures (remember when Sony let its other studios release blockbusters) released this "Americanized" version of the popular kaiju character in 1998. I remember how awesome the marketing of this film was (I'll never forget that New Year's Eve spot and the museum teaser), but we all remember how disappointed we were when the title character looked nothing like Gojira AT ALL. The movie recieved negative reviews, but was commercially successful (making $379 million against a $130 million budget).
Top 3 Songs
1. Heroes (David Bowie Cover)-The Wallflowers
2. Come With Me (Featuring Jimmy Page)-Puff Daddy
3. No Shelter-Rage Against the Machine
(Broken YouTube Link Removed)
Well, I hope everyone enjoyed the continuation of this series! Stay tuned for more volumes, give me your feedback and let me know what you want to see in Volumes 3 and beyond!