Hello guys it's Warriorman here again and this time I'm writing about the guitar legends we will never forget. Firstly I'd just like to say thanks to all for reading this, and secondly this list is in no particular order, and I know some people may disagree with some people on this list and have their own opinions but these are the guys I have look up to in the past years and have learned to play guitar from.
Okay here we go with the first legend we will never forget.
Ace Frehley
He was Born Paul Daniel Frehley, aka Ace Frehley (born April 27, 1951) is the lead guitarist best known as a founding member for the rock band KISS. Frehley played with the group from its debut in 1973 until his departure in 1982. He is most remembered for is rockin guitar solos, smoking les paul, creator of the KISS logo, and as the funny and biggest prankster of the group. As the lead guitarist, Frehley was known for his frenetic, atmospheric playing, becoming one of the most admired guitarists in the 70s and spawning a generation of new players. Frehley stated in the book KISS: Behind the Mask that many guitarists have told him his playing on 1975's hit Alive! prompted them to pick up the instrument. When Kiss decided to release solo albums frehley's was the best-selling of the four, and the album's lone single New York Groove reached the Top 20 in the United States. Back in 1996 he rejoined KISS for the highly successful reunion tour. His second tenure with KISS lasted until 2002, when he left at the conclusion of the band's Farewell Tour. He has since resumed his solo career, although to date he has not released any new music.
Notable guitars Gibson Les Paul,Epiphone, and the Ace Frehley Les Paul Custom
.
.
.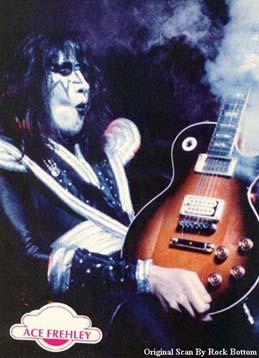 .
Ted Nugent
.
He Was Born Theodore "Ted" Nugent (born December 13, 1948, Detroit, Michigan) (aka The Nuge, Uncle Ted, Terrible Ted, Sweaty Teddy, Deadly Tedly, Great Gonzos, Theodocious Atrocious and The Motor City Madman) is a rock guitarist from Detroit, Michigan, originally gaining fame as a member of the Amboy Dukes, and recently noted for his support for hunting and conservative political views. Some of his best known songs include Stranglehold, Free For All, Dog Eat Dog, Wang Dang Sweet Poontang, Cat Scratch Fever, Motor City Madhouse, Great White Buffalo, and Wango Tango.
The Hilarious Cover to his album Cat Scratch Fever
.
To date, he has released over 31 recordings and sold over 35 million albums. Ted Nugent is famous for playing the semi-hollow Gibson Byrdland. Gibson Guitar Corporation has even developed a model named for him. Ted signed to Epic Records in 1975, Teds solo career was most successful when he released hits such as "Cat Scratch Fever" and "Stranglehold". Known for hellacious live concerts playing on top of huge stacks of Marshall amplifiers. Attracting attention for his outspoken statements on issues ranging from gun politics to biodiversity, Nugent has been a regular guest on such programs like Larry King, Howard Stern, and Politically Incorrect.In 2005 Nugent was also the host to a reality type show entitled Wanted: Ted or Alive where contestants had to compete for money as well as win opportunities to go hunting with 'Uncle Ted'. The contestants had to kill and clean their own food to survive. In 2006, he appeared on VH1's reality show SuperGroup, with Scott Ian (Anthrax, guitar), Evan Seinfeld (Biohazard, bass), Sebastian Bach (ex-Skid Row, vocals) and Jason Bonham (Bonham, UFO, Foreigner, drums). The name of the supergroup was originally FIST but later it was changed to Damnocracy.
Notable guitars Gibson Byrdland
.
.
.
.
Tony Iommi
.
He was born Frank Anthony "Tony" Iommi (born February 19, 1948) is the guitarist who is best known as a member of the heavy metal band Black Sabbath. Though Ozzy Osbourne may have been the most visible member of Black Sabbath, it was Iommi who wrote nearly all the band's music and led the band in terms of musical direction. He is currently involved in Heaven and Hell. Iommi has played in several blues/rock bands, the earliest of which being The Rockin' Chevrolets between 1964 and 1965. The band had regular bookings and when they were offered work in Germany, Iommi decided to leave his factory job to take up the opportunity. It was during his last shift in the sheet metal factory that Iommi lost the tips of his middle and ring fingers in the aforementioned incident. Between 1966 and 1967 Iommi played in a band named The Rest. This was the first time Iommi played with old school friend and future Black Sabbath drummer Bill Ward.
.
In August 1968, at the same time as the break up of Mythology, a band called Rare Breed also broke up. Rare Breed vocalist John "Ozzy" Osbourne and rhythm guitarist Terry "Geezer" Butler joined with Iommi and Ward from Mythology and also slide guitarist Jimmy Phillips and saxophonist Alan "Aker" Clarke. The six-piece band, now with Butler as bassist, were named the Polka Tulk Blues Band. After just two gigs - the last of which being at the Banklands Youth Club in Workington - Phillips and Clarke were dismissed from the band, whose name was shortened to simply Polka Tulk after this. Iommi, Butler, Ward and Osbourne renamed their band in September 1968 to Earth. They carried on under this moniker until August 1969. The Black Sabbath Era Begins. It may be argued that Tony Iommi was a pioneer of heavy metal riffing due to his guitar playing on now famous tracks such as "Paranoid", "War Pigs", "Iron Man", and "Into The Void". He combined blues-like guitar solos and dark, minor-key riffing with a revolutionary high-gain, heavily distorted tone with his use of a treble-boosting effect-pedal and a Gibson SG. The innovative detuning of his guitar to C#, an idea first employed on 1971's Master Of Reality album, also helped to characterise his distinctive sound.
Notable guitars The Gibson SG.
.
Brian May
.
He was born Brian Harold May (Born July 19, 1947) is the guitarist for one of the greatest the rock bands, Queen. As a guitarist, he is known for his distinctive tone as well as for the fact that he built (with his father) his own guitar, called the "Red Special". He also wrote many of Queen's most famous songs and biggest hits. May has played a range of guitars in his career with Queen and The Brian May Band, most often the Red Special was the one he prefered the most, which he designed with his father, Harold May, and built with wood from a 19th century fireplace. He will be most rembered by creating a style of music and playing sounds that no one and I MEAN NO ONE will ever be able to duplicate or even perfect better than Brian May himself. A funny note about Brian that I never knew, instead of using a guitar pick to play he would actually use coins, he prefers to use coins (six-pence pieces) on the basis that their rigidity gives him more control in playing. He is known to constantly carry coins in his pockets specifically for this purpose. Aided by the uniqueness of his guitar, the Red Special, which he built himself, May was often able to create strange and unusual sound effects. he was able to imitate notes and sounds to create sound effects with his guitar that were so unusual that many thought a synthesizer was being used. May, unlike fellow bandmates Freddie Mercury and Roger Taylor, and other rock stars, never used recreational drugs, was not sexually promiscuous,(Example Gene Simmons) doesn't smoke and rarely drinks. When he does drink, his favourite is Guinness, and his favourite liqueur is Baileys. Today I don't really know what Brian has been up to lately he has seemed to just fall off the radar or he is being smart and just trying to stay out of the public and media eye. However though after doing some research he is still currently writting and producing music for his band(The Brian May Band)
Notable guitars The Brian May Red Special
.
Most of May's guitar work was done on the Red Special. However, he has used a number of other electric guitars, including a Burns Double Six (Long Away), a Gibson Les Paul (as a backup during the early tours.), a Gibson Flying V (spare during Hot Space tour), a Fender Telecaster (Crazy Little Thing Called Love), an Ibanez JS (Nothing But Blue),a Greco BM90 (featured in the promo video of Good Old Fashioned Lover Boy, but was not actually used in the studio), and a Parker Fly (Mother Love).
.
.
.
.
Jimmy Page
.
He was Born James Patrick "Jimmy" Page, (born January 9, 1944) is the guitarist and the founding member of THE GREATEST rock band Led Zeppelin. Prior to that Page was a member of The Yardbirds from late 1966 to 1968. Page began his career as a studio session guitarist. In 2003, Rolling Stone magazine ranked him #9 in "The 100 Greatest Guitarists of All Time" (Which I think is BULLS**T) He is either the #1 or #2 Greatest Guirtar player ever, But compared to Randy Rhodes and Jimi Hendrix it is a VERY close race/decision. Page's past experiences both in the studio and with the Yardbirds were very influential in the success of Led Zeppelin in the 1970s. As a producer, composer, and guitarist for the band, he was one of the major driving forces behind the rock sound of that era, with his trademark Gibson Les Paul guitar and Marshall amplification.The recording techniques made Led Zeppelin a prototype for many future rock bands. His landmark guitar solo from the song "Heartbreaker" has been credited by Eddie Van Halen as the inspiration for his trademark two-hand tapping technique after he saw Led Zeppelin perform at the LA Forum in 1972. (Page's solo contains the one-hand tapping technique.) Page also put to use the bowed playing technique he developed during his session days. Led Zeppelin disbanded in 1980 following the death of drummer John Bonham. Page attempted to form a supergroup with Yes members Chris Squire and Alan White, to be called XYZ (as in ex-Yes and Zeppelin), but the project was left unfinished. He made a successful return to the stage with the A.R.M.S.. (Action Research for Multiple Sclerosis) charity series of concerts in 1983 which honoured Small Faces bass player Ronnie Lane, who suffered from the disease. The surviving members of Led Zeppelin re-formed in 1985 for the Live Aid concert with both Phil Collins and Tony Thompson filling drum duties. However, the band considered their performance to be sub-standard, and were one of the few Live Aid acts to refuse permission for their segment to be included in the 20th anniversary DVD release of the concert. Jimmy recently attended the induction of Led Zeppelin to the UK Music Hall Of Fame. During an interview for the BBC for said event, he expressed plans to record new material in 2007, saying : - "It's an album that I need to get out of my system... there's a good album in there and it's ready to come out."
Notable Guitars The 1959 Gibson Les Paul, 1958 Fender Telecaster,1958 Gibson Les Paul Standard, and The Gibson Les Paul Black Beauty (Which was stolen from him in 1970).
.
.
.
.
Eddie Van Halen
.
Firstly I'd just like to say that for all you Van Halen fans out their (and me ofcourse) Rumors on the radio and internet are saying their might possibly be a Van Halen Re-union with all members and tour, but like I said that is only a rumor and possibly people are just trting to stir things up and Pissoff all Van Halen fans saying a tour is in the process(Cause they have nothing better to do than make up stories about tours and re-unions) The Writers that is.
.
.
He was Born Edward (Eddie) Lodewijk Van Halen, (born January 26, 1955) and is the guitarist and a founding member of the hard rock band Van Halen. Gene Simmons has on many occasions stated that he was the one who invented/Found van halen and was the one that gave them their start and foot in the door. In 1976 Gene Simmons saw Van Halen performing at an L.A. club and decided he wanted to record some of the material they were playing. Eventually Simmons flew the band to Electric Lady studios in New York to record a demo. The songs on this demo were "House of Pain" and "Runnin' With the Devil". Ed disliked his playing on the demo because he wasn't using his own equipment and had to overdub guitar parts, which he had never done before. Ultimately Van Halen ended up with a demo tape but no recording contract. As Simmons was getting back with his band Kiss, he decided to forgo any more involvement with the band. Eddie is most famous for playing the Frankenstrat guitars, played mainly during the David Lee Roth era of the band. He is also famous for introducing the Keyboard into the Rock Industry, during his song Jump. During and interview with Slash(GNR) in the documentary Heavy, The Story Of Metal, slash stats that the first time he heard eddie van halen play that is what made him pick up the guitar and play a similar sound as him. Slash was also amazed at how the keyboard was introduced by Van Halen and how it has impacted the rock industry thus far. (I.E Europe, Whitesnake, Honeymoon Suite, Eddie Money, ECT.). He was shocked at the sound of the keyboards in the song Jump and how well it went with the song, however as stated in many articles by David Lee Roth he was not a big fan, and disliked Eddie using the keyboard in the song Jump, nor using it period on the album 1984. Since the 2004 tour, Eddie Van Halen has mostly disappeared from the public eye, with the exception of occasional appearances such as the 14th annual Elton John Academy Awards, and performing at a Kenny Chesney concert. In the time between the departure of Gary Cherone and the 2004 tour, Eddie had publicly stated that he has "ten albums worth of material" that is waiting to see the light of day. Given the current dissolution of Van Halen, it seems unlikely that much, if any of the new material will ever be released publicly. According to Gene Simmons' book Kiss And Make Up, Van Halen approached Simmons in 1982 about possibly joining KISS as a replacement for Ace Frehley, who was suffering from severe substance abuse problems. Eddie did so because his personality conflicts with Roth were worsening, and Eddie wanted out, but Gene persuaded Eddie to return to Van Halen.
Notable Guitars The Frankenstrat. Frankenstrat is a slang name given to modified stratocaster guitars that have been built using parts from other guitars (Like Frankenstein's monster with people).
.
.
.
Jimi Hendrix
.
He was born James Marshall "Jimi" Hendrix (November 27, 1942 – September 18, 1970) was the godfather/king of the eletric guitar and solo's and the one everyone proclaims started it all by paving the road/path for all future musicians to come. Widely hailed by music fans and critics alike, Hendrix is considered to be one of the most influential electric guitarists in rock music history. He achieved worldwide fame in 1967 playing at the Monterey Pop Festival, then headlined the iconic 1969 Woodstock Festival before his death in 1970, at the age of 27. Jimi was a self tought(Yes I looked it up) rockstar. He was a left-handed player, but Hendrix played a right-handed Fender Stratocaster guitar turned upside down and re-strung to suit him. As a rock guitarist, Hendrix exploited the sonic tool of feedback and the sound of overdriven guitars(Also know as Distortion) to an extent that previous pioneers never achieved. He built upon the innovations and influences of blues stylists such as B.B. King, Albert King and Buddy Guy, derived style from rhythm and blues and soul guitarists Curtis Mayfield, Steve Cropper and Cornell Dupree, as well as that of traditional jazz. Hendrix was also inspired by rock pioneer Little Richard, having toured in Richard's back-up band "The Upsetters" before forming his own rock group in 1966. Hendrix also broke new ground in using the recording studio as an extension of his musical ideas; he was notably one of the first to experiment with stereophonic and phasing effects during the recording process. Hendrix was inducted into the Rock & Roll Hall of Fame in 1992 and the UK Music Hall of Fame in 2005. His star on the Hollywood Walk of Fame (at 6627 Hollywood Blvd.) was dedicated in 1994. In 2006, his debut album, Are You Experienced, was inducted into the United States National Recording Preservation Board's National Recording Registry. In 2003, Rolling Stone named Hendrix number one on their list of the "100 greatest guitarists of all time".( Hendrix was inducted into the Rock & Roll Hall of Fame in 1992 and the UK Music Hall of Fame in 2005. His star on the Hollywood Walk of Fame (at 6627 Hollywood Blvd.) was dedicated in 1994. In 2006, his debut album, Are You Experienced, was inducted into the United States National Recording Preservation Board's National Recording Registry. In 2003, Rolling Stone named Hendrix number one on their list of the "100 greatest guitarists of all time". (Remember the Jimmy Page Article earlier when I said it was a tight race between those two and Randy Rhodes). Jimi Hendrix's popularity eventually saw him headline the Woodstock music festival on August 18, 1969. Although a number of the world's most talented and popular musicians were invited to the festival, including The Who, The Grateful Dead, and Jefferson Airplane, Hendrix was considered to be the festival's main attraction. The band's $18,000 stipend was the highest of all Woodstock performers, and the group was given the top-billing position, scheduled to perform last on Sunday night. Jimi's death in 1969 brought great pain and a huge blow to the rock industry as the father of loud guitar solo's and rocking music was found dead In the early morning hours of September 18, 1970, Jimi Hendrix was found dead in the basement flat of the Samarkand Hotel at 22 Lansdowne Crescent in London. Hendrix died amid circumstances which have never been fully explained. He had spent the night with his German girlfriend, Monika Dannemann, and likely died in bed after drinking wine and taking nine Vesperax sleeping pills, then asphyxiating on his own vomit. For years, Dannemann publicly claimed that Hendrix was alive when placed in the back of the ambulance; however, her comments about that morning were often contradictory and confused, varying from interview to interview. Police and ambulance reports reveal that not only was Hendrix dead when they arrived on the scene, but he had been dead for some time, the apartment's front door was wide open, and the apartment itself empty. Every one in the rock industry will miss jimi and if he were still alive today who knows what great thing he would have brought to the new era(s) of rock and roll. R.I.P((November 27, 1942 – September 18, 1970))
.
Notabe Guitars The Fender Stratocaster
.
Hendrix owned and used a variety of guitars during his career. His guitar of choice however, and the instrument that became most associated with him, was the Fender Stratocaster, or 'Strat'. He bought his first Stratocaster in 1965 and thereafter used it almost exclusively for his stage performances and recordings.
.
.
And Now For the greatest Guitar Player and Rock God Ever and #1 in every true rockers hearts, The One And Only.
RANDY RHODES
.
.
.
He was Born Randall William "Randy" Rhoads (December 6, 1956 – March 19, 1982) was THE GREATEST guitarist ever, rated by Rolling Stone magazine as number 85 in The 100 Greatest Guitarists of All Time.(Which is Bulls**t he should have been rated at least #2) His unique neo-classical metal style of playing set him apart from other guitarists of the early 1980s. Rhoads started playing guitar at age 6 on his grandfather's old Gibson "Army-Navy" classical acoustic guitar. According to Rhoads's mother, he learned to play folk guitar, which was a popular way to learn guitar at the time, although he did not take lessons for very long. Rhoads was always evolving toward a hard rock/metal lead guitar style, but he was heavily influenced by classical music as well. By the time Rhoads was 14, he was in a band called Violet Fox which eventually turned into Quiet Riot. When Randy was about 17 years old that is when Quiet Riot was formed. Kevin DuBrow auditioned for vocalist in Rhoads' kitchen after he convinced Rhoads and Garni to give him a chance. The drummer, Drew Forsyth, was already in the picture and had periodically played with Rhoads and Garni in the past. Quiet Riot initially played in small bars in Hollywood and local parties in Burbank, eventually playing at the two main L.A. music clubs of the day - the Whisky a Go Go, and The Starwood. While the band had a strong following in the L.A. club scene, they were unable to secure a major recording contract in the United States. Eventually, however, the band was able to land a record deal with a Japanese label and Quiet Riot's self-titled debut album was released in Japan. In 1978, Garni left the band to pursue a career as a paramedic, and was replaced by future Ozzy Osbourne bassist Rudy Sarzo. The band then released Quiet Riot II. Although Sarzo appeared on the cover photo for Quiet Riot II, he did not play on either of the Japanese releases. In 1979 when Ozzy left Black Sabbath he was the beggining form a new band, Rhoads got the call for the audition just before the last Quiet Riot gig. He walked in with a Les Paul guitar and a Fender practice amp and started warming up; Osbourne immediately gave him the job. Rhoads recalled later, "I just tuned up and did some riffs, and he said, 'You've got the gig.' I had the weirdest feeling, because I thought, 'You didn't even hear me yet.'" Osbourne described Rhoads' playing as "God entering my life." Rhoads subsequently recommended his friend Greg Leon, who also taught guitar at Musonia for Rhoads' mother, to replace him in Quiet Riot, as Rhoads packed his bags and headed off to the UK. They arrived in England in March 1980 to begin working on their first album The Blizzard Of Ozz. They released two singles from the album Mr. Crowley and of course the greatest song ever the huge Ozzy hit Crazy Train, which today is still considered by many as randy's greatest recording. The band toured extensively for The Blizzard Of Ozz tour and then immediately wrote and recorded the follow-up album Diary Of A Madman. Two days after recording was done, Osbourne fired Kerslake and Daisley, and he hired ex-Black Oak Arkansas drummer Tommy Aldridge and ex-Quiet Riot bassist Rudy Sarzo. Diary of a Madman was released shortly thereafter and Osbourne launched another tour with this same lineup. Like I said earlier about Jimi Hendrix, If randy was still alive today he would have offically been declared the WORLD'S GREATEST GUITAR PLAYER, and would have brought a new style,type, and technique of playing for the future generation of Rock and Roll. Sadly Randy was killed on March 19, 1982. While the band was headed to a festival in Orlando, Florida, when they stopped at the bus driver's house in Leesburg, Florida after driving much of the night. The driver, Andrew Aycock, whose pilot license had expired, took Rhoads and hairdresser Rachel Youngblood on a plane he had taken without permission and took off early that morning. Apparently, during the flight, an attempt was made to "buzz" the tour bus where the other band members were sleeping. They succeeded three times but the fourth time it went horribly wrong. The right wing clipped the right side of the tour bus by accident and crashed into a nearby mansion completely destroying the front. Nobody in the mansion was hurt. Rhoads, age 25, was killed instantly, as were Aycock, 36, and Youngblood, 58. It was found later that Aycock had an expired flying license and had some amount of cocaine in his system; Rhoads toxicology however stated he was clean and toxicology test revealed no illicit drugs. In 1987, five years after Rhoads' death, Osbourne released Tribute, the only official album featuring Osbourne and Rhoads playing together in concert. Most of the album is a live performance from Toronto, Canada, Recorded on July 27th, 1981. A show just one day later in Montreal, Canada, recorded on July 28th, 1981, had been broadcast on WMMS-FM, and the King Biscuit Flower Hour, from which it became an extremely popular and fast selling bootleg. Randy was inducted into the Guitar Center Rock Walk (on Sunset Blvd in Hollywood, CA), on March 18th 2004. Randy has inspired not only me to pick up a guitar but also the future generations of guitarists, Despite his relatively limited recorded work, Rhoads has influenced many notable guitar players including: Zakk Wylde, Dimebag Darrell, Alexi Laiho, Jake E. Lee, Brad Gillis,Bret Santti, James Murphy, Yngwie Malmsteen, Slash, Chris Impellitteri, John Petrucci, Tony MacAlpine, Wolf Hoffman, Akira Takasaki, Matthias Jabs, Troy Stetina, Lee Tatler, Paul Gilbert, Matt Tuck, Marty Friedman, Hide, Daron Malakian, Janick Gers, Kirk Hammett, and Buckethead. Randy will live on forever in our hearts and minds of our rock and roll memory and lives. R.I.P my friend.
Notable Guitars Jackson RR Signature Model Karl Sandoval Custom Flying V and 1970s Gibson Les Paul Custom.
.
.
.
.
.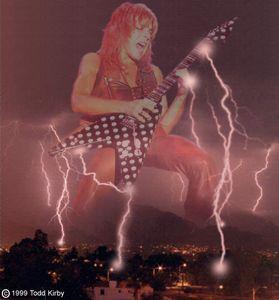 .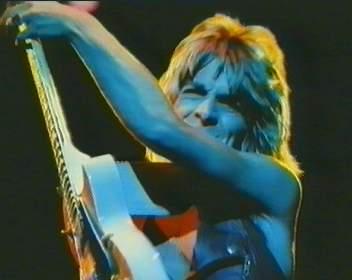 .
.
Well their you have it my list of the greatest and most influencial Guitar Gods that I love so much and and hope to someday play just like by combine all their styles of playing into one big style of ROCK AND ROLL.
I'll catch you all on the flipside
Warriorman Out