Hello again!
It's me, Ian, here with another memory to share from my youth.
This time, I'm gonna wax eloquently about a place in Columbus that I was proud to be a part of since my birth:
The Center of Science and Industry, a.k.a.:
COSI!
You read right, guys- if you're from or just happen to live in Central Ohio, chances are you've been to COSI at some point in your life. It was- and still is- Columbus' mecca of
everything
- everything you'd ever want to know about the world around you. Possibly the best thing Central Ohioans have known about COSI is its
older
location, at 280 East Broad Street, right smack in the middle of downtown Columbus. It was formerly known as the Franklin County Memorial Hall from 1909-1964, but reverted to its natural state in 1999 (to be converted into office space), when COSI moved into a newer building down the street, opposite the Scioto River at 333
West
Broad Street (using the old Central High School as a centrum), just across from the Veteran's Memorial Auditorium.
Now for this article, I'll just be focusing on the highlights of the older COSI, since that's what I remember the most.
So, are you ready, then? Herrrre we go!
THE SOLAR FRONT
We'll start here inside where the old Memorial Hall facade is enveloped within a big glass front-and-black brick wall combo, known as the Solar Front, which is also evident in the museum's logo (see top of page). There's a lot to see and do here: an old fire truck, a space capsule, "The Great Gravity Gizmo" (a ball coaster), the "Jenny" Cloud Dancer airplane, a couple of opposing whisper dishes, hot-air balloons you can control with just one button, and a replica of the Friendship 7 (complete with John Glenn (one of Ohio's greatest people, might I add) inside!), among other things.
LOBBY
Now that we're inside the lobby and in line to get admitted in (through membership or payment, of course), you'll notice the Foucault pendulum in the center of the room, which sways back and forth, round and round, knocking off pegs as it goes.
FIRST FLOOR MAIN EXHIBIT AREA
One admittance later, we're right in the center of the action: the first floor main exhibit area. It's pretty much a hodgepodge of activity in one big room- you could: have your hair stand on end at the electrostatic generator stage, see a chemistry show in the "Chem Demo" area, learn about oil exploration and refining, fill out a review at the "Talk Back to COSI" kiosks, see yourself move in different colors in "Recollections", meet Cyro the Robot and learn about transplants/bionics up in the Hi-Tech Showcase, capture your shadow on a phosphorescent wall, and even check out an old caboose. Hell, you could also enter the Discovery Shop gift shop and take home any treasure from here to remember COSI by--especially astronaut food!
Most of my memories here usually involve Recollections and CYS, but I also recall the Hi-Tech Showcase also featuring stuff like:
-
"Touch Ohio State"
- This involved learning about Ohio State University as part of a survey, and also studying the Periodic Table of Elements and a microscope there,
-
the Echo Tube
- simple enough: just say anything into the GIANT tube near the ceiling and hear it reverberate. Another thing: when you
clap
into the tube, it almost sounds like a laser! ROTFLMAO...
-
the Neutron-or-Proton? slot machine
- pull the lever and see what you've got: if you stop at two nucleons diving "down" and one flying "up" a la Superman, then it's a neutron. Two "up"s and one "down" make a proton.
LIMITEDSPACE
Now, by far, the most fun thing about COSI, as everyone knows, is its various traveling exhibits that come and go year after year. Exhibits usually range from dinosaurs to space travel, from simple machines to virtual reality. Here are a few I know well:
-
Mission to Mars
- As its title implies, this exhibit focused on what we see when look up at Mars when appears in the sky. I recall in the one of the fake space shuttles, there was a bank of computer monitors, and in the corner of each was a man (or robot, depending on who you chose as your guide) explaining more about it. What freaked me out was, that "man" immediately reminded me of Louis Rukeyser!
I hope he doesn't give stock tips as part of my next mission briefing...
-
Liquid Vision
- This focused on virtual reality and holograms, and introduced us to computer graphic animation (one of my interests, wink wink). I loved the various animations, including one called "Coredump", which involved shiny silver squares caught in a strong wind, and the falling through a formed vortex and exploding into the air, as well as the band room (where we sang karaoke versions of
Louie, Louie
and
U Can't Touch This
), and, of course, the dazzling laser-light fireworks arcade in which you aimed lasers at targets along a model Columbus skyline to make the fireworks appear. One thing I
wasn't
keen about what the entry pod. I had second thoughts about us getting vaporized into nothingness, but a few turns of the door later, it was really nothing to worry about- it only
felt
like we'd teleported out of thin air.
-
Square Wheels
- Simple machines and transportation are the focus of this exhibit. A monkey mechanic named Otto, guides us through how we get around through means of levers, wheels, axles and inclined planes, what makes a car go, and the like. When I was in here, I got the sensation that we were in a real car assembly plant, what with the car parts and fuel bubble displays all around.
-
Whodunit?: The Science of Solving Crime
- Need a mystery to solve? Well, enter the Memory Diner, where'll you see a news report about a murder just outside in the "alley". From there on out, guests use their detective skills to help find the person responsible for the murder.
-
Movie Special Effects
- The movies come alive here, introducing guests to how movies make things what they seem to be. One part I remember best about this was a kitchen counter set, where we saw that we were about to become "victims" of a French cockroach chef puppet, but got squashed by a giant foot in the end.
-
Science in Sports
- Hey, even sports and games have a science to them, too! In it, we learned how far we could run by a stopwatch, see COSI's famous "Rat Basketball" match (it got so famous was on Animal Planet!), and even learn a little about statistics and how they're measured. At the running display, when I heard the voice saying "On your mark, get set, GO", I almost felt like I was
Nickelodeon GUTS
! Too bad the real Mike and Mo weren't around...
SCIENCE PARK
Back outside we go now to the Science Park, another COSI landmark. There we'll find a dump truck which you culd slide down on--via friction, a pulley on which you could weigh a car, a "tree" of prisms, and of course, the one and only High Wire Cycle. I was too hesitant to ride the bike, because I was afraid of falling off. Before it was built in the 1990's, The Christopher Inn, a hotel, occupied the space next door to COSI.
STREET OF YESTERYEAR
Now, let's go one floor up and check out what lies ahead:
When you enter from the back stairway (like my folks and I always did), you step into this village which ranges from the 1780's up to 1923. Here we'll learn about city life from that era, and see the many professions and how they did what they do today then, from a dentist, a blacksmith, and a dressmaker to the Dream Land nickelodeon theater. Just beyond this cobblestone walkway, there's a closet full of elephant trinkets, an "Attic" full of newspaper headlines from way back, and a collection of Cracker Jack prizes and boxes.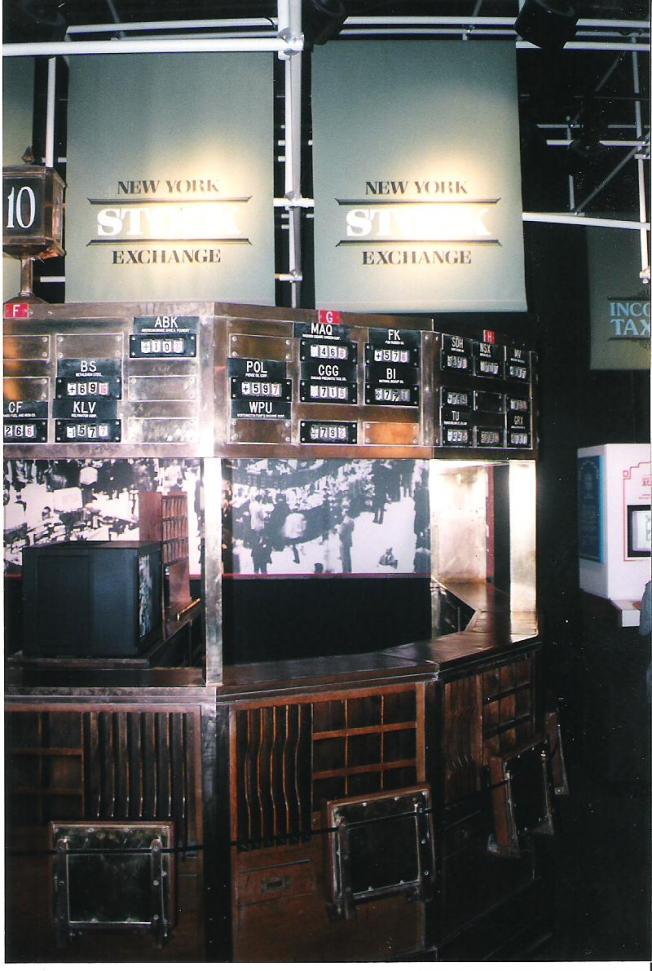 SECOND FLOOR EXHIBITS
There's plenty to do up here on the second floor, though I myself never spent much of my time there as a kid. With such exhibits as: a display of all the U.S. presidents up to Clinton, Angler Ted's Pier (where kids could "fish" from a dock), a weather station (make your own forecast, a la
A.M. Weather
or the Weather Channel), an old replica of the NYSE trading nexus, a crime display that tested your babysitting skills, a corner devoted to old computers, a metric system display, the Water Wonders exhibit explaining rivers and lakes and such, and a theater about our earth, featuring the rapping trash can:
"Press the thing you want to know, then wait a minute for the video!"
PLANETARIUM
The Battelle Planetarium is where you could learn astronomy all by means of a little ball in the center, displaying all the various constellations and planets. Calm, soothing music fills the air as the lights dim, giving us a sensation of the night... I strongly advise you don't bring your kids if they happen to be afraid of the dark.
Now comes the fun part for yours truly:
FAMILIESPACE/THIRD FLOOR EXHIBITS
Made it, Mom! Top of the world! This is where the
REAL
fun begins. Never a dull moment up here:
-
a section devoted to the human body
- featuring the "Heart Television" video wall (featuring how hearts work, get fixed, and are to be taken care of the right way), a "windpipe" tunnel, and a computer matching game dealing with the seven warning signs of cancer (
CAUTION
anyone?), just to name a few;
-
an IMMENSE model train set
- it also featured a circus, a hot-air balloon, and even a McDonald's! There was also a computer quiz about train safety.
-
a robot that measures your height
- "Stand up straight... now activating measuring sequence... (electronic warbling)... you are 4-feet-5-inches tall. (drum fill) Thank you for visiting COSI!"
-
a TV news desk
- one of my favorite parts of the floor. With the electronic warbling from the "height robot" not far off, I felt it passed off as a good teletype sound effect!
-
a band room
- before Guitar Hero... before Rock Band... THIS was the way to learn to play your fave instrument: keyboard, drums, guitar, bass, vocals.
-
a water play area
- fun for the whole family: kids don smocks and make quite a splash with stuff like a water table with sand/water toys galore, bubble, a bubble window, a glass panel to make pictures on water with foam blocks, and water cannons to spray through rings
-
a baby doll ambulance
- kids take care of baby dolls (wash, change and study)- just right for the budding "Scrubs" or "ER" wannabe in your family.
-
the "Walking Piano"
- Tom Hanks would never believe THIS!
-
the "Reaction Time" anti-gravity mirror
- stand on a ramp between the mirror and BAM! You're in mid-air! (almost...)
KIDSPACE
And for the tiny-tots-still-in-diapers among us, there, of course, is KIDSPACE. Provided you were under 48" or with a kid of that height, you could enter a euphoria where even the littlest kids could live out their grown-up fantasies. This is where I spent my most of time here as a tot, where the perks never stopped:
-
a "kid's office"
- a simple setup with a couple typewriters and a phone.
-
face painting
- pretty self-explanatory for any little one who's done it.
-
computers
- kids could make their own faces, paint, and have fun with the alphabet!
-
BABYSPACE
- perfect for any infant raised in the Lamaze manner.
-
a ball-coaster bannister
- more fun than the FAMILIESPACE twin coaster, in my honest opinion.
-
a smaller water play area
- there was even an inflatable canoe with vests in the corner!
-
a soft play/climbing area
- what behemoths of preschool goodness there were here over the years: big building bricks, big soft foam blocks, a big wooden playhouse (with working doorbell)... and a big plastic geodesic tunnel, the Crystal Cave. Every time I crawled through that cave, I always got the sensation I was in the
Square One TV
opening sequence from season one in 1987!
The Crystal Cave's yellow entryways always put this in my mind.
THE TIME TUNNEL
Now let's go back in time and forward again, as we pass through various dioramas depicting the rise of our civilization, in the
Time Tunnel
. Originally known as
The Triumph of Man
, 13 different dioramas- one for each era in time from the time of the dinosaurs all the way to the future. The last diorama, "Today and Tomorrow", used to play a movie, featuring Aaron Copland's "Fanfare for the Common Man" (which also used to play in local commercials for Riverside Methodist Hospitals and Grant Hospital - when they were owned by U.S. Health, known today as OhioHealth), but in its last days it was just a still image of space lighting up. Was I ever disappointed when they axed the movie!
Just beyond here, it leads back to the human body part of the exhibit, as well as room featuring optical illusions and perceptions.
Lastly, let's head for the basement. Surely they've got something waiting for us here...
CAFETERIA
And sure enough, there is! Using a recycling theme, this cafeteria is actually a long row of vending machines filled with almost any food imaginable, from pizza to popcorn, hot dogs to ice cream, soup to soda- you name it, it was there. Also within is a clear drinking fountain, which explained how it worked.
COAL MINE
Well, we're coming to the end of this whirlwind tour here. What better way to end our journey through the coal mine? Down the elevator goes, and upon getting off, we look at what it's like to be a miner (thanks in part to an animatronic miner with a canary). At the other end of the mine, there's a film about coal mining and how it helps us in the long run.
And with all that in the books, we trip out the doors much later, drunk from all the excitement.
But- what's this? There's another Columbus institution that's no longer around, right up ahead of us: the first-ever Wendy's here in Columbus.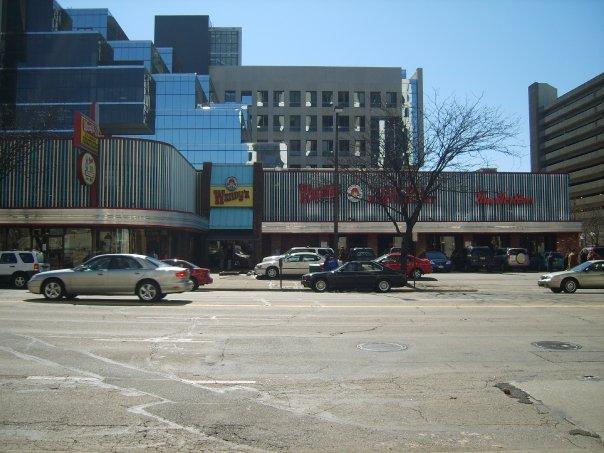 Most people who went to COSI back in the day also went here for lunch or dinner. Within this restaurant, there's an assortment of stuff relating to the business, such as previous Kids' Meal toys and advertising memorabilia. This particular restaurant was opened in the fall of 1969, just a few years after COSI got
its
start.
Now, COSI was usually open all week until 5pm (a little too early for you kids), excluding holidays. Tough to be a kid like you, you say? Not if you were lucky enough to be in a group:
That's right! COSI also did special overnight sessions for children's groups, especially Boy AND Girl Scouts. I recall one time when I was with my fellow Cub Scouts in Pack 169 and we had an overnighter at COSI in the early fall of 1996. There was the usual exhibits, but the fun didn't stop there- oh, no. We even got to make our own paper and raise our own hermit crabs from scratch! For accommodations, we had to bring our camping gear to the recreation center at Wolfe Park, up the street near Bexley.
Fast forward to late 1999, the time when COSI made that fateful decision to abandon the Memorial Hall and move further down the street towards Franklinton. Immediately it started up again under a new guise, with newer exhibits (and _fewer_), an IMAX-style theater, and even a full-service cafeteria. Sure, it may have had
some
of the glitz the old COSI had, but I think I speak for a number of Columbus "Gen-Xers-going-on-Y" when I say: nothing can compare with the old Solar Front building on 280 East Broad.
Well, there you go: another article in the books from the desk of the ol' Shermanator himself. Hope you enjoyed this million-dollar tour of one my fave Columbus hot spots!
If you're a Central Ohioan (or has been there before), do you have any memories of the old COSI? I'd love to hear it.
BTW, there's also a group about the old COSI on Facebook I just joined half a year back. I liked it so much--I even convinced my mom and dad to join! It also takes you to this great site:
http://www.oldcosi.com
(Note: This is where a majority of the pictures you see here came from.)
Major props to Eric Upp for creating that site (and Facebook group) to begin with.
Go there when you get a chance. I promise you won't be disappointed!
-------
That being said, this is Ian, signing off, and saying stay tuned for my next article; coming up soon.
Be sure to rate and comment. And again, I'm open to any suggestions on how make this better.
And so, I now leave you with the words of the great Danny Kaye:
If I could only get back to yesterday,
Today would be a better day.
If I could only get back to yesterday,
Oh, the different things I'd do and say...
M.A.L.T.Y.- Much Anime Love To You!