How goes it, all?
Ready for another memory-jogger from this side of the Olentangy? Then I shall begin...
Now, I've upheld a simple personal mantra every time pledge-drive season rolls around on my local PBS station: while we should think about doing our part for public media (yes, I've read about all this de-funding fiasco going on in the Republican-ridden House of Representatives), we should also be thinking about what parts PBS has done for
us
over the years. That includes all the older shows--especially those that seem to have fallen off the face of this earth. :P
And one particular show has left quite an impact on my youth--and my family, too. So much, in fact, that I've still grown so fond of this series ever since it went off the air.
To put it succinctly, fellow RJ'ers, I'm talking about...
What were you expecting?

Sesame Street

?
This 15-minute program, usually broadcast as soon as your PBS station was all signed on, was your basic, standard, no-nonsense forecast about the coming day and everything about it. But it was done in such a way that made it quite ahead of its time and the perfect alternative from what you might've found on the larger networks.
The best trio of weatherpeople PBS has ever known
Now, there were various meteorologists from time to time who provided hosting duties, all from NOAA (the National Oceanic and Atmospheric Administration), but out of the entire roster, only three of them were best known for
their
on-air duties: (l to r) Joan Von Ahn, Carl Weiss and Wayne Winston.
The show was co-produced by NOAA and Maryland Public Television (formerly known during its early years as the Maryland Center for Public Broadcasting), the PBS affiliate for statewide Maryland. It ran on PBS from October 30, 1978-February 3, 1995.
Now, not a lot of people knew this, but before
A.M. Weather
, there was
Aviation Weather
, which ran from 1972-1976. Aside from its precursor, it was broadcast Thursday and Friday evenings and lasted a half-hour. And not only did it have the forecast (reported by off-camera personnel from the FAA--that's the Federal Aviation Administration), but it also featured special segments on general aviation, such as local air shows and how airplanes work.
The original trio
Fast-forward to 1978 now, where a rule change at NOAA and NWS (the National Weather Service) stated its personnel were to identify weather
live and on-air
, as it happened, and more often. There were only a few catches: do it early in the morning every weekday, go beyond aviation, and do it all in 15 minutes. Three of NOAA's best meteorologists at the time, (l to r) Mike Mogil, Rich Warren and Dale Bryan, were chosen to show what the skies would be like for much of the day.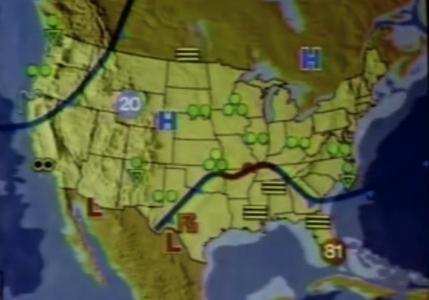 From start... to finish
The yellow pointer that made its mark on many a map
Over the years,
A.M. Weather
had followed a simple format: first it started with current conditions across the country, then moved over to satellites and radar, followed by temperatures, precipitation, the coming forecast, aviation forecasts (in terms of VFR/MVFR/IFR location, aircraft icing, turbulence and winds aloft), and any severe weather happenings nationwide (in a segment named, aptly enough,
WeatherWatch
). Near the end of the run in the 1990's, the order in which the first few segments were presented would change a bit, but the methods done were not that much different from previous years. The maps first started out as the usual manually-drawn maps, done with grease pencils, X-Acto knives, and such, but it was only a matter of time before computer graphics were first introduced around the late 1980's, and incorporated the use of WSI Corporation's new software, as well as their system for flight briefings (which Carl, Joan and Wayne urged pilots everywhere to get before taking to the skies). Also common was their trademark yellow pointer, to help tell what was going apart from which. One thing bothered me, though: how could Carl, Joan or Wayne being predicting the weather from the desk if they weren't working the pointer? Post-production, I would imagine...
Carl and Joan on the last show
But sadly, the show came to an abrupt end in February 1995, for a number of reasons: one, cable TV (especially the Weather Channel) had already become widespread all over the USA; two, production costs had practically skyrocketed since the year before; and three, more importantly: Maryland Public Television just made a deal with Bloomberg Television in New York City to do a 15-minute morning business news show via a live feed from the latter's headquarters.
Some of the people responsible for helping the show fly high
Since the show mainly dealt with aviation information--and a little bit of agriculture (remember, the show was first known as
Aviation Weather
back in the early-to-mid 70's), funding was paid for in part by various corporations and government agencies in the field, such as AOPA (the Aircraft Owners and Pilots Association,
and
its Air Safety Foundation arm), FAA (the Federal Aviation Administration), Phillips 66 gasoline, NBAA (the National Business Aviation Association), and Gorman-Rupp Pumps, just to name a few.
Indeed, most of the county was pretty much upset when
A.M. Weather
was done away with. But over time, it sparked a lot of memories for us all. You see, most of the show's demographic was all made up of pilots, sailors, farmers, storm chasers- as well as us regular everyday people- it helped some of us get interested in weather in general.
Now, as for me, I remember waking up every morning from the time I was in preschool to kindergarten, just to watch the Disney Channel, and wait for WOSU-TV/34 (my local PBS station here in Columbus) to sign on at 6:45am and start each broadcast day with that show. There I'd sit (or stand) in my pajamas, staring up at the screen, showcasing all the buildings on the Ohio State campus, from the Orton Geological Museum to the Fawcett Center, all to the instrumental strains of
Carmen Ohio
, OSU's beloved alma mater song. And after hearing station personality Boyce Lancaster start things up about WOSU and how it worked, it was finally showtime: after a succession of those funding credits, on came the opening theme (it first started as an lilting orchestra, but then grew into a standard business-like theme in the 90's)...
Every time you see

this

sunrise, you know you're going to get your 15 minutes' worth.
Then the lights went up on either Carl and Wayne, or Carl and Joan, or Joan and Wayne, or any of the three plus a guest meteorologist (most of whom also happened to be from NOAA), as they prepared to tell us all what to expect for the coming day and week. Now, being a preschooler, I never could understand all the forecasting jargon they used (for example, I thought that the "small craft/lake wind advisory" symbol looked somewhat more like a duck), but I did have a tendency to draw my own maps based on the show, mainly those of winds aloft and temperatures. Also, on some shows before the end, they would also have a plug for viewers to contact the show with any questions or comments, and with their response, they'd also include a weather map-and-station listing guide.
Also, as I discovered from a big thick AOPA handbook my dad used to have not long ago, he was also a private pilot from the 1970's-1983, so I've got a strong suspicion he benefitted from the show quite a bit as well.
Ever since then, I've managed to look high and low for whatever's left of the show. I've even gone so far as to start up a group on Yahoo! Groups, where pilots/weather fanatics/classic PBS fans in general could share their own personal memories of the show. You can join, too, if you're interested: just go over to http://groups.yahoo.com/group/AMWeatherPBS for all the details.
Right now, though, do any of you guys have memories of
A.M. Weather
? And maybe how they helped get you interested in weather (or general aviation)? Of course, suggestions are welcome.
Well, here ends another article, and as the disclaimer goes on the 90's episodes of the show:
"The aviation weather information contained in this program is for planning purposes only. Pilots are urged to obtain a pre-flight weather briefing prior to departure."
Till I see you again next article... M.A.L.T.Y. - Much Anime Love To You!
P.S.: By the way, Carl, Joan and Wayne are still around, but only Carl and Joan are still at NOAA- Wayne's retired, and in Illinois now.