As far back as I can remember I've been a fan of professional wrestling, that is until now (which will be elaborated on in further installments). So in tribute to my fond farewell to the very sports entertainment entity I've loved since I was a kid. I've decided to take a look back at the numerous "eras" of professional wrestling, beginning with The Golden Era.
The Golden Era (also known as The Rock 'n' Wrestling Era) officially began on January 23, 1984 when Hulk Hogan won the World Wrestling Federation Title from the Iron Sheik in Madison Square Garden. Prior to that date, professional wrestling had only been popular in certain parts of the United States. It wasn't until Vincent K. McMahon purchased his father's promotion and slowly began expanding it nationwide.
Now lets take a look at the top performers of this era, starting off with the biggest, most famous, and the very reason for the entry into mainstream for professional wrestling as a whole.
Hulk Hogan
Hulk Hogan defined what professional wrestling was at the time. The quintessential immortal, the ultimate good guy, the real American. With a combination of his massively built frame, 24 and half inch pythons, and seemingly unbreakable will. Hogan oozed charisma as he ordered his legions and legions of Hulkamaniacs to say their prayers and eat their vitamins. Hogan is one of if not the only reason professional wrestling is as popular as it is now. Even the ones with the most distant knowledge of wrestling know that it is the "thing that Hulk Hogan does". Being a kid my eyes would instantly glow as soon as the famous Real American guitar riff blasted through the arena and I would join my fellow Hulkamaniacs rise to their feet as their hero stomped towards the ring, ripped his shirt off, and performed his notable poses. We would always get worried when we thought Hogan could be beat, but our hopes would be relieved as soon as he began to "Hulk" up and always rise to the occasion to beat his opponent with his big boot and huge leg drop. Hogan first won the WWF title in 1984 and would hold on to it for an incredible 4 years defeating the likes of the Iron Sheik, Roddy Piper, and Andre the Giant. Hogan would usher in the Rock 'n' Wrestling era with a cartoon and strong relationship with mainstream music artists at the time led by Cyndi Lauper. When it comes to professional wrestling, fans and wrestlers alike, they all owe it to the immortal Hulk Hogan.
Andre the Giant
Andre the Giant was just that, a mythological giant only appearing in fairy tales. Standing at 7 feet 4 inches and weighing roughly 530 pounds. Andre was a marvel to behold. One of the most beloved wrestlers of his time. Andre along with Hogan branched out into forms of entertainment which saw Andre in a heartwarming role in The Princess Bride. Andre sported an unprecedented 15 year winning streak in the WWF until he shocked the wrestling world and challenged his longtime friend Hulk Hogan to a match for the WWF championship at Wrestlemania 3 which set the stage for the most colossal confrontation of all time. During the most hyped and groundbreaking match of all time, Hogan did the impossible. In front of 93,000 fans (an indoor stadium record at the time) Hogan picked the massive behemoth over his head and bodyslammed him to retain his championship in the most replayed and all time greatest moment in wrestling history. After that earth shattering moment Andre's steam slowed and he fell out of title contention. Sadly Andre passed away on January 27, 1993 and the giant was laid the rest. However his legacy did not die, as he became the first ever member into the WWF Hall of Fame. No one will ever forget the larger than life persona of the 8th Wonder of the World.
"Rowdy" Roddy Piper
You will never a see a greater villain in professional wrestling than the rowdy one. Roddy Piper was the ultimate bad guy during this era, feuding with the likes of Hulk Hogan, Mr. T, and Jimmy Snuka. Piper was one of the most controversial figures in wrestling history whether it was bashing a coconut over Snuka's head, or painting the entire half of his body in blackface. Piper was one of the most brash and outspoken wrestlers in history whether it was in the ring or on the set of his talk show Piper's Pit. During this time Piper also saw mainstream success although not on the same level as Hogan and Andre, Piper starred in the cult horror classic They Live, where he spouts the timeless quote "I'm here to kick ass and chew bubblegum, and I'm all out of gum" a line that would be etched into dictionary of pop culture quotas (see Duke Nukem). Whether he's brawling with Hogan at the very first Wrestlemania, boxing with Mr. T, or blasting Morton Downey Jr. with a fire extinguisher there will never be another wrestler as outspoken and as controversial as Hot Rod.
Jimmy "Superfly" Snuka
Jimmy Superfly Snuka defined high flying action. Snuka is remembered most from his death defying splash from the top of the 15 foot high steel cage onto Don Muraco. A moment that inspired numerous in attendance to become profession wrestlers including future legend Mick Foley.
"Mr. Wonderful" Paul Orndorff
Mr. Wonderful was an amazing specimen who was involved in one of the most memorable and profitable wrestling feuds of all time when he clashed with Hulk Hogan for the WWF championship. A feud that saw the two face off in front of 76,000 fans and an epic steel cage match. Anyone who could steal the show from Hogan deserved to be called Mr. Wonderful.
Now onto some of the images that defined this part of the era starting with the first step into mainstream media for professional wrestling.
Hulk Hogan's Rock 'n' Wrestling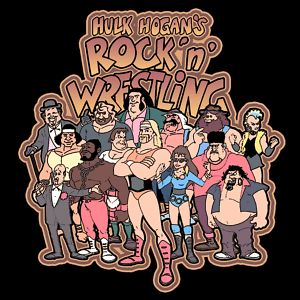 This was a cartoon that was comprised of 16 episodes and aired from September 14, 1985 to December 6, 1986. The cartoon featured Hulk Hogan leading the "faces" or good guys consisting of Junkyard Dog, Jimmy Snuka, Andre the Giant, Wendi Richter, Tito Santana, Hillbilly Jim, and Lou Albano battling Roddy Piper and his gang of "heels" or bad guys consisting of Iron Sheik, Nikolai Volkoff, Fabulous Moolah, Mr. Fuji, and Big John Studd.
Hulk Hogan bodyslamming Andre the Giant in front of 93,000 people
The most defining image in the history of professional wrestling.
This concludes the first part of the Golden Era which will be a part of the expanded Professional Wrestling Eras series. I certainly hope you've enjoyed reading this article as much as I have writing it, especially for you fellow wrestling fans out there in retroland. This is my first article ever written on here so I truly hope that you enjoyed it and I hope that it wasn't too long and boring. So until part 2 so long for now.