Coming off the immense and highly popular Golden Era of wrestling. The WWF was on top of the world and with no sign of slowing down in sight. This wave of success would come to an abrupt and screeching halt as numerous roadblocks would emerge that would prove to be nearly impenetrable. From the ashes of the Golden Era and the enormous footprints left by the departed legends of Jake Roberts, Andre the Giant, Roddy Piper, Randy Savage, and the biggest footprint of them all, Hulk Hogan, would rise a new generation of icons, The Next Generation.
The Next Generation Era would begin on June 13, 1993 when Hulk Hogan would make his last WWF appearance for the next 9 years and leave the company amid a steroid scandal that would rock the WWF down to it's very foundation culminated by the trial of Vince McMahon for allowing the shipment of steroids, McMahon would be found not guilty. Following the trial, Hogan would follow his fellow wrestlers and joined a rival promotion in need of a desperate boost, a boost that only Hulk Hogan could provide. More on that promotion later in the article.
The steroid scandal and the falling ratings and revenue due to Hogan's departure cost the WWF dearly as they desperately tried to rise to their feet again. They began by making the promotion more kid friendly and would introduce numerous gimmicky and cartoony characters that would prove to be disastrous (I personally enjoyed them, but that's just me) such as a clown, futuristic cyborg, ninjas, a dentist, and numerous others. Throughout this mess, the WWF would finally find it's icons that would lead them into the future of financial success and wrestling as a whole. The era's newest torch bearers would be a combination of technical wrestling and high flying, charismatic style that would resurrect the WWF to new heights and lay the groundwork for the biggest professional boom in wrestling history. We begin with one of the greatest technical wrestlers of all time, an excellence of execution if you will.
Bret Hart
The Hitman was born into a legendary wrestling family under head patriarch Stu Hart who would personally train his children and children-in-laws. From the guidance and discipline of his legendary father, Bret would hone his skills and become one of the greatest wrestlers of all time. Hart would begin to rise through the ranks of the WWF finally emerging as a tag team with his brother-in-law Jim Neidhart as the Hart Foundation that would lead an unbelievably loaded tag team division as Tag Team Champions. Soon the Foundation would run it's course leaving Bret as an up and coming singles wrestler who would emerge from the mid card to become a serious contender for the Intercontinental Championship which he would win from Mr. Perfect in one of the most pitch perfect wrestling matches not seen since Savage and Steamboat. In the midst of the steroid scandal the WWF would break away from their standard heavy built main eventers to the smaller more technical savvy performers, enter Bret Hart who would become the ultimate flag bearer (fallen in the shadow of Hulk Hogan) by becoming WWF Champion and symbolically ushering in the Next Generation as the best there is, the best there was, and the best there ever will be. However, Hart would not carry the flag alone, a co holder would also arise from exactly the same path as Hart.
Shawn Michaels
Shawn Michaels just like Hart, started in the tag team division with Marty Jannetty as the Rockers. Although they shared similar paths, Michaels and Jannetty differed greatly from the Hart Foundation's more technical style in favor of a more high flying, athletic style. While Hart and Michaels' journey to the top was the same, the paths couldn't have been more different. While Hart continued being a good guy after the departure of his partner, Michaels would do the complete opposite, turning on his partner and brutally smashing his head through a window effectively turning into a cocky and flamboyant bad boy. After his tag team career ended, Michaels would also rise through the mid card ranks and capture the Intercontinental Championship. While Hart would entertain audiences with his acute and remarkable ground wrestling, Michaels would continue his high flying, death defying, agility, athleticism, and cocky charisma to amaze and delight wrestling fans worldwide. Michaels' style and work ethic enabled him to achieve the impossible task of performing 5 star classic matches with everyone he stepped in the ring with, he could wrestle with a cardboard cut out and make it entertaining. With his unbreakable will, pretty boy charisma, unmatched athleticism, and undying love to perform and give the best show he could possibly give. It's no wonder that the Heartbreak Kid, the Showstopper, the Main Event, and Mr. Wrestlemania arguably deserves another moniker. Greatest superstar of all time.
With Michaels and Hart representing two sides of the same coin, another batch of performers would also help carry the torch to light the darkness of the times. One of which, ironically embraced the darkness.
The Undertaker
When this walking enigma made his first appearance in the WWF, it sent icy chills down the spine of everyone in the audience, especially the children. Undertaker debuted as a supernatural force that could not be stopped, not even the almighty Hulk Hogan could stop this malevolent mortician who could seemingly draw power from a mysterious urn that was carried by his manager Paul Bearer. Whenever an unfortunate soul fell victim to the Undertaker, he would be placed in a cold black body bag as a symbolic and grave conquest to the frightened and tear filled children that not even their hero Hulk Hogan could stop this demon from Death Valley. However through the years the tears and fright would fade away as The Undertaker would undergo several incarnations ranging from a Texas mortician, to a heroic dead man, to a sadistic cult leader, and even to an all American bad ass biker. The Undertaker is one of the most enduring, popular, and loyal superstars ever to come from the WWF. An innovater of numerous classic match types including the Casket, Buried Alive, Inferno, and last but most important Hell in a Cell matches. Throughout his long and impressive career, no matter how many championships he wins or matches he innovates, Undertaker's greatest legacy will without a doubt be his undefeated streak of 20-0 at the grandest stage of them all, Wrestlemania. Whether he's a mortician, demon, or biker, Undertaker will without a doubt be the most respected figures in all of professional wrestling and a true phenom that will stand the test of time.
Yokozuna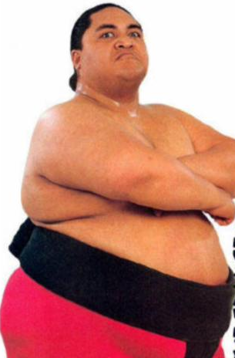 Before WWF decided to insert smaller, more athletic performers into the main event they decided to unleash a true super heavyweight onto the roster. Coming from a sumo background (character wise), Yokozuna easily dominated all in his path, even wiping out Hulkamania from the face of the WWF. The 600 pound behemoth laid waste to many American challengers in his path in the name of the land of the rising sun. Yokozuna would eventually capture the WWF Championship and become embroiled in major feuds with Bret Hart and Lex Luger (who was the first man ever to bodyslam the rotund monster). Although he may have tragically past away in 2000, Yokozuna will always be remembered as one of the most dominant wrestlers of my lifetime.
Diesel
This 7 foot tower of a man is one of the most controversial and endearing superstars of all time. Debuting as Shawn Michaels' bodyguard, Diesel would break away in one of the most infamous title matches of all time when he defeated wrestling legend and WWF Champion Bob Backlund in only 8 seconds to become WWF Champion. Diesel would not only make a lasting impact on television but also backstage in the form of the Kliq, a very strategic and close-knit group of friends that consisted of 123 Kid, Hunter Hearst Hemsley, Razor Ramon, Diesel, and led by Shawn Michaels. Diesel would eventually leave the WWF in a major way as he along with Ramon would fire the opening shots in the explosive and vicious Monday Night Wars. Whether he's pulling the prosthetic leg off legend Mad Dog Vachon or using underhanded backstage politics, no figure will drive up as much controversy inside and outside the ring as much as Big Daddy Cool.
Razor Ramon
No one could rival the cool and utter machismo of the bad guy. Gifted with an incredible statuesque body and ultra cool charisma that could almost put the Fonz to shame. Draped with gold chains and toothpick clenched between his teeth Ramon would not only dominate an opponent but humiliate them all at the same time, just cause he was too cool to preoccupy his time with them. Ramon would be involved in one of the most classic and greatest matches of all time, when he competed against Shawn Michaels for the Intercontinental Championship in a Ladder Match, a match that would catapult the Ladder Match concept into the main stage thus creating unbelievable and awe inspiring Ladder Matches in the future. As mentioned above, Ramon's legacy would not only be cemented with the Ladder Match, but with his abrupt arrival at WWF's rival promotion, setting the stage for the Monday Night Wars and the biggest professional wrestling boom of all time. Unfortunately, Ramon's later career has been marred with tragic consequences from numerous drug and alcohol addictions, demons he continues to live with to this day. Whether he can finally lay those demons to rest or God forbid be laid to rest from them. The professional wrestling business should always thank and admire the work and influence from the bad guy, Razor Ramon.
Mr. Perfect
I cannot write an article documenting the Next Generation Era without mentioning a wrestler who was truly perfect. The ultimate combination of magnificent athleticism, commanding personality, and uncanny knack to perfect at every sport imaginable. Perfect would display visually stunning wrestling ability and fierce work ethic that would make him one of the greatest wrestlers of all time. Unfortunately, Perfect passed away in 2003, but no one will ever be as athletically gifted, tremendously entertaining, and greatly envied as the man who was simply, perfect.
Now onto the rival promotion that I've been teasing through the last article and a half. The only promotion that has come the closest to dethroning the World Wrestling Federation and sending them into the depths along with the NWA and AWA.
World Championship Wrestling
Founded in 1988 by Ted Turner after Jim Crockett Promotions folded. WCW failed to get off to a hot start, but still managed to acquire some high profile talent and develop their own stars. Leading the newly born promotion were 2 of the greatest and most famous wrestlers of all time, beginning with arguably the greatest of all time.
Ric Flair
If there were ever a wrestler that was larger than life it would truly be the Nature Boy. Flair was born with a rare combination of extraordinary wrestling ability and masterful charisma. Following in the footsteps of his idol Buddy Rogers, Flair truly had a flair (pun intended) for professional wrestling and sports entertainment with his exquisite robes that were truly fit for a king, and a king he was. Flair's promos are the stuff of legend whether he's talking down an opponent or chastising the interviewer for being poor or worse, middle class. Flair is instantly remembered for his catchphrase "WOOOOOO", that blasts through arenas to this day. Flair along with Shawn Michaels are in my opinion the greatest storytellers in the ring, whether he's strutting around the ring, falling flat on his face, or locking in his signature Figure Four leg lock, Flair always demanded the attention to him, and his demands were instantly met, as they should. Flair is also remembered as the leader of the legendary stable The Four Horsemen, along with Arn Anderson, Ole Anderson (no relation), and Tully Blanchard. This group would shake the wrestling world to its very foundation as being the first professional wrestling stable, setting the example for numerous stables in the future. From his regal attire, wrestling technique, illuminating charisma, and lasting legacy, there will hardly be a day when we'll look up and marvel at another Nature Boy, the limousine ridin', jet flyin', wheelin' dealin', son of a gun. The 16 time World Champion put it best when he spouts about being the man you have to beat the man. You could make the case that no one will truly beat this man.
Sting
All fans of The Police stop reading now, cause this isn't "that" Sting (who is a great singer by the way, and from what I have heard can endure strenuous activity for long periods of time). This Sting is one of the most prominent faces and greatest icons of professional wrestling. WWF had Ultimate Warrior, WCW had Sting, the face painted, bleach blonde Californian, while both would become icons in their own right, Sting would ultimately rise to be the most recognizable face in all of professional wrestling. Although the face paint would stamp his mark on the business, it would also be his great agility and fabulous athleticism that would define him as the Icon. Even though he was considered great in WCW's first few years, Sting's image wouldn't properly rise until the Monday Night Wars when he emerged as a silent dark figure clad in black with Crow face paint. He would become the WCW's dark knight against the NWO, descending from the ceiling and warding off the enemy, baseball bat in hand. Along with the mentioned NWO and another certain WWF star, Sting would become one of the fore-bearers of the largest professional wrestling boom of all time.
Even though WCW initially had trouble getting off the ground, they would launch the careers of many professional wrestling legends such as Vader and Terry Funk (himself already an established star). WCW's troubles would all be answered in the form of the young and brash Eric Bischoff who would take the reins of the mediocre promotion and guide it to the top of the wrestling world which I will elaborate more on in the next article.
The Next Generation Era is often frowned upon today as wrestling fans look back on the troubled times and embarrassing characters of both promotions, some refer to it as the worst period in the history of professional wrestling. I could not disagree more, while the characters and gimmicks were indeed lame and cringe-worthy they at the least were entertaining and made you laugh (not intently I'm sure). I myself have very fond memories of this era, as it was the era that was front and center during my childhood, call me nostalgic, but I would gladly take this "dark era" over today's any day.
Bret Hart, Shawn Michaels, and Undertaker are not the only shining gems that rose from this era. The WWF would debut a brand new weekly wrestling program that would become the company's flagship program.
Monday Night Raw
Debuting on January 11, 1993, Raw would usher in a broader and more mainstream audiences that had never been introduced to professional wrestling before. Raw would grab audiences from a very coveted and desired time slot, primetime. Finally wrestling fans' appetite would be fed as Raw was able to broadcast wrestling weekly, projecting more intriguing storylines and action packed wrestling never before seen with each episode ending on a cliffhanger, soap opera style, causing fans to endure another grueling long week until they tuned in next week to seek some sort of closure.
Not to be outdone however, WCW's new president Eric Bischoff, fresh off of orchestrating a world shattering coup by acquiring Hulk Hogan, Randy Savage, and Ric Flair (who was briefly at WWF during the time) to WCW, launched a weekly primetime show of his own.
Monday Night Nitro
Debuting on September 4, 1995, Nitro would run head to head against Raw on Monday nights which would be the calm before the storm for the aforementioned Monday Night Wars. Ushering in an era of dirty handed politics and cut throat tactics in order to gain viewers. The wars between these 2 exciting and fresh programs would begin the greatest wrestling era of all time, the likes of which will never ever be seen again.
This concludes The Next Generation Era. Stay tuned for the next installment of my trip down memory lane and continue to document the history of mainstream professional wrestling, which will feature the greatest era in the history of all of professional wrestling (at least in my opinion). Also the continuation of the Monday Night Wars which would lead the WWF to take very drastic measures to save itself from the utter brink of collapse. So long for now and good fight, good night.