Campers are a pain in the neck!
1983 saw the introduction of another cult classic, SLEEPAWAY CAMP. The film centers on shy Angela Baker, whose family dies, leaving her in the care of her crazy Aunt Martha. Martha sends Angela and her cousin, Ricky, to summer camp, where people succumb to bizarre deaths after messing with the girl. The twist ending is one of the greatest twist endings ever committed to film (though it was lost on audiences who saw SLEEPAWAY CAMP II: UNHAPPY CAMPERS before viewing the original).


The silent scream!
Although many dismiss this as a FRIDAY THE 13th rip-off, it was more clever than it's often given credit for. SLEEPAWAY lifted elements from THE BAD SEED (young killer, adult cover-up) and PSYCHO, and managed to introduce characters with some depth. The twist ending was itself ripped off in a high-profile, Oscar winning film in 1992 (which I won't name for fear of spoiling the film for anyone, but it won best original screenplay at the 1993 ceremony).


One last trip to the john...
Allegedly, writer/director Robert Hiltzik's mother died in a tragic accident, and he used the insurance claim to pursue his dream of filmmaking (the film opens with a dedication "To Mom"). The film got a very modest theatrical release, but in NYC, something strange happened... word of mouth spread, and it suddenly became the number one film, which was pretty unheard of for a low-budget slasher (excluding HALLOWEEN and TEXAS CHAINSAW). It's also notable that the original ad-campaign spoofed PSYCHO's campaign by proclaiming, "Due to the shocking nature of this film, no one will be admitted during final 10 minutes!" Straight-to-video sequels followed a few years later without the involvement of Hiltzik or the original film's cast, though many have returned for RETURN TO SLEEPAWAY CAMP (a film that ignores the sequels), which is alleged to be coming out sometime soon.


Mirror, mirror, on the wall, who's the craziest of them all?
1983 also marked the return of Norman Bates. In PSYCHO II, Norman is released from the asylum where he's spent the last 22 years, much to the protest of Lila Loomis, whose sister was one of his final victims. Shortly after arriving back at home, Norman begins receiving strange phone "calls from a woman claiming to be his

real

mother, and not the dead Mrs. Bates," and murders again ensue. The question is, has Norman gone crazy again, or is someone else committing the murders? Sequels are generally inferior entities, but this one is well above average, only hampered by a few gory shots that are rather laughable today (though they scared the hell out of me way back when). This is the one that's responsible for my obsession with the whole horror genre, thanks to a viewing with my family in 1984.


Dennis Franz, you must die for showing your ass on NYPD Blue!
Allegedly, star Anthony Perkins and his co-star, Meg Tilly (THE BIG CHILL, sister of scream queen Jennifer Tilly), did not get along. While this doesn't come across in the film and they were amiable in the press, it's rumoured that Tilly had a diva complex which didn't bode well with Perkins.

Psycho

author Robert Bloch claimed in one of his final interviews that the ball got rolling for a sequel when it became public that he was writing a follow-up to his novel. In any event, Hitchcock was dead by this time, and the scripts ignored Bloch's sequel and set off on its own path. Written by Tom Holland (FRIGHT NIGHT, CHILD'S PLAY) and directed by Richard Franklin (CLOAK AND DAGGER), the film paved the way for two more sequels before the abrupt death of Perkins.


Whatever you do, don't fall asleep!
Thanks to the success of the never-ending series of slashers, New Line Cinema took a chance on optioning a little film in 1984 that was the brainchild of director Wes Craven, A NIGHTMARE ON ELM STREET. A group of teens come to the realization that they're all dreaming of the same "boogey man," a scarred character named Fred who sports a hat and a glove made of "finger knives." When Nancy Thompson's friends begin dying in their sleep, she makes a horrifying discovery -- the boogey man was a real person who was murdered by the parents of the teens, and now he's seeking revenge by killing off their children in their dreams.



Oh, what a feeling, when you're dying on the ceiling!
The story seemed wildly original, but often myth is rooted in fact. After hearing stories about Laotion refugees who were afflicted with nightmares so terrifying that they refused to sleep (they later died when they drifted to slumber), Craven began developing his story. Craven named his villain Freddy Krueger after a childhood bully (he'd previously used a shorter version of the name, "Krug," for the villain in LAST HOUSE ON THE LEFT aka KRUG & COMPANY). The script was completed in 1981 but it was three years before the film was made. It was worth the wait. ELM STREET was successful out of the gate, providing a little financial security for the floundering New Line Cinema, so a sequel was rushed into production... sans Craven, who went on to direct the movies-of-the-week INVITATION TO HELL and CHILLER and the feature DEADLY FRIEND.


The two faces of Robert Englund... !
A NIGHTMARE ON ELM STREET succeeded in doing something that hadn't been done in over a decade: it created a new iconic horror actor. Although he continued to take roles in non-horror roles for a while ("V," etc.), Robert Englund became synonimous with horror films, just as Vincent Price, Bela Legosi, Boris Karloff and Christopher Lee before him. Writer/director Wes Craven, who'd also made a niche in horror films, also became typecast as a result of this film.


Kiss me or die!
A NIGHTMARE ON ELM STREET PART 2: FREDDY'S REVENGE was released into theatres in 1985 and was also a hit. It was only afterward that fans began to pan the film. Set five years after the events of the first film, Jesse moves into Nancy Thompson's house with his family and begins having nightmares about Krueger. Seems Freddy wants to use the boy to break out into the real world. Fred's makeup was better, he was equally menacing, and the body count was higher. Fans, however, continue to endlessly theorize about FREDDY'S REVENGE, and have labeled it "the gay Elm Street."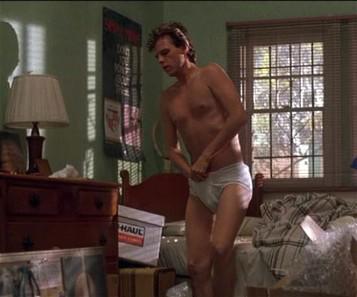 I can't imagine why they call this the gay Elm Street....
There are very few slasher films that center on male protagonists, which is likely part of the logic for the gay label. A few scenes that show male backsides have been labeled "homoerotic" (as well as a brief scene in an S&M bar) and Jesse's refusal to let Freddy take over his body is likened to a boy repressing his sexual urges. Yes, the film

IS

gayer than the rest, but 1985 audiences didn't notice it that much -- they still made it a hit for New Line. It's ironic that the film is considered by many fans to be next to the worst of the series, but it's continually discussed more than most of the sequels.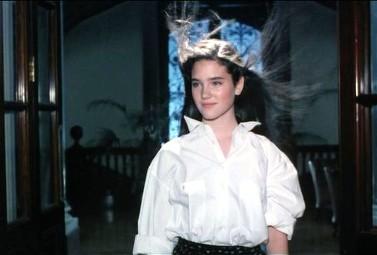 My goodness, it's windy inside today!
Another oddball slasher was released in '85 that crosses a zillion sub-genres. Released under the title CREEPERS in the USA (and PHENOMENA in most of the rest of the world), the film tells the story of teen Jennifer Corvino (Jennifer Connolly, LABYRINTH, REQUIEM FOR A DREAM), who is sent to a European boarding school where a killer is on the loose. Yes, that setup sounds familiar, but admirers of the film know that there's little about the film that's typical. Jennifer is able to communicate with insects telepathically, and she joins forces with a wheelchair-bound scientist (Donald Pleasance, HALLOWEEN) to try to catch the killer. There's a razorblade-wielding chimpanzee, mutants, bugs galore, and lots of gore and depravity in this bizarre free-for-all.


Did Jason Voorhees have a brother?
Made by acclaimed Italian goremeister Dario Argento (who'd previous seen some success in the states with the lushly photographed, fantastically scored, but ultimately addle brained, SUSPIRIA), CREEPERS found its way to shelves in every little video store across America. For those of us who saw it way back when, it was memorable for the utter absurdity, but it lacked coherence. And for good reason.


Is there ketchup on my face?
Some idiotic editor decided to excise more than 30 minutes of footage out of CREEPERS. Although this is often done in the USA/UK to remove excessive gore, that wasn't the case with this one. One death scene was altogether cut, and a few snippets of gore were trimmed -- but the majority of the cuts to the film were made to the story itself, leaving it confusing, and riddled with unintentionally laughable dialog. In the mid-90s, Anchor Bay restored 28 minutes to the film (6 minutes were trimmed at the request of Argento), and released the movie with its original title and (radically different) artwork. Although SUSPIRIA is hailed as Argento's masterpiece, there's many of us who feel that PHENOMENA is the superior film. At the very least, it's the one that brought him a little more mainstream notoriety in the US.


Escaping through a tunnel and she's still on the phone!?
There's one last important thing about PHENOMENA/CREEPERS, which is the music. Rock music had made its way back into horror films as early as HALLOWEEN (Blue Öyster Cult's "Don't Fear the Reaper" underscored a scene), and original songs had made their way into the first ELM STREET and SLEEPAWAY CAMP films, but Argento had been known to have the band Goblin score his films (SUSPIRIA, TENEBRE, etc). While Goblin is still very present during the film -- though some of their score was unused -- Motorhead, Iron Maiden and others were prominently featured, their music underscoring several scenes. As a result, the dam was about to burst...


Jason Cooper?
1986 saw the introduction of FRIDAY THE 13th PART VI: JASON LIVES. Here's where the music/horror mix really started to pay off. The original shock rocker, Alice Cooper, who'd fallen off the charts 8 years earlier when he delved into a bizarre mix of punk and synth-pop albums, made his comeback with the songs "He's Back: The Man Behind the Mask" and "Teenage Frankenstein," which were featured in the 6th Friday film, (another track, "Hard Rock Summer," was also in the film, though it was not issued on disc for more than a decade). A music video was shot for "He's Back" with an original storyline that featured Jason himself and clips from JASON LIVES. The success of this did not go unnoticed by other filmmakers, and before long, the bulk of slasher films were being jammed with rock songs, tie-in music videos, and LP soundtracks that featured the songs, rather than simply the orchestral scores, from the films. Oddly, the original version of "He's Back" (later released in Cooper's boxed set) had a harder rock sound than the version that was used in the film -- it's alleged that the people behind JASON LIVES thought the song was too hard, so he created a lighter pop version (and he used the original music for another song on his CONSTRICTOR album called "Trick Bag").


Chazz is holding a surprise...
Another noteworthy film from the makers of FRIDAY was unleashed in '86. In APRIL FOOL'S DAY, a group of college kids spend April Fool's weekend at the remote family home of Muffy St. John. The fun and games quickly diminish when they're sliced-and-diced, seemingly by Muffy's twin sister, Buffy.


Bobbing for bodies!
The film was a moderate hit, but the ending irked many fans of the genre. In recent years, thanks to magazine articles, the novelization and widely circulated photos of scenes that don't appear in the film (available on the back of video packaging), there's been speculation that the ending, as it appears now, was a false-ending setup. It's alleged that there's another ending where a completely different killer is revealed, but it was cut from the film. Whether or not this is true is unclear, due in large part to the fact that Paramount is notorious for being lacking in DVD extras (APRIL FOOL'S doesn't even feature a trailer), but fans of the film -- which has developed a devout cult audience -- are

dying

to know the truth about this legendary lost ending.


It's the man of your dreams!
In 1987, the slasher films really came into their own, thanks to home video, the introduction of a new set of characters, and the return of Freddy Krueger. A NIGHTMARE ON ELM STREET 3: DREAM WARRIORS featured the return of Nancy Thompson, who went to work in an asylum where teens were having problems coping with their nightmares. It's revealed that everyone has some sort of special dream power, and they unite to use these powers to overturn Freddy. The special effects were amped, the story was ingenious, and Freddy began quipping wisecracks on a regular basis.


Eat me!
The original script was co-penned by Wes Craven, who established many of the characters and plot points, but the script wasn't as fantastic as it's reputed to be, so others were brought in to polish it and flesh out the characters. Although the first two ELM STREET films were very successful, they were still looked upon as slashers, which didn't equal a mainstream box-office bonanza. DREAM WARRIORS changed that. It got a wide theatrical release, garnered stellar box-office receipts, and got kind words from critics, who had not been so nice to the previous two films. This one put New Line Cinema (which has come to be known as "the studio that Freddy built") over the top, and more sequels were rushed, along with the anthology TV series "Freddy's Nightmares," which Krueger hosted and occasionally appeared in.


Freddy sings!
What's unique here is the merchandising. While there wasn't much released for DREAM WARRIORS itself (a few variations of a soundtrack, including a 12" single of Dokken's title tune), it was obvious that Freddy clicked with kids, becoming a beloved anti-hero, and merchandising was soon being flooded onto the market. There were books, magazines, toys, dolls, videogames, a CD that Freddy lent his vocal talents to, and even bubblegum packets sporting his ugly mug. The old Universal movie monsters had seen a similar success when they became retro in the '60s, but none of the other slashers clicked so well with young children or have seen the vast amount of merchandise -- which is ironic since Krueger was a child murder!


They're creepy and they're kookie, mysterious and ookie...
In 1987, the Cenobites were also unleashed upon the world in Clive Barker's HELLRAISER, which was based on his novella

The Hellbound Heart

. Filmed under the working title SADOMASOCHISTS FROM BEYOND THE GRAVE, HELLRAISER tells the story of the Cotton family. Uncle Frank discovers the secret to a Rubik's Cube-like puzzle box, which summons the Cenobites, headed by an unnamed monster who fans quickly (and appropriately) dubbed "Pinhead." The cenobites take him to their lair, but now-fleshless Frank escapes, and finds aid in the arms of his sister-in-law, Julia. Julia agrees to kill people to regenerate Frank's missing flesh, but plans go awry when her step-daughter discovers whats going on and summons the Cenobites.

HELLRAISER is sort of an oddity in that it was written and directed by the man who wrote the original story, Clive Barker (who would quickly gain legendary status). Although some complain that some of the effects are bad, there's good reason for this -- they ran out of money. All in all, the film did extremely well, both in cinemas and on home video, and it paved the way for a neverending series of sequels.


It's only a toy, Andy!
In 1988, the face of horror underwent some

plastic

surgery. In the sleeper hit CHILD'S PLAY, serial killer Charles Lee Ray transfers his soul into a "My Buddy"-type Good Guy Doll, which is snatched up by a struggling single mother as a birthday present for her son, Andy. But when the Chucky dolls comes to life, no one believes mother or son, and the supposed good guy begins to terrorize them.


My buddy and me!
Doll killers were nothing new. A variation had been seen in the 1936 Tod Browning film THE DEVIL-DOLL (though these were merely shrunken humans), in vintage episodes of "The Twilight Zone" ("The Dummy" and "Living Doll") and "Night Gallery" ("The Doll"), in MAGIC and MAKING CONTACT, and it had been exploited in the previous year's indie DOLLS. While the filmmakers were hardly treading new ground, director Tom Holland chose to keep animatronic Chucky shrouded in darkness through most of the film to create a tense atmosphere. Following in the wake of animatronic hits like GREMLINS and TROLL, the effects were getting better, but were still not perfected, so this was a great move that made wisecracking Chucky a little more menacing.


That's not how you wear a jockstrap!
1988 also saw the introduction of the first of two straight-to-video sequels (which were literally filmed back-to-back) for SLEEPAWAY CAMP, which instantly developed a huge cult audience. In SLEEPAWAY CAMP II: UNHAPPY CAMPERS, Angela had taken a job at a summer camp as a counselor, but she doesn't like the bulk of the snotty campers, so she has to "send them home." In Angela's mind, sending them home equals unashamedly and gruesomely killing them. Yes, I've now revealed the killer from part 1, but that's hardly the twist ending.


Angela, the driller killer!
Felicity Rose was asked to reprise her role of Angela, but she was in college and unable to, so the part went to Pamela Springsteen, a young actress who'd had supporting roles in several brat pack films -- though she's become best known as being the sister of "The Boss," Bruce Springsteen. Cast as the "last girl" was Renée Estevez (HEATHERS, sister of Emelio and Charlie Sheen). This sibling casting was part of a bigger inside joke.


Nothing like some good, clean camp bondage!
UNHAPPY CAMPERS had the standard big hair, bitchy characters, bare breasts and grinding music that all of the other slashers had, but it brought something else to the table. CHAIN SAW and ELM STREET had brought humour to the slashers in a big way, but UNHAPPY CAMPERS cranked it up ten notches. The film is absolutely giddy with self-referential jokes, including the first appearance of Jason and Freddy together in one film (in the guise of two campers who donned their attire and set out to scare Angela). Additionally, all of the campers were named after members of the brat pack. There's Molly (Ringwald), Ally (Sheedy), Rob (Lowe), Demi (Moore), Judd (Nelson), Emelio (Estevez), etc., etc. The mix of comedy and horror is deliberate and blatant, and a precursor to the success of SCREAM. It's sad that this one never got the theatrical release that it deserved.


Freddy Vs. Jason?!
What makes SCII truly unique is its fanbase. This is the only series I can think of where the fans are split right down the middle. Fans of the original aren't too keen on the sequels, fans of the sequels aren't too keen on the original... there are very few who like all of the films. It's even somewhat absurd online -- there's two different officially-sanctioned, fan-run sites on the net -- one for the original and one for the sequels. Very strange.

Throughout the rest of the 80s and early 90s, there was an onslaught of forgettable titles, sequels galore, and standard straight-to-video fare. It was also during this time that Hollywood began making their own brand of slashers, with FATAL ATTRACTION, BASIC INSTINCT, THE SILENCE OF THE LAMBS, and BODY OF EVIDENCE gaining large box-office takings. Yes, they had big budgets and big-name stars, but under the surface, they were still merely slashers. Other notable films from this era include MANHUNTER, I MADMAN, THE STEPFATHER, 976-EVIL, SHOCKER, PUMPKINHEAD, MIRROR MIRROR, DEMONIC TOYS, PUPPET MASTER, LEPRECHAUN and CANDYMAN. However, audiences were seemingly tired of the exhausted genre, and the films languished as Freddy, Jason, Michael and Chucky each found an end to their series. But in 1996, the cycle began anew.



Isn't it too soon for this to be retro?!
In 1995, a script penned by a complete unknown named Kevin Williamson circulated Hollywood, and did something highly unusual -- it ignited a bidding war amongst the major studios for the rights to produce a slasher! Eventually Wes Craven, who spent a handful of years trying to shake his horror roots, agreed to direct, and a lot of fresh, relatively unknown faces were cast (with the exceptions of Drew Barrymore, Henry Winkler and Linda Blair), and SCARY MOVIE was rushed into production. Partway into production, however, the title was changed to SCREAM. It opened in 1996.


No charming parties... but bitches on phones again!
SCREAM centered on young Sidney Prescott, whose mother had been murdered prior to the start of the film. As Sidney soon discovers, she fingered the wrong man for Mama's murder, and the killer's still on the loose -- now taunting the teen. As friends and acquaintances come to an untimely demise, Sid tries to discover the true identity of the Woodsboro Killer.


Just don't rape me, guys!
What made SCREAM both a critical and financial success was, as I mentioned with SLEEPAWAY CAMP II, the use of comedic self-reference. The bulk of the films mentioned in this article were named by name over the course of the SCREAM trilogy (HALLOWEEN is even featured, and set as an example for "the rules" of scary movies). Once the film had been established as a hit, the door was open for a billion slashers, mainly filled with faces from TV, which were now highly profitable and completely mainstream.


What the hell did we hit?!
The next big slasher to hit came in 1998, and was also penned by Williamson, based on a script by Lois Duncan Clarke. I KNOW WHAT YOU DID LAST SUMMER followed the misadventures of a group of teens who accidentally reduce a hitchhiker to roadkill, so they attempt to cover up their crime. When they receive notes the following year (see title of the film), they try to figure out if they're being blackmailed by an onlooker or if said roadkill actually wasn't.


Well, hello, dolly....
1998 also saw the successful (albeit brief) revival of another beloved slasher series. In BRIDE OF CHUCKY, the little doll from the CHILD'S PLAY films got a new lease on life -- and a lovely new wife. When Chucky's former girlfriend brings him back from beyond, her plan backfires and she finds herself being immortalized in plastic. More glib jokes and self-reference abounded, along with some very graphic and realistic gore.


Don't look at me, I'm hideous!
It was the same year that Jamie Lee Curtis attempted to put an end to her legacy in the HALLOWEEN films once and for all. She solicited the idea that for the 20th anniversary of the film, Michael Myers should finally find his long-lost sister, and she'd again defeat him -- for good. Although many were on-board with the idea, director John Carpenter couldn't be persuaded to take on the project. Kevin Williamson, who also claims to owe his success to HALLOWEEN, polished the script and added some humor; Jamie Leigh's mother, Janet Leigh, appeared as her daughter's secretary (and gave a nod to her PSYCHO legacy), and H20 hit the screens, to much acclaim. Seemed that Michael was dead for good... until they laughably resurrected him in the next sequel.


Slashers have a new face.... and what an ugly face it is!
As had been the case a few years earlier, the slasher films again wore out their welcome. Many slasher fans now claim that Williamson single-handedly killed the genre (funny, these same people paid full ticket-price to see his films), but early into the new century, the cycle began again. Unfortunately, with the exceptions of JEEPERS CREEPERS and SAW, most modern-day flicks are remakes and/or rehashes of Japanese imports. Undoubtedly, these inferior remakes will soon die off, and a new set of slashers will emerge to start the trend all over again.

Wow, I had no intention of making this article so epic -- it just sort of happened. Undoubtedly I've overlooked several films and will soon find myself being reprimanded, but if this is well received, there's many more sub-genres that can be covered (werewolves, vampires, zombies, clowns, dolls, monsters, etc)....