This article is a shout out to all those who requested a part 2. This article is in loving memory of all the punk rockers who have passed away or quit playing music. This article is for the pop punkers of the 90s.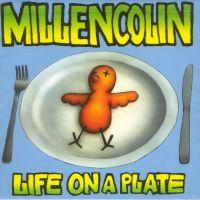 Millencolin's "Life On A Plate" is a prime example of 90s pop punk mixed with ska riffs. This Swedish punk band, lead by Nikola Sarcevic, has a very unique style of writing lyrics. The first song on the album "Bullion" is about getting out and finally picking yourself up. With unique (yet genius) lyrics like "If I only had the strength to make some muffins, I swear that I would share them with you now", this album is a surefire bet for anyone who wants something different and rad.
Other classic songs included Vulcan Ears, Move Your Car, Airhead, Killercrush, and... ah heck, everything on the disc! Another great thing about this CD is drummer Fredrik Larzon. With constant double bass, his drumming sounds energetic and ready explode at any given time.
No Use For A Name's 1995 album "Leche Con Carne" is an album built for skateboarding to. Songs on this disc may have sounded aggressive, but in truth were quite touchy... lyrics-wise, that is. The song "Fatal Flu" touched on the topic of a regular school boy who was born with AIDS. "Soulmate" personifies Insecurity as a person's soulmate. "51 Days" talks about scandalous a preacher who convinced people they would live forever if they walked into a fire.
Along with all these classic songs written by lead singer Tony Sly, is a cover of Bob Marley's "Redemption Song". But even better than that cover is the hidden song at the end of the album. The hidden song is actually a bunch of covers, where No Use For A Name mashed them all up into one rockin' medley.
The Ataris' lead singer, Kris Roe, knows how to put experiences of personal relationships into song. And THAT, my friend, is what makes thier album "Blue Skies, Broken Hearts... Next 12 Exits" an instant classic for anyone who likes to contemplate relationships.
"San Dimas Highschool Football Rules", possibly the biggest "hit" from the album tells the story of dreaming about the girl, having a chance with the girl, then debating if you even wanna take the chance. "Your Boyfriend Sucks" is the classic tale of being there for the girl when her boyfriend treats her poorly, and yet she only sees you as a friend. "1*15*96" talks about "being sorry you weren't right for the person" containing lines such as...
"I sometimes think about how things could be
If you would've took a chance and moved out here with me
We'd cruise along the 101 in the California sun
Sing Descendents songs and have ourselves lots of fun"
But not all the songs were about relationships. Track one, "Losing Streak" exclaims "Don't ever compromise what you believe!". While the song "Answers" is actually about finding what you believe.
Before you go on, stop and look at the album cover for a second. I'm serious, look at it. Ready now? Okay, if that didn't make you smile, then you need to just get out of here. Screeching Weasel's "My Brain Hurts" came out in 1991. This barely qualifies as pop punk rather than straight up punk, but I just HAD to talk about it. Raw, fast, and re-released multiple times, you know it's nothin' but a classic. Interesting lyrics abound from Ben Foster (who uses the stage name of Ben Weasel) including sci-fi, fears, girls, and a whole lot of crazy stuff you can expect from none other than Ben.
"What We Hate" is the album's anthem, and explains that everything that happens to us isn't just by chance or fate, but by the choices we make. "The Science of Myth" is a very well written song (and yet another anthem) about how everyone has always argued about which religion is true, and yet the world has just kept spinning after all these years. "Veronica Hates Me" is about a pushy and annoying girlfriend, while "Kamala's Too Nice" is about the exact opposite... a girl who's way nicer to him than he deserves. And don't even get me started on the super rad cover of "I Can See Clearly Now".
Ahhh... MxPx, my all time favorite band. 1998's "Slowly Going The Way Of The Buffalo" presented a shift in MxPx's music. You see, this is the point where they were about 21 or 22 years old, and still trying to write highschool songs. So of course, they realized it was time to change just a little bit. This album may not seem too different from thier previous album, "Life In General", but indeed it was. Everything from writing about life flying by, to writing about the way their record company basically stole their songs.
Of course, they had to keep some of their highschool anthems, and lead singer Mike Herrerra's availabilty as a bachelor for all the punk rock girls out there was the perfect opportunity for this. The song "Party, My House, Be There" was all about wanting a certain girl to come to your big party, and is actually one of the best on the disc. "The Final Slowdance", another highschool-type song, was a track for... well a slowdance of course! What else?
Okay, major brownie points to anyone who knows this CD or even this band in general. Noggin Toboggan was a short lived pop punk band from California. Their album "Snapcase" is their best record, with catchy songs, cool lyrics, and all the power chord riffs you've come to expect from a 90s punk band. This hidden gem of a band managed to pump out 22 awesome songs on one little blue disc.
On this record, Noggin Toboggan seem to win their fans hearts with simple yet satisfying hooks. It's all about charm, I guess, because you can't help but love "Ooberdotsong", a track which chorus says "Hey Hey Hey Woah-oah I'm falling in love". Plus numerous, obvious attempts to be MxPx, including songs such as "Watch My Mouth", "Sweep Me Off In Style" (Noggin's equivalent to MxPx's "Do Your Feet Hurt") and the self titled song "Noggin Toboggan" (Noggin's equivalent to MxPx's "Punk Rawk Show"). All copy-catness aside, the album is great, and it may even be because out their ability to imitate MxPx so well.
Lagwagon was one of the first bands to be signed onto Fat Wreck Chords, a record company owned by Fat Mike from NoFX. Lagwagon's sophmore album, 1994's "Trashed", was a combination of 90s pop punk goodness mixed with some metal-esque riffs. The song "Know It All" takes a sarcastic look at some people's tendency to act like any band who gets famous "sold out". "Lazy" will make anybody laugh at the line "Look at my cat, why can't I live like that? All the animals do nothing but eat and poop". Well, the song didn't actually say poop, it said something that starts with a SH and rhymes with "hit". Much more humor abounds, such as before the song "Bye For Now" when you hear a man and a woman talking about a party and the man says "There won't be too many punks, will there?" and the woman says "Johnny, would you quite worrying about the punks? They're just a bunch of kids with growing pains, they'll probably all be doctors and lawyers some day".
While the record has hilarious moments as the ones I've mentioned, there are also serious songs such as "Island Of Shame", which discusses homophobia, and "Whipping Boy" which is about when "there's more pain than love".
Another thing I MUST mention about this CD is the hidden song at the end, which is a parody of LL Cool J's "Momma Said Knock You Out". Lagwagon's version is "Back One Out", a hilarious song about taking a dump.
Blink 182's "Dude Ranch" is, in my opinion, their second best album. Their best would have to be "Cheshire Cat", which I talked about in Part 1 of my article. On "Dude Ranch", the boys Mark and Tom sing about growing up and going through change. The hit single off this record was "D*mmit" with it's classic lyric "I Guess This Is Growing Up". A few other singles followed, but never hit the charts. These include "Josie", a song about the perfect (and imaginary) girlfriend, and "Apple Shampoo", with one of my favorite Blink lyrics ever: "I know just where I stand... a boy trapped in the body of a man".
And of course, let's not forget the humor. When it comes to humor in your music, Blink were the kings, even if they did rely on toilet humor. Everything from the sound of kissing followed by a horse neighing, to a song about "Ben Dover".
An often ignored classic, Slick Shoes's "Rusty" seems a bit like the lyrics were written by a nervous teenage guy who likes a girl. That's probably because they were, and that's what makes it so cool. This was Slick Shoes's first album, and they were young. A lot of the songs do a great job of depicting the feeling of having just met someone who seems like they may turn out to be special. For example, the song "Regrets" states in it's lyrics "No matter what happens, you will be my friend. I'm not going to mess this up". I always found that lyric to be one I could identify with personally, because we've all had times where we fell in love, broke up, and then tried to keep the friendship... but the latter never works out.
Other songs on the disc show more about lead singer Ryan Kepke's beliefs. In "By What Right", Kepke openly shows his disgust toward abortion with the line "You stole my right to pray in school but gave the right to kill a child". This CD was and still is one of my favorites to listen to.
-------------------------------------------------------------
Well, this concludes part two of my 90s pop punk article. Maybe I'll do a part 3. Maybe I'll even try a 90s Ska article where I could talk about bands like Less Than Jake, Reel Big Fish, and the Aquabats. But I guess that all depends... what do you, the readers, want?