As a kid movies and television was a big part of my life. Before I got my first Nintendo I was either out riding my bicycle, watching television, or watching a movie. I was definitely one of those kids who had a television for a baby sitter. Not having a VCR or a Beta Max made it hard for me to watch anything that wasn't being aired on TV. This kept me at the mercy of local channels and really crappy cable TV. With that said you can understand why I am into all kinds of movie categories like Sci-Fi, action, and comedy. When it came to TV I will give almost anything a viewing once.
As time went on I began to notice some of the same actors in different movies playing a similar role to the last movie I noticed them in. Of course everyone has their own opinion about who's a good actor and what role fits them best. Here are some of the actors I've noticed in many different movies and/or TV shows that are worth mentioning. I believe they have a certain charisma that enables them to be in many different films playing different roles with the same characteristics, yet still bring a unique essential element to the picture that no other actor could duplicate. No matter how small the role these actors portray they do bring that "Evil Hench Men", "Beatable Villain", or "Comedy Relief" that makes the film that much better, worst, or unforgettable. I would like to see some kind of movie award created to show appreciation for being an essential professional extra, or something to that effect.
And the nominees are.......
Al Leong
Real name Albert Leong, nick name Al 'Ka Bong'. Also know for as a top stuntman and martial-arts expert, doing some behind the camera work as a sword fighting consultant, (The Scorpion King), and directed a film (Daddy Tell Me a Sorry) in 2000.
Some big screen productions you can see him in are "Lethal Weapon", "The Golden Child", "She's Having a Baby", Steele Justice", "Big Trouble in Little China", "Running Scared", "Bill and Ted's excellent adventure", and more.
Some television guest-star appearances are "Magnum P.I.", "The Equalizer"," Spenser for Hire", "The A-Team", and more.
===================================
Noel Gugliemi
Real name Noel Gugliemi. Born in Santa Monica, California in 1970, Noel's father is Italian and his mother is Mexican. If you are surprised by that don't worry I just found that out myself. Since the late 1990's he has appeared in many movies and guest-starred in many different TV shows and had a hand in the voice production of "Grand Theft Auto: San Andreas".
Some movies you may find him in are: "The Animal", "The Fast and the Furious", "Training Day", "National Security", "Old School", "Malibu's Most Wanted", "Bruce Almighty", "S.W.A.T.", and more.
Some television guest-star appearances on: "Get Real", "The X-Files", "Buffy the Vampire Slayer", "CSI", "24", "Without a Trace", "Angel", and more.
==================================
Mickey Jones
It's a good bet that most people don't know who Mickey Jones is until they see a picture. Born June 10, 1941 in Houston, Texas Mickey has gone on to play hundreds of different characters in movies, television, and a commercial for Breath Savers.
Some movies you can find him in are: "Stir Crazy", "The Best Little Whorehouse in Texas", "Starman", "Total Recall", "Dutch", "The Beverly Hillbillies", "Drop Zone", "Tin Cup", and more.
Some television shows Mickey has guest-starred on are:"The Rockford Files", "CHiPS", "The Incredible Hulk", "M*A*S*H*", "Simon & Simon", "V", "The A-Team", "T.J. Hooker", and sooooo much more.
==============================
Robert Davi
Robert John Davi was born June 26, 1951 in Astoria Queens, New York City, New York. His career start can be dated all the way back to 1977. To this day he is still very active in the film industry and is currently the producer and director of the upcoming film "Magic". Also, Robert has done voice characters for Microsoft's X-Box games Halo 2 and Halo 3.
Some films that Robert can be seen in are: "City Heat", "Goonies", "Wild Thing", "Action Jackson", "Die Hard", "License to Kill", "Peacemaker", "Predator 2", "Cops and Robbersons", and more.
Just a few of the many television guest-starring roles are: "Charlie's Angels", "Dynasty", "Hill Street Blues", "T.J. Hooker", "Hart to Hart", "The Fall Guy", "Star Gate Atlantis", and more.
====================================
Gregory Sporleder
Real name Gregory Michael Sporleder was born in April 1964. Out of all my nominees he has the least amount of film exposure. However, the roles I have seen him play suggest to me that if he continues to keeps pursuing his acting career we will continue to see him in future productions playing bigger roles and possibly staring in his own blockbuster film.
Some big screen films with Gregory are: "Say Anything", "The Grifters", "Renaissance Man", "Twister", "The Rock", "Skin and Bones", "Never Been Kissed", "Black Hawk Down", "S.W.A.T.", and the new film "17 again".
Some guest-star television appearances on:"Murphy Brown", "Andersonville", "Chicago Hope", "Gun", "Friends", "The Drew Carey Show", "Smallville", "Dead Last", and more.
==========================================
Tony Longo
Tony Longo was burn August 19, 1961 in Brooklyn, New York. Some would say he's a monster at 6'6" tall and roughly 300+ lbs. His career stretches back as far as the 1970's. I've always enjoyed his one of a kind mobster/Italian tough guy plucky humor that no one else can replicate.
Some movies you can find Tony in are:"Splash", "Sixteen Candles", "Fletch", "Winners Take All", "Let It Ride", "The Last Boy Scout"," Unlawful Entry", "Rapid Fire", "Eraser", "House Guest", "Angels in the Outfield", and more.
Some popular television show's he's guest-starred on are:"CHiPS", "The Fall Guy", "Alice", "The Facts of Life", "Who's the Boss?", "Simon & Simon", "Full House", "Family Matters", "Young and the Restless", "Days of our Lives", "Numb3rs", "The Mentalist", and lots more.
===================================
Robert Z'Dar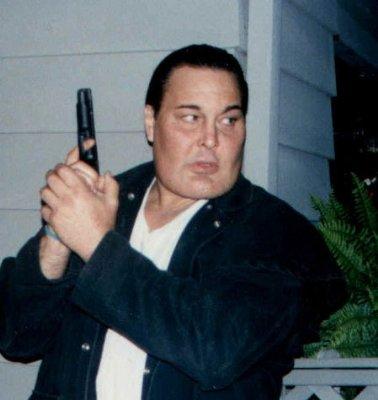 Robert Z'Dar was born Robert J. Zdarsky on June 3, 1950 in Chicago, Illinois. He attended Arizona State University. Well know for his enormous face, gigantic jaw and a massive muscular physique, the hulking 6'2" Z'Dar projects a strong, aggressive, and intimidating screen presence that's ideally suited for the mean, nasty, and extremely scary larger-than-life villains he's often portrayed throughout the years since the mid 1980s.
Here are a few from the many movies he has been in:"Flesh and Bullets", "Hellhole", "Maniac Cop", "Tango and Cash", "Beastmaster 2", "Red Line" and more.
Some television shows you can catch him guest-starring on are:"The Flash", "Marked for Murder", "The Mosaic Project", "Future War", "Guns of El Chupacabra", and more.
Everyone has an opinion and some people might now share mine. To me these guys deserve some kind of high honor for the small roles they play on some many great movies, TV shows, commercials, etc. Undeniable that if you were to watch your favorite movie or whatever and someone different were to play the role and you are used to see these guys in it just wouldn't be the same.
The End