If you ever seen a Donald Duck Cartoon you probably have seen him...ahem...naked!
That's right! Donald Duck made his nude debut in a cartoon "On Ice", Mickey tries to save Donald Duck as he's on a kite flying away, but Mickey ruins Donald Duck's sweater and Donald flies into the pond where Goofy clobbers him thinking he was a fish, and what does he wear...? Just a stocking cap!
But this doesn't end here...in 1941 Donald Duck's shirt gets blown-off in the cartoon "Timber" (as well as being sooted).
It would be in 1942 where in three cartoons, Donald Duck is seen in full...full as in full frontal! These cartoons were "Mickey's Birthday Party" (Donald's tail is covered in a blanket), "Donald Gets Drafted" (First time we see him all-out naked), and "Bellboy Donald" (which is my favorite cartoon).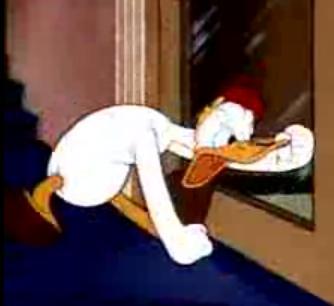 It wouldn't be until "The Three Caballeros" where Donald Duck would get a 'Wardrobe Malfunction' and not just once...but twice! And some of these cartoons were Academy-Award Nominees such as "Tea for 200".
Other cartoons where Donald Duck goes wild are..."Slide Donald Slide" (In the end where he's locked in his very own shower), "Hook, Lion, and Sinker" (The lions derobe Donald), "Clock Watchers", and "How to have an Accident at Work".
But this isn't over...Donald Duck has been seen in nothing but his feathers on TV, movies (Another one is "Fantasia/2000" and not only the prophet Noah sees Donald as a natural Duck...so does Daisy), and comic books. Looks like even though Donald Duck has prooved that he's shown more than his temper. Even today he's STILL doing it!
PS-If I missed any cartoon where Donald Duck is wearing nothing but the Emperor's Clothes...please inform me.