WARNING:YOU MAY DISAGREE!!!
Christmas is coming and ready or not...The Specials are here. Some good...others bad. We'll also be seeing a lot of Christmas Movies. Now, as like my last list...it's limited to 16. I would add "A Harold and Kumar Christmas"...but it's too soon to add to this list....
#16...Bugs Bunny's Looney Tunes Christmas Tales
I like this Christmas Special. It starts with Bugs Bunny and his friends singing and there's 3 new cartoons. One features Yosimite Sam as Scrooge, The next is The Roadrunner and Wile E. Coyote going through the...Rockies (Since snow exists there), and Bugs Bunny encountering The Tazmanian Devil as Santa.
This is a lost gem and yes...Chuck Jones does the animation.
This is the Original version...not the 1996 film "The Preacher's Wife".
It stars David Niven and Cary Grant. Niven's character is a Bishop named Henry Brougham who wants to build a new church and is highly discouraged so he prays one night and the answer comes from an angel named Dudley played by Cary Grant.
This was my grandmother's favorite Christmas Movie.
#14...Miracle on 34th Street (1947)
No...it's not the 1994 remake (That's on the Naughty List which I'll make later) The 1947 film featuring Natile Wood and Maureen O'Hara. It stars Kris Kringle as a normal old guy walking down the streets of New York and living with a girl named Susan Walker who doesn't have imagination and her mom Doris Walker works at Macy's.
BOTH Susan and Doris find out that Kris WAS Santa when Susan got the house of her dreams.
PS-Look for a young Jack Albertson as a Mailman in one scene! (He played Grandpa Joe in "Willy Wonka").
#13...Mickey's Christmas Carol
Not just the 1/2-Hour part of "Mickey's Christmas Carol"...I mean the Special which features Michael Eisner before he Sold-Out Disney!
It features two shorts "Donald's Snow Fight" and "Pluto's Christmas Tree", the feature "Mickey's Christmas Carol", and another cartoon or the next Summer Feature Film to come out.
Sure "Mickey's Christmas Carol" DID resurface in "Mickey's Magical Christmas"...but there's nothing Magical about that!
PS-This would be Clarence "Ducky" Nash's last cartoon as Donald Duck!
This 1969 Gem features Jimmy Durante doing the narration and has the children waiting to play in the 1st Snow of the Season! The kids make a snowman and once Professor Hinkle's Hat lands on Frosty's Head...he comes to life and dances around. But then Frosty sees that it gets a little warm for him, so both Frosty and Karen go on a Train to The North Pole. Hinkle follows them up north, but soon...Santa comes to the rescue and takes Frosty to The North Pole.
Though I like "Holiday Inn"...most of the film isn't Christmas, it for ALL Holidays.
But "White Christmas" is not only Bing Crosby's biggest song...but it's also Bing Crosby's most recognized film, also featuring Rosemary Clooney and Danny "@#$%&ing" Kaye (That's from "Christmas Vacation"). The plot is Bing and his friends go to Vermont for a Christmas getaway with snow, but it's Indian Summer still (Talk about Global Warming)! However, my favorite piece is when Bing sings "Count your Blessings"....
#10...Rudolph the Red-Nosed Reindeer
The Longest-Running Cartoon Special is STILL a gem. Rudolph is born with a Red-Nose, Hermey hates his job as an Elf and wants to be a Dentist, and Yukon Cornelius is we...Yukon!
It seems that Rudolph has an ability at the end...he can show the way through the toughest weather and Santa soon knew that. And Burl Ives provides the music!
Oh...and who can forget the Island of Misfit Toys?
#9...A Claymation Christmas
This Special was probably a promotion to The California Rasins which did a rendition of The Temptations version of "Rudolph the Red-Nosed Reindeer". But there was also the Wise Men who sang with jazzy camels in "We Three Kings", The Notre Dame Bells, Here we come a waffling/waddling/wallowing, and this Soul version of "Joy to the World"....
#8...A Garfield Christmas
I like Garfield and this is his Christmas Special where he spends the Holiday with The Arbuckle Family, Odie making a Back-scratcher, Garfield giving Grandma Love Letters, and a great monologue...
Christmas...It's not the giving...It's not the getting...It's the loving. There...I said it...now...get outta here!
#7...National Lampoon's Christmas Vacation
This is Chevy Chase at his best! It seems that everything goes wrong from the lights, to the tree setting on fire. Even Eddie (Randy Quiad) is no help by having a dog going through the trash and kidnapping Clark Griswold's boss (Brian Doyle Murray...Bill Murray's Brother). With all that happening you just want to say this...
WHERE'S THE TYLENOL?!
PS-This was Mae Questel's last film, she was also the original voice of Betty Boop. And does this is make you feel like the holidays?...
This was my favorite Christmas Film when I was a child. It featured Macully Culkin as Kevin McCalister who is left by himself while his family goes to Paris. Harry and Marv (played by Joe Peschi and Daniel Stern, respectfully) decide to rob the neighborhood...but Kevin would change their plans!
PS-Look for the cameo of John Candy...both him and the mom (Catherine O'Hara) were both on "SCTV" in the early 80's.
#5...Home Alone 2: Lost in New York
Now how can you outdo the original?...Have Kevin be in The Biggest City in the Nation...New York City!
This time, Kevin gets on another flight and winds-up in Manhattan. There, he meets-up with Harry and Marv...again, but this time they would rob a Toy Store. And this film also has Tim Curry (Who had his fame as Dr. Frankenfurter in "Rocky Horror", another FOX Film) and Rob Schenider as...The Bellboy!
#4...Charlie Brown Christmas
This is a Classic here! Charlie Brown becomes the Director of a School Play and all the Peanuts Friends want to do is...crazy dances! So Charlie Brown gets the crappiest tree and gets ridiculed.
But Linus saves the day by...Saying the REAL Christmas Story that comes from The Gospel According to St. Luke! (It was taboo at the time). And it seems Charlie Brown DID get a nice tree!
It was feared to be a flop once it aired, but now it's a Classic!
#3...How the Grinch Stole Christmas
Man, the Grinch has a Big Butt!
Nothing says Christmas like a Big Green Grinch Ass!
..."That 70's Show"...FTW! But really...this has Boris Karloff as The Grinch, Chuck Jones as the Animator, and Theodore Geisel (Dr. Seuss) for the story! Don't get the movie featuring Jim Carrey...It'll make you a Grinch! The Grinch's heart was 2x TOO Small, but once he found the true meaning...it grew 3 Sizes that day!
And The Grinch got to serve The Roast Beast!
OHHHHHHH...FUDDDDGGGGE!
Only Ralphie Parker said The Queen Mother of ALL Dirty Words!
"A Christmas Story" is a riot and a half, and not because It was filmed in Cleveland, but it has B.B. Guns, Wicked Witches, Leg Lamps, Busted Furnaces, Bloodhounds, Flagpoles, Ovaltine, Overdessed Brothers, Bully vs. Nobody Fights, and Chinese Turkey with the staff singing!
I just love this film, and even if they show it for 24 hours on TBS...it would just make my Christmas!
#1 It's a Wonderful Life!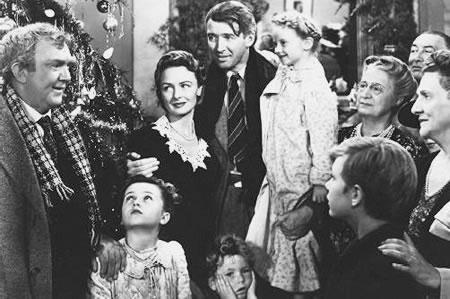 This is Frank Capra's Masterpiece...though it wasn't at the time, called "It's a Wonderful Life". George Bailey (James Stewart) sacrifices his life to save his business, he gives up his trip to Europe once his dad dies, gives up his College life to save Building and Loans, and even gave up his Honeymoon during The Great Depression!
But George Bailey feels that his life has NO Purpose once he finds out that he's $8000 in debt! George wished that he NEVER existed, but finds out that it IS A Wonderful Life and A Wonderful Film!
Remember...No Man Is A Failure Who Has Many Friends!
PS-Lillian Randolph who plays Annie was also the voice of Mammy in the "Tom and Jerry" Cartoons.
PPS-Everytime a Bell Rings...an Angel gets his wings!
This was a difficult list to make, 'cause I know there's "Mr. Magoo's Christmas Carol", "Christmas Eve On Sesame Street", "Yogi's First Christmas", and a butt-load of GREAT Christmas Specials...but there's a few that were...well...not-so-great!...