WARNING:This (like my last article) is about Christian Rock
if you don't like it TURN BACK NOW, DO NOT READ IT AT ALL OR MAKE CRAPPY REMARKS!!!
Last time I said I was gonna do an article on the history of Christian Rock, but since I got some good comments on my last article I'm gonna do another Christian Rock Album article, starting with albums from the 90s as part one of a three part series of articles.
Collective Soul-Hints Allegations and Things Left Unsaid
If you know who these guys are I know what you're gonna say, and yes I know Collective Soul is not a christian band, although their lyrics are generally spiritual and provoking in nature, this album included their first hit "Shine", my opinion about these guys is that they're more of a crossover band.
I'm also gonna include 3 Petra albums starting with:
Beyond Belief
On this album Petra is still doing what they did best rocking out loud, and still polishing their Arena Rock sound, this right here is a fan favorite.
Unseen Power
In 1991, Petra was looking to try out some new stuff, so on this album they backed away from the Arena Rock, and tryed out some Soul, and Black Gospel material, and even though that was the case, they still brought on the rock 'n' roll tracks like "Dance" (which sends a message not to take advantage of God's love), "Destiny", "Ready Willing and able", "Sight Unseen", and "Secret Weapon", this is their best Experimental Rock album.
Wake-Up Call
Petra still brings us the Experimental Rock on this album, this time they go for a more Southern Fried Rock sound, and bring us hits like "Reach Out" and "Midnight Oil", this was the last decent album they did, ten years later Petra left us with a studio album that rocked since "Wake-Up Call", and that's "Jekyll and Hyde".
Back to the other albums:
dc Talk-Free at Last
This was dc Talk's last Rap/Hip Hop album although there are some Rock tracks on it like "Luv is a Verb", "Jesus is still alright", and "Time is Ticking", another good track is "The Hard Way", overall I think (even though I hate Rap but like dc Talk) this is a good album.
Michael W Smith-Go West Young Man
You know what, I kind of remember this album (when I was a kid, I had next door neighbors who have this album). The only track I remember is "Seed to Sow", which of course I'd have to admit that I'm not fond of Michael Smith, but I like "Seed to Sow".
Stryper-Against the Law
This was the most controversial album by Stryper since they have no mention of God on this album whatsoever, there were also changes with the band, like instead of wearing their yellow and black spandex outfits, they wear black leather outfits, on this album Stryper does a cover Earth Wind & Fire's "Shining Star", which is a song I never really cared for, overall I think this is an Okay album.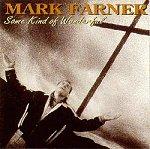 Mark Farner-Some Kind of Wonderful
I know what you might be thinking is this THE same Mark Farner from Grand Funk, believe it or not, it actually is, I found it hard to believe that Mark became a christian artist at first, as it turns out, this was one of the first few Christian Rock albums he did, I've never heard it, so there's not much to say about it.
John Schlitt-Unfit for Swine
John Schlitt brings us more Experimental Rock on his second solo album, This he goes for Alternative Rock (which was huge at the time), Modern Rock, Commercial Rock, and even a song that sounds Country,
but of course like I said John wanted to try out new stuff, the best track on this album is "Can't Get Away".
Newsboys-Going Public
This was The Newsboys breakthrough album a bit cheesy but good, it included their first smash hit "Shine".
Supertones-Adventures of The O.C. Supertones
I hate Ska music, but I like The Supertones, they were a good band, although I've only heard one track from this album, I heard it's a pretty good album, I wish The Supertones would get back together.
Disciple-What was I thinking?
I've heard Disciple but only their later stuff, their earlier stuff was Funk Metal, I have yet to hear this album.
Well that's all, I'm sorry I left out Jars of Clay, Third Day, Mortification, or any of those other bands, the next article well be 80s Christian Rock:The Transitional Era, if you want any particular 80s christian rock albums posted in my article, let me know.