What a year it was. Hard to believe it's been 20 years already. In 1992, young children were introduced to Barney the Purple Dinosaur, then-President George H.W. Bush made headlines for his puking incident on the Prime Minister of Japan at a state dinner; a then-underaged, and deranged Amy Fisher, dubbed the "Long Island Lolita", made headlines for shooting the wife of Joey Buttafuco, the car mechanic with whom she had sexual relations; country superstar Billy Ray Cyrus, father of future pop singer Miley Cyrus, was at the top of his game with "Achy Breaky Heart", while superstar diva Whitney Houston was at the top of her game with "I Will Always Love You" from the soundtrack to her blockbuster motion picture
The Bodyguard
. Finally, Slick Willy, a.k.a. Bill Clinton was elected President of the United States and would enjoy a full two terms in office. The following are my personal memories of the leap year that was 1992.
The Legend of Zelda: A Link To The Past
The wait was finally over. Link was back in his quest to rescue the fair Princess Zelda from the evil clutches of Ganon. This was the much anticipated
Legend of Zelda
game where video gamers got to experience a major upgrade in graphics and sound, more epic sounding music, and even a chance for Link to transport from the light world to the dark world, and back again, retrieving three pendents and seven crystals, each with a maiden trapped inside, including Princess Zelda herself, something the first two Zelda games had not done before. This game even sped up Link's medicine consumption time and allowed players the option to save and quit a game at any time without having to commit suicide and be prompted to save at the Game Over menu.
Rock-a-Doodle
In the 80s, animation director Don Bluth had major success with four motion pictures and two arcade games under his belt. The 90s for him began with the release of the
Dragon's Lair
sequel
Time Warp
, which took on a weirder premise than its predecessor, but still maintained its style of animation from the first. 1992 saw the US release of one of Bluth's more bizarre projects, something we would see a lot of, ending with
The Pebble and the Penguin
. It was also the first, and only time audiences got to see a combination of live action and animated sequences (Ã la
Who Framed Roger Rabbit?
) in a Bluth-directed movie. Though I never saw
Rock-a-Doodle
in theaters, I remember seeing it one time on home video at my grandma's house. The storyline may have been confusing and clumsy, and the songs often sounded like rejected commercial jingles (i.e. "They're Running Out of Batteries") but nonetheless, its visuals were very mesmerizing, including Chantecler's love interest Goldie Pheasant, a female character enough to make you go cock a doodle doo.
My one major hang-up with
Rock-a-Doodle
is the ridiculous song about tying your shoes in the end credits, which apparently was a plot-line for Patou the dog who had a hard time tying his. It was a far cry from all the other well-sung, beautifully-crafted end title songs in previous Bluth movies. As odd as this movie may be, I still find it mildly enjoyable, certainly more entertaining than, say...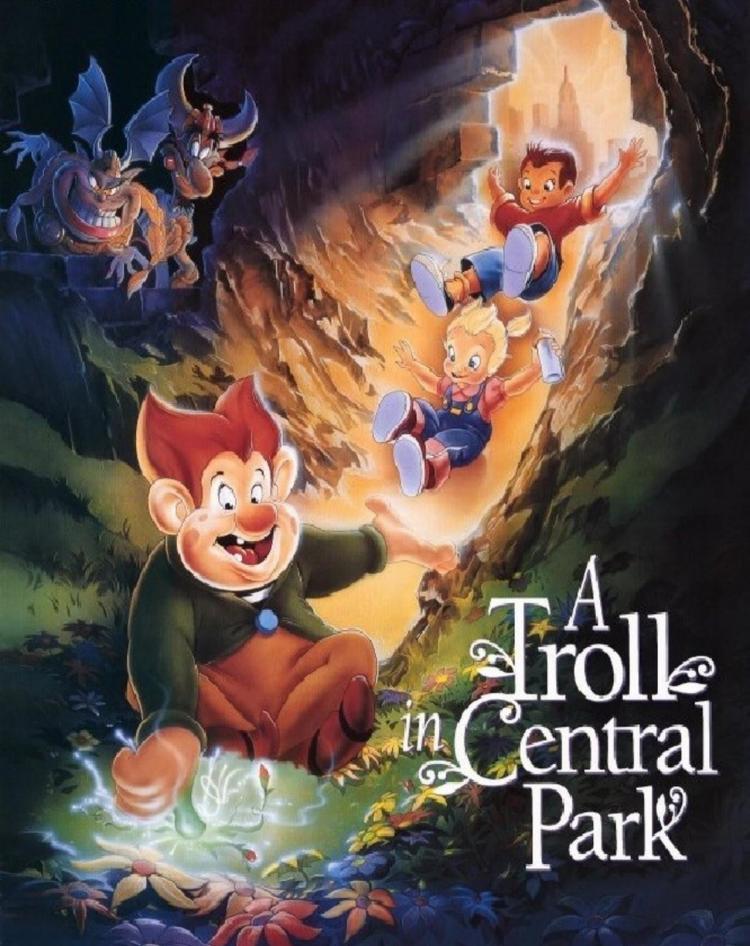 THIS ABOMINATION FROM HELL!!
FernGully: The Last Rainforest
This was one of the first animated features of the 90s to teach kids about protecting the environment, a movie which audiences have often drawn huge comparisons to Director James Cameron's 2009 work
Avatar
. Zack, a teenage boy working a summer job tagging trees to be chopped down, is magically shrunken down by Crysta, a beautiful fairy he catches in his hands, As he becomes acquainted with her and her friends, he sees the beauty of the rainforest, while also working to defeat Hexxus, an evil toxic force from destroying it. The movie has some very beautiful backgrounds and animation, a great soundtrack, including a cover version of "Land of a Thousand Dances", and featuring artists like Thomas Dolby, Sheena Easton, and Elton John, as well as the voice cast of Jonathan Ward, Christian Slater, Samantha Mathis, Tone-Lōc, Robin Williams, and the ever toxic Tim Curry. While some praise
FernGully
for its pro-environmental message, others criticize its preachiness, as well as its vilification of humans for being so destructive of nature. However, in the following year's release of
Once Upon A Forest
, another animated pro-environmental picture, humans are not portrayed as being total monsters. A direct to video sequel to
FernGully
would follow six years later, but without any of the voice actors from the original.
Bebé's Kids
This was another movie I never saw in theaters, but have seen years after its release. Directed By Bruce W. Smith, the future creator of the Disney Channel cartoon series
The Proud Family
, and based on the standup routine of the late comedian Robin Harris, it tells the story of how Harris, in animated form, meets a beautiful woman at a funeral, her good-natured son Leon, and three bratty kids from a never-once-seen friend of hers named Bebé, as they partake in an adventure in a Disney knockoff theme park called Fun World, as the kids wreak havoc and eventually destroy the place. The movie also features the froggy-voiced rapper Tone-Lōc as Pee Wee, and was the first movie with an all African American cast to feature the epic line "I'm gonna beat the black off of you". Contrary to popular belief, the actual tagline to the trailer is not "It's Animation", but rather "It's Animation with an Attitude", a sound clip that was accidentally cut short in editing. The movie was both a critical and commercial failure at the box office, with an even worse adapted video game for the Super Nintendo.
Fievel's American Tails
After the major success of
An American Tail
, producer Steven Speilberg was compelled to continue the adventures of Fievel Mousekewitz and his family as they migrate west in the 1991 sequel
Fievel Goes West
, this time without the direction of Don Bluth. Despite being overshadowed that year by Disney's
Beauty and the Beast
, it still proved to be a favorite for young audiences, retaining some box office success, though not as much as its predecessor. However, with that success, came
Fievel's American Fails
...excuse me,
Tails
, the God awful Saturday morning cartoon based on the popular Jewish Russian mouse family as they continue their adventures in the wild west. Phillip Glasser, Dom Deluise, and Cathy Cavadini are the only actors from
Fievel Goes West
to reprise their roles. Created by Universal Cartoon Studios and Amblimation, along with the Canadian-based studio Nelvana, the series was panned by both critics and audiences, and cancelled after only 13 episodes, nearly destroying the franchise. Even the voice of Dan Castellaneta as Chula the spider sounded way too much like his Krusty the Clown character from
The Simpsons
. He would later be the temporary replacement voice for the genie in the Aladdin sequel
Return of Jafar
and its animated series.
Super Mario Kart and Mario Paint
In 1992, Mario got a much needed break from eating mushrooms, chucking fireballs at enemies, stomping on goombas, and saving the princess from the evil lizard King Koopa.
Super Mario Kart
is the most epic fun you will ever have on the Super Nintendo! Even the commercials advertised it like an upcoming Monster Truck show. Mario, Luigi, Princess Toadstool, Bowser, Yoshi, Toad, and others all race on go-karts in various tracks and settings, and can use a series of weapons to paralyze opponents and compete for first place. Players could even compete in Battle Mode and knock out each other's balloons, something never previously done in a racing game.
Super Mario Kart
was such a huge success that it inspired the Nintendo 64 equivalent four years later, but with more awesome race tracks and music, and replacing Koopa Troopa with Wario. The most difficult track was of course Rainbow Road, the only track in the entire game where players really had to avoid electrified thwomps and watch their turns as there were no fences or walls to hold them back. This would later be altered in the 64 release where a star fence was added to keep players from falling off the edge, however there would be ways to find short cuts.
That same year, video game nerds got to bring out their inner artist, or as much artist as they could, even if they had little to no talent, in
Mario Paint
. This game was the first to include a mouse specifically for the Super Nintendo where players could draw, paint, animate, create stamps, compose music, and even play a gnat swatting game.
SNICK
In 1992, kids finally got to stay up two extra hours with the grown-ups and watch their favorite programming in prime time. SNICK, short for Saturday Night Nickelodeon, featured classic shows from the first network for kids, as well as a couple of new ones, including
Roundhouse
, which was kind of like
SNL
on a shoe-string budget, complete with skits, musical and dance numbers, something which actors on the show really had to perform in all three areas, and
Are You Afraid of the Dark?
, a kid version of
Tales From The Crypt
, with scary, and not-so-scary stories, as told by The Midnight Society. Over the years, SNICK has gone through many changes in programming and formatting, later revamped SNICK House before being cancelled in 2001. SNICK was officially cancelled in 2004, however, through Nickelodeon's new programming block "The 90s Are All That", classic shows from the 90s, especially those from the SNICK era, continue to thrive in reruns.
Home Alone 2: Lost in New York
As the sequel to the wildly popular 1990 film
Home Alone
, it continued the adventures of Kevin McCallister as he ends up in New York City after accidentally boarding the wrong flight, books a suite at a very posh hotel but runs away shortly after one of the staffers discovers that the credit card he used is reported as stolen. Kevin also catches up with the bad guys from the original movie who busted out of prison. In typical
Home Alone
fashion, Kevin befriends a misunderstood outcast, creates a series of traps for the crooks to fall for, this time at a house of his uncle and aunt, who are not home, but are in the process of renovation, and the family tracks down Kevin and flies to New York to get a room at the hotel where he was vacationing. Despite being panned by critics, especially by Siskel and Ebert, who both disliked the original,
Home Alone 2
still had some success at the box office, if not more than its predecessor. It was also the marketing platform for the Talkboy tape recorder toy for its VHS release nearly a year later. I liked
Home Alone 2
just as much as the original and thought the jokes and traps were funnier, even if some were a little crude or cartoonish. The film's writer John Hughes would later write
Home Alone 3
, which surprisingly received mixed reviews from both Siskel and Ebert. Personally, I have mixed feelings too on the third installment, which is certainly a lot better than...
THIS PILE OF PUKE!!
Aladdin
After the success of
The Little Mermaid
and
Beauty and the Beast
, Disney had returned with its 31st animated motion picture, based on the popular Arabian folktale, and fourth movie from its Renaissance era. The movie included an excellent voice cast, including Robin Williams, Jonathan Freeman, Scott Weinger, Linda Larkin, Jim Cummings and Gilbert Gottfried. It was also one of the few films to seamlessly combine traditional animation with computer generated imagery. The end title version of "A Whole New World" even went to the top of the pop charts in early 1993, and would win a couple of prestigious awards.
As of 2012, Disney has yet to re-release
Aladdin
in theaters in eye-popping 3D, something that has already been done with
The Lion King
, and
Beauty and the Beast
.
And those are my personal memories of 1992, or as I like to think of it, the last of my single digit years as a kid.