LOUD, FAST, ANGRY, Heavy F*****G METAL BABY!! The 80s was the best time for music. lets face it, James Hetfield and Kirk Hammette will always take the cake over Kurt Cobain and Eddie Vetter. I'll take steel over plaid any day. I've always said music has gone down hill because of bands like Nirvana and the grunge era. The 60s had Jimi Hendrix, the 70s had led Zeppelin, Black Sabbath, Johnny Winter and ACDC. The 80s had Metallica, Slayer, Iron Maiden, Ozzy Osbourne, Van Halen, and tons of other great musicians that are still iconic today. Then the 90s had Nirvana....... o and Four None Blonds..... and Vanilla Ice....ice ice baby??
I'm talking about those bands that are still alive today and have guitar hero and rock band begging them to use their songs. Bands that when you hear one of their songs you know who's playing it. bands like Metallica:
Slayer
Megadeth
Iron Maiden
Heavy Metal started back in the late 60s in Birmingham in the industrial section. A struggling blues band called Earth had just gotten their new singer a young Ozzy Osbourne and were ready to try out a new heavier harder feel. They decided to go with Black Sabbath because they felt it scared people ,much like their music.
After the success of Black Sabbath at the begging of the 70s, other bands began to show up with this new heavier attitude and dark feel. Hard rock was a combo of blues and rock. Sabbath was also the first band to tune their guitars and bass flat, or lower. other bands that emerged were Deep Purple:
Blue Oyster Cult:
Led Zeppelin
At the same time, Aerosmith, Pink Floyd, and Lynard Skynard were also laying down the foundation for the future Heavy Metal scene with monster guitar riffs, scorching solos, and loud drumming. Many other bands would also help influence the Metal era such as Thin Lizzy, Boston, and Kiss. By the end of the 70s though, Aerosmith, Zeppelin, and Black Sabbath were all feeling wore out from all the drugs and partying of the 70s; and in their down fall, 80s Metal began.
BY 1983, Metallica, Slayer, Iron Maiden, and Judas Priest had already become monsters of rock. Metallica's first record, Kill em' All, was already being considered a new type of music known as Thrash Metal. Slayer was doing another kind of metal, which later became categorized as Death metal (along with Cannibal Corpse and Death; I don't consider Slayer Death Metal but if you go to a CD store that's where you will find them). Anthrax was starting to mix punk with metal to start up Speed Metal style. Priest and Maiden were considered with British invasion of Metal.
Down on the LA strip in southern California, another kind of metal was being born, not the best kind either, but Glam Metal. Guys would dress up like chicks pretty much to get girls, how that works I'll never know. Bands like Motley Crue, LA guns, and later Cinderella and Poison.
After being removed from Black Sabbath, Ozzy Osbourne had started over by doing his own solo project. Ozzy gave way to become the Prince of Darkness of Heavy Metal. He also gave opportunity so some of the greatest guitar players such as Randy Rhoads, Jake E. Lee, Zakk Wylde, and now as of recently Gus G.
Ozzy wasn't the only one making a come back. ACDC had returned with a new singer after the death of Bons Scott their front man who died of choking on alcohol, Aerosmeith also made a come back with the help of Hip-Hop artist Run DMC (remember this was still the 80s so it was called Hip-Hip not Rap). Black Sabbath had a new singer too; Ronnie James Dio. Ronnie claims he came up with the devil horns hand symbol. Dio also went on to sing and front Deep Purple, Richie Blackmores Rainbow, Elf, and his own solo group just titled Dio.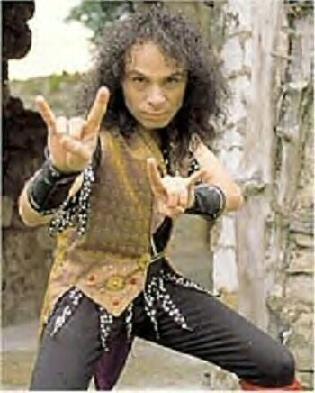 There were so many, many other great 80s metal bands such as Dokken, Manowar, Savatage, Queensryche, Twisted Sister, Guns & Roses, W.A.S.P., Europe, Overkill, and tons more. But by the end of the 80s, the grunge scene was taking over. the 80s metal bands were all but forgotten by 91. Some bands went on and kept it strong, such as Metallica, who still blow arenas apart today on tour. In the past ten years we've seen the return of Iron Maiden, Judas Priest, and Megadeth. I think Megadeth's past three records have been better then most of their late 80s and 90s material. Granted yes, they have had about 56 line up changes, but thats Dave Mustaine for ya.
Whats the future of metal? Well, despite the over whelming amount of Deathcore, Grindcore, Hardcore, and shitcore metal bands today, their are some who still have the old school edge to them. Bands such as Avenged Sevenfold, Bullet For My Valentine, Dream theater, Steel Panther, and a whole mess of bands coming from Greece Such as FireWind, Dream Evil, and Lordi. Loud singing is OK with me but when they start screaming bloody murder I don't think its so cool.
And for my finale, by far one of my favorite bands, who have keep it real metal since 1986...............................................................
....................................................................
...... GWAR!!!
Yep, i am a huge Gwar Fan.They have a great live show, check them out if you can sometime. Haha! Anyway, I hope you enjoyed my metal rant. I know i may have left a few bands out so sorry about that. Always remember, Metal up Your ASS!!!