Nickelodeon
, the number one television network for kids, offers many programs for kids of all ages. These wacky and zany shows appeal to kids all across the country, and the world. But Nickelodeon was not all wacky and zany when it first started. The early days of Nickelodeon is referred to as the "green vegetable network" rather than the "green slime network". In fact, there was no slime on the network when it first started. Most of the programs they had on the network then did not appeal to most kids, which then lead to its near-failure in 1984. So how come Nickelodeon did not appeal to so many kids, why did it almost fail in 1984? This article will explain everything. Now I know what you are thinking, "Don't we have enough 'History of Nickelodeon' articles on this site, and usually it's just information taken off Wikipedia." This is not like those other articles. Most of the information you will see in this article are taken from lesser-known sources, which are the REAL sources (see list of sources at the bottom). Now let us get this article started.
Pre-Nickelodeon
Prior to Nickelodeon, most kids programs were very limited, especially to the big kids, because they could only tune into their favorite shows on Saturday mornings. Younger kids, on the on other hand, not only had Saturday mornings to watch their favorite shows, but weekdays too, because they would watch
Sesame Street
,
Mister Roger's Neighborhood
, and
The Electric Company
. Luckily, for kids growing up in Columbus, Ohio, they had a new television system called
QUBE
. Launched December 1, 1977, QUBE was the first interactive television system that offered many new concepts that would eventually be used by other television stations. QUBE was basically the future of television that we have been waiting to see. QUBE had about 30 channels, and among those channels was
Pinwheel
. Pinwheel ran 12 hours hours a day on weekdays, and 14 hours a day on weekends. Unlike most educational shows where you think you are interacting with the show, Pinwheel actually does make you interact with the show by using a special remote that will help you participate in fun and educational activities. This remote was also used for other channels in the QUBE system for answering questions and voting. For example, on the day QUBE launched, a birth of a baby was shown on the system, and the viewers were given four choices (May, Elizabeth, Bernadette, and Linda) on what the baby's name will be. The one that got the most votes was choice number 2, which was Elizabeth, by doing that, they pressed "2" on the remote, and it would be sent to a computer, and it would tally up all the votes. Meanwhile, at
Warner-Amex
(the company that launched QUBE), its CEO at the time, Gustave Hauser, wanted to see more new, innovative channels that had not been used before. He brought along Mike Dann, former President of
CBS
, to help him figure out new ways to fill up video channels. He did not want another CBS/NBC type network, he wanted something new and creative, something that has not been seen before nationwide. After hearing Dann's ideas, Hauser finally decided that he would create an all-day children's network, and hired Dr. Vivian Horner (creator of
The Electric Company
and
Pinwheel
) to help figure out how they were going to do this. He selected the name, Nickelodeon, from a list presented by professionals (which makes me wonder what else was on that list). The network was originally scheduled to launch at the beginning of February, but for some reason was switched over to April Fools day.
Dr. Vivian Horner, the overall concept creator of Nickelodeon.
Gustave Hauser, CEO of Warner-Amex and founding father of Nickelodeon.
1979-1981
Before the network even launched, Nickelodeon was dedicated to the
International Year of the Child
on March 21, 1979. Attendees of this special ceremony was Gustave Hauser and representatives of the
United Nations
. Nickelodeon did not immediately go on the air April 1, it actually went on the air March 26, 1979, for a special free preview week to cable operators across the country to show what the channel will be like once it officially launches. Finally, the network officially launched, as I said before, on April 1, 1979. The network debuted to about 600,000 subscribers, hoping to reach 1 million by 1980. Their launch day kicked off at 9am with, of course, Pinwheel. Nickelodeon was, as Gustave Hauser put it, "the first channel of programming wholly created for cable television audiences." Nickelodeon follows a concept that still continues today, morning hours would be for the younger kids, afternoon hours would be for the big kids, evening hours would be for the tweens/teens, and nighttime hours would be for the adults. Of course, then, they did not have their own nighttime block like they do today, instead, it would switch over to the
Alpha Repertory Television Service
. Their first logo was the word, Nickelodeon, in a Roman-style font, with this Charlie Chaplin-like guy looking into the "N" of Nickelodeon as if it were a machine (see picture below). The original intention of Nickelodeon was to teach kids "educational information in a roundabout way", which in my opinion was a pretty bad idea, because most kids would consider educational shows to be "for babies". How did Nickelodeon differ from other children's programming blocks? Well, Nickelodeon was commercial-free, because at one point in time, parents thought that commercials were bad for kids just like how candy is bad for your teeth. Parents did not want their kids seeing an advertisement for a toy gun, or a sugary cereal. Nickelodeon in the early days was basically a kids version of regular PBS. It was not exactly a place for kids to call their own network. When Nickelodeon first launched, the network charged $.10 per subscriber, and it had a $1 million budget. Aside from Pinwheel, Nickelodeon had four other shows.
America Goes Bananaz
(formally
Columbus Goes Bananaz
) was a teen variety show that would discuss teen-related topics and issues such as choosing the right college, or looking for a job, or managing money. It was also a show where teens could show off their own talents.
By the Way
was block for elementary school-age kids ages 7-12 that would show animated and live-action films. It would also help solving their own problems when facing the real world.
Nickel Flicks
was a block dedicated to old 30s and 40s serials and would feature iconic characters such as
Flash Gordon
and
Tom Mix
. It would also feature the silly antics of
Charlie Chaplin
and
Fatty Arbuckle
. Finally, there was
Video Comic Books
, a read-along show that would feature comics of their so-called favorite super heroes such as
Green Lantern
and
Space Ranger
. The viewers would follow along, and feel as if they were in all the action going on. During the first couple of years of the network, Nickelodeon ended its day of programming at 11pm with America Goes Bananaz, but I guess since parents did not want their kids up that late, Nickelodeon started to end its day programming at 8pm instead. By early 1980, Nickelodeon added two new shows,
Children's Classics
was a show that would feature so-called high-quality broadcasts from
BBC
that would normally be just fairy-tales.
Hocus Focus
was a show that would feature this guy named Kryspen, who comes from medieval times and has traveled to the 20th century to learn about modern times. They also changed the logo during that year (see other picture below). In September of 1980, a young woman by the name of Geraldine Laybourne joined the network as the programming manager, and would later become President of the network in 1984. In 1981, Nickelodeon won the Special Recognition Award from the
National Cable Television Association
.
Nickelodeon's first logo used from 1979-1980.
Nickelodeon's second logo used from 1980-1981.
Pinwheel is one of Nickelodeon's longest running shows, lasting well into 1990.
1981-1983
In late 1981, Nickelodeon changed their logo again to a rainbow-colored logo designed by Lou Dorfsman. Bob Klein added the infamous silver ball, hoping that kids would find it interesting and exciting. Also during that year, Nickelodeon bought the rights to a certain Canadian show known as
You Can't Do That On Television
, which would eventually become Nickelodeon's popular show at the time. As we all know, this show introduced the iconic green slime, which would eventually become a trademark for the network, and they still use it to this day. In 1982, Nickelodeon won its first
Peabody Award
. Also in 1982, Nickelodeon got approved by the
National Education Association
, which was said during their sign-off. By this time, Nickelodeon was soon available in 8.5 million homes across the country. While the network was appreciated by parents, it was not by its own target audience. Kids did not like Nickelodeon during its early years because of the fact that it was supposed to be educational. Kids would sometimes refer to it as the "doo-doo network", and they would even make fun of other kids for watching the network. Even Geraldine Laybourne's own son, Sam, was embarrassed that the fact he had a mother working for Nickelodeon. When people asked him what his mother did for a living, he would lie and say that she was a housewife. In 1983, when trying to make the network something that kids could actually enjoy, they instead made it even worse with coming out with two new shows that would soon become one of the lowest-rated shows on Nickelodeon. First, there was
Against the Odds
, a show which Sam described as "a series of little tragedies which were inspirational biographies of famous people". It soon became the lowest-rated Nickelodeon show in history. Then there was the infamous,
Going Great
, hosted by Chris Makepeace. Premiered October 4, 1983, Going Great was a show where it shows off people having achieved something that they had been wanting to achieve. It soon became the second lowest-rated show on Nickelodeon, costing the network a lot of viewers. The reason for the show being so unsuccessful was that when kids saw it, they realized that they could not do any of the stuff shown on the show, and it made them feel unhappy. The show was pulled after 16 weeks, leaving the network completely hopeless of being anymore successful.
Nickelodeon's third logo used from 1981-1984
You Can't Do that On Television was another of Nickelodeon's longest-running shows, lasting well into 1990, ending in reruns in 1994.
1984
By that year, Nickelodeon was falling apart, having its worst ratings in the network's five year history. The network was in terrible shape, not many kids were watching it. They soon made the ultimate sacrifice by adding commercials, which made parents very upset. To make matters worse, when Bob Pittman became the new President of
MTV Networks
, he fired most of the network's existing staff, making the network dead last among all cable networks, and losing the network millions of dollars. It was soon over, the network executives had no hope of this network lasting any longer. But then, there was light, a light of hope, and that light of hope was Fred Siebert and Alan Goodman, two guys who had experience with
MTV
, shaping the way it was during the 1980s. These two were hired to help revive Nickelodeon, making the network something for kids to actually to call their own network. The first thing they did was change the logo. Now what was wrong with the silver ball logo (yeah, what was wrong with it)? The network needed an identification, something that shows what Nickelodeon really is, and the silver ball just was not working out that way. They decided go with orange because as Fred Siebert puts it, "it stands out, it's not the first color you see in nature." Of course, this was not just one certain logo, it went out in many other forms, it could be made into anything (and they soon forgot that during the logo's final years). The network executives at first were not too fond with this new logo because they thought that orange was the most ugliest color in the world. But they soon got used to it, eventually it became the main fixture for the network. Within six months, Nickelodeon went from worst to first in the ratings, and the rest is history.
Fred Siebert and Alan Goodman, the two guys that saved Nickelodeon.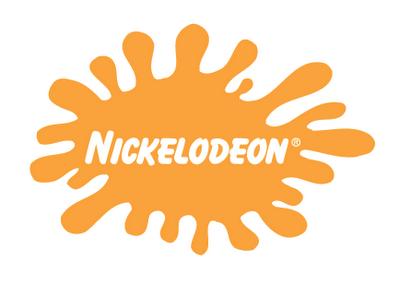 Nickelodeon's fourth logo used from 1984-2009. This is just one out of the hundreds of other variations of this logo.
Legacy
Fred Siebert and Alan Goodman's impact on Nickelodeon still continues to this day. Their creation of the famous Nickelodeon jingle is still heard on the network, and their creation of
Nick at Nite
still continues after over 25 years. If it were not have been for these two geniuses, most of us would not have watched Nickelodeon, and see many of the great shows we saw during our childhood. We should thank them for all their hard work, but we should also thank the two who created this network, Dr. Vivian Horner and Gustave Hauser. It is sad the that these two do not get any credit for creating the network, but at least their creation still continues. Nickelodeon still continues bring more and more viewers to the network, so much more, that by 1996, Nickelodeon made a big landmark by being the #1 Basic Cable network of all television, and they continue to be #1 to this day. Over the years, programs have come and go on the network, entertaining one generation of an audience with one group of shows, and then entertain another generation of an audience with another group of shows. While
Cartoon Network
appeals mostly to boys, and
Disney Channel
appeals mostly to girls, Nickelodeon appeals to both boys and girls because each show usually has one that appeals to girls, one that appeal to boys, and some that appeal to both boys and girls, which makes it an incredible network. And that is what most people need to realize. Now to end this article, here is another piece of rarity, the first (or proposed) Nick at Nite logo.
(circa 1985)
List of Sources
Google News Archive
1979 Nickelodeon Press-Kit (that's actually something that belongs to me)
Cable Center.org
Newspaper Archives.com
Fred/Alan Archive