The Adventures of Bayou Billy NES
By Christofski
[email protected]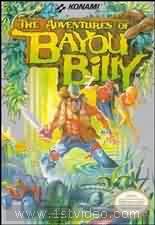 .
When I was younger and enjoyed nothing more then firing up the old NES and this game was probably the one I fired up the most. Because I was a huge Nintendo freak with no friends, I would only ask that upon my birthday or Christmas I would receive a shiny new game. My parents weren't huge spenders and were never happy with shelling out $80 + for a new title so often I had to settle for budget titles on the $29.95 shelf. I will never forget the birthday where my parents bestowed upon me the Adventures of Bayou Billy. Being a somewhat cynical 10 year old Australian, I saw this as nothing more then a cheap American crocodile Dundee knock-off.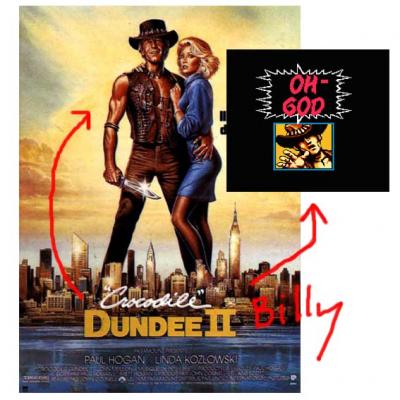 .
However disregarding the low price tag this game actually offered one of the most challenging and diverse NES experiences. Not only did the game provide you with side-scrolling beat-em-up action but made use of the underrated NES light gun. On top of this driving stages were plonked in just for a change of pace, and for all of you wondering - YES a puddle of oil, or water for that matter, can wipe out a four-wheel drive army jeep.
(I guess Billy got a bit of a lemon at the car dealership)
.
As soon as the game starts you receive a story of high originality (kidnapped girlfriend) who is being held hostage by some fat-guy, who knows why? Perhaps he is planning on eating her or something because he doesn't ask for a ransom or anything. Unlike most kidnappers the fat guy is pretty helpful to Billy and tells you exactly where to find him; at his estate. He is even kind enough to warn you that there will be challenges along the way.
.
Wow what a super-dooper baddie!
Well rather then call the police (because you know exactly where your woman is) or simply just drive right over to the estate and kick fatty's arse! Billy decides it would be best to take the long route and fight his way through 9 very difficult levels.
Don't get me wrong this game is bloody hard, and you will find yourself throwing the controller around in a fit of anger. The thing is I never actually beat this game, and just recently I tried playing it again and can't even beat the first level. When I was younger the highest I ever got was the estate where you had to fight these two big robots, because as we all know fat baddies who live in America's wetlands have access to advanced robotics. However as I stated earlier the true fun in this game lies in the diversity. The levels where you get to use the light-gun are great, I had admiration for this game as I could dust off my Zapper, which hadn't been touched, since my short love affair with duck-hunt.
All in all Billy is well worth a chop and worthy of the status of a decent NES title. As soon as you boot this bad boy up, there is the surfer dudes voice that says "The adventures of Bayou Billy". I never quite understood what this grainy muffled voice had to do with the game itself but who am I to judge, at 10 years old it seemed pretty cool to me.