Let me take you back to the early 70's, and if you weren't there, then try to imagine it. The British rock band, Queen had just formed. The band consisted of lead vocalist/keyboardist, Freddie Mercury, guitarist, Brian May, bassist, John Deacon, and drummer, Roger Taylor. They were influenced by many great rock artists, yet they had a very unique style among the other rock bands. Let's go album by album and see how much they've changed.
In 1973, Queen released their self-titled debut album. This album did not do too well. At the time, Queen was more under the hard rock or progressive rock category. The only song on the album that really became a hit was "Keep Yourself Alive", the hard-rocking opener. While it's not a horrible album, it's definately a building block to lead people to the band's later work.
Queen released their sophomore album, "Queen II", in the spring of 1974. This album is not much different than it's predecessor, but it is in some ways better. This album also only had one well-known hit, which was the album's closing song, "Seven Seas of Rhye". Again, I didn't find this album too interesting since Queen still hadn't fully developed their signature sound (That won't be until the next album).
Later that year, Queen's third album, "Sheer Heart Attack", turned out to be the bands big breakthrough. This album is the first album that truly defined Queen's signature sound. The big hit off of this album was the catchy "Killer Queen". Other hits included the rocking "Now I'm Here" and the intense "Stone Cold Crazy". "Brighton Rock" also stands as a fan favorite due to Brian May's killer guitar playing.
For most progressive rock artists of the 70's, the band's fourth album would most likely be their masterpiece. Examples include "Selling England By the Pound" (Genesis), "Fragile" (Yes), "Aqualung" (Jethro Tull), and "Leftoverture" (Kansas). We are now entering 1975, and Queen will be releasing their fourth album. On top of that, 1975 was an awesome year for music. Take a look at "Wish You Were Here" (Pink Floyd), "Born to Run" (Bruce Springsteen), "Captain Fantastic and the Brown Dirt Cowboy" (Elton John), "Blood on the Tracks" (Bob Dylan), "Physical Grafitti" (Led Zeppelin), and "Toys in the Attic" (Aerosmith). With all that said, Queen's upcoming album is sure to be one hell of an album. And you know what? It is!
"A Night at the Opera", released in December 1975, is undeniably Queen's masterpiece. The main thing that made this album their masterpiece was the fact that the album contained their signature song, "Bohemian Rhapsody". Other hits include the lovely "You're My Best Friend" and the suspensful "I'm in Love With My Car". Queen went out of their way making this album putting in all their effort. Listening to this album is like listening to a classic musical. There is no album like "A Night at the Opera".
Since "A Night at the Opera" was such a huge blockbuster hit, the band knew that it was time for a strong follow-up. What they came up with was "A Day at the Races". Released in 1976, "A Day at the Races" was a decent follow-up even though it wasn't quite as strong as "Opera". The big hit off of this album is "Somebody to Love", which is debatedly one of their best songs ever. Other hits on the album include the rocking opener, "Tie Your Mother Down", and the slightly humorous "Good Old Fashioned Lover Boy". It is a bit ironic that this album and it's predecessor were both named after popular Marx Brothers films. What's their next album going to be called? "Room Service"?
Certainly not. On Queen's sixth album, "News of the World" (released November 1977), Queen took a little bit of a different approach. This album opens up with the mega-hit rock chant, "We Will Rock You", and then goes right into the majestic anthem, "We Are the Champions". Queen still has the same talent they've been using since their third album, and you can tell by listening to songs like the beautiful "Spread Your Wings" and the light-rocking "It's Late". This is an album that will get people singing along with it.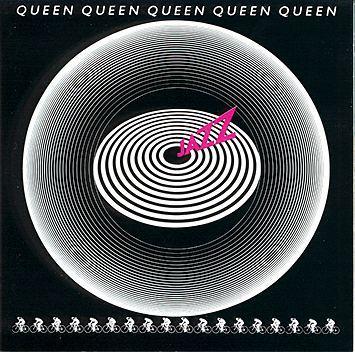 Moving on in 1978, Queen's next album, "Jazz", shows a little bit of changing in the band. In this album, they're starting to sound more pop-sounding and not quite as operatic. Freddie Mercury and Brian May haven't lost their tallents. This isn't a bad album at all, in fact, it's a great album. This album's big hit was "Fat Bottomed Girls". Other radio hits from this album were "Bicycle Race" and "Don't Stop Me Now". This album marks a new beginning for Queen and will be their last studio album for the decade.
"A Night at the Opera" stands as Queen's masterpiece, but this album is the next best thing. Released in the summer of 1980, "The Game" holds tons of big hits. The most notalbe hits on this album are the smashing "Another One Bites the Dust", which has probably the most famous bass line in history, and the 50's-rock-influenced "Crazy Little Thing Called Love". The album is strong from beginning to end as it opens with the elegant theme song, "Play the Game", and closes with the surging "Save Me". This would turn out to be the band's last album to become a huge hit.
In January 1981, Queen released a soundtrack to the sci-fi movie, "Flash Gordon". This album failed to score a hit with the exception of "Flash's Theme", so I think I should just leave this album alone.
Queen is no longer the memorable band that we all loved from this point on even though they still manage to make hits. Queen once stated that they were never going to use synthesizers in their music, but now they are. 1982's "Hot Space" was a major disappointment. You can tell how bad they're getting by listening to songs like "Body Language" and "Calling All Girls". The only real memorable song on this album was their duet with David Bowie, "Under Pressure", which is definately one of the best duets ever. On a definate plus side, Queen is staying on top of things as far as music goes with some new wave styles mixed in (which were extremely popular in the 80's).
In early 1984, Queen released their tenth album, "The Works". Even though this album is more focused than "Hot Space", it sold poorly in the US. The highlights on this album included "Radio Ga Ga", "I Want to Break Free", "It's a Hard Life" and "Hammer to Fall".
As the 80's continued, Queen continued to be superstars in other areas around the world, but they still didn't seem to do well in the US. In 1986, Queen released "A Kind of Magic", which turned out to be one of their biggest selling albums in the UK. I also find this to be one of their strongest albums because of the amount of hits. The album's title track is the album's big hit, while other highlights include the opener, "One Vision", the haunting "Who Wants to Live Forever", the powerful "Princes of the Universe", and the love songs, "One Year of Love" and "Friends Will Be Friends". This album was sadly the last album that Queen had a tour for since this was around the time Freddie Mercury had become infected with AIDS.
In 1989, Queen's twelvth album, "The Miracle", made the scene. The band worked on each other's mental state while working on this album. This turned out to be a heavy album, especially with the album's big hit, "I Want It All". The other highlights include the creepy title track, the frightening "Scandal", the video-game-sounding "Breakthru", and "The Invisible Man", which strangely sounds similar to the "Ghostbusters" theme. The album didn't do much better than "The Works" or "A Kind of Magic" did in the US, but it still remains one of Queen's strongest albums of the 80's.
Even though Freddie Mercury's health was failing due to him being diagnosed with AIDS, he decided that the band should just continue working on music instead of sinking into misery. Released in early 1991, "Innuendo" is the final Queen album to be released during Mercury's lifetime. It's stronger than most of their 80's efforts, and it's also the most suspensful Queen album in my opinion. The album cover would probably show a fine indication of what kind of eerie stuff awaits you on this album. The biggest hit on this album is the rocking radio hit, "Headlong". As far as the other hits go, the opening title track and "I'm Going Slightly Mad" show just how scary this album can get. The more mellow "These Are the Days of Our Lives" shows us more of the album's lighter side. The album's strong closing song, "The Show Must Go On", made for an appropriate finale being that this would be Mercury's final album before his death.
Later that year, Mercury officially publically announced that he had AIDS, and less than a day later, he passed away. Even though he was gone, the three surviving members stayed together a little longer.
In late 1995, the remaining three members compiled an album entitled "Made in Heaven". This album was a collection of unreleased songs the group recorded with Mercury after the release of "Innuendo". While the album did score a few hits like "It's a Beautiful Day", "Heaven for Everyone" and "Too Much Love Will Kill You", the album doesn't seem as memorable as other Queen efforts. After this album's release, the trio officially broke up.
As of 2004, May, Deacon and Taylor have come back together and are now touring with Paul Rogers as their lead singer. To me, that just doesn't sound right, having Paul Rogers sing for Queen. Rogers doesn't have Mercury's operatic voice, plus he can't even hit those high notes that Freddie could hit. Well, it's true that Queen isn't the same without Freddie Mercury, but at least they're still together and touring.
Well, that's all I gotta say about one of the best rock bands in history. The music will live on with all of us.
R.I.P. - Freddie Mercury (1946-1991)