Since I Retrodave was born in the year 1985; Nov. 4, 1985 to be exact. I thought I would write about the year I was born. I'll talk about the movies, television, music, etc. of that year. 1st let's start with some basic general information of that year
U.S. President:
Ronald Reagan. The Actor? One thing he was known for is Reganomics. What is Reganomics? I'm not really sure, nor do I care to look it up. Reagan also put an end to the cold war and got the Berlin Wall torn down.
Reagan as depicted on "Family Guy"
National Minimum Wage:
$3.35. There is no way you could live off of that now.
Average price of gallon of gas:
$1.20. Compare that to the national average in 2012 $3.79.
Price for a movie ticket:
$3.55. Not bad considering a movie ticket today is $10.00. Plus today there are extra costs for 3D and IMAX movies now. So you could end up pay $15.00 to see one movie.
3D movies in the '80s include "Jaws 3" and "Friday the 13th Part 3"
Academy Award for Best Picture:
"Out of Africa." This movie beat out Steven Spielberg's "The Color Purple." "The Color Purple" had 11 nominations. It should've won something.
Grammy Award for Album of the Year:
"Can't Slow Down" by Lionel Richie. I'm not a Lionel Richie fan. I'm sorry to disappoint anyone who is. However I do like the song "Hello" from this album.
Emmy for Best Comedy Series:
"The Cosby Show." This show speaks for itself.
"The Cosby Show" was the number 1 show in the Nielsen Ratings for five straight seasons. Only "American Idol" and "All in the Family" were the only other shows to accomplish that.
Emmy for Best Daytime Drama Series:
"The Young and the Restless." I don't watch "Soaps." Apparently not too many people today do either, since so many of them have been taken off.
World Series Winner:
Kansas City Royals. The Royals won against the St. Louis Cardinals. Apparently there was a bad call in this game. Long story short in game 6 Jorge Orta of the Royals was clearly out but the 1st base umpire called him safe. This led to The Royals winning the game, then the series. This of course, highly upset the Cardinals fans. This is upsetting to me, because being from St. Louis naturally I'm a Cardinals fan. I would have raised hell too, but I wasn't able to because I was still in the womb waiting to be born.
The year of the infamous blown call
Superbowl Winner:
Chicago Bears. Da Bears beat the New England Patriots thanks to Coach Mike Ditka. Now don't feel bad for the Pats. They won three times in a four year span from 2002-2005.
NBA Champions:
LA Lakers. The Lakers beat the Boston Celtics 4 games to 2. Too bad for Boston again.
Stanley Cup Winner:
Edmonton Oilers. Edmonton beat the Philadelphia Flyers in 5 games. Wayne Gretzky, whom could be the greatest hockey player of all time, was named MVP of the series.
Edmonton won the cup 5 times. 4 of those time was with Gretzky
My opinion of the greatest invention released to the U.S. in 1985:
The Nintendo Entertainment System (NES) this was state of the art gaming back then and launched one of the most recognizable video game characters of all time: Super Mario. Enough said.
"Now You're Playing with Power."
Moving on with highlights of each month staring with January:
Jan 1:
VH-1 makes its broadcasting debut. An alternative to MTV.
Jan 15:
John Fogerty's Album "Center field" is released. The title song of the album is great song about America's favorite pastime, baseball. Other good songs from the album "Rock and Roll Girls" and "The Old Man down the Road."
February:

Feb 7:
"New York, New York" becomes official anthem of New York City. "A city so nice they named it twice."
Feb 23:
Coach Bob Knight of College Basketball team Indiana Hoosiers throws chair during a game. Talk about poor sportsmanship. Here is the footage.
March:

March 5:
Mike Bossy of the New York Islanders is the first player to score 50 goals in eight straight seasons. That is impressive. Mike Bossy got into Hockey Hall of Fame in 1991.
March 27:
Billy Dee Williams (Lando Carizian) receives star on Hollywood Walk of Fame. Too bad he didn't get much fame after the Star Wars franchise. However Williams was able to play Harvey Dent in 1989's "Batman."It is a shame he didn't continue the role and returned to play Two-Face the villian that Harvey Dent became in "Batman Forever."
Tell me that is not an image of a star
March 29:
"Police Academy 2: Their First Assignment" and "The Care Bears Movie" premiers. These of course are two completely different movies. "Police Academy 2" is one out of a bijillion sequels of a mediocre series of police comedies and "The Care Bears Movie" is about those cute cuddly bears. As a kid I liked the Care Bears more than Police Academy. Now, of course it's the other way around.
Wouldn't it be wierd if they made a crossover of these films
April:

April 23:
New Coke replaces Old Coke. This was the biggest blunder in soft drink history ever. I never tasted it seeing how I was still in my mother's womb. Classic Coca-Cola was back on the market three months later.
Just because its new doesn't make it better
April 29:
Freddie Mercury of Queen releases first solo album "Mr. Bad Guy." This did not do so well. Its top rank on the charts 159 in the U.S. Lets face it April of 1985 was not a good month.
May:

May 11:
Madonna's single "Crazy for You." Hits number 1. Madonna fans rejoice. I just want to say I am not a fan of Madonna. My apologies to any Madonna fans reading this. I'll admit she can sing unlike other artists that for some reason are popular but can't carry a tune at all. I just never thought Madonna was right for me. Even though I am not a Madonna fan she was a huge pop star at the time. Here is "Crazy for You."
Actually it kinda nice
May 12:
Amy Eilberg is ordained in New York as 1st woman Conservative rabbi. A great day for women and the Jewish community. I really don't know this person; I just thought the first woman to accomplish something that has been for men only is quite impressive.
May 16:
Michael Jordan was named Rookie of the Year. There is to be many more great things from him in the following years.
He made me want to eat my Wheaties
June:

June 3:
"Larry King Live" on CNN premieres. This was a very popular show with great man interviewing many different celebrities until he retired December 16, 2010.
My favorite celebrity that wears suspenders
June 17:
The Discovery Channel debuts with Fun and educational programming. Some popular shows include "MythBusters" and "Shark Week."
June 27:
Route 66 was officially decommissioned. Route 66 was a U. S. Highway that ran from Chicago IL thru Springfield, IL; St. Louis, MO; Tulsa, OK; OKC; Amarillo, Texas; Santa Fe, NM; Albuquerque, NM; Flagstaff AZ; all the way to LA. Due to the Interstate system Route 66 got replaces by most major highways. Now where am I supposed to get my kicks?
July:

July 3:
"Back to the Future" premieres. It was the top grossing film of that year with approx $350,600,000. Rightly so it is a fantastic movie, with fantastic characters, great story and two awesome sequels. "Back to the Future" is the definitive time-travel movie, with comedy and 50's nostalgia mixed in. Also now this movie can also be looked at for the '80s nostalgia.
July 24:
Walt Disney's "The Black Cauldron" is released. A poor Disney Film. It bombed at the box office and got mixed reviews by critics. On the other hand I liked it. It is worth a look if you're tired off the same old Disney formula.
August:

Aug. 5:
The Establishment of Rock n' Roll Hall of Fame is announced. A place where Rock n' Rollers can be recognized for their achievement in Rock n' Roll.
I should visit this place some day
Aug. 27:
The 20th Space Shuttle Mission (51-I)-Discovery 6 was launched. It's mission "To explore strange new worlds, to seek out new life and new civilizations, to boldly go where no man has gone before." No wait that the Starship Enterprise's, mission from Star Trek, oh well. The actual shuttle mission was to launch three satellites. Not quite as impressive.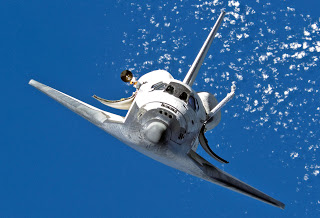 It's not the Starship Enterprise but at least this ship actually existed
September:
Sep. 14
Some significant cartoons debuted such as "The Berenstain Bears," "Disney's Adventures of the Gummi Bears" and "The Care Bears." Really? Three cartoon shows about cute cuddly bears all came out on the same day? Wow!
Sep. 16:
"G.I. Joe: A Real American Hero" premiered. Thankfully something much more violent and awesome than colorful bear shows came out two days later. Serriously we shouldn't hate cute bear shows because their too cute, or not manly enough; those shows were made for a younger audience. So that younger audience can watch them, and now you know. And knowing is half the battle.
G. I. JOOOOOOOOOOOOOOOOOOOOE!!
Sep. 29:
"MacGyver" premieres. Who else can defuse a bomb with chewing gum and a paperclip? No one that's who.
You have a high explosive bomb McGyver has his Swiss Army Knife, You Lose.
October:

Oct. 6:
Yankee's pitcher Phil Niekro becomes 18th pitcher to win 300 games. He is also the oldest to pitch a shut out game to Toronto at age 46. I find that to be most impressive because 46 in "baseball years" is ancient. Most pitchers retire by age 40.
Oct. 15:
Australian Shelly Taylor becomes the fastest person to swim around Manhattan Island, in 6 hours 12 min. and 29 sec. Some athletes have way to much free time to even attempt something like this.
Oct. 27:
Manager Billy Martin is fired from the Yankee's for the fourth time. Really how do you get fired from the same job 4 times? That makes him look bad and the upper management look bad. I can maybe see someone getting their job back and fired twice. Now if you get fired a third and fourth time then someone somewhere is not thinking.
I love "Seinfeld's" George Steinbrenner character
November:
Nov. 4:
I was born. What else?
Nov. 18:
The comic strip "Calvin and Hobbes" debuts in 35 newspapers. I remember that strip. It was pretty good.
Nov. 20:
First version of Microsoft Windows 1.0 is released. That is good for PC users. For Mac users not so much.
Nov. 27:
The movie "Rocky IV" is released. Rocky takes on Russian Ivan Draco. There is also a training montage where Rocky climbs a mountain.
In my opinion this is the best Rocky poster
December:

Dec. 5
: Frankie Muniz is born. He played Malcolm of "Malcolm in the Middle." And now I'm not sure what he does.
Dec. 13:
The movie "Clue" is released. This is a movie based off a board game of the same name.
I never seen the movie nor played the game
This movie is unique because it has three different endings. One of the three endings would be shown in theaters randomly. So if you went and saw the film again you would possibly see a different ending. That to me sounds like a good marketing gimmick. Say you saw the movie, but your friends haven't. Normally you wouldn't want to see the movie in theaters twice. Although with a possibility of seeing different a ending you would be convinced to go again. It would be a shame if you saw the movie again and saw the same ending.
That does it for 1985 I now end with Bowling for Soup's music video "1985."