This is my very first RetroJunk article, and I certainly hope it's not my last.
Anyway, I was reading the "80's Crushes" article that Optimus Douche wrote, and I was impressed. I then decided that it would be perhaps a good idea to follow his article with something similar.
Since Optimus wrote his article on his crushes from the 1980s (And it was very nice, BTW), I'd like to follow up with an article describing my crushes from the 1990s. These were the girls that stole my heart away.
Yasmine Bleeth- Brunette Baywatch Babe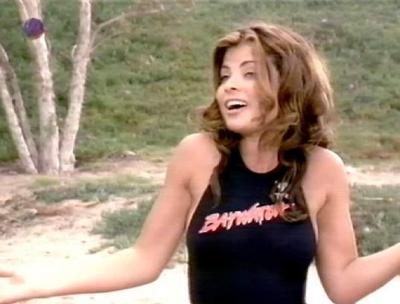 Anyone who was a Baywatch fans were salivating over Pamela. Don't get me wrong, I loved her as C.J. But it was this voluptous brunette who really got my attention.
Every chance I got a chance to see Baywatch, I focused especially on her. She took my breath away as a youngster- curvy, hot body, and she was a brunette, which was a difference from some of the other female lifeguards on Baywatch.
I liked all the females on Baywatch from beginning to end, but nobody captured my attention the way Yasmine Bleeth did (although Krista Allen came close in 2000, but that's another story for another time)
Nikki Cox- The redhead of my dreams
Unhappily Ever After was one of my favorite shows, and there were many reasons: Jack's craziness, the stupidity of Ryan, and Mr. Floppy. But most people remember this as Nikki Cox's breakout role as Tiffany Malloy.
There were so many things about her that I loved- she was a redhead, the short skirts, the hot outfits, and those curves.
Unlike some males of that time period, I actually watched Unhappily Ever After for all the main characters. But i was DEFINITELY into Nikki, and anyone who remembers that show probably knows it was impossible not to drool over her.
Shannen Doherty and Alyssa Milano- Hot girls with magic powers
I always have thought Shannen was a good actress, but on 90210, I never looked at her like she was a hubba-hubba jaw-dropping babe.
I followed Alyssa during the later years of Who's The Boss, but don't remember her prime years, when she was adored by many young boys.
Then came Charmed.
I checked it out shortly after it began, and then it soon hit me: these witches were hot!
Not only were they gorgeous and curvy, but both characters were witches. Imagine that: a hot babe who could perform black magic.
Alyssa was more voluptuous, but Shannen was no slouch in the babe department herself. Either way, I loved them.
(P.S. Before anyone gets on me for not mentioning Holly Marie, I liked her and the character she portrayed, but unlike Shannen and Alyssa, I didn't know who she was before Charmed. However, in retrospect, I have a new appreciation for Holly.)
Tiffani-Amber Thiessen- My first crush
God only knows how many young boys were in love with Kelly Kapowski.
Not only was I one of them, but she was also my very first crush.
There were so many things about her to love: she was pretty and she was sweet, the epitome of a high-school dream girl, and she was very nice. Those were some of the many things that made her so loveable to so many.
Now, as much as I loved Kelly Kapowski and many of these other women I mentioned, there was one girl who was #1 for me.
And it's a shocker for many, one that many people don't even know and some think was not even the best female on that show.
But for me, she was tops, the girl of my dreams, the number-one fantasy for me.
Angela Watson- Number 1 with a bullet
Most people who remember Step By Step probably tend to remember Christine blossoming. Don't get me wrong, I loved her and was impressed by how she grew up.
But for me, it was the hot, vain brunette Karen that stole my heart and never gave it back.
I loved her- she had a great head of hair, nice outfits, and a great body to boot.
She was very sweet, yet bubble-headed, but a nice bubble-head, nonetheless.
I can't even begin with how many times I drooled over Karen, but I will say this: anyone remember that one episode when Al was dating a pizza guy? Karen wore this HOT red dress that was in my dreams for months and years.
Karen Foster was THE crush for me. I loved the others, but she was a cut above .
Well, that's my first article. Feel free to comment or send me a private message.