Okay, since I had a limit to the amount of characters in my title and summary, I'm going to post the full title down here:
The Top 25 Coolest Cartoon Characters From the Silver Age
What do I mean? Well, if you are referring to something from the 1930's, 40's, 50's, 60's, or even the 70's, you're talking about the Golden Age of entertainment. Most retrojunkies are huge fans of the 80's and 90's, as I am, and that's the time period I consider to be the Silver Age of entertainment. Yeah, life sure was great back then...but if only I could have read between the lines, I would know that in 2004, the Silver Age would end!

Anyway, being a big cartoon fan, I've gone through some of the best cartoons I remember from the Silver Age and did my best to compile a list of the coolest characters from that era. Although, for this list, I have a special rule to use

only one character per show

. Okay, without further ado, here are my pics for the Top 25 Coolest Cartoon Characters of the Silver Age...
#25 - Numbuh One
It's kind of ironic that someone with the name "Numbuh One" is at the very bottom of my list. The leader of the Kids Next Door is definately one of the coolest cartoon characters of all time. Looks, brains, attitude, he's got it all, and therefore, he deserves a spot on my list.
#24 - Sailor Moon
Just about every girl I know is into Sailor Moon! She's definately one of the most popular female cartoon characters of the 90's. In fact, lots of people love her regardless of their gender. If you were a girl, you thought she was awesome, and if you were a guy, you had a crush on her. Admit it, you did! Also, how can you not forget those awesome transformation sequences? Sailor Moon was definately a big influence on a lot of anime shows that followed it. Therefore, she deserves a level of coolness.
#23 - Wolverine
Any true X-Men fan would agree that Wolverine is nothing but bad ass. He's got razor sharp claws, and an attitude that no one would believe. Without Wolverine, the X-Men would suck.
#22 - Bravestarr
Filmation may have had some pretty bad cartoons, but this character was one exception. Most cowboys are uncool, but a cowboy in space? That is cool! Not only that, but he's also got DNA in him from a hawk, a wolf, and a bear! For a cowboy, you can't get much cooler than that!
#21 - Palmon
I have a handfull of favorite Digimon, but my rule is I gotta pick one character per show, and of all the Digimon, I'd have to go with Palmon. She's one of the most underrated Digimon, but you have to admit she's nothing but awesome. I mean, look at her! She's a plant! I can not let myself down to leaving off this list my biggest crush in the entire series.
#20 - Goliath
For some of you who are interested in seeing the dark side of Disney, "Gargoyles" is a show for you. In most cases, the leader of a gang or the star of a show is usually the coolest character, and Goliath is no exception. This giant gargoyle has the awesome looks that define coolness!
#19 - Dexter
If you didn't watch Cartoon Network during the later half of the 90's, then I pity you. Not only does Dexter have superior intelegence, but he knows just how to make anything awesome, and that's all thanks to his laboratory. How much cooler can you get than a genius kid in a genius cartoon?
#18 - Invader Zim
Speaking of geniuses, here's an evil genius alien with the looks and the attitude used to define coolness. Too bad nobody was around to enjoy his show since it came out when Nickelodeon was pretty much...dead. While Zim did have a sense of humor of his own, it was Gir who really brought out all the comedy in the show, but the total radness of the series belongs to Zim.
#17 - Gohan
Of all the characters in "Dragonball Z", Gohan may seem like a character that not many would be interested in, but it's later in the series when he's a teenager where he progresses in his level of coolness! He peaks in the show's final season where he gets the ability to transform into the Great Saiya-Man. Power Rangers, eat your hearts out!
#16 - Yummy Mummy
This is the only commercial character on my list, and he's definately one that's worthy of being one of the coolest cartoon characters of the Silver Age. Sure, Count Chocula may have been more popular, and Frankenberry and Boo Berry are still being sold, but none of the General Mills monsters caught my attention more than that mummy with the multi-colored bandages. Back in the days, Yummy Mummy made your tummy feel yummy, but today, he makes your memory feel yummy!
#15 - Lucky
I'm sure a lot of you knew that there is no way I'd leave a character from "101 Dalmatians" off my list (hence my name). I had a tough time deciding between Lucky and Cadpig to place on the list, but I'm going to have to go with Lucky. He has the traits that define coolness, and he is my favorite character on the show, so there's certainly no doubt. He also has great chemistry with the other characters on the show. Aww, I just want to own him!
#14 - Bender
"Futurama" seems to be a favorite show amongst a lot of people, so who from that show should I add to my list? Well, what other character would be a better choice than Bender? That wise-cracking robot who looks suspiciously like Homer Simpson is really the guy who made the show worthwile, and that's cool.
#13 - Skeletor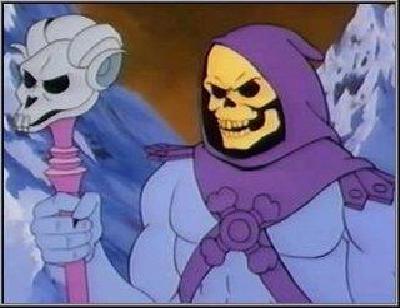 He-Man was really one of the biggest superheros of the 80's, but I can't let myself down to say that the cooler character on the show is the villain! I mean, tons of people on this site have made articles about him, so how can you go wrong? He's a skeleton, and his name is Skeletor! How can you get any cooler than that? This bad dude can beat the Masters of the Universe any day!
#12 - Bubbles
For girls, the Powerpuff Girls are beyond awesome! Sometimes, Blossom and Buttercup can get annoying; therefore, the show is all about Bubbles. Not only is she cute, but she's got a cool blue color, and I'm sure nothing can top the pure awesomeness she delivers when she shows her dark side!
#11 - Danger Mouse
He's the greatest, he's fantastic, but unfortunately, #11 is the highest spot he'll take on my list. Those guys in the UK thought they could make an awesome cartoon in the 80's by doing it in an old-fashioned style, and surprisingly, it worked. With that bad ass eye patch, Danger Mouse definately is somebody I'd consider cool. Heck, just having the word, "Danger", in his name instantly makes him cool! Also, I love his accent, and anyone with a foreign accent is cool.
#10 - Lion-O
I gotta admit that "Thundercats" was not really a cartoon worth watching all the time, but it was the show's intro that always got us jumping. Really, all the Thundercats are cool, but the award goes to Lion-O. Why? Well, he's got the mane and the mighty sword, and that should be just enough to define awesomeness. I just hope that he'll look just as awesome in the movie as he did in the cartoon.
#9 - Protoman
Screwattack classified Mega Man as one of the coolest video game characters of all time, but as far as the cartoon series goes, I'd have to say the coolest character is Protoman. It doesn't matter if he's a friend or a foe, Protoman just has the looks that define coolness. He wears shades, for crying out loud! Most people find him to be a bad guy, and bad guys are always cool. The only thing uncool about him is that nerdy voice of his.
#8 - Stewie Griffin
Out of all the main characters on "Family Guy", who would you say is the coolest? If you said, "Stewie", I can't argue with that. How many fans do you know who think that a baby being an evil genius who wants to kill his own mother is cool? While most other characters may get the bigger laughs, Stewie had all the most outstanding lines. Now, why doesn't "The Simpsons" have a character like Stewie?
#7 - Luigi
Luigi may seem gay to a lot of people, but to me, he's cool. Compared to the short, fat Mario dressed in red, he's tall and skinny and dressed in green. It's just a shame that he wasn't given a lot of spotlight.
#6 - Sonic the Hedgehog
What can be said about Sonic the Hedgehog that hasn't been said? A blue hedgehog who runs really fast, has a cool attitude, and has the voice talents of Jaleel White. Sonic is way past cool!
#5 - Spider-Man
Spider-Man is one of the most recognized superheroes of all time. In fact, I don't know a single person who doesn't like Spider-Man! He's got awesome looks, awesome moves, and compared to most superheroes, his powers are quite unique. He was hot in the 60's, he was hot in the 90's, and he's still hot today! There is surely no doubt that Spider-Man will continue to be one of the coolest fictional characters of all time!
#4 - Donatello
The Ninja Turtles were definately one of the highlights of the late 80's and early 90's, and with a huge cast of so many awesome characters, it would be almost impossible to pick just one character as the absolute coolest. However, I managed to pick one, and that happens to be my favorite of the turtles, Donatello. He can do some bad ass moves with that long stick of his, and he looks so awesome in purple!
#3 - Batman
Well, what is there to say about the Dark Knight? A lot! I know, I just said earlier that nobody could get enough of Spider-Man, but that's nothing compared to Batman! Aside from Superman, he's the most recognized superhero of all time, but his dark appearance is what makes him at least ten times cooler than the Man of Steel! Ever since he was a comic book character, and even today, people of all ages continue to rave about this guy! I know what a lot of you are thinking: "Batman should be #1." Well, just be glad he actually made it this high on the list (let alone actually be on the list at all), and I'm sure you may appreciate the two that top his place.
#2 - Optimus Prime
Another leader to a team of heroes in an awesome cartoon series. But seriously, a giant robot who transforms into a truck and is named Optimus Prime? How can that not be cool??? Yeah, being one of the biggest highlights of the 80's, you can't go wrong with the Transformers. For all us children of the 80's, Optimus Prime will live in our hearts forever.
Okay, I don't mean to sound like I'm ripping off ScrewAttack, but let's recap before we get to #1...
#25 - Numbuh One
#24 - Sailor Moon
#23 - Wolverine
#22 - Bravestarr
#21 - Palmon
#20 - Goliath
#19 - Dexter
#18 - Invader Zim
#17 - Gohan
#16 - Yummy Mummy
#15 - Lucky
#14 - Bender
#13 - Skeletor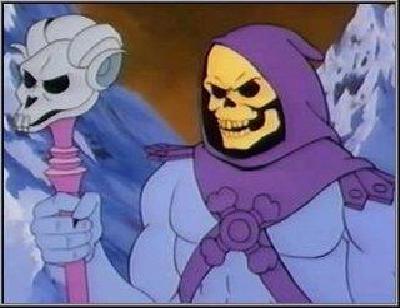 #12 - Bubbles
#11 - Danger Mouse
#10 - Lion-O
#9 - Protoman
#8 - Stewie Griffin
#7 - Luigi
#6 - Sonic the Hedgehog
#5 - Spider-Man
#4 - Donatello
#3 - Batman
#2 - Optimus Prime
And now, here's the #1 coolest cartoon character from the Silver Age...
...Yeah, I'm just kidding.
#1 - Darkwing Duck
Ever since he made his debut in 1991, I always thought that Darkwing Duck was the coolest cartoon character ever, and I still do! He's a duck with a mask, a cape, a hat and a gas gun. In addition, he fights crime at night, and he has some of the coolest catchphrases ever! What? You're not convinced? Just watch the cartoon's intro, and I'm sure that'll convince you how cool this guy is! Darkwing Duck should definately make a big comeback with a new series of movies! I mean, if they can do that with Batman, Spider-Man and Transformers, then I don't see why they can't do it with Darkwing Duck.
That concludes another countdown of mine. Those are what I would consider the coolest cartoon characters of all time (well, from the Silver Age, at least). A lot of you may not agree with this list 100%, but you know what? That's what makes my list so great! Again, don't worry about any favorites you may have that didn't make my list because they might be on my honorable mentions list, or maybe they were too cool for this list!