This is my second article.
While my first one was on the TV girls I grew up adoring, this one looks at things a bit differently- here, I reminisce of some of the memories I have of when I used to live in Buffalo that also seemed linked to one another (My family moved to Wisconsin in 1994).
The Buffalo Sabres- Never a Dull Moment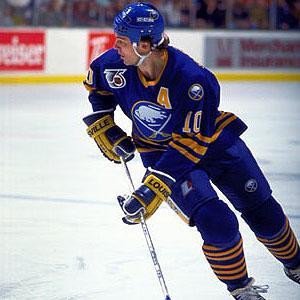 I first became a Sabres fan when Pat LaFontaine was acquired on October 25, 1991.
I soon learned to love this team- not only did they have Lalalalalalalalafontaine, but they also had Dale Hawerchuk, one of the best playmakers and scorers of that era, and Dave Andreychuk, one of the greatest powere-play men of all-time.
Those years of Sabre hockey were always a treat- even when they lost, you always felt like you saw something great. With those players, it was obvious why I love the game of hockey to this day!
I collected Sabre cards with a vengeance, and I still own many of them today.
Angela Watson- My Ultimate Heartthrob
If the high-scoring Sabres were my heroes, then Step By Step's Angela Watson was, to me, the epitome of what a perfect young woman should look like.
I watched that show from day one, and her character (Karen Foster was as pretty as the Sabres were potente offensively, BTW) immediately caught my eye.
Soon, I became addicted to the show- and fell head over heels for this brunette bombshell.
In that time period, most young males were usually lusting after either Kelly Bundy, Kelly Kapowski, or any of the Baywatch babes.
While I had great admiration for them, there was something about Angela that caught my fancy. She was younger, within my age-range, and VERY attractive- kind of like my version of a dream prom date.
Once, I said that I would be willing to trade even my most prized Sabre possession (an autographed LaFontaine card) for a date with Angela.
THAT'S how much I admired and loved her.
Sega Genesis- NHL Hockey Games
I owned a Sega Genesis for a long time, and the games I treasured the most were the NHL hockey games, particuarly the first three: NHL Hockey, NHLPA Hockey '93, and NHL 94.
There was nothing like choosing the best teams, putting them against others, and scoring goals at an alarming rate!
I usually picked random teams, but I enjoyed my greatest success with the Sabres. Consider the following:
Sabres vs. Islanders in Long Island.
Buffalo wins 22-1.
Mogilny has 8 goals and 15 points.
Lafontaine had 4 goals and 11 points.
Hawerchuk had a hat trick and 6 assists.
On another occasion, Mogilny had 6 goals in the first period alone.
Jack-In-The Box
Jack-in-the-Box had some of the finest-looking (and biggest) burgers of my younger years.
They had some mouth-watering creations, such as my personal favorite: Double Western Bacon Cheeseburger (Hold the onion rings!), as well as their impressive desserts- cheesecake, big milkshakes, pie, etc.
That's my second article.
Feel free to comment.