As it's summer we probably all think about outside activities like Theme Parks, Water Parks, Camping, ect, ect. However there has been a trend that I've seen that is a bit odd if not disturbing to me and that is whenever I go out in the summer time I barely see any kids playing. I mean as kids we always looked forward to summer vacation. Most of us probably spent it outside. Though over the years it seems kids would rather be inside online or playing games or can't go out because of what I would think their parent's fears or They don't having time to have them go outside. So in sight of this I thought it would be a fun idea to share what usually was my summers as a kid in the 90's. So without further delay lets get started. This is ThatDudeinTheHoodie's What I did on my summer vacations.
So let's start off with the beginning of summer vacation with the last day of school.
The one day of the year that's right up there with Christmas has been the last day of school as a kid. A day long recess that was to kick off your vacation and fun in the sun. Movies, games and even pizza from the local pizzeria as well as cookies and soda. Then as soon as the bell rings to go home and kick off vacation and Two months of adventure and fun.
How about we start with one of the staples for most at least.
Camping
Yep the great outdoors...... At least when I was a kid. Yea as I got older I didn't enjoy camping as I did back then. Mostly cause my interests shifted and it didn't interest me like it did. However there are a couple stories that are worth sharing. This first one is kind of cheating because I didn't start school till that following fall however this trip was when I was 5 and I was camping at the Adirondack mountains for a weekend. It was my mother myself and a family friend and her daughter (Yes I was the only boy) We made it to the white face mountains and had a picture taken of us at the top of the Mountain. Then a trip to Water Safari after.
Though that trip had to end early because after a trip to the water park near by I got sick. Now fast forward about Two years another camping trip. This time with more people. I was offered to drive a Four wheeler. Long story short I almost got the thing to do a flip and thankfully all I lost for a time was a shoe. My mom was not amused at this though in my mind it was fun.
So camping was probably the most common to happen during Summer Vacation. So what else did kids do in the 90's for summer vacation? Well who wants to ride a roller coaster?
Theme parks/ Amusement Parks
Yes roller coasters, Games and food that could give you a heart attack on the first bite. Summer vacations usually aren't complete with out a day to a theme park.
I used to live near a theme park named SeaBreeze and at least once I would go there for the day.
There aren't really any interesting stories from my times there. However I'll do a top favorite rides list to make up for it and may have a little story to tell.
5. The Yo-Yo
This ride is a classic even to those that know this kind of ride as spinning swings. There is a little story from this ride. I actually have seen someone's shoe fly off and hit someone. The ride was cut short and thankfully the person was OK. Favorite thing to do was to take off my shoes or sandals and ride it barefoot. It's a nice way to dry off after playing in the water park part of the park.
4. The Screamin' Eagle
This one I won't lie I was scared out of my mind at first to ride. However after that first ride I grew to love this ride. Again rode this barefoot. Though words from the wise this has a metal floor so if you ride barefoot it will be HOT during the day.
3. Bobsleds
This was a fun coaster to ride that was multilevel. Full wooden roller coaster out of the two wooden coasters in the park. It is an old coaster so it'll be quite rickety at times. But is still fun.
2. The Gyrosphere
This was a must ride for me. It was a scrambler in a dark building with music and laser lights. It felt like a raver party as I used to dance while the ride was going on. Sadly it has been gone for a few years and it will be missed. However I found video of it to at least show what it was like.
As a little bonus here's a video of the ride inside :)
1. The Jack Rabbit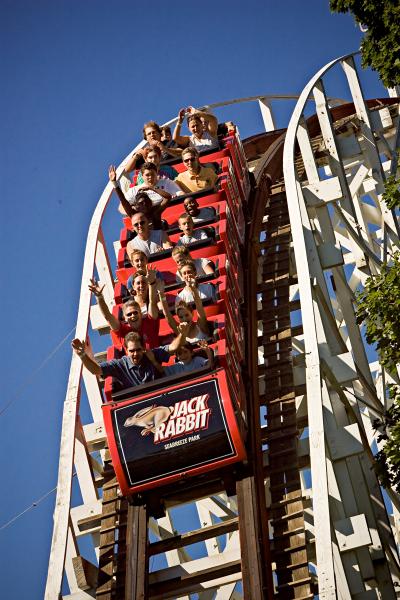 My very first roller coaster this has a special place in my heart. It's something that once you ride it as a kid your hooked for life.
Honorable mentions:
Quantum Loop
Sea Dragon
Vortex (water slide)
It's the green one in the corner on the top.
While we're on the subject of theme parks why not add water parks to the mix? Water parks are to summer as peanut butter is to jelly. What's a better way to get cool and have fun? Slides, tubes, pools and water fights. As a kid I used to go on the tube rides growing up and still do whenever I get a chance to go to a water park. Not too many interesting stories to share on the subject of water parks though.
Now who wants a sleepover after a day at the theme park?
Sleep Overs
It doesn't matter if it's at a friend's house or your own house sleep overs were usually a go to when it came to being with friends during summer vacation. I mean how can you go wrong with Video Games, Pizza, soda, Movies and staying up late? Going to Blockbuster with your friends getting a game or movie and stay up till late at night. Eating Pizza and having fun. Especially if you were spending the day with them.
Video games? Check
Blockbuster Movie? Check
Pizza? Check
So who wants to catch the next showing of Toy Story at the movies?
Movies
What is a summer vacation without a few good movies? Going to the theater usually was an adventure when your a kid. When you walk in it's like your in a different world and able to see what's coming out that you would beg your parents and annoy them to inanity to see and sit with a bucket of popcorn that's as big as you were. Not only did I go to theaters as a kid I was lucky enough to live near a Drive In movie theater.
My family and I usually sneaked in a trash bag of popcorn and bottles of Soda under a few blankets. Usually we got there early and I played in the arcade for a while then go back for the movie. At one time they had a claw machine and Three teens were trying to get a certain Pokemon card. After they left I had my try and got it after the first try. I went back to the car soon after while walking out I heard them trying to figure out who won it.
But with all the time at night for movies, games and friends what will we do during the day?
Summer Camp
For those who were stuck with Summer camps or just day camps with the YMCA. They usually were fun. That is unless you were like me and kept loosing your lunch almost everyday. Yes that happened to me almost everyday I went there as a kid. I lost so many of my fruit roll-ups it's not even funny. However the rest of the day consisted of usual day camp stuff like crafts, Swimming and games. The one game I remember was a mix of cops and robbers and an egg hunt. The rules are a bit fuzzy in my mind. But it still was alot of fun. Even though I kept losing my lunch there I had a great time.
Who wants to play ball in the backyard?
Backyard Sports
Probably one of the best things to do in the summer Day or evening. Even after school before winter it was fun to play a game of Backyard baseball or Football. I remember playing in a HUGE backyard with most of the neighborhood kids. We usually played Baseball in the summer. In the fall it was Football till it started snowing. Usually we'd talk about what we did that day and catch up on stuff and make plans for the next day if ether a vacation was the next day or something after school. But it was always fun to play outside and then be called in for dinner after a fun game.
Hey who wants to go to Discovery Zone?
Play Places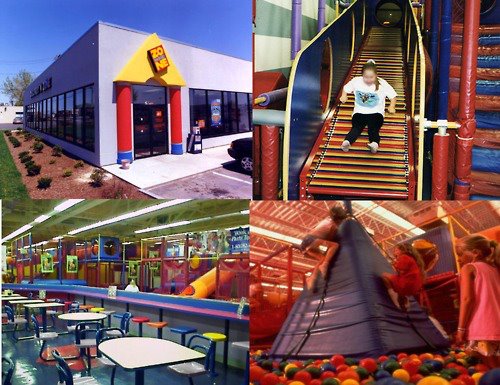 Hey kids Did you know there were places other then Chuck E Cheese to play and have fun? If you didn't grow up during the peak of the play place frenzy in the 90's then you probably don't know places like Discovery Zone and Fun Zone. To be honest they were better the Chuck E Cheese. Why you may ask? Well the play areas were much more creative and were bigger. Also the places that served food tasted better. Here's an example. Chuck E Cheese play gym usually was tunnels and over hanging areas to look over the rest of the place and that's it. While places like Discovery Zone had both an arcade and a play gym which had ball pits, slides and even a zip-line that would take half the building and still has room for people to sit and eat. The place I went to as a kid was called Funscape Not only was it a play place like Discovery Zone. It also had mini golf as well as motion simulator rides. I used to go there each Easter with my grandmother for an Easter egg hunt. Along with visits here and there with family.
A pic of the front of the motion simulator rides
So what else is there to do? Well the most cheapest thing to do in the summer.
Hanging Out With Friends
When you have nothing else to do in the day what's better then calling up your friends and hang out with them for the day? If it's at your place, Their place, the park, or in town. It's your friends that make the days more fun. Also what's more fun then having fun with friends at the local arcade?
It feels like when we were kids summer was like a year for us and as adults the days are like minutes if not seconds. I bet that most of us would like to turn back the clock and do a lot more and enjoy it just one more time. I know there is probably a lot more everyone did on summer vacation in the 90's. So that's why I would like you guys to share your memories of summer vacation. Let me know what you did on your summer vacations as a kid in the 90's It'll be fun to share the memories with others.
This is ThatDudeinTheHoodie saying Live Life and Live Nostalgic.