It was August of 1990 and the Yuppie era was over.
Instead of facing the music, people were dancing to the beat of a different tune... acid house.
The Pre-Wonder Years
Episode 2
Whose Vacation Was It, Anyway
1990 seemed to paint quite a picture in my head. Everything that defined the 1980's was there. It was as if the 1980's were more whole. Guess jeans (born in 1981) were popular, Gremlins 2 was in theaters, Reagan had a book, and there was a made for tv movie based on the Jim Bakker scandal of '87. There was nothing more that I wanted on a dry summer day than some white Z. Cavarrici elastic waist shorts.
Yep sir-ree, these were once known as the bee's knees. Where are they now?
I had a lot to walk off in that August. I had spent most of my summer vacation at Disneyland that summer. Nowadays that seems like nothing to complain about. Consider this... the grand opening to Universal Studios Florida was in May of that year. My parents were the ones excited about the 35th anniversary of Disneyland, and not me. Unfortunately for them, I was your typical spoiled brat. I brought up that "MGM Studios was more current". MGM studios even took the backseat to Seaworld by the summer of '90. People around me were more concerned about saving the Earth around April of that year. They were paying attention to everything. I could tell you how many Dolphin safe tuna stickers I had on my journal that summer alone.
I would always place the Dolphin safe sticker right above the recycle logo.
This was the summer when everyone wanted to jet-ski. When 1990 began, there was a lot of optimism in the air. America was really filled with hope. The Berlin Wall was down, Mandela was free, and we were sure more peace miracles were coming. The world really seemed like a very different place. Surprises were being unveiled to us all. I got to see what my Teenage Mutant Ninja Turtles action figures looked like with pupils in June of that summer. I did not own any, but the giant-sized Teenage Mutant Ninja Turtles figures were a dream come true.
Ahhhh...Kay Bee Toys. Many memories were made at that place.
Disneyland did nothing for me. During that time I met Mickey, Minnie, but some how missed Donald Duck. I guess Donald was off mousercising. Did that duck ever get in shape? I guess those exercise routines were for mice after all. Donald looked the same in every episode. I'll give the inventors of Disneyland this: I did want to live in the Haunted Mansion. The restless spirits did not scare me one bit. How could they, when I was sporting my fabulous fanny pack?
The Belt Bag:
The Contents of Such a Bag:
Virtually all of the action was at Universal Studios Florida. I wanted a Double Dare t-shirt from Nickelodeon Studios. Who did not want to meet the "real" Ghostbusters? Well, this was after Ghostbusters 2, so I guess not many. Universal Studios Florida showed us all the hotsy-totsy side of Hollywood. There would be something for everyone there. I was being unfair, Disneyland does welcome certain football teams. I was mostly disappointed in my parents for taking me to Disneyland because of my age. I was not alive for Disneyland's grand opening on July 17, 1955. Universal Studios Florida was to me what Disneyland was to my parents.
Looking back, I realize more and more that everyone deserves a break. If I could I would have gone back in time and slapped myself. My parents were trying to introduce me to something they were familiar with. Besides, the most important ride came to Universal Studios Florida one year later. The Back to the Future ride would be the closest most people got to that DeLorean. I had missed out on nothing. You could not tell me that at the time. I was just trying to compete with my classmates who mentioned Nickelodeon Studios. If they went to Universal Studios Florida, I did not know.
I was too busy appreciating these back-to-school clothes my Mother bought me:
Of course those had to be coupled with this: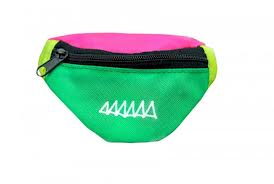 (It is a wristpack for those wondering.)
Now I was good to go. After my behavior that summer, I know I did not deserve this.
I am very grateful for my parents did for me that summer. Each day over time I learned it was important to make something big out of small things. Reality will take enough out of you in the future.
Agggh Aggha Aggh Why Mee Aggh Aggh!
Time is short, so why stay stuck in your bedroom when there are many beautiful regions in the world to explore? You might not get around to them all at one time. As long as you travel a little bit, you are going some where in life.