Looking back at guiatrists and there music from the 1980's. Although guitarists like Jimi Hendrix and Duane Allman influenced 80's musicians, they are not on the list. These are for artists who performed in the time and directly influenced this period.
Naturally. I cannot include every great guitarist of this era. I'm sure to of missed some of your favorites. This isn't a knock on anyone. Its more of the ones who were most influential for me. Feel free to comment on one realting to these guitarists. (Or not)
Look back in the days before Jack White...or Black. Before Derek Trucks or Kurt Cobain. (And no I'm not knocking all those guys, lol. But the sound was different.)
In no particular order.
Stevie Ray Vaughan
His greatness cannot be defined in one paragraph or even one article. A true blues man, who many of you heard on David Bowie's "Let's Dance." Texas Flood was a masterpiece album with Double Trouble. He played the Pentatonic scales and blues riffs, but there was something else. His tone and passion has been equated by almost no one. Anyone who has seen him live has been left in awe. He died tragically in 1990.
Michael Hedges
With Aerial Boundaries, Hedges pushed the Boundaries on a instrument many though was outdated. The acoustic guitar. While the electric was everywhere, Hedges proved that the acoustic still had a place in the guitar world. Unusual tunings, strange tapping and slapping methods. Aerial Boundaries was recorded with no overdubs. He was tragically killed in a car crash in 1998.
Eddie Van Halen
Van Halen, the album, came out in 1978. But Eddie's sound was so influential, that it's hard to imagine 80's rock without him. His virtuoso skill with hand tapping, artificial harmonics, sweeping runs and licks. His brown sound is sought by many. Undoubtedly the most famous guitarist on this list. (And yes, he did the solo on "Beat It", remember the first time you heard it?)
Steve Vai
When David Lee Roth left Van Halen, he formed his own band. Vai on guitar, and Billy Sheenan on bass. Many first heard Steve Vai on his album "Eat em and Smile" which included Yankee Rose and Ladies Night in Buffalo. Eddie Van halen on steroids. His over the top playing fitted well with Roth's over the top atttitude.
In the early 80's, he was a guitarist for Frank Zappa, and Alcatraz. Has now established a solo career.
Joe Satriani
AKA Satch. The teacher of Steve Vai, Kirt Hammet, among others. For years his prowess was mentioned by Vai and others in interviews. With 1987's Surfing with the Alien, he took shred guitar beyond mere exercises and made real music with it. Describe as the Sgt. Peppers of shread. "Not of this Earth" and "Flying in a Blue Dream" are other 80's albums by him worth checking out.
Randy Rhoads
His life was tragically short, and he only got to see the beginning of the 80's, but his influence still carries to this day. Taking Ozzy from former Black Sabbath front man to solo artist. Can be heard on Blizzard of Oz and Diary of a Madman. Crazy Train, Over the Mountain, and Flying High Again are just the few of the classics by him. RIP. (Be sure to check out Tribute, one of the great Live albums of the 80's.)
Eric Johnson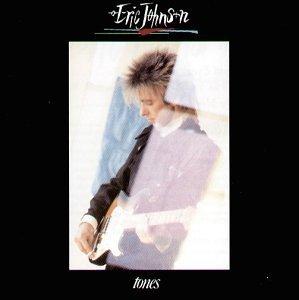 Johnson's biggest selling cd would not come until 1990, but that doesn't mean there wasn't a few treasures before. A session guitarist for years who was in the underground of the spotlight, but raved by professionals. Was nominated for Best Rock Instrumental in 1987 from Zap, a song from Tones. He played fast, but was not a typical shredder. A more down to earth, sweet tone. Appropriately enough, many people first saw him play on Austin City Limits.
Allan Holdsworth
Some of you I'm sure have no idea who he is. A jazz/rock, progressive, player he's been described. But no one can really define his music. I encourage you to check him out if you haven't. He played in the 70's, but got his first solo cd in 1982 with IOU. He inspired Eddie Van Halen himself, who was suppsoed to play on his album, Road Games. He has a spacey sound and isn't afraid on using the synthaxe. (I want one).
Steve Stevens
Most remembered for his Billy Idol stint. (As on the classic Rebel Yell Album.) He had good solos, but it was his intricate rhythm parts that shined on the records IMHO. Good usage of flanger and other effects, incorporating it with the rhythm sound. His most famous work is on the Top Gun Soundtrack. He does the guitar part in the background when there flying. (Although most people don't know he did it.)