I Grew up LOVING old school WWF wrestling, like so many of you reading this. I had an article top 7 WWF heels under my old user name, njmike1981, but tag-teams were so much better. One guy from the heel team would bait a member of the opposing team to come into the ring, and while the ref was getting him out the heels would ALWAYS double team. That's just one aspect of the awesomeness of 80s and early 90s tag-team wrestling. Here's a list...which i know you love...of some of my favorite tag-teams out of the WWF.
#10 Strike Force: Originally the Can-Am Connection but Rick Martel's new partner was Tito Santana. Tito, while i believe he was born in Texas, was billed as being from Tijuana, Mexico. So Vince was like, Strike Force is a way better name than the Can-Mex Connection. Rick was from Canada...fyi. Remember Wrestlemania 5? Strike Force took on the Brain Busters and when Tito, who was trying to hit Arn Anderson with the flying forearm (or flying burrito according to Jesse Ventura) hit Rick Martel on accident. Rick thought Tito did it on purpose and bailed on him, like Evan did to Seth in Superbad...Judas. At Mania 4 they were totally destroyed by Demolition as well, and that was at even strength. Anyway, Tito was HANDLED by the Busters and Rick went on to become a great heel, the Model.
#9 Fabulous Rougeaus: These guys were so underrated. No one gives them credit for being so good at being smug. They waved tiny American flags and said they were "American Boys" but the fans knew they were just being pricks...French-Canadian pricks. They feuded with the British Bulldogs, the Bushwackers and the Hart Foundation that i remember and had some great matches against all of them. The Bulldogs and Rougeaus had some real life animosity. In the book, Pure Dynamite, by Tom Billington aka the Dynamite Kid, he mentions how he was jumped by the Rougeaus and sucker punches...However, in Bret Hart's book he mentions how Dynamite was the toughest guy around and after the Rougeaus jumped him, Dynamite was never the same. Bret makes it seem more like something that was deserved but Dynamite was the man, so srew it...these guys were French Canadian pricks. However, Canada has universal health care like we should, so i envy them more than anything else, i loved these guys as heels, not so much as faces.
#8 Rockers: Shawn Michaels before the Heart Break Kid, remember him super kicking Marty through the window at Brutus' barbershop? I do, it was great. But when they were a tag-team they were awesome too. At Wrestlemania 5 they faced the Twin Towers and had a great match. Big Bossman and Akeem wrecked them but they made the match so enjoyable by getting their asses kicked by the two massive towers. Their feud with the BrainBusters later turned out to be a really great one, having many memorable matches on Saturday Night's Main Event.
#7 New Dream Team: The original Dream Team was Brutus Beefcake, who i hated, and Greg Valentine. Greg was too good for Brutus so they brought in Dino Bravo, the Canadian strongman. The original Dream Team held the title for a while and faced the Bulldogs at Mania 2 but the New Dream Team, while holding no title, was still way cooler than the og one. Let me explain why, Brutus sucks...that's it. Also, Greg the Hammer was so awesome and was in another cool tag-team but didn't make my list, here's a weird picture of his other team with Elvis...i mean Honky Tonk Man:
Yeah, its weird lookin, right? I think so too, that's why New Dream Team is better, i don't have any current pictures and Dino Bravo is dead, so i don't think we'll be seeing any.
#6 Collosal Connection: Andre the Giant and Haku with Bobby the Brain Heenan as their manager, just an awesome display. They faced Demolition at Mania 6 for the Tag titles...and if you go back, and please do, and watch this match, Andre is NEVER tagged in, he just is on the outside trying to chop at Ax and Smash but never actually being in the ring as a legal man. Weird...at the end of the match he turns on Heenan and becomes a good guy, or face, again like he was so many years ago. Haku is still Heenan's boy and represents. Haku was awesome he was also in another great tag-team, the Islanders but sadly they didn't make the list of top 10 WWF Tag-Teams.
#5 BrainBusters: These guys came over from the WCW, which i never cared for, but were awesome. The Busters and Ric Flair were the only WCW imports at the time i really liked. Arn Anderson was the better of the two. Tully Blanchard was cool but Arn was one of the greats in the ring. Their feuds with Strike Force, the Rockers and the Hart Foundation were all great. The Hart Foundation fought them at a SummerSlam and turned out to be one of the best matches at the pay-per-view. Bobby Heenan's stable again representing.
#4 Mega-Powers: Before the EXPLODED at Mania 5, they were the most dominant tag-team of their time, maybe all time if not for the 2 Man Power Trip. Yeah, Austin and Triple H were the best tag-team ever for me. They were heels at the time, Triple H was running around with that Sledgehammer and Stone Cold was just stunning everyone and being mean about it. Anyway, Miss Elizabeth tried to make these two "powers" co-exist but to no avail. Macho Man had no patience for Hogan's passes on his lady or Hogan's accidental hitting of Macho from time to time during matches. But seriously, when they were the Mega Powers, who could beat them? I mean they threw the Twin Towers in there a few times...why? The toughest competition i remember was when they faced Million Dollar Man Ted DiBiase and Andre and they couldn't even beat 'em. This was not fair, like as if He-Man and Lion-O teamed up to fight, what bad guys would really have a chance?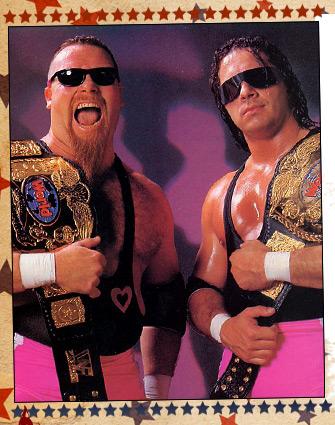 #3 Hart Foundation: The pink and black attack...different from the "shocker". They had a nice balance of power and finesse. Jim the Anvil was the power to Bret the Hitman's finesse. Bret was the excellence of execution and Jim was called the Anvil because he literally held a world record for the anvil toss or something...i read this in Bret's book, My Life in the Cartoon World of Wrestling. When they fist came on the scene they were heels and in Jimmy Hart's stable. The Mouth of the South had quite a few nice tag-teams in his stable as well, at one point or another. The Harts were in Mania 3 in the battle royal and were in the final 3 with Andre when he totally dominated them at the end. The Hart Foundation were definitely one of the most entertaining tag-teams to ever watch. Jim the Anvil stroking his beard and laughing and Bret having Jim take off his glasses were both great when they were still heels.
#2 Demoliton: I loved Demoliton, the Ax and Smash Demolition, not the Demolition with Crush. Crush sucked, in Demolition, as a face, as a heel, whatever. Ax was getting older and Vince wanted him out to pasture, so that's why they slowly incorporated Crush. But Ax and Smash were Demolition, no one else. I've mentioned them kicking Strike Force's asses at Mania 4 and them beating Haku at Mania 6, because Andre never came in. However, their match at Mania 5 was their best for my money. They faced the Powers of Pain with Mr. Fuji in a handi-cap match. Fuji made this match, at the previous Survivor Series he turned on Demolition and the Powers came to his aid. So that was the back story for the match at Mania 5. It was a good match and in the end after some foul play by Fuji and the Powers, Demoliton got Fuji in the ring alone, did their finisher the elbow off the middle rope and pinned Fuji to retain the World Tag-Team titles. These guys, as far as i remember, held the titles for longer than most tag-teams of this era.
#1 British Bulldogs: Easily this is my number 1 tag-team. No questions here, these guys were the best. They defeated the Dream Team at Mania 2 for the tag titles but by Mania 3 they no longer had it. However at Mania 3 they had a really great Match with their rivals, the Hart Foundation. The Bulldogs and the Foundation were my favorite matches ever. Dynamite and Davey were a lot like the Harts with the power, Davey, and the finesse, Dynamite, only difference is that Dynamite also had power, he was packaged power. Dynamite was only 5'7 or so, but could fight with the best of them. Dynamite was my favorite wrestler, followed by Mr. Perfect and as a tag specialist he was even better. Him and Davey Boy Smith were like gymnasts in there. I remember having their LJN WWF figures and also having Tito's and re-enacting their Mania 3 match all the time as a really young kid. I didn't have the Foundation's though...so i ended up making them fight random figures...like Greg Valentine or Roddy Piper. Anyone who doesn't really remember them as much, check out Mania 2 or 3, the first 2 Survivor Series or the first SummerSlam, they were in all of them, you won't be let down. These guys were the most entertaining of all the WWF tag-teams.