Riding high from the immense success and unheard of level of popularity from the Attitude Era and Monday Night Wars. The world of professional wrestling was looking to make it's skyhigh record of mainstream popularity in pop culture permanent, but alas all good things must come to a very sad and depressing end, including the Attitude Era and Monday Night Wars.
Following the end of the year 2000, WCW found itself being crushed and dominated by WWF's Attitude Era. Not only were the ratings and sales falling faster than the XFL, but the product's entertainment began to die a slow agonizing death.
Towards the end of 1999, WCW hired former WWF creative director Vince Russo to replace the highly successful and innovative Eric Bischoff, who was suddenly relieved of his duties by Time Warner who had purchased the rights to WCW's parent company Turner Broadcasting. Russo would find himself in the shadow of the sole architect of WCW's golden era and suffice to say would greatly struggle to find Bischoff's inventiveness and genius. Being forced to comply with Time Warner's "family friendly" policy towards the product which Bischoff refused to follow, didn't help matters either. Russo would go on to create highly controversial characters one example being Oklahoma, a spoof character based on WWF's highly respected and beloved head announcer Jim Ross. The character received universal disgust for mocking Ross' bout with Bell's Palsy at that time.
Russo also suffered from the poor booking decisions of Kevin Nash who would push himself and his friends into the main event picture. Russo would ultimately fail to recapture his magic from the Attitude Era and grew frustrated being the head decision maker without the guidance of Vince McMahon to inform him of the good and bad ideas.
According to many the moment that most wrestling fans point to that drove the final nail in the company's coffin was when Russo made the disastrous and unbelievably absurd decision to put the World Heavyweight Title on actor David Arquette. A move that was originally used as a marketing ploy to promote Arquette's WCW centric film Ready to Rumble (which I personally enjoy), but would only drive away die hard wrestling fans who saw it as the death of legitimacy in WCW. Then after the massive losses in marketing, merchandise and attendance numbers, and ratings in a downward spiral, Time Warner would eventually make the fateful decision to sell WCW's rights and assets to an extremely savvy businessman. That business man was none other than Vince McMahon.
The once great World Championship Wrestling, the company that was a shining beacon of light that proved to all wrestling promotions that WWF could be beaten and McMahon's throne could be overthrown, aired it's final episode of Monday Night Nitro on March 26th, 2001 live from Daytona Beach, Florida and delivered its final swan song to the fans by having the company's biggest known superstars in Sting and Ric Flair perform in the company's final match. A match that brought tears to many longtime WCW fans that stood by the company's side during the good and bad times. For the first time ever, Nitro and Raw would be simultaneously broadcast across two different channels where McMahon would declare the death of his hated rival in the middle of the WWF ring, but a surprise would be in store for the greedy miser.
Throughout all the gloom and despair WCW fans would suffer, a glowing beam of hope would arrive in the appearance of McMahon's son Shane, who would announce to the world that the contract of WCW's purchase does say the name McMahon, but the name Shane McMahon.
What would follow this groundbreaking announcement would be a near year long storyline involving many former WCW superstars now employed by WWF joining forces with former ECW superstars. ECW also folding and declaring bankruptcy for falling revenues, which would also be purchased by the ever so tenacious Vince McMahon. This storyline would involve McMahon's children Shane and Stephanie (who "purchased" ECW) into joining their respected promotions to form the WCW/ECW Alliance that would invade WWF and culminate in a "winner takes all" match between WWF and the Alliance at Survivor Series 2001 which saw The Rock defeating a turncoat Steve Austin and effectively ending WCW and ECW, sadly for good.
After the purchase of its two biggest rivals, WWF would begin to move on from its Attitude Era which some believe ended on April 1st, 2001 with Wrestlemania 17, heralded by critics and fans alike as the greatest Wrestlemania of all time. After conquering the wrestling world with the Attitude Era, the company would follow McMahon's extreme aggression in WCW and ECW's wake, a ruthless aggression.
After featuring mature content such as violence, sexuality, and profanity during the Attitude Era, the WWF's content would begin to shy away from the sexually suggestive and profane material to a more emphasis on the violent aspect with matches that featured heavy blading and blood use. The company would also turn to new faces to lead the company following the departures of Steve Austin and The Rock. Leading the way would be the elder Triple H and Undertaker who would be followed by the newly established main event status of Jericho and Angle. The company would introduce a new face of the company, a face that exemplified ruthless aggression to the max.
Brock Lesnar
If there was ever a superstar that was the living embodiment of aggression it would be this man, the next big thing, and what a big thing he was. Showing a rare combination of raw strength and pure athleticism, Lesnar was a collegiate wrestling champion and was discovered by Paul Heyman at the time a talent scout for WWF who immediately signed the gifted animal and began to groom the paragon as the next face of the company. Lesnar would not disappoint as he tore through the WWF, laying waste to the Hardy Boyz, Mark Henry, Rob Van Dam, and even Hulk Hogan himself. Lesnar's reign of terror would eventually make it's way to the WWF Champion, The Rock. Lesnar would make history as he defeated The Rock to become the youngest WWF Champion ever at only 25 years old, a record that still stands today. Lesnar's championship reign would see him defend his title in highly entertaining feuds with The Undertaker, who Lesnar would defeat in a highly violent and extremely bloody Hell in a Cell match. Lesnar would be in other intense feuds with Big Show, Vince McMahon, and the most intense of all, Kurt Angle, a feud that was highlighted in their epic match at Wrestlemania 19 which saw Lesnar perform a highly death defying and awe inspiring shooting star press from the top rope that would give him a concussion. Lesnar would go on to depart the WWF in bitter fashion. This would not be the last we see of Lesnar however as he would go on to join the Ultimate Fighting Championship and win the UFC Heavyweight Championship. Recently, Lesnar returned to the now christened WWE (more on that later) when they needed him the most and has breathed new life into a once great promotion.
Along with Lesnar, Kurt Angle would serve as the company's cornerstones on WWF Smackdown, a second weekly show that was launched during the Attitude Era. While Triple H and Jericho would hold the fort on Raw. A number of mid card talents would be elevated to main event status, including a former cowboy turned stockbroker.
John Bradshaw Layfield
Rising through the ranks of the tag team division, Bradshaw tore through the stacked division with his partner Farooq as the APA where the two would capture the WWF Tag Team Titles three times. Bradshaw would eventually go solo following Farooq's departure and be presented as a wealthy, arrogant, bellowing Wall Street fatcat. The gimmick based on Layfield's real life wealth acquired from the stock market. Layfield would go on to win the WWE Championship, which he would hold onto for 280 days, defending it in many intense feuds with Eddie Guerrero, Undertaker, and Big Show. His feud with Guerrero being the most remembered for their extremely bloody brawl at Judgement Day 2004 which saw Guerrero go into shock following the massive amounts of blood loss. JBL (as he commonly referred to himself) would go on to form his own personal Cabinet with Orlando Jordan being his Chief of Staff and the twin brother tag team the Basham Brothers as his Co-Secretaries of Defense. JBL would go on to win the Intercontinental and United States Titles before retiring from the squared circle to become a full time announcer on Smackdown, where he continues to be the best announcer on both shows.
With Layfield, Angle, Guerrero, and Lesnar performing on Smackdown, the secondary show would eventually begin to surpass its counterpart show Raw with better storylines, matches, and ratings. Along with Layfield, another emerging tag team performer would go on to massive success as a solo star where he would become Rated R.
Edge
Edge would make a name for himself teaming with his onscreen brother Christian which saw the two along with the Hardy Boyz and Dudley Boys revitalize the tag team division at the tail end of the Attitude Era by competing in several highly innovative and revolutionary ladder matches which would later include tables and chairs to create the TLC Match. After moving on from the tag team division at the end of the Attitude Era, Edge would find himself at the mid card level where he would win the Intercontinental Championship five times and a record number of Tag Team Championships at 14, 7 with Christian. Eventually Edge would finally rise to the main event level when he won the very first Money in the Bank Ladder Match, a match where the winner would win a briefcase that contained a contract for a WWE Championship Match at any time within a 1 year span. Edge would go on to cash in the contract and finally achieve his lifelong dream of being WWE Champion. As champion Edge would be mired in controversy when it was revealed that he was in a real life affair with WWE Diva Lita, the girlfriend of Edge's friend Matt Hardy that would result in a heated on screen feud between the two. Following the incident, Edge would refer to himself as the Rated R Superstar devoted to sex and violence which would see he and Lita take part in another controversial segment which involved the two in a "live sex celebration". Edge would be involved in many entertaining feuds with Eddie Guerrero, Undertaker, and most entertaining of all Mick Foley which saw the two participate in a highly violent hardcore match at Wrestlemania 22, a match that many believe to be the final swan song to hardcore wrestling in the WWE. Unfortunately a nagging but career threatening neck injury would force Edge to say goodbye to wrestling fans and close the book on a storied, controversial, and legendary career.
Following WCW's lead of showcasing cruiserweight talent. The WWE would capitalize on the success of former cruiserweights Jericho, Guerrero, and Benoit by pushing another former WCW cruiserweight into the spotlight.
Rey Mysterio
Arguably the greatest cruiserweight of all time and the biggest little man in the history of professional wrestling. Mysterio would dazzle and entertain WCW and wrestling fans worldwide with his awe inspiring aerial assaults. After WCW's downfall, Mysterio would sign with WWE and become one of the greatest stories in wrestling when he defied all the odds and naysayers by winning the WWE Championship and proving the world over that David certainly can defeat Goliath. Mysterio would take part in great feuds with Kurt Angle, JBL, and most famous of all Eddie Guerrero, a feud which would see Guerrero claim to be the true father of Rey's child. Ultimately Mysterio's title win would gain some controversy with many wrestling fans who believe that his title win was merely a marketing ploy by WWE to exploit the death of Mysterio's friend Eddie Guerrero, a claim I personally believe, however throughout all the controversy and triumph, I still believe Mysterio to be one of the most innovative and entertaining performers of all time.
It was during this era where the WWE would split it's massive roster of WWF, WCW, and ECW superstars into two respective brands, the Raw brand headed by a returning Ric Flair who revealed himself the buyer of Shane and Stephanie's WCW and ECW shares and the Smackdown brand headed by Vince McMahon. Following McMahon's defeat of Flair in another winner take all match (I know that must be getting exhausting) for both brands, McMahon would bring in what he called general managers of both shows. Smackdown's General Manager would be revealed as Vince's daughter Stephanie who would eventually be succeeded by Paul Heyman. Raw's General Manager would prove to be someone that no one in the wrestling community expected as their jaws dropped when McMahon announced the name of his bitter and hated rival from WCW, Eric Bischoff. As Raw General Manager, Bischoff would create many great angles such as his personal hit squad 3 Minute Warning, but his lasting legacy would be the creation of the Elimination Chamber Match. This would also see the brands share titles, with Smackdown holding the WWE Championship and Raw holding the former WCW Heavyweight Championship being renamed the World Heavyweight Championship.
It would also be this era that would see many future superstars make their debut including the two biggest who would be mentored by Ric Flair and Triple H in the group Evolution. One being an animal, the other being a viper.
Batista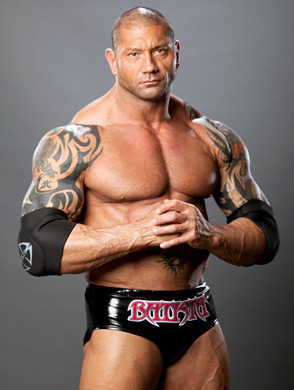 Following the departure of Brock Lesnar, WWE would need to find it's next athletic dominant big man to fill Lesnar's shoes, the man known as Batista would fill them nicely. Batista started out as Triple H's muscle in his group Evolution, a stable that would represent the past, present, and future of WWE. Batista would eventually turn on Evolution and defeat Triple H in a brutal feud that culminated in a violent Hell in a Cell Match. Batista would eventually feud with the likes of Undertaker, Mark Henry, and JBL and serve as one of the cornerstones of the Ruthless Aggression Era following Lesnar's departure. These days Batista is retired and was recently signed to a major role in Marvel's upcoming Guardian of the Galaxy film.
Randy Orton
Wrestling runs in Orton's blood, being the grandson of Bob Orton and the son of Cowboy Bob Orton Jr. Orton would debut as a young blue chipper eager to follow his family's legacy. It wouldn't be until he joined forces with Triple H in Evolution where he would make a name for himself, proving it by winning the Intercontinental Championship. In Evolution, Orton would begin a campaign of insulting and assaulting many WWE wrestlers of the past including Mick Foley which would see the two clash heads in an extremely violent no holds barred match, a match that would prove to anyone that Orton is tough enough to play with the big boys. Orton would eventually become the youngest Heavyweight Champion of all time at the age of 23. He would go on to feud with Undertaker, Rey Mysterio, and Triple H, capturing numerous titles on his way. Now to be personally frank, in my honest opinion Orton is one of the most boring and disrespectful people to ever enter the business. Orton has violated the company's drug policy twice and has not been punished. My disgust for this man ultimately began when he vehemently refused to make one of my best friend's dreams come true and despicably slammed his car door in his face. My friend was the biggest Orton fan I'd ever known up until that point. Orton has also used backstage politics to prevent up and coming future stars from achieving their dream and reaching main event status. No matter how you discuss his in ring talents, Orton is and will always be one of the worst human beings to ever perform in the WWE.
Being the era that was given the impossible task of following the Attitude Era, Ruthless Aggression would ultimately serve as the final great era of mainstream professional wrestling. While it would serve as the era that fans would see the last of superstars such as Steve Austin, The Rock, Chris Jericho, Mick Foley, and The Undertaker in full time roles, it would see the return of Shawn Michaels to full time action following his back injury and the return of the original DX. The era would prove to be the WWE's final swan song to all of its true and loving fans that had been loyal to it since childhood.
It was also during this era that the name World Wrestling Federation would be changed to World Wrestling Entertainment following a lawsuit brought on by the World Wildlife Fund for the rights of the initials WWF. While the WWE would try to find some of the magic of WCW by bringing back the original NWO and the red and yellow Hulk Hogan along with Ric Flair and Roddy Piper, that magic would prove to last only a short time. This would be the time that would also see the end of many great WWE Titles such as the Hardcore and Light Heavyweight Titles. However a new pair of Tag Team Titles would be introduced as the World Tag Team Titles on Raw while Smackdown would feature the WWE Tag Team Titles. The era would see the creation of two lasting and entertaining match types in the Elimination Chamber and Money in the Bank Ladder matches.
Even though the era would serve as the end of WCW and ECW, fans of the former promotions would try to find some solace in two newly formed promotions. The first being Total Nonstop Action, a promotion founded by former WWE and WCW star Jeff Jarrett. TNA would serve as a sort of hybrid of what made WCW and ECW great with a combination of high flying cruiserweights of WCW to the hardcore bloody brawlers of ECW. Through the years TNA has brought in many former WCW and WWE stars such as Hulk Hogan, Sting, Kurt Angle, Dudley Boyz, Rob Van Dam, and Jeff Hardy, while also introducing it's own stars in AJ Styles, Christopher Daniels, Abyss, Monty Brown, Austin Aries, and Bobby Roode. Under Jarrett's leadership the company would find great success but ultimately would never reach the levels of WCW. Now under the leadership of Dixie Carter, TNA has steadily declined in both production value and ratings. It's only a matter of time before TNA falls into the same cold grave with WCW. Another promotion that would be formed is Ring of Honor, a promotion that featured mostly technical wrestling and cruiserweights, ROH would launch the careers of Samoa Joe, Daniel Bryan, and another superstar that would try to serve as the savior of a dying WWE, a superstar who I will cover in the next entry.
The Ruthless Aggression Era would last from 2002 to 2008 with the first half being Ruthless Aggression and the second half being Sports Entertainment. This era would serve as the transition into the era that has undoubtedly killed everything great and inspiring about mainstream professional wrestling. An era that I will somberly cover in the next and final installment of my series of Mainstream Professional Wrestling Eras. Until then Hulkamaniacs, good fight and good night.